When I last had the pleasure of visiting Afzal Imram and Lin Ruiyin, the Co-Founders of Singapore-based brand State Property, I was given a tour of their "contemporary mediations on Art Deco" – jewels with inky black enamel, emeralds, diamonds, and pearls set in soft, geometric forms. It is this blend of strong lines and soft curves that pulled me into the State Property story, and it's clearly what has helped the brand build a cult following in recent years. At the time, Imram told me that State Property pieces are an "elevated daily uniform" and "new-age classics" in the making. This is especially noticeable in the Arcane collection, which contains numerous 'families' of jewels inspired by the opulence of the Byzantine Empire: Borsh, Markeli, Nemara, Alara, Marmara, and now Edessa.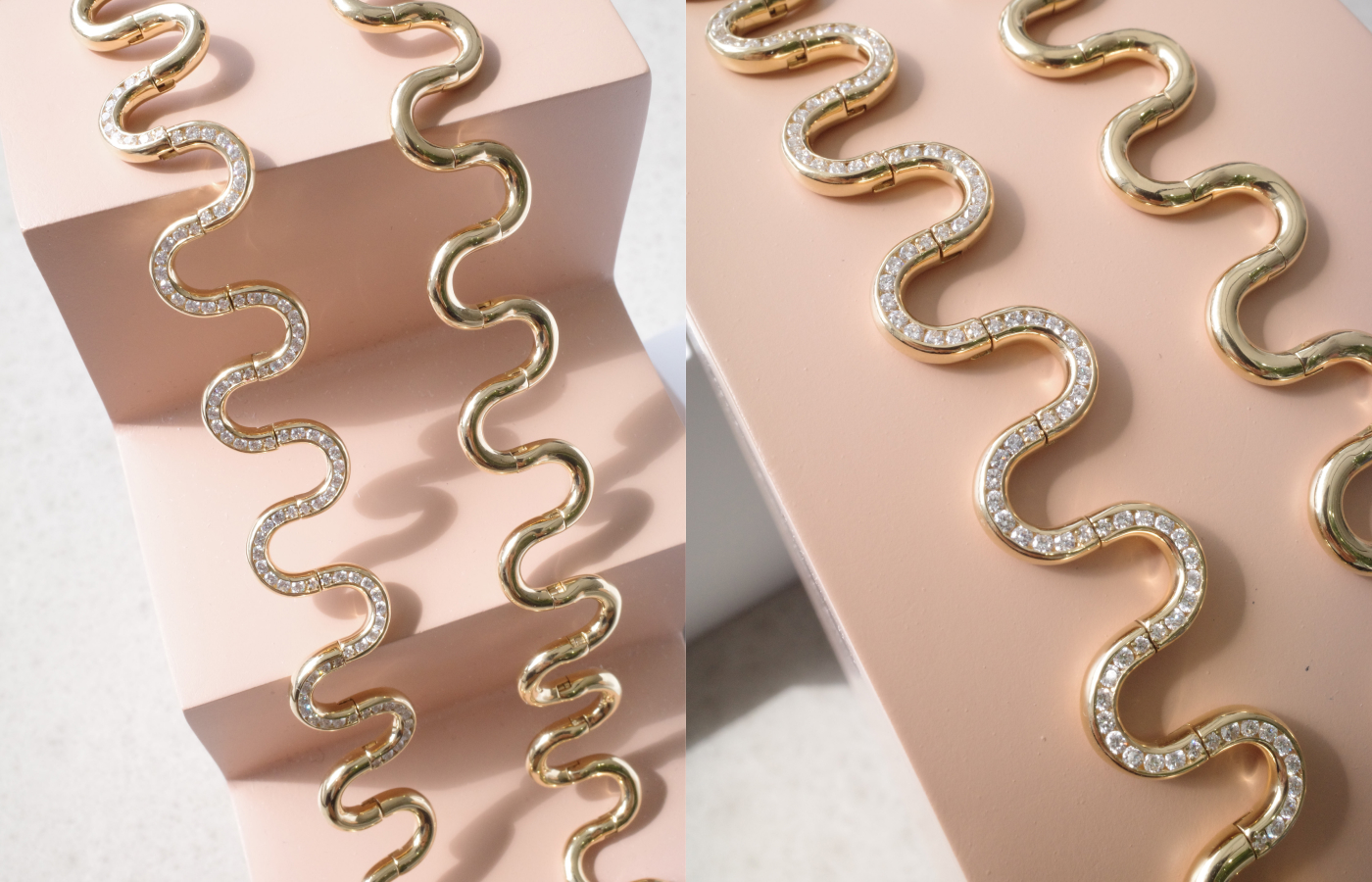 Edessa is the latest series of fine jewellery pieces to be influenced by the grandeur of the Eastern Roman Empire, which was once exemplified by its capital city, Constantinople. Imagine convex domes and golden spheres on the skyline, a blend of Eastern and Western influences, and luxury through patterns, shapes, and striking silhouettes. Through Edessa, State Property revisits curves (already a feature of its Dias, Aldrin and Marsden pieces) and amplifies them to create arch-like formations of gold, diamonds, black enamel and tsavorites.
"The Arcane collection has been our conceptual theme for a number of seasons now," Imram explains. "Edessa offers a completely new look and a greater opportunity to layer with our previous collections without being too repetitive. Their sinuous forms add texture and dimension to a stack, whilst the distinctive bold silhouette works great when worn on its own. We always design with our clients in mind, and we wanted to offer them something fresh to add to their State Property collections."
Whereas in the past, State Property has achieved its punchy graphic finishes through geometric enamel patterns, this time, we see a different approach. It is the strength of the wave-like silhouette that gives pieces their dynamism, almost like a sound wave or a heart-rate monitor keeping up a steady rhythm. Even the most pared-back Edessa bracelet, earrings and ring in 18k gold are attention-grabbing, and that really is a testament to the meticulousness of the design.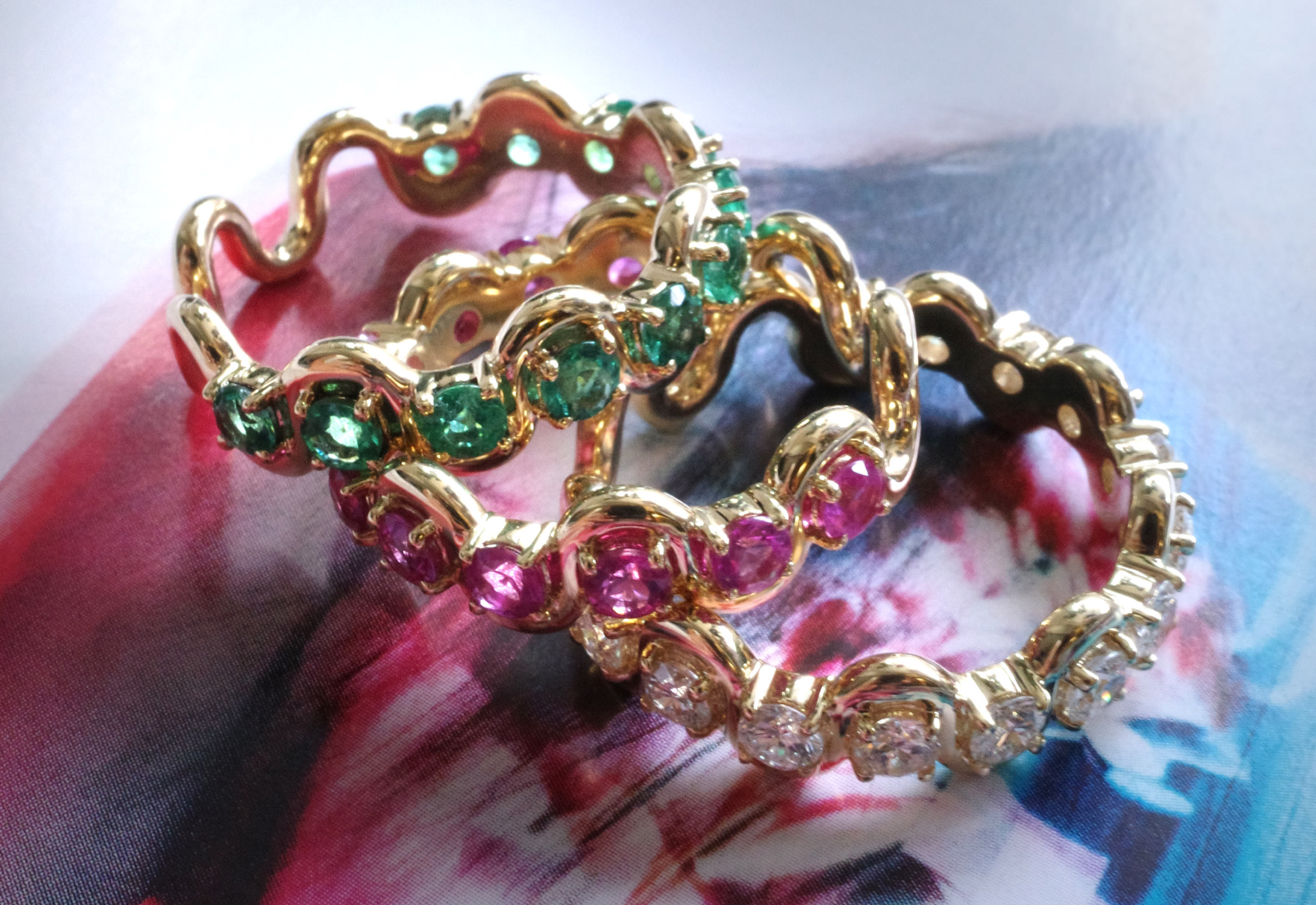 Among the highlights of this new Arcane family are pieces that "take on a jewellery box essential," according to Imram. The Edessa Diamond Tennis bracelet is State Property's response to the incredible popularity of this classic piece, which has landed back on the map in recent months thanks to the 'Quiet Luxury' trend. It's crafted with the same repeating archways motif as the wider range but features a round brilliant-cut diamond set in each curve of 18k gold. By the time it is wrapped elegantly around your wrist, the total weight of diamonds reaches 2.6 carats. Imram tells me: "We put a twist both literally and figuratively in the tennis bracelet. There is also a matching tennis necklace and eternity ring."
If I had to select my favourite Edessa pieces, they would be the ones with custom-cut half-moon-shaped diamonds and tsavorite garnets or perhaps the designs with delicate lines of channel-set melee diamonds. The Edessa Epaulette bracelet features a new signature silhouette for State Property, with the Enchantress variation in 18k yellow gold, diamonds, tsavorites and black enamel being my personal highlight. What is especially striking about this design is the way the crest of each archway is topped with a row of precious stones immediately above a half-moon-shaped gem that hugs the interior curve. Because stones are set flush to the skin and three-dimensionally in different directions, the design almost looks like it is in motion.
Another thing to mention here is a new enamel colourway – lime green – that sits alongside State Property's jet black and bone white enamels. "This vibrant green is a seasonal colour that was introduced this year," Imram says. "We chose this bright hue as a little pick-me-up kind of colour to fend off the gloom." Finally, take a closer look at the Edessa Diamond Hoop earrings, which take the form of two overlapping wave formations travelling in different directions. This is a good example of how, when simply photographed, you simply can't get the measure of a jewel. When worn, the archways of these Edessa earrings sit behind and in front of the ear in a way I haven't seen before, so that's especially exciting!
If you are planning a visit to Jewellery Arabia in the Kingdom of Bahrain from November 14-18, then you will have an opportunity to see all this and more. State Property will be exhibiting Edessa and the wider Arcane collection, including a "glorious pair of drop earrings that match the tennis bracelets," according to Imram. I was also pleased to hear that State Property is working with new retail partners to bring its collections to wider audiences, including Tiny Gods in North Carolina, USA, David M Robinson in London, UK, and Mindham Fine Jewellers in Toronto, Canada. After seeing what the brand has achieved in its home market, I can't wait to see State Property achieve global recognition for its creations. After all, these are "estate pieces for the next generation".