The Boucheron Ailleurs High Jewellery collection was revealed at Paris Haute Couture Week as part of a striking presentation that fused visuals, sound, beautiful surroundings and models with some of the most ostentatious hairstyles I've seen in quite some time. However, their beehives and bouffants were created for a very particular reason: to provide the most unobscured view of the new Boucheron novelties. Ailleurs is separated into five sets – Sand Woman, Leaf Woman, Earth Woman, Pebble Woman, and Volcano Man – and each one uses unusual materials (pebbles, wood, rattan, meteorite) and finishes to tell the "elsewhere" story. To start exploring these jewels, let's begin with dunes of cascading granules and discover the 'Sand Woman' who emerges from the oasis mirage.
Boucheron Ailleurs Sand Woman
Crafted in a palette of beige, sand and creamy blond, the Sand Woman set mimics the shape of the wind whipping sandstorms across the desert in precious materials and, unusually, plant-based rattan. To create the Rotin Diamant (diamond rattan) necklace, Boucheron's craftsmen humidified natural fibres, dried them on a brass frame and inserted a golden rod into the material to create the desired shape. These curves of ratan are accompanied by diamond-set leaf shapes in white and yellow gold and accentuated with a central diamond of two carats.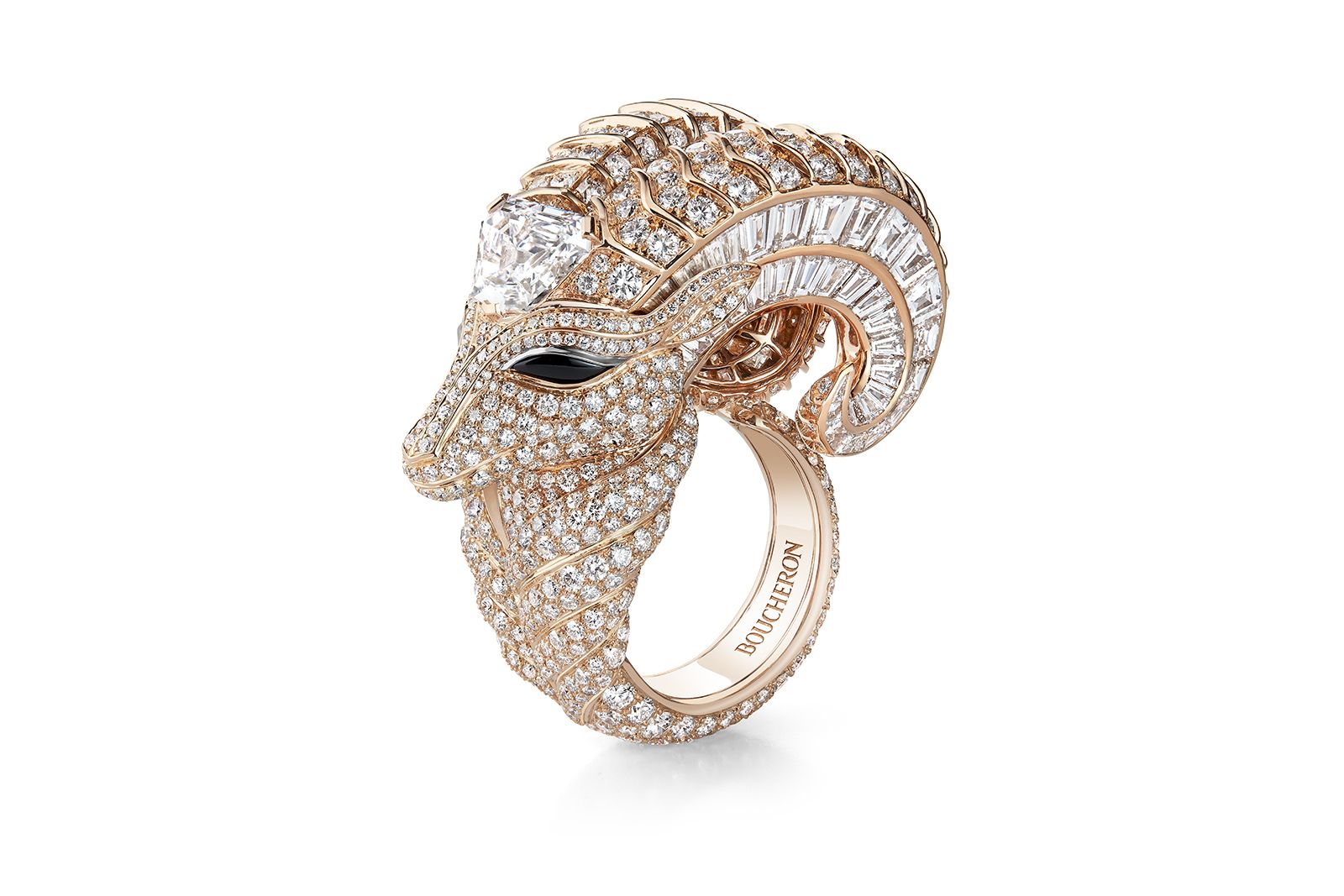 Also, within this set is a second Rotin Diamant necklace, this time with a removable Art Deco-inspired fan-shaped brooch that sits in a horseshoe shape around the neck and sparkles with 17.14 carats of diamonds. The arid landscape of the desert also inspired the inclusion of a gazelle ring, set with onyx, baguette-cut diamonds and a 2.15 carat diamond on its forehead, and the magpie skull ring crafted by inserting a white gold skull inside hollowed rock crystal. Finally, this set features the Coquillage Diamant (diamond shell) earrings that recreate the texture and shape of natural shells in gold, diamonds and mother of pearl.
Boucheron Ailleurs Leaf Woman
The tropical and humid rainforest was the inspiration for this chapter, which orbits around the Feuillage Diamant (diamond leaf) cuff bracelet with a 37.97-carat green tourmaline. Growing from this central gemstone are 'leaves' of woven green plants, which are crafted in lightweight coloured aluminium, bordered by chevrons of diamonds. Continuing with the theme of plants, the Fleur de Paradis head jewel is perfectly shaped to sit around the contours of the ear with a trio of amethysts, yellow, orange and pink sapphires, fire opal, and vibrant orange lacquer, all in titanium. The final three pieces in this set focus on the animals of the rainforest. The statement-sized titanium toucan bracelet is set with rubellites, white diamonds and black spinels, but its beak is the pièce de resistance.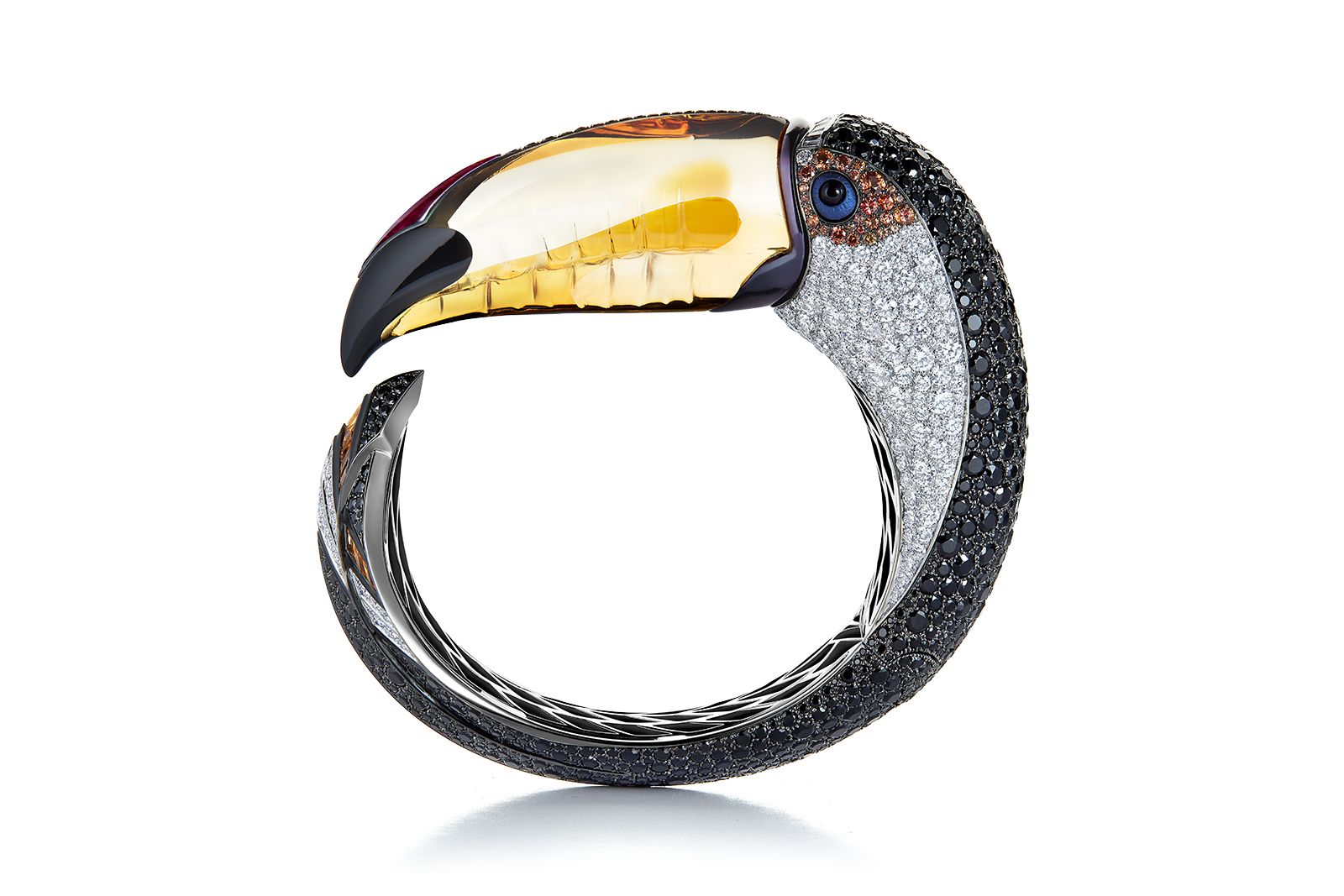 Boucheron's creative director, Claire Choisne, explains: "I wanted to have colours like a real toucan, but with no metal. [The craftsmen} created a 3D marquetry of gemstones with citrine, onyx and a bit of rubellite. They created a block of all these stones and then, at the end, they cut the beak."
The serpent bracelet bursts with tsavorites, onyx and acid green lacquer in titanium that wraps around the wrist, while the papillon brooch flutters with two insects connected by a pin that can be hidden underneath clothing. These butterflies are made with natural lideopsis vulgaris butterfly wings, which, as Choisne explains, required six years of patient experimentation for the house to master. The wings are protected inside a specially designed frame that's set with yellow and brown diamonds, all housed in titanium.
Boucheron Ailleurs Earth Woman
The Earth Woman set contains four pieces in hues of deep brown, ochre, chocolate and steely grey to evoke "primal geology". To create the Bois Diamant (diamond wood) brooch, Boucheron's team scanned individual flower petals and recreated their shape in thin slivers of Santos rosewood, pieced together in an openwork gold structure. Diamonds adorn select petals and the very centre of the bloom to add depth, while titanium pistils quiver delicately as the wearer moves. Finally, it is also worth noting that this piece is secured by magnets, which means its sheer size won't drag on the eventual owners' clothes.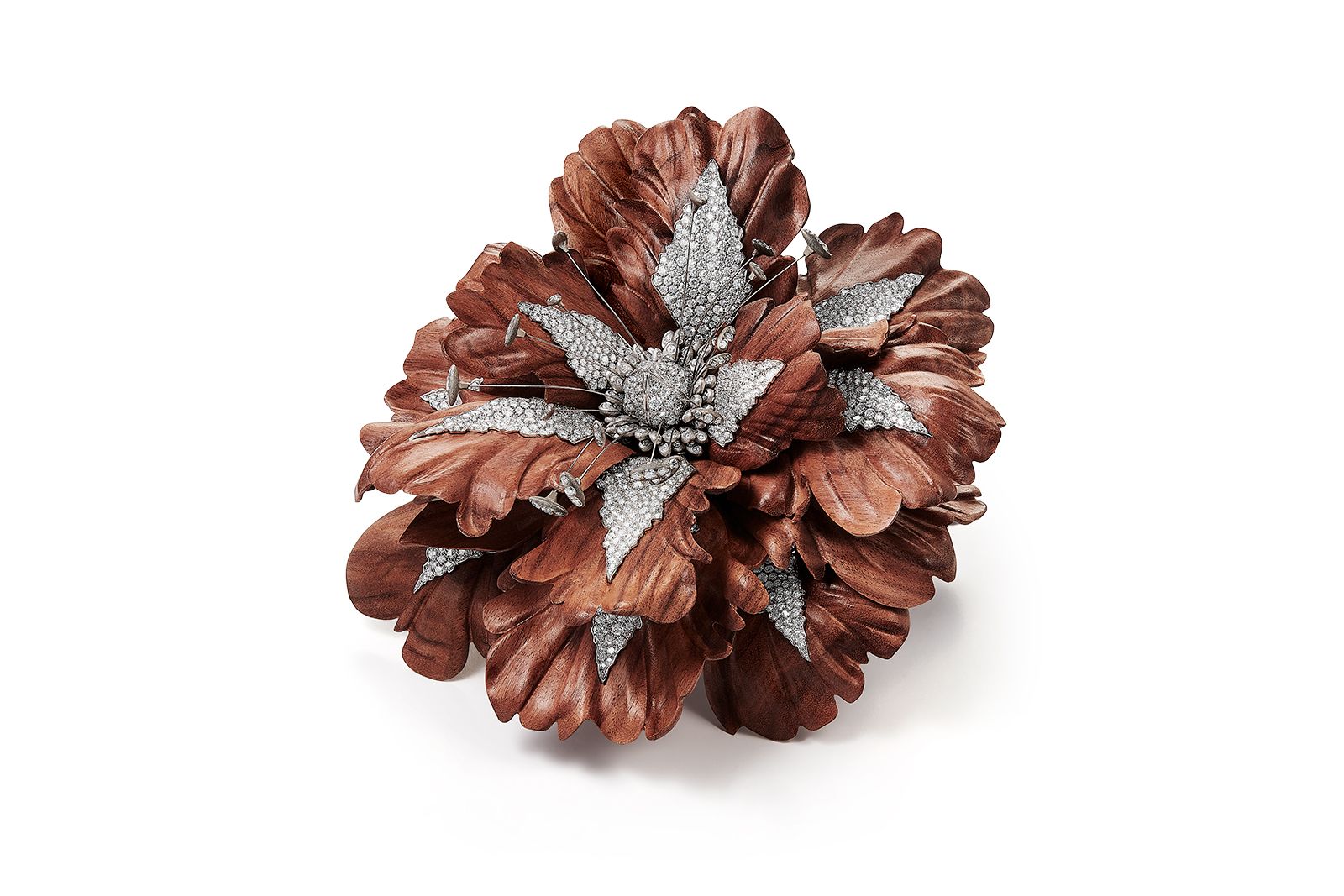 The Papillon Diamant (diamond butterfly) single earrings is a future red-carpet showstopper, set with natural butterfly wings, brown diamonds and colourless diamonds in titanium. The butterflies perch on the top of the ear, but the earlobe is similarly adorned with a pear-shaped brown diamond that's orbited by two haloes of diamonds. In contrast to this naturalism, the Cristaux (crystals) earrings have a complex geometry with smoky quartz, round diamonds and baguette-cut diamonds in white and rose gold. Finally, this set concludes with the large Jack Coquillage (shell jack) brooch that will enliven any lapel. It's an earthy take on the iconic Boucheron Jack design that swaps its typical conical diamond-set elements with two flecked conus marmoreus shells, paired with gold, diamonds and rock crystal embellishments.
PEBBLE WOMAN
The final Ailleurs set for women takes the humble pebble and reinvents it for a high jewellery audience. Slowness, silence and softness are the words used to describe this suite of jewels which span elephant heads, coral reefs, seashells and tumbled rocks… there's no stone unturned (if one may forgive the pun). The Galet Diamant (diamond pebble) necklace creates graduated towers of hollowed polished pebbles with pear-shaped diamonds and further diamond pavé, set into the stones themselves like "gold tattoos". "The technique was quite complicated because pebbles are heavy and I wanted the necklace to be very light and comfortable," says Choisne. "Our craftsmen found a way to scoop out the middle and now they are 1.5 mm thin, like an egg shell."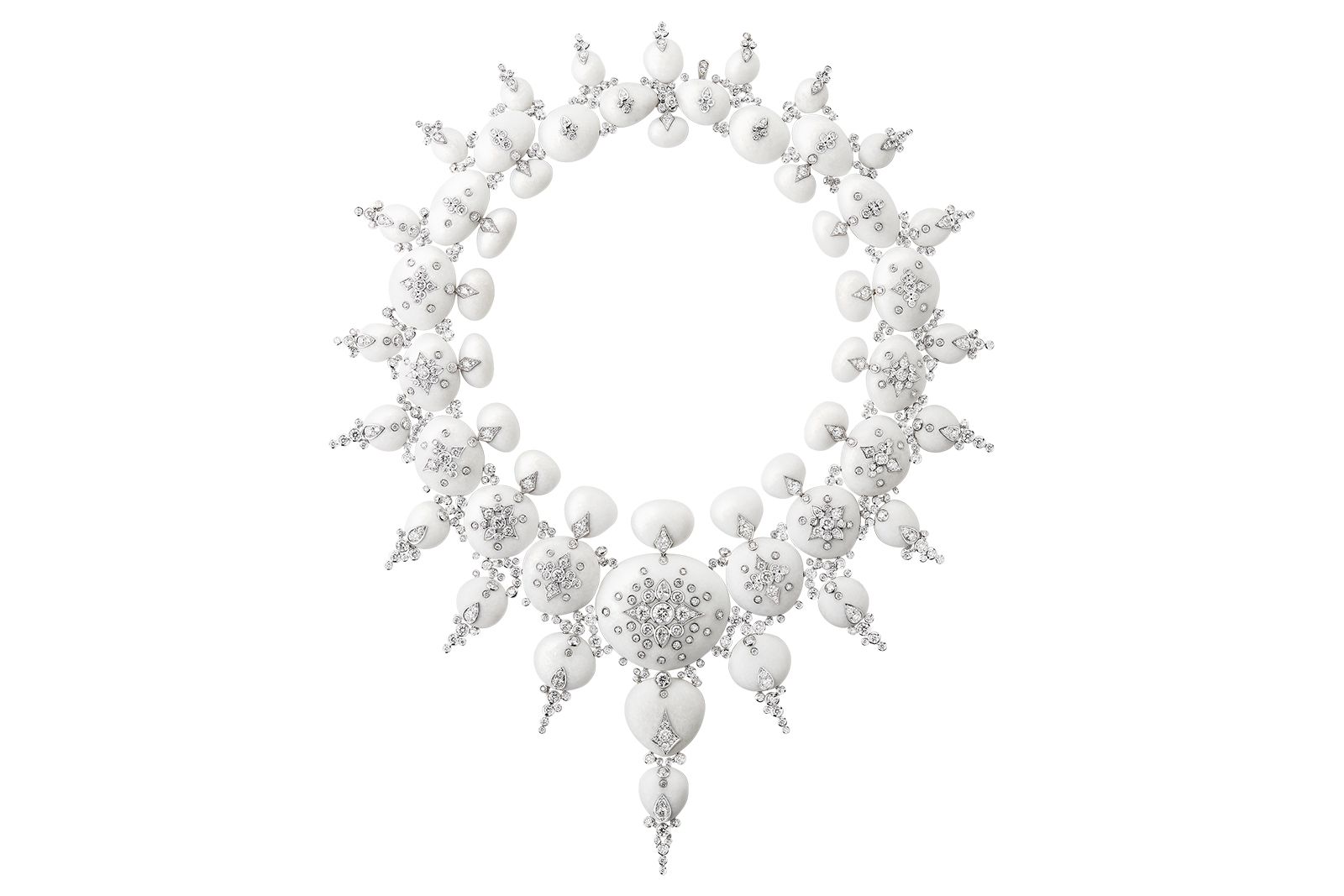 This necklace is partnered with the Galet Diamant (diamond pebble) earrings and ring. One of the most striking Pebble Woman creations is the Corail Diamant (diamond coral) brooch and hair ornament with mother of pearl and diamond-set white gold tentacles that are layered to create extra depth and dimension. There are three animal rings in this collection, too – two elephants and a polar bear – brought to life with titanium, white gold, onyx and diamonds. And a fourth animal, or should we say echinoderm, is captured in the Oursin Diamant (diamond urchin) long line tassel necklace with princess-cut and brilliant-cut diamonds, pearls and mother of pearl. During the presentation, Choisne explained that silver was chosen over white gold for this piece in some areas because of its brighter, whiter look.
VOLCANO MAN
Finally, as has been its tradition for some time, Boucheron has dedicated a portion of its high jewellery collection to men. The Volcano Man suite is a monochromatic story of power, earthly magnitude and ferocity, but done in a way that is shapely and refined. The Coquillage (shell) necklace imprints the spiral shape of a seashell in x-ray form onto mother of pearl in a technically ambitious feat. The Loup ring takes the shape of a wolf howling to the moon in meteorite, white and grey diamonds and onyx in white gold and platinum, while the Bois Brûlé Diamant necklace uses three-thousand-year-old burnt marsh oak wood, paved with diamonds in white gold, to position a knot of light reflection just below the adam's apple. And finally, the Octopus single earring is a fantastical take on deep sea monsters with tattoo-inspired appendages of diamonds, 443 in total, with 178 mother of pearl pastilles (thin discs) in white gold.
The Boucheron Ailleurs High Jewellery collection has created a world that one wants to enter and explore. From deep sea depths to delicate flowers, slimline wood, meteorites, and scooped-out pebbles, this collection defies tradition and sets the tone for more experimentation to come.