Have you ever heard that old adage, "slow and steady wins the race"? After a decade of KaterinaPerez.com and as many years building @katerina_perez on Instagram, I can attest to the importance of patience and time when it comes to excelling online. I am often invited into conversations about social media to discuss growing large numbers of followers, and, in truth, I've never had this goal. I have always prioritised quality over quantity – so real people who engage with my posts want to have conversations and feel included in a community of jewellery fans. But enthusiasm is infectious, and somewhere along the way, what started from a few hundred followers has now reached more than 400,000! Below, you will find some of my personal insights to celebrate ten years of KaterinaPerez.com.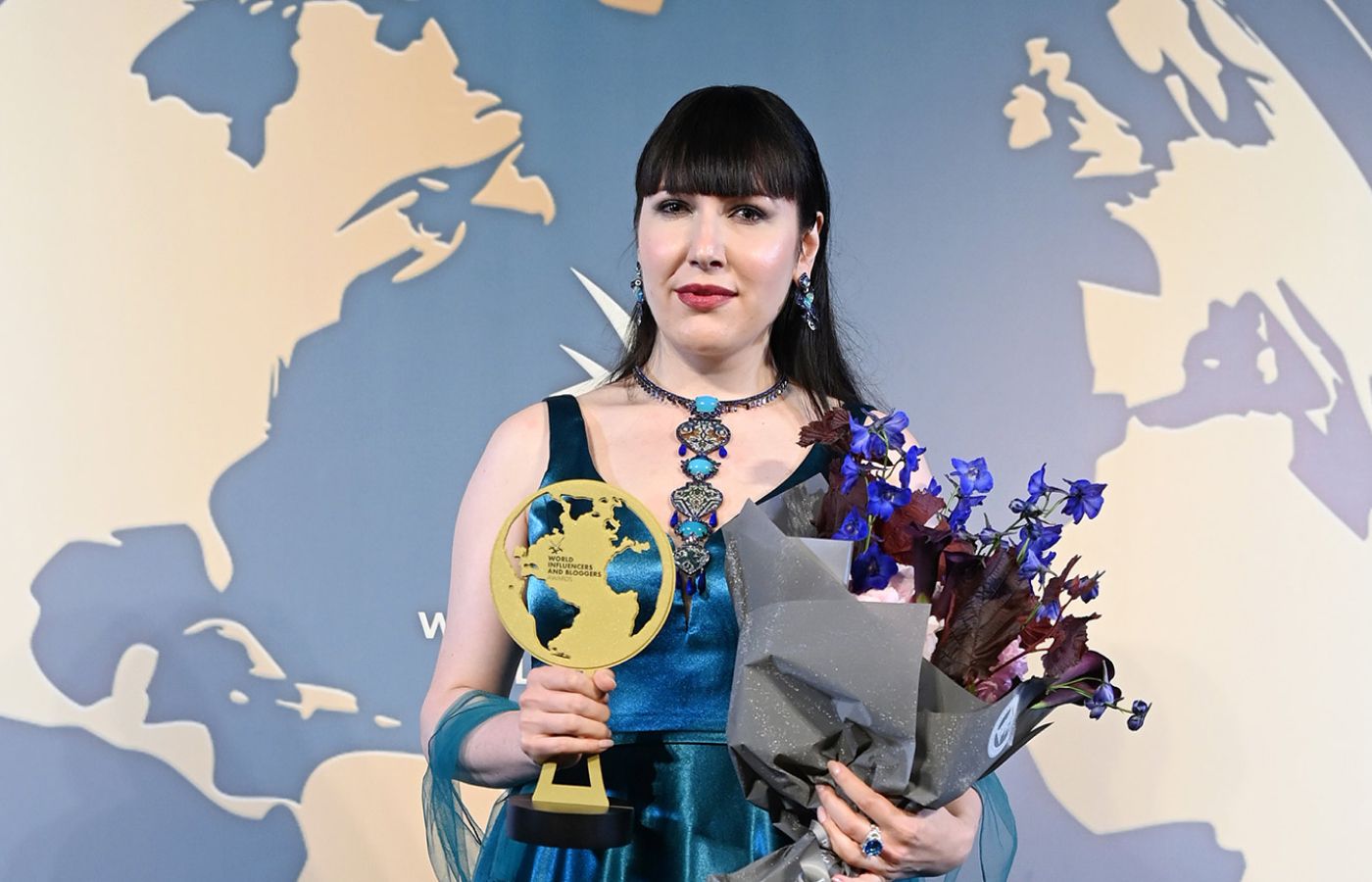 In terms of followers, how have you built your audience, what are the fundamentals of your success, and what would you like people to know about your techniques for growing followers?
I have built my followers over a decade, and I have always focused on quality over quantity. There was a time in my career when removing followers that weren't bringing value was trendy. So, a couple of years ago, we spent many hours removing about 25,000 followers, including people who no longer used their accounts, those who misunderstood what KaterinaPerez.com was all about, and even bot accounts without a real person behind them. If we hadn't done that, I am sure the number of followers would be far higher by now. What's essential to me is building an authentic community of people who appreciate jewellery, who want to understand it and who want to find an escape through jewellery as an art form.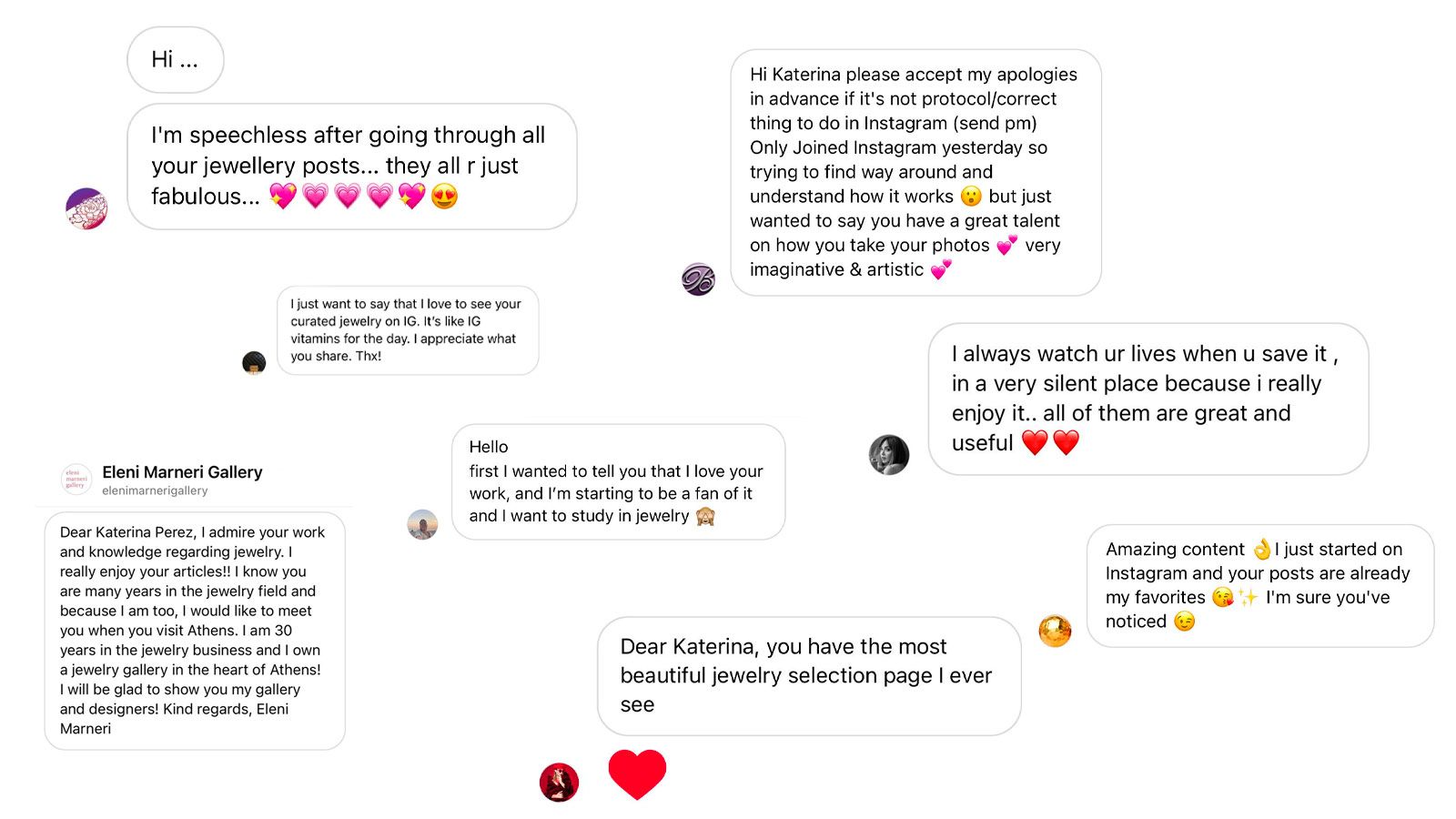 My recommendation to anyone who is starting an Instagram profile is not to focus on quantity. There was a trend when I started ten years ago, which lasted for a few years, where you could buy followers, buy likes and fake a stronger presence. The question is, what are you trying to achieve with your Instagram? Do you just want to show numbers? Nowadays, it is so easy to uncover who is 'real' and who is not, so it doesn't make sense to enhance your account in any way. Remember to think about why you are on the platform, what your account is for, and who you are trying to reach. This true purpose will dictate your actions.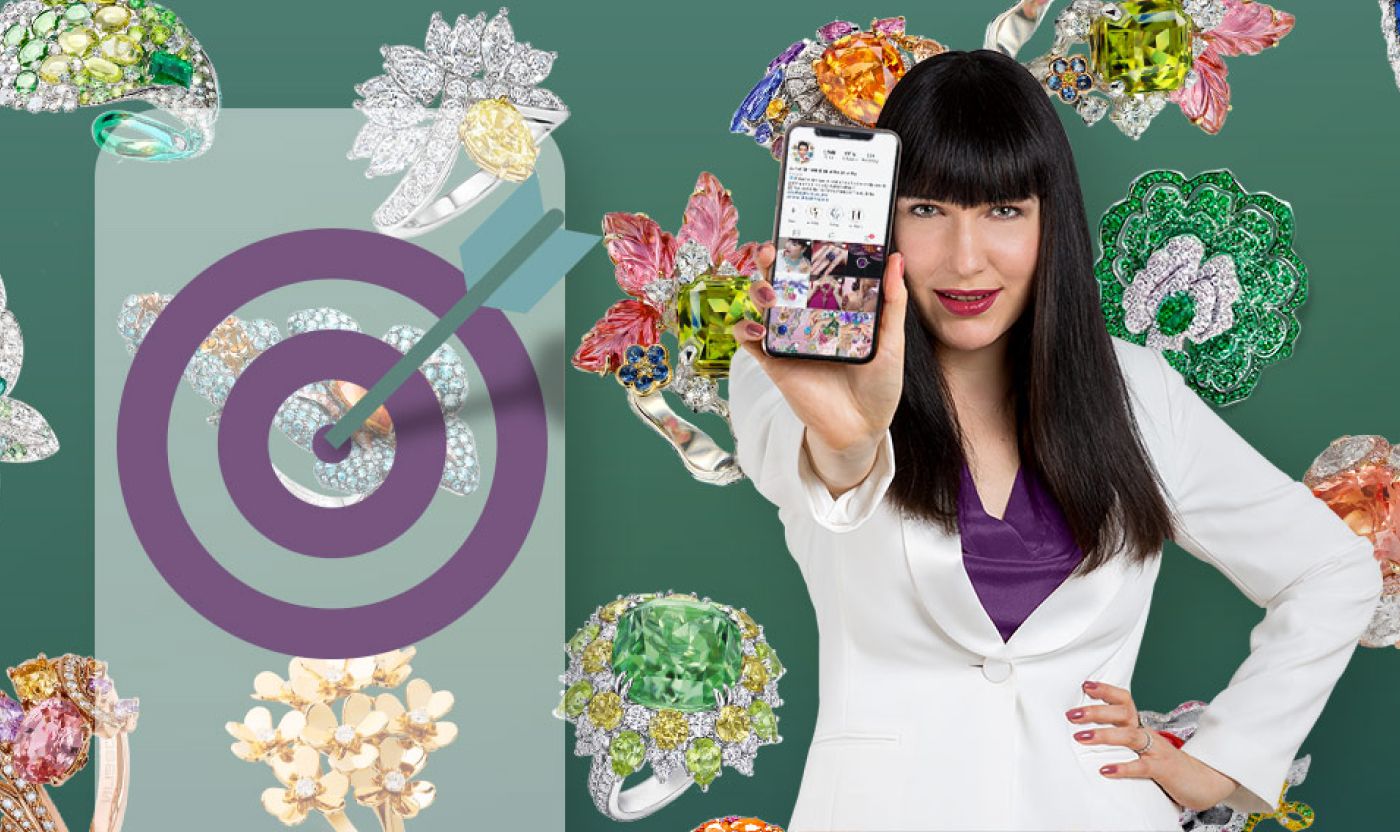 I have always focused on featuring high-end jewellery, which has always been my preference. So, I have built a following that appreciates the same kind of jewellery I like. This has also helped me build an audience who can purchase this kind of jewellery; they understand if they come to my account they will see something exquisite, artistic, one-of-a-kind and very special. I respond to everyone who sends me a genuine direct message, asking a question or sharing their story. To my knowledge, I am the only blogger crazy enough to try and respond to every comment! I want to show my audience how much I appreciate them, and a big part of that is being present on Instagram. I want each person to feel valued and seen, similar to if I was hosting a party in real life… I couldn't just ignore my guests!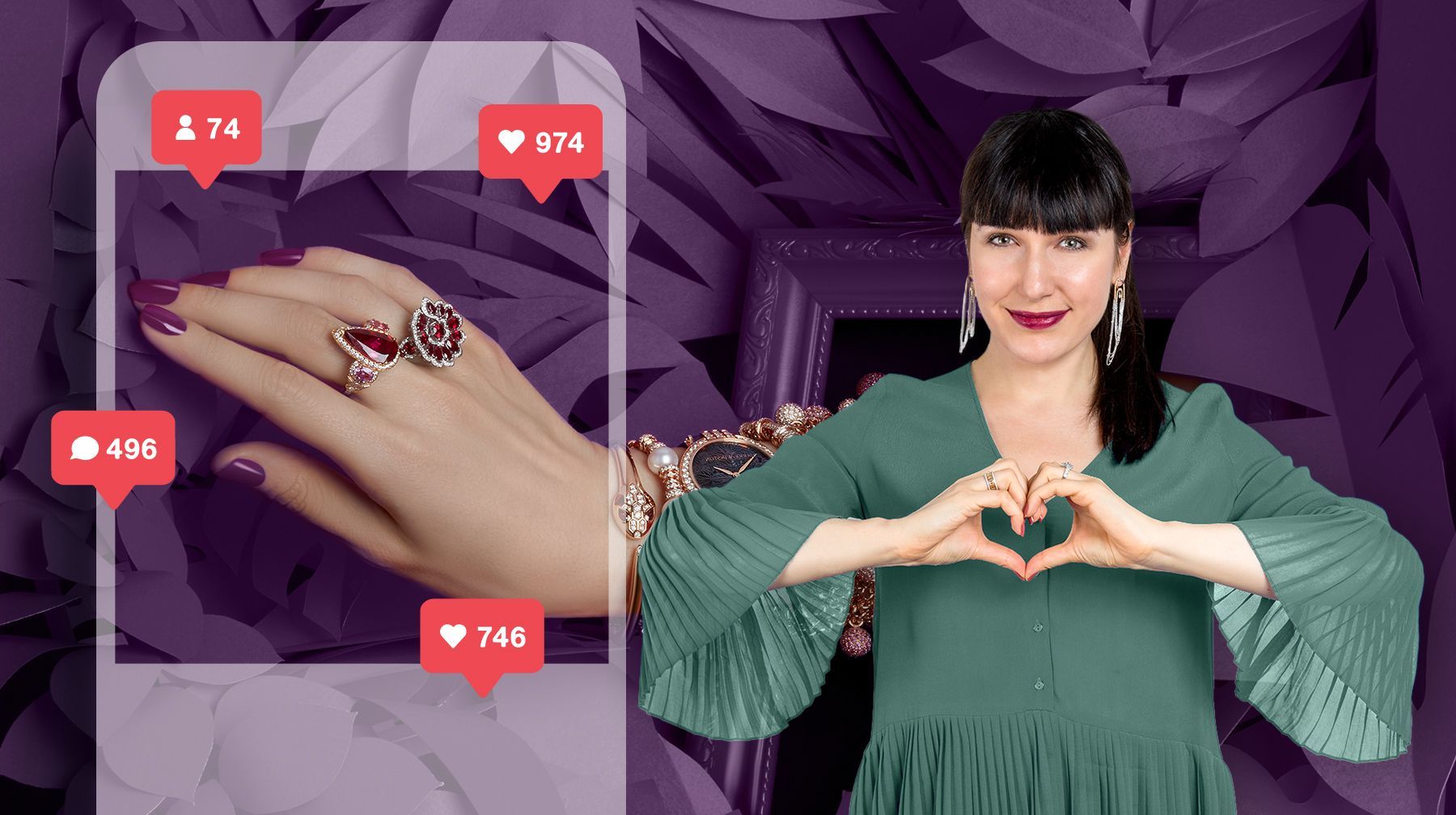 How much time, energy and commitment do you have to invest in your Instagram and social media presence? What should people know to emulate your success?
I would not be exaggerating to say it is never-ending work. I live and breathe jewellery through my social media, website, personal visits to trade shows, speaking engagements and consultancy work. Even if my day at work has finished, I might browse Instagram for fun and then see something that sparks an idea. When you are passionate about something, you never really stop. However, times have indeed changed. Previously, you would select a picture, write a caption, post to Instagram and respond to DMs – it was a simpler time! But then Instagram Stories were introduced, followed by Instagram Live, Guides and Reels. I started to feel like I was doing the job of five people. So I began to build my dream social media team, including writers, video editors, photographers, Reel specialists, graphic designers, community managers, and creatives who assist in generating ideas. You must be really clued up on how to sustain your audience, engage with them and educate them. You must broaden your horizons and think, 'What else can I bring to the table?'. Content moves so fast, so I constantly seek inspiration and fresh perspectives.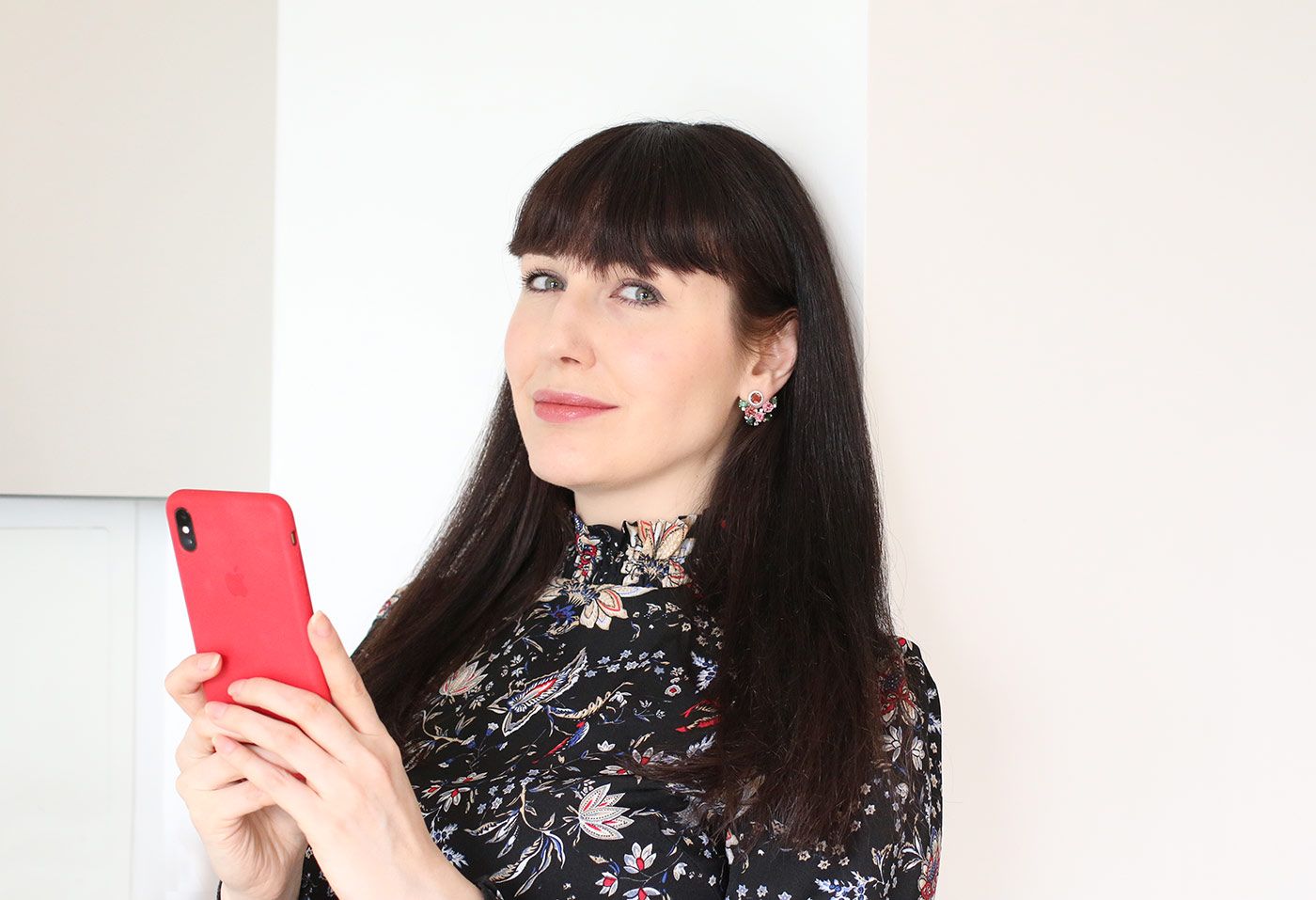 If someone is determined to establish their own social media presence and stand out from the competition, what would be your best piece of advice?
You have to know what you can bring to the table. What is it that you can offer that others can't? First, dive deep into who you are and what value you bring to your audience because people are busy and need a reason to invest their time in you. What can you offer your audience to keep them hooked on your content, and how is this different from others? Secondly, be yourself! Don't try and copy someone else. I say the same thing to jewellers – don't create pieces that will please others but design from the heart to reflect your unique DNA. Only then will you be able to build a community that genuinely appreciates all you have to offer.
Would you ever consider starting a new channel, like TikTok, for example?
I don't think I am ready for anything else! It is just so time-consuming, and I don't want to dilute my efforts. In recent years, we did have a social media presence in China, we used Little Red Book and WeChat, but the algorithms are so different, that after a year of hard work, I felt demotivated. The energy we put into this form of social media didn't match the results we saw, so we stopped that. Nowadays, I think Instagram is the best platform for jewellery because it has this element of luxury, glamour and refinement. TikTok is more fun and down to earth, and I don't think I can show a high jewellery piece in the right way to get an audience hooked. They aren't looking for this kind of content on TikTok.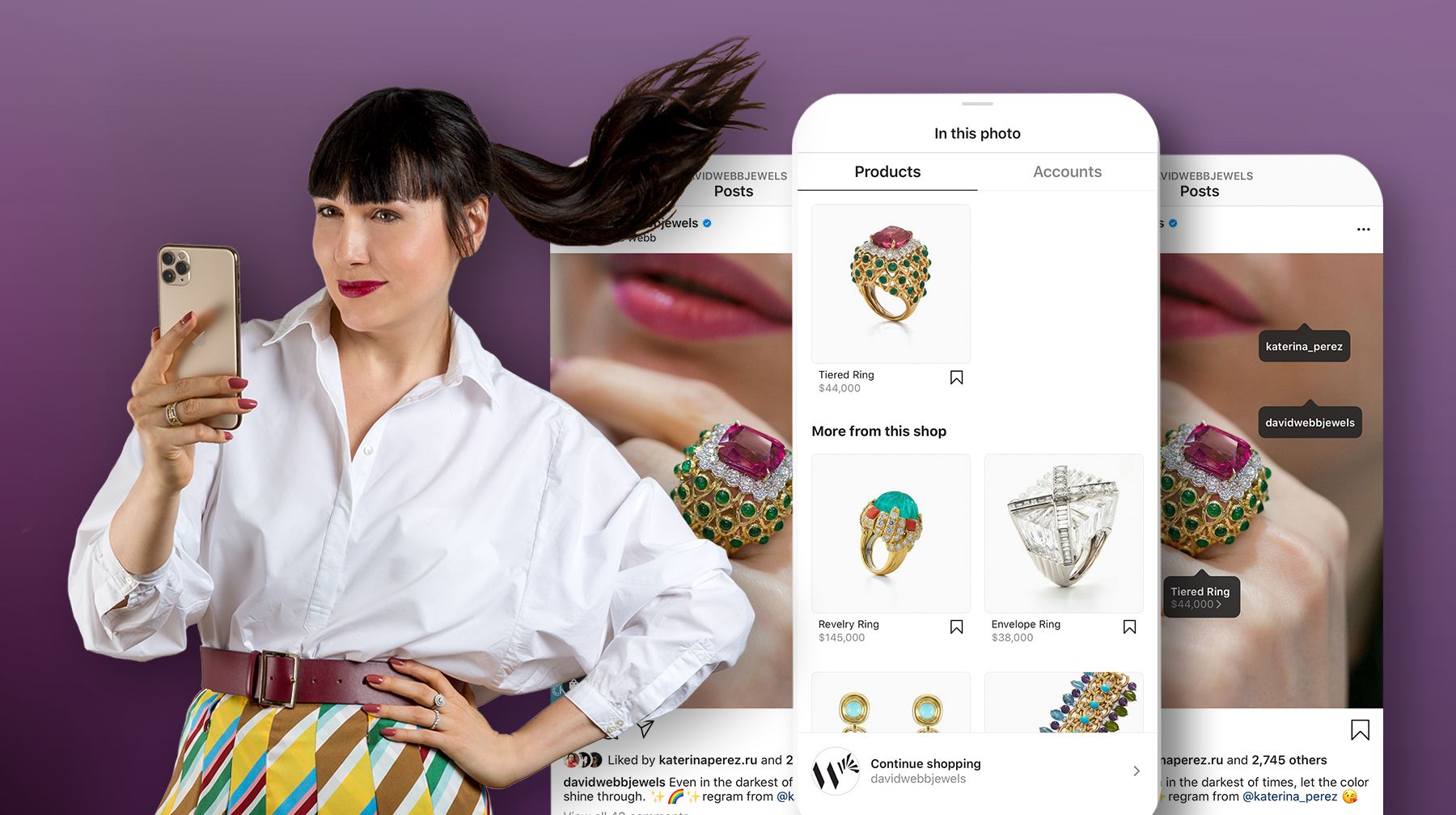 In fact, this is an important lesson for all aspiring social media content creators. You have to know your audience and where you can find them. It's not about chasing what is popular but homing in on your audience to reach them where they are, using the tools they love. For me, this is Instagram, but maybe this will change in the future!
Don't forget to read Part Two of this content series, which covers my thoughts on Instagram's notoriously tricky algorithm, monetising content and working with advertisers. All that's left to say is thank you to each and every person who follows me on social media; without your presence and active participation, I would never be where I am today.