The 76th annual Cannes Film Festival took place from May 16-27, 2023, and it didn't disappoint on the high jewellery front! Guests appeared to have fun with jewels, injecting colour and charisma, after extraordinarily diamond-centric showings at the Met Gala and the Academy Awards. Four key trends emerged in the South of France: statement necklaces, collarbone skimming diamond necklaces, unusual earpieces and striking coloured stone earrings. So, let's look at the best examples of each…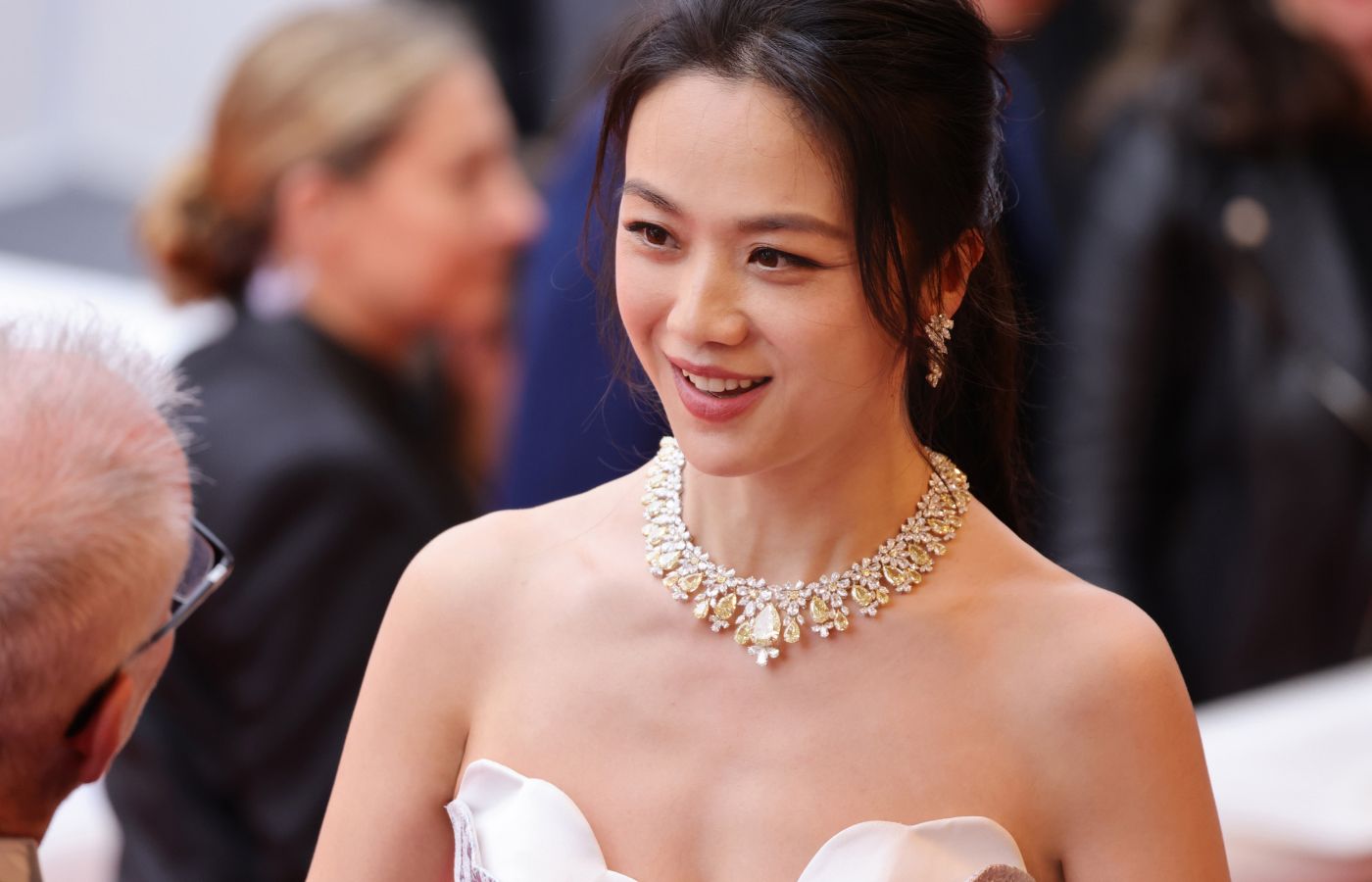 Statement Necklaces
Rarely stepping a toe out of place is actress Michelle Yeoh, who wowed in a Balenciaga haute couture gown accessorised with the Grosgrain necklace from the Boucheron Paris Vu Du 26 High Jewellery Collection of 2019. The piece is crafted from mobile 'tassels' of malachite and onyx, dipped in diamonds and completed with 18k white gold. And speaking of Boucheron, what would the Cannes Film Festival be without a tantalising sneaky peek at the upcoming High Jewellery collection… a kind of hidden-in-plain-sight preview for the team at KaterinaPerez.com! Alexa Chung wore a futuristic necklace with bubble-like elements accentuated with diamonds, while Saudi actress Mila Al Zahrani wore a floral-inspired 'question mark' shaped necklace that has long been a signature of the Maison. French actress Virginie Ledoyen also wore this same style – the Swan Question Mark necklace – set with a 3.59-carat Colombian emerald. You can look to the 2020 Signature High Jewellery collection for more examples.
Further examples of statement necklaces were visible every day of the Festival, including Sofia Carson, who created her Damiani Sophia necklace in collaboration with the brand. It is made in 18k white gold with around 80 carats of white diamonds. In addition, German model Lorena Rae wowed in the Chaumet Sous le Soleil necklace from the Ondes et Merveilles High Jewellery collection, set with an 18.26-carat pear-shaped green tourmaline, plus a matching Chaumet ring.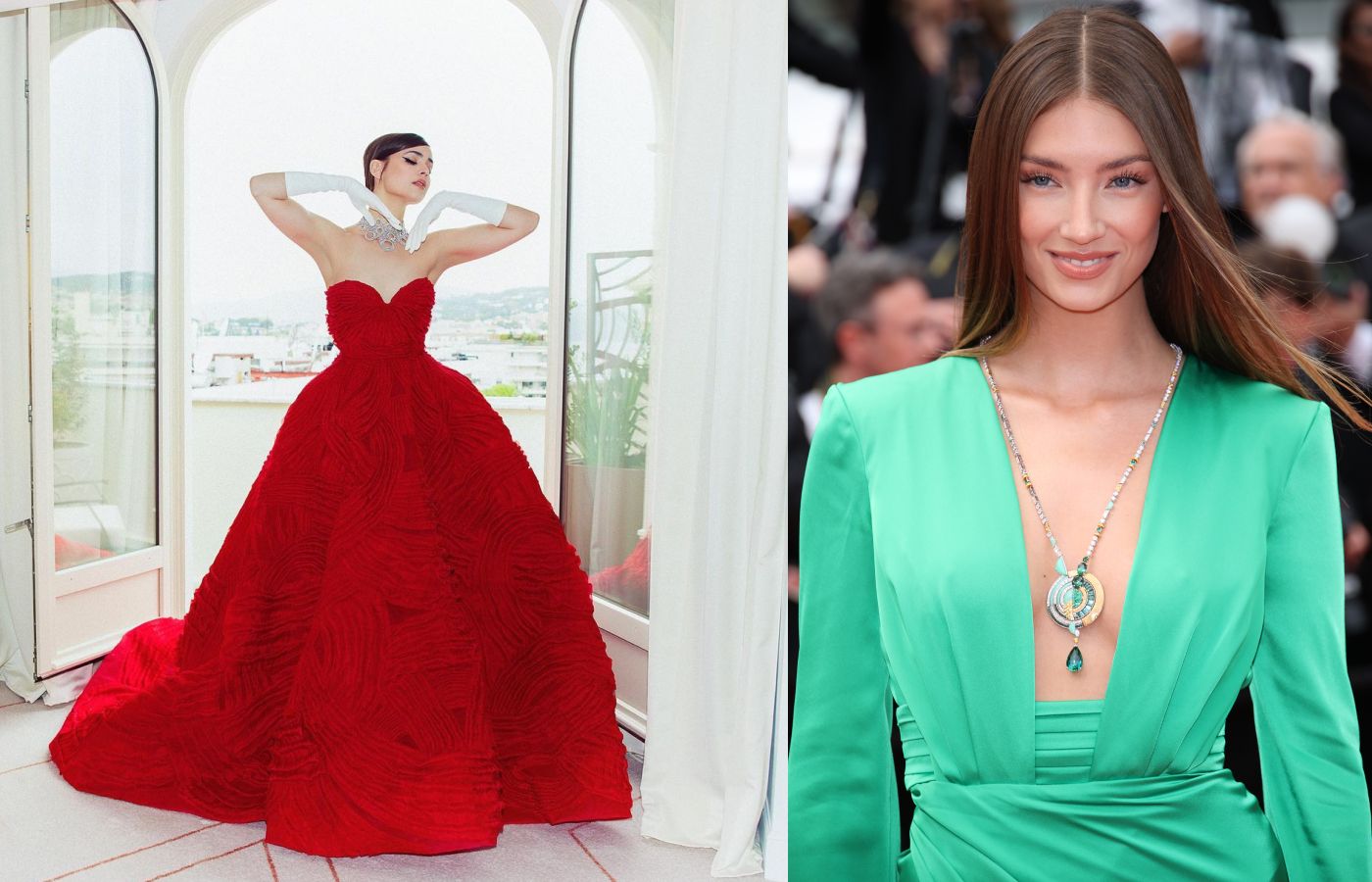 Messika enjoyed many moments in the spotlight this year, notably with Spanish actress Paz Vega (wearing the Messika Move Imperial High Jewellery bib necklace) and Lebanese actress Laila Abdallah. The latter wore the Divine Enigma High Jewellery necklace, ring and earrings, the Golden Shield lip jewel and the Move Iconica hand bracelet, all from the Beyond the Light High Jewellery collection. If we had to pick a favourite Messika look, though, it would be model Irina Shayk in a leather gown topped with the Akh-Ba-Ka necklace and its 33-carat diamond centre. This piece is set with 15 D-flawless diamonds, cut from a 110-carat rough stone purchased by Messika in March 2020.
Before we move on from statement necklaces, some other looks are worthy of honourable mentions! Model Alessandra Ambrosio wore a new piece by Pomellato – the 'Skyline' necklace - with 128 spinels in shades of red, pink and grey. Uma Thurman wowed in an amethyst, diamond and ruby suite by Chopard, and Saudi designer Honayda Serafi also looked amazing in a Chopard pear-shaped emerald necklace with plenty of diamonds. Although perhaps not quite as eye-catching, the necklaces worn by Natalie Portman and Tang Wei are no less important from a gemmological perspective. The former wore a beautiful and vibrant sapphire and diamond necklace, while the latter picked a suite of yellow and white diamond jewels, both by Chopard.
Collarbone Skimming Diamonds
The alternative to outlandish necklaces was a (slightly) more diminutive collarbone-skimming ring of white diamonds. Actress Kirsten Dunst wore a Cartier necklace with 306 round brilliant-cut diamonds, Marion Cotillard wore Chanel, Salma Hayek wore a Gucci Hortus Deliciarium High Jewellery necklace, and supermodel Gigi Hadid opted for the Roaring Diamonds High Jewellery necklace by Messika, coupled with a hand jewel and matching rings. Model Grace Elizabeth also channelled the Old Hollywood aesthetic with a suite by Messika, including the Cascade High Jewellery necklace, Calypso ear cuff and Magnetic Love earrings, plus further rings. And the trend wasn't just seen on women: Spanish actor Manu Rios wore an open-neck Saint Laurent shirt with a Cartier diamond necklace for good measure! Finally, I'd like to mention actress Jennifer Lawrence, who teamed her bright red Dior dress with a matching Dior Joaillerie diamond necklace. The piece is like a scrolling ribbon of colourless gems, totalling more than 10 carats.
Eccentric Earpieces
Another key trend on the Cannes red carpet was earpieces – oversized cuffs, climbers and asymmetric looks designed to have maximum impact in a small space. Irina Shayk again led the pack with Kandake earrings from the Beyond the Light High Jewellery collection by Messika. Australian actress Cate Blanchett sported a pair of Louis Vuitton Spirit High Jewellery earrings in white gold with tsavorites and diamonds, while French model Iris Mittenaere wore Boucheron's Serpent Bohème Solarité earrings that sit on the front of the ear. Her matching ring, by the way, was a Boucheron Hummingbird set with a 34-carat oval-shaped morganite.
Coloured Stone Earrings
If earrings weren't trailing up the ear, they were hanging in great sweeping chandelier-style settings with bright-coloured stones. Catherina Zeta-Jones stepped out in the early days of the Festival in a pair of Chopard ruby and diamond earrings that set the tone, followed by Chinese actress Zhang Yuqi in sapphires and diamonds and American fashion model Soo Joo Park, both dripping in Chopard. Actress Laura Harrier looked sensational in Bulgari Serpenti black enamel, diamond and ruby drop earrings, as did Julia Garner in Gucci High Jewellery earrings with green tourmalines and diamonds.
Best of Men
And let's not forget the men! Some went simpler, like Johnny Depp in a single Sailor's Knot earring by Emmanuel Tarpin. Others went full glam, including a knockout necklace worn by model, actor and influencer Rahi Chadda and the sensational Force 10 Winning Spirit bracelet worn by actor Lucien Laviscount, both by Fred Jewellery. American model Alton Mason was commanding the red carpet in a Balenciaga suit and an ear cuff by Messika that has an almost reptilian quality. Finally, the 'Best Cannes Brooch of the Year' award has to go to Adrien Brody, who upped the ante with a masterpiece by Elsa Jin on his black suit lapel.
Cannes is always so eventful for High Jewellery that we can't help but look forward to it here at KaterinaPerez.com. This is just a snapshot of the jewels on offer, so head over to Instagram for more looks that we think you will love.