Even for a world-renowned brand like Gucci, stepping into the high jewellery arena ready to fight for attention is no easy task. In 2019, the Italian fashion giant launched its debut flagship high jewellery collection, Hortus Deliciarum. There was a jarring quality to the offering; Gucci took the quirky and eccentric values of its clothing and channelled them into precious gems and diamonds. The motifs were large and rambunctious, nothing was subtle, and the visuals suggested creative overload rather than considered craftsmanship. But then, something amazing happened… the pieces began to trickle onto the red carpet. This is where Hortus Deliciarum (Garden of Delights) comes into its own. It's also another reason why you can't truly appreciate high jewellery until you see it in person.
Gucci's mastery of fashion means that it knows a thing or two about red carpet dressing. The pairing of its jewels with clothing is the brand's high jewellery calling card. At the 2022 Venice Film Festival, actress Jodie Turner-Smith wore head-to-toe Gucci, combining a sheer black dress with a salmon pink lettuce trim, elbow-length bright green opera gloves, and a duo of Gucci necklaces. In this context, Hortus Deliciarum is achingly high fashion! We were so enamoured by Jodie Turner-Smith last year that we named her one of our 'Jewellery Icons' of the year.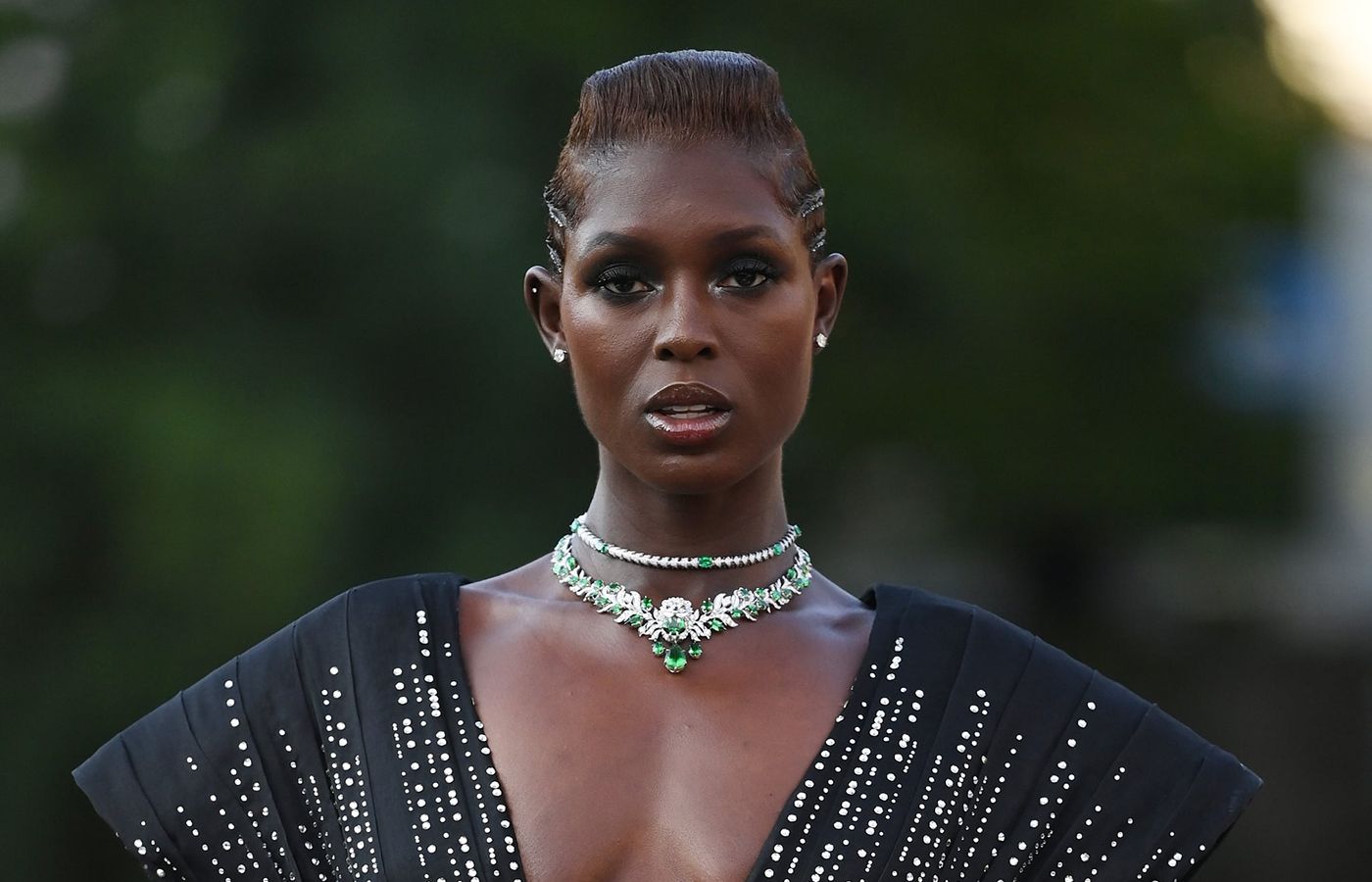 At Paris Haute Couture Week in July 2022, Gucci found its stride and began revealing its talent for large gemstones. There was a statement necklace with a hexagon-shaped emerald of 172.41 carats that was modelled beautifully by Jessica Chastain. The beryl slice is held in place with enamelled fan-shaped claws, tipped with pear-shaped diamonds, and suspended from a chain of fancy-cut gems. Chastain also provided the perfect Hollywood canvas for a second piece, set with a 67.70-carat oval-shaped morganite, oval red, yellow and blue stones, round brilliant-cut minerals, and plenty of diamonds.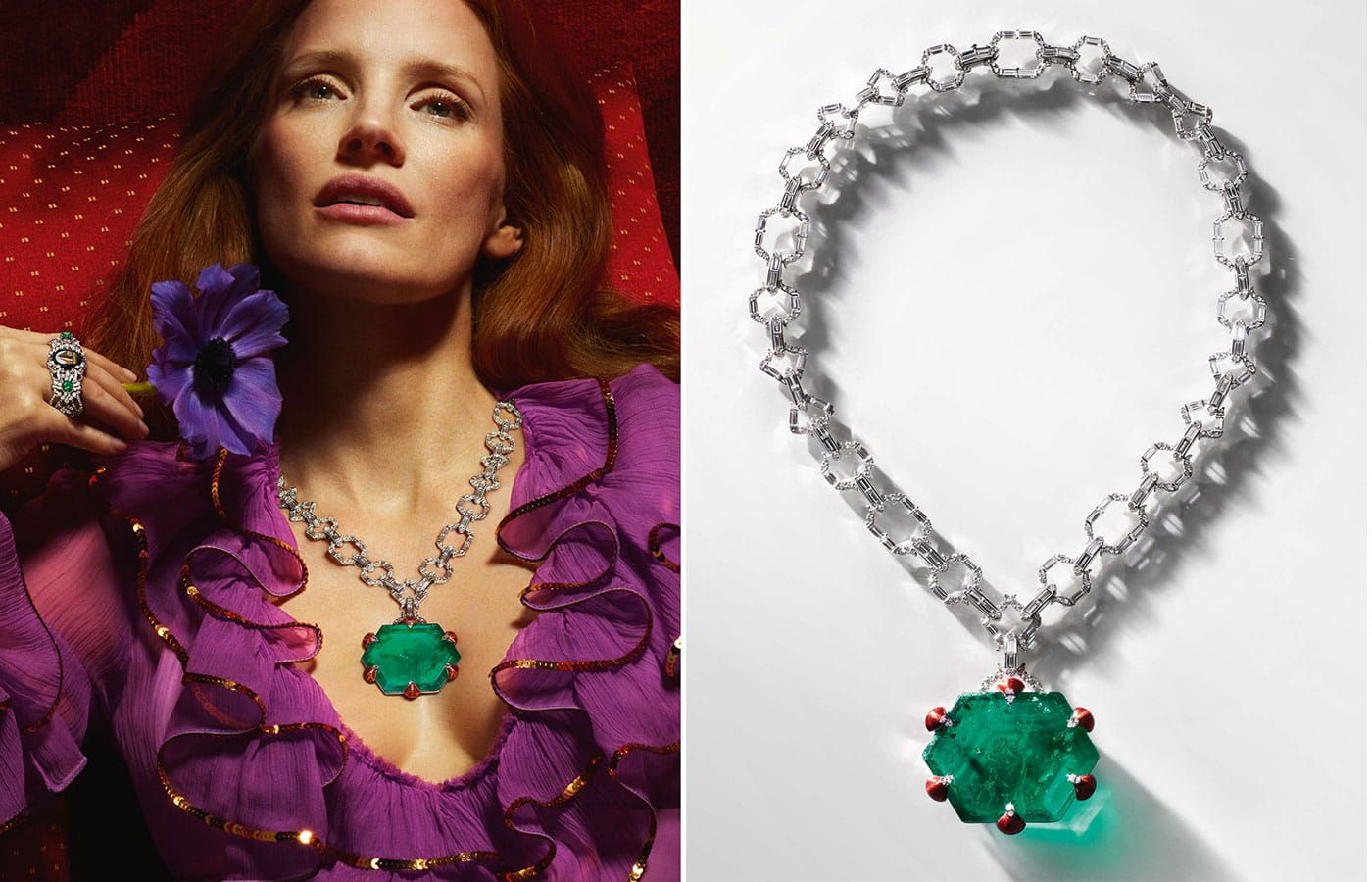 These pieces are part of the third and current collection, so what was presented at Paris Haute Couture Week in January 2023 is a continuation of this phase of Hortus Deliciarum. The new additions draw inspiration from the world of travel and the "memorable moments that every journey can bring," according to an official announcement. This is broadly in line with the previous iterations from 2019, 2021 and 2022, as are the motifs like Gucci's distinctive lion's head, tiger's head and exaggerated floral vines. Within this fresh offering are necklaces, bracelets, earrings and multi-finger rings divided into themes, but it's the gemstones that are deserving of a closer look.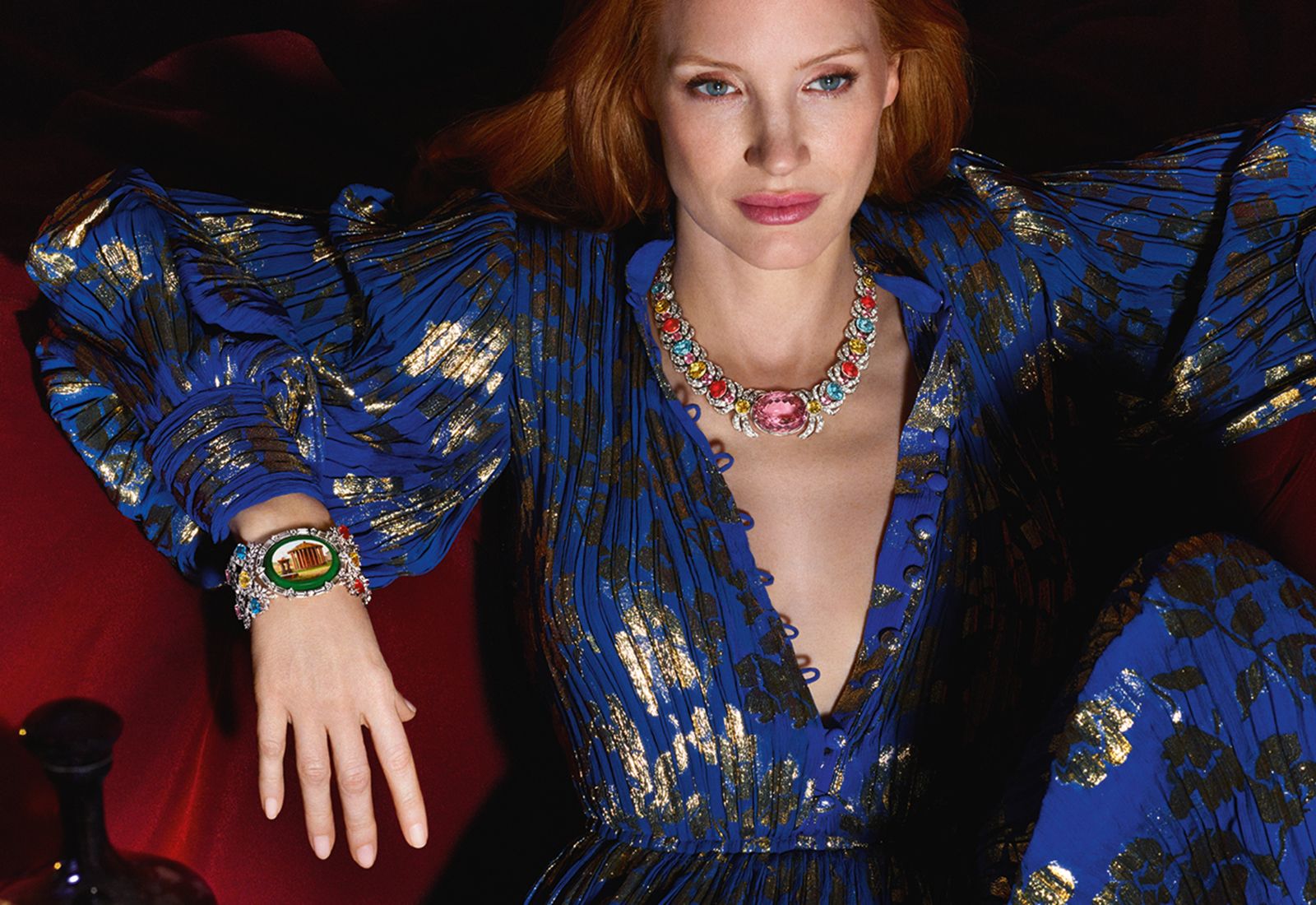 There's a multi-finger ring – the result of 100 hours of production – crafted in 18k yellow gold with a 38.8-carat green tourmaline surrounded by diamonds. On Instagram, we shared a video of a stunning two-row necklace with more than 530 carats of Mandarin garnets, yellow beryls, tourmalines and diamonds with enamelled claw settings that resemble ladybirds. Just the colour combination alone is enough to make mouths water!
Other pieces are distinguished by cascades of dancing diamonds inspired by shooting stars and sparkling torrents of waterfalls. A highlight of this selection is a parure comprising a white gold necklace and matching drop earrings, which required 300 hours of production. The earrings are constructed as diamond-set bows in a chandelier style that descend to two teardrop-cut diamonds of 16.7 carats total. Elsewhere, a yellow gold bracelet arranges diamonds in a chevron pattern around a 16-carat rubellite tourmaline and a diamond chain necklace heralds a round-cut Mandarin garnet pendant and dainty, emerald-set leaves. The latter can be paired with a matching pair of earring jackets for a total weight of 40.5 carats and 15.3 carats, respectively. And let's not forget the cocktail rings. There's a sculpted white gold option with a hexagonal 14.7-carat tanzanite centrepiece and three more with heart-shaped gems, including a 9-carat blue tourmaline, a 12.6-carat peach tourmaline, and an 11.5-carat pink tourmaline.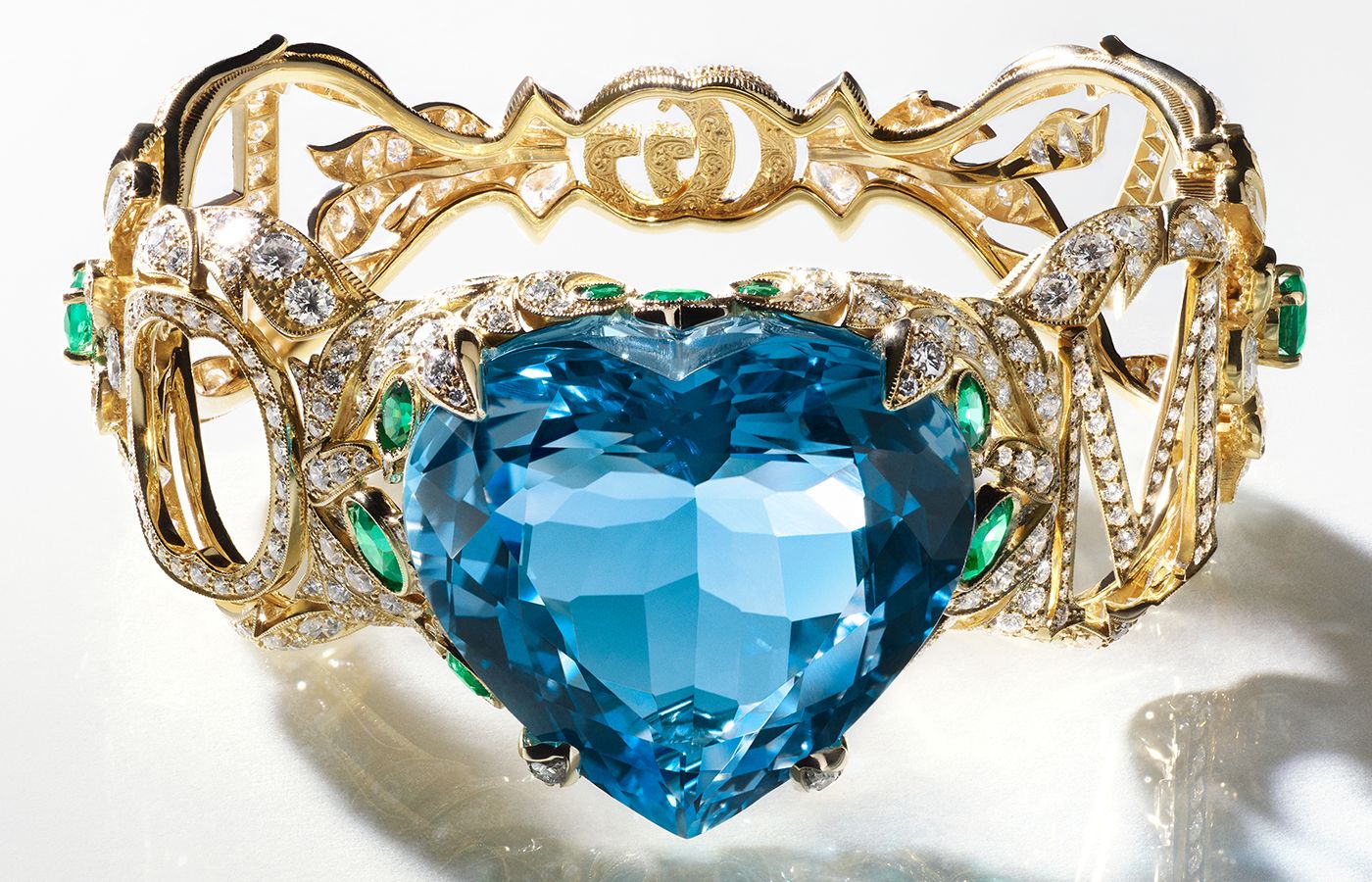 What's most exciting about this new era of Hortus Deliciarum is the possibilities. Which famous face will adorn herself (or himself) with these jewels next? What will we see brightening the carpets of the Met Gala, Cannes Film Festival and Venice Film Festival? As the fashionista's high jeweller, we are sure to see some exciting ensembles very soon.