"Forte dei Marmi is a destination which is incredibly glamorous and full of visitors from all over the world; Japan, Russia, Middle East, USA, South America and Europe. This variety of potential clients all have luxurious taste, and appreciate fine jewellery such as the style we create at Veschetti," says Laura.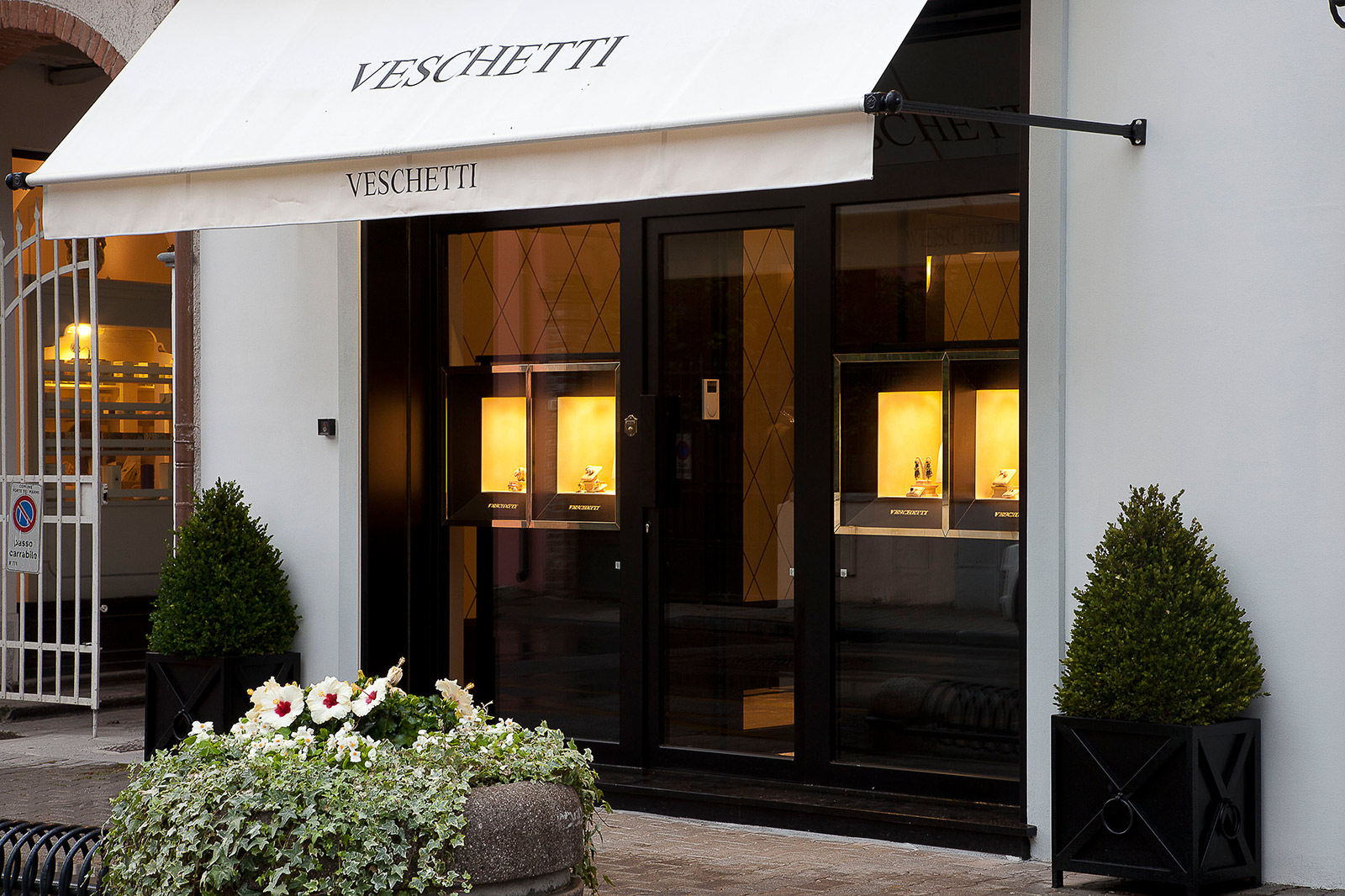 As I mentioned in my previous article about this Italian brand, Veschetti products are saturated with brightly coloured gemstones and are invariably associated with the sun, the beach, and that wonderful summer feeling. Juicy sapphires and emeralds, turquoise and amethysts, corals and tanzanites are harmoniously blended with sparkling colourless, yellow and cognac diamonds. As a rule, Veschetti gems are framed with polished or textured yellow gold, creating a spectacular jewellery synthesis.
Many permanent pieces sit alongside unique, one of a kind items inside the cosy boutique at Forte dei Marmi via Carducci 61/B. Personally, I am reminded of a treasure box containing Veschetti jewellery – rings, bracelets and earrings with flowers made from ornamental stones and mother of pearl – as well as unique novelties, such as the ring with an oval-cut diamond weighing 5.03 carats, nestled in turquoise.
The 'Blue Inlay' ring is made using the 'stone-in-stone' technique; a signature design style for the Italian brand. The Veschetti family creates many designs featuring inlay, including the large 'Blue Sea Drop' ring with blue lapis and Burmese jade.
Among Veschetti's most exquisite pieces are those which incorporate carved gemstones; a striking example is the ring with a Zambian emerald weighing over 11 carats, surrounded by spinels and sapphires. Another noteworthy piece is the ring with central rubellite 'heart' weighing 8 carats, surrounded by a pathway of colourless diamonds.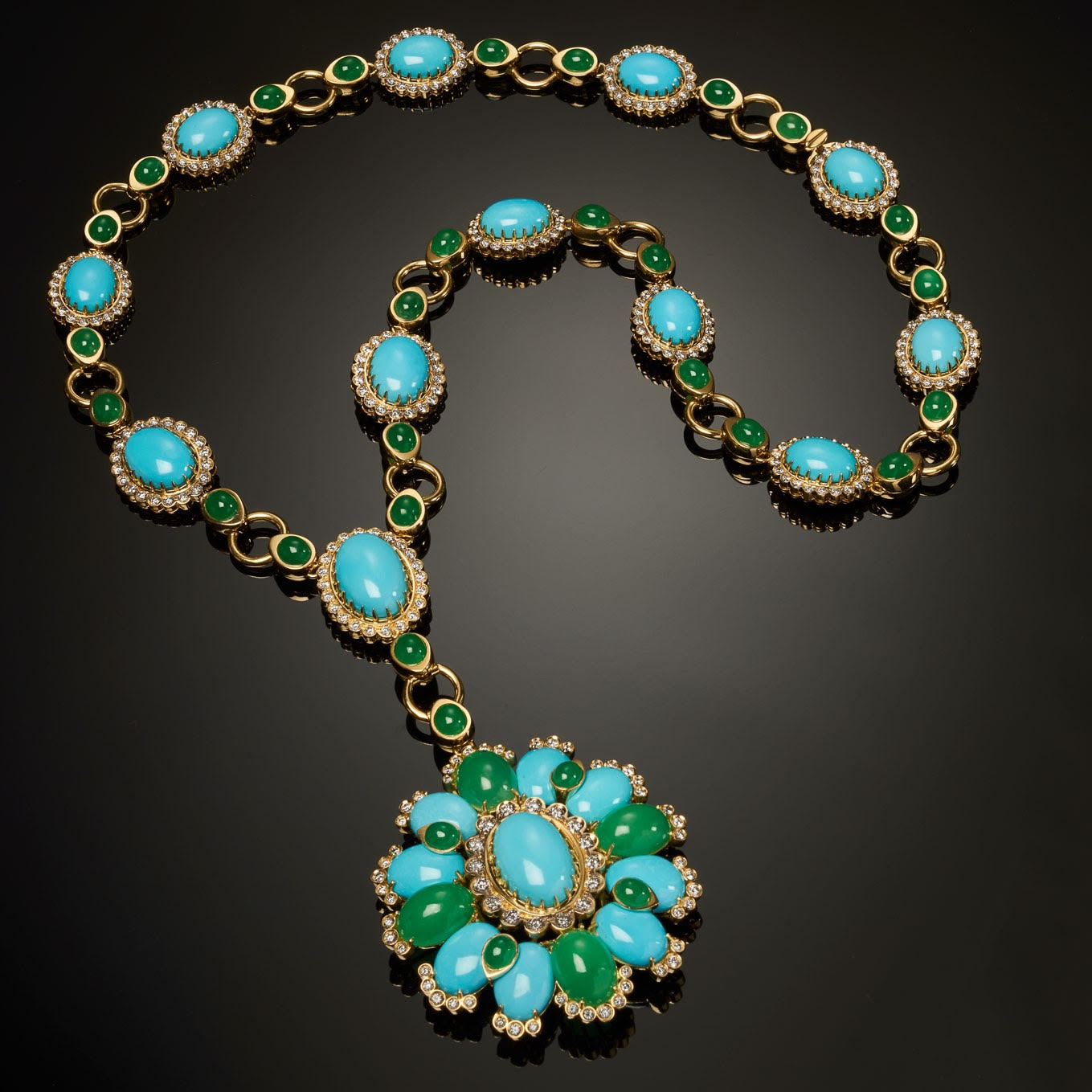 The spectacle of Veschetti's jewellery will be on display at its fullest in their summer boutique. I spoke with Laura Veschetti about the concept of a pop up store, and why this approach works for the Italian fine jewellery brand:
KP: Am I right in assuming that your statement design combined with vibrant gems drives a larger client base to Veschetti over the summer months?
LV: I think that Veschetti's style works well with summer, because of our love of combining bold colours and large gemstones and diamonds in our designs. They are powerful pieces which exude joy - and obviously although they are attractive all year around - I think that people find them most appealing to wear during the summer. We use a lot of coral, and this material has connotations with summer too. Using coral in jewellery is a very typical Italian design feature well – so tourists like to take 'a piece of Italy' home with them.
KP: For how many years have you run the Forte dei Marmi boutique?
LV: We held a pop-up shop from 2005 to 2010 here in Forte dei Marmi for 1 month every summer, but from 2010 we opened our own boutique, a summer retail space in Forte dei Marmi which is open from June to the end of September.
KP: Do you feel that temporary retail spaces create more excitement among clients, since they get access to something exclusive?
LV: When people are on holiday - in a more relaxed and excited mood - they look for beautiful things to enjoy, like jewellery. This is why I believe the temporary spaces work well, and especially during the summer season. The visitors to the area wear their best clothes, are at their happiest, and shop for pieces they cannot find at home.
Many of Veschetti's jewellery designs also incorporate elements of antique jewellery. In the Veschetti boutique, you will also find vintage items by beloved jewellers from all over the world; including Bulgari, Van Cleef & Arpels, David Webb, Boucheron and Cartier. The influence of these designers inspires the Italian brand to create the contemporary jewellery it does.
The Veschetti Gioielli store in Forte Dei Marmi is a real paradise for those who are seeking jewellery with vibrant style which they cannot discover elsewhere, while enjoying the boutique in its full summer glory.