"This mini collection of eight earrings is a reflection on some of the most special moments in my life. The stones, lovingly collected in different parts of the world, each carry an individual story. Travel has been a constant theme in my life, and it is the ability to journey from one country to the next at will that I missed most during this global pandemic," Sabine told me.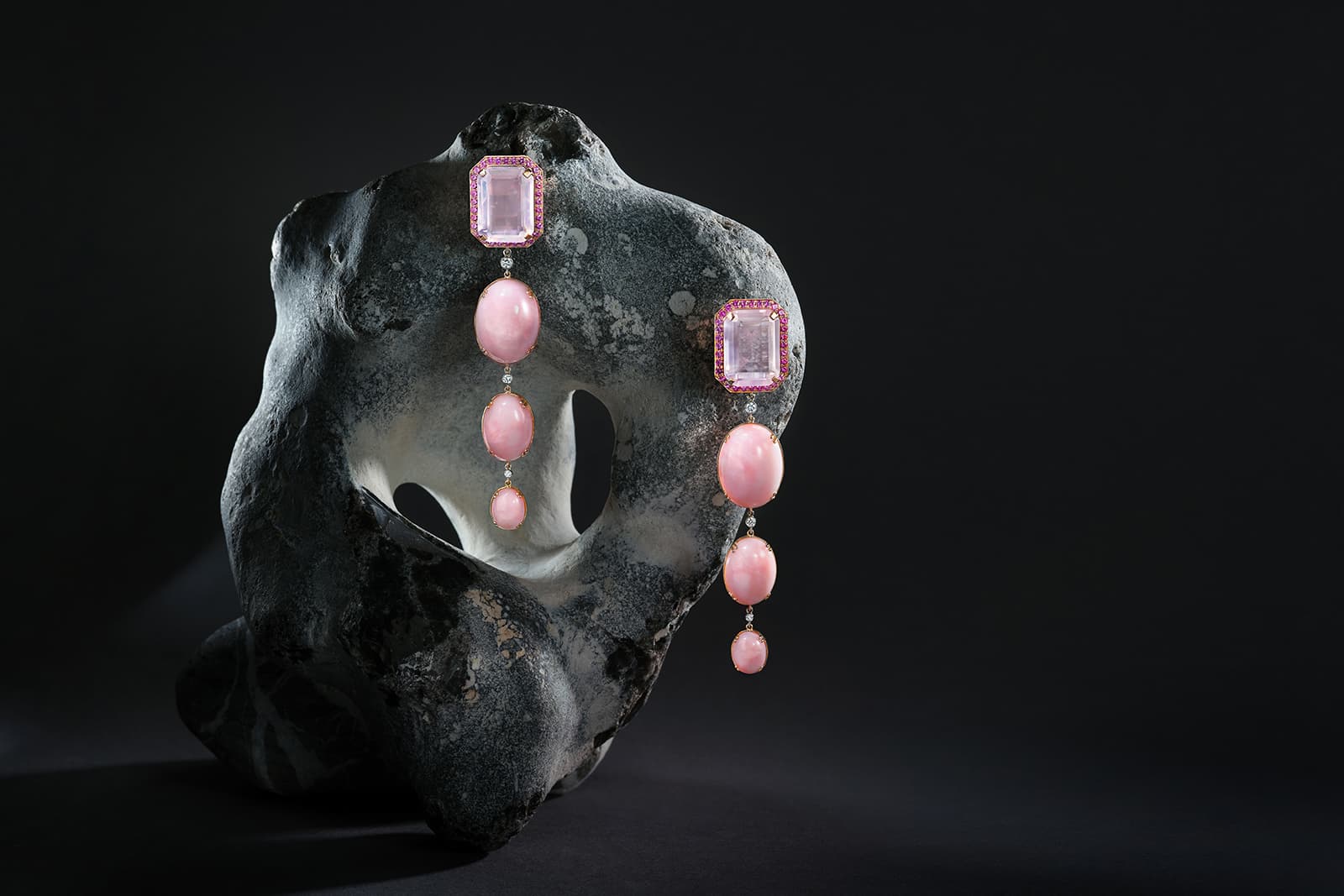 Extremely diverse in terms of cost, the criteria for selecting stones were nothing other than their beauty, colour and originality. In fact, this is exactly how Sabine intended for this stunning variety of minerals to be collated. "For me, minerals are nature's unique and perfect gifts - gifts that are irreplicable by humans due to their encapsulation of vast epochs of history and evolution. For me, these jewels are a kind of poetic timeline of primordial history, carved into the stone itself," Sabine muses.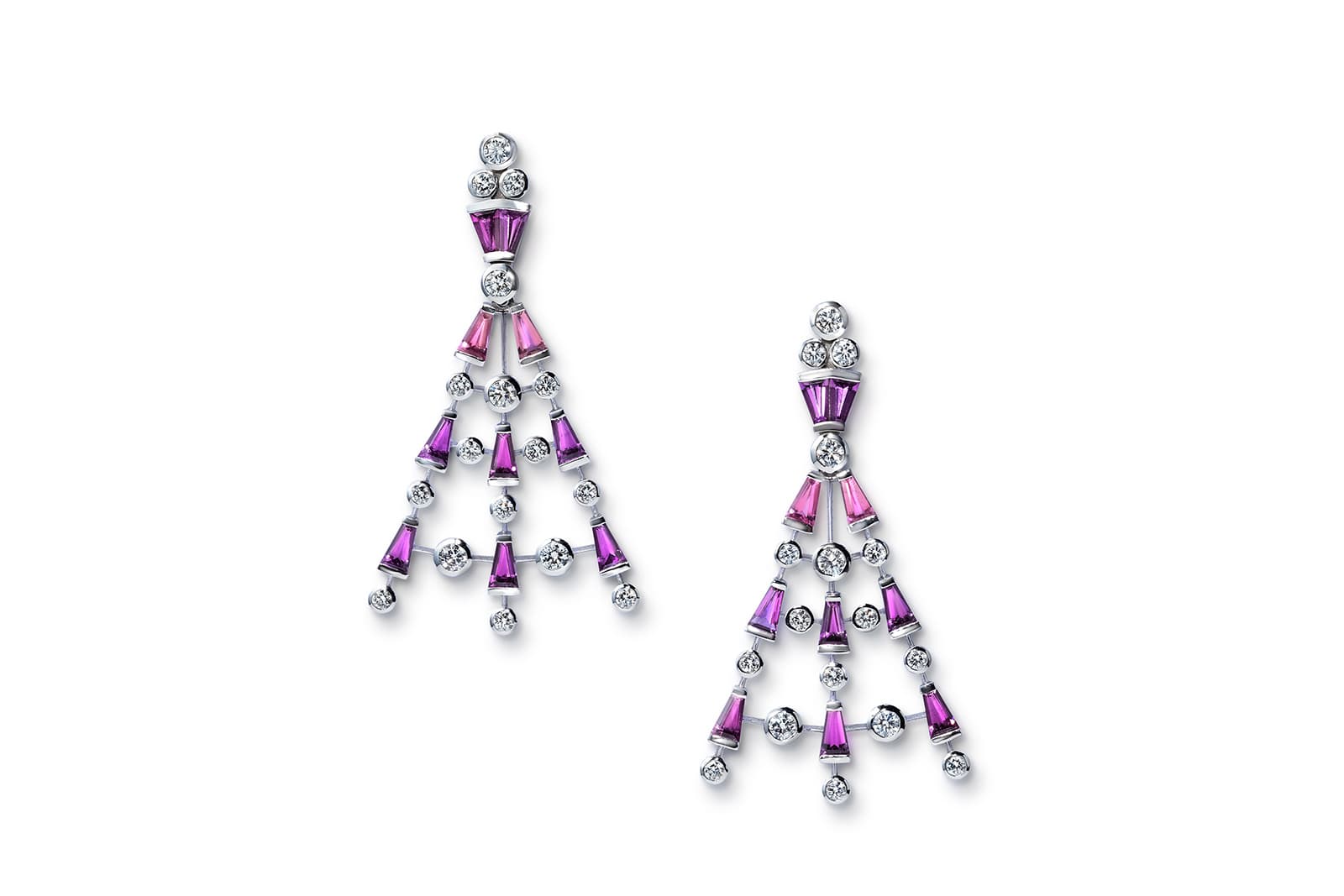 Thanks to her extremely personal connection with these precious finds, Sabine can talk at an almost indefinite length about the stones themselves, as well as their countries of origin, and the inspiration behind their selection, which often constitutes a discussion of the romance of the end-product. This passion was demonstrated to me personally, the designer having drawn my attention to her favourite piece, a pair of earrings entitled GRACE, made of white gold with tourmalines, 'drops' of pink opals, pink sapphires and colourless diamonds.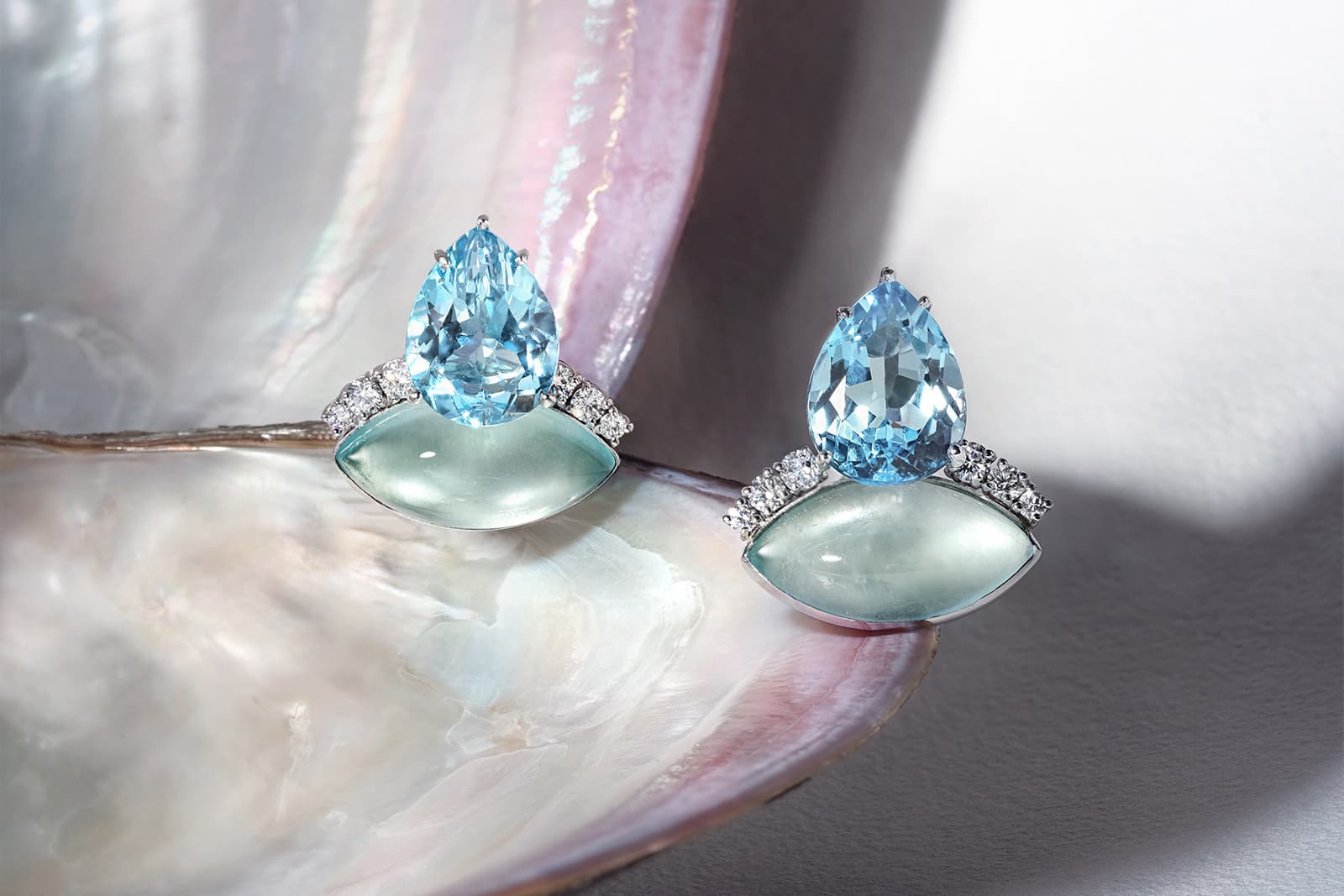 "In this piece, I hope to capture the beauty and grace of a pair of flamingos against a sun-kissed sky. I was fortunate enough to witness such a scene when I was in the Bahamas with my feet in the sand, the sun sinking beneath the horizon and the stunning pink sky. It was a perfect moment on a perfect island. The colour palette made me feel both totally free and somehow entirely bound to nature at the same time," Sabine recalled to me, with a tone of genuine joy.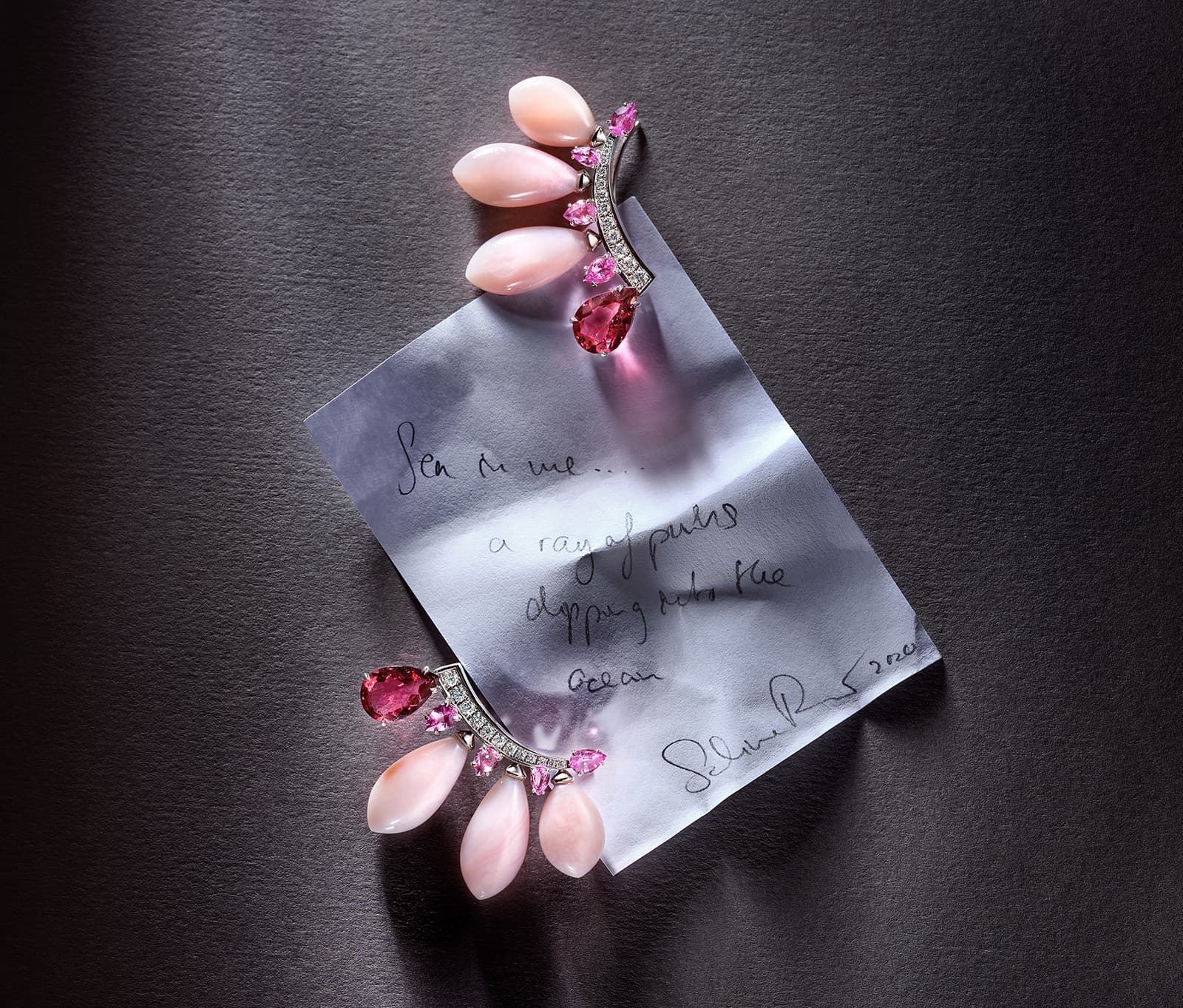 The Dreamcatcher Trees earrings are made from yellow gold as well as emerald-cut green prenites, peridots, colourless diamonds and removable carved green agate leaves that take their inspiration from the city of Los Angeles! "I have returned to this city on a number of occasions, and the memories of it will live with me forever: walking amidst the greenery of the Chateau Marmont, relaxing by the pool at the Beverly Hills hotel, jogging under the palm trees in Santa Monica... It was a time of planning and dreaming on an immense scale! It was a time of contrasts, in much the same manner as the city itself, filled as it is with lush vegetation and grey asphalt, the noise of the metropolis and next to it the soothing sea. I found myself amidst all of this hoping to capture my dreams," Sabine recalls with an eloquent vividness.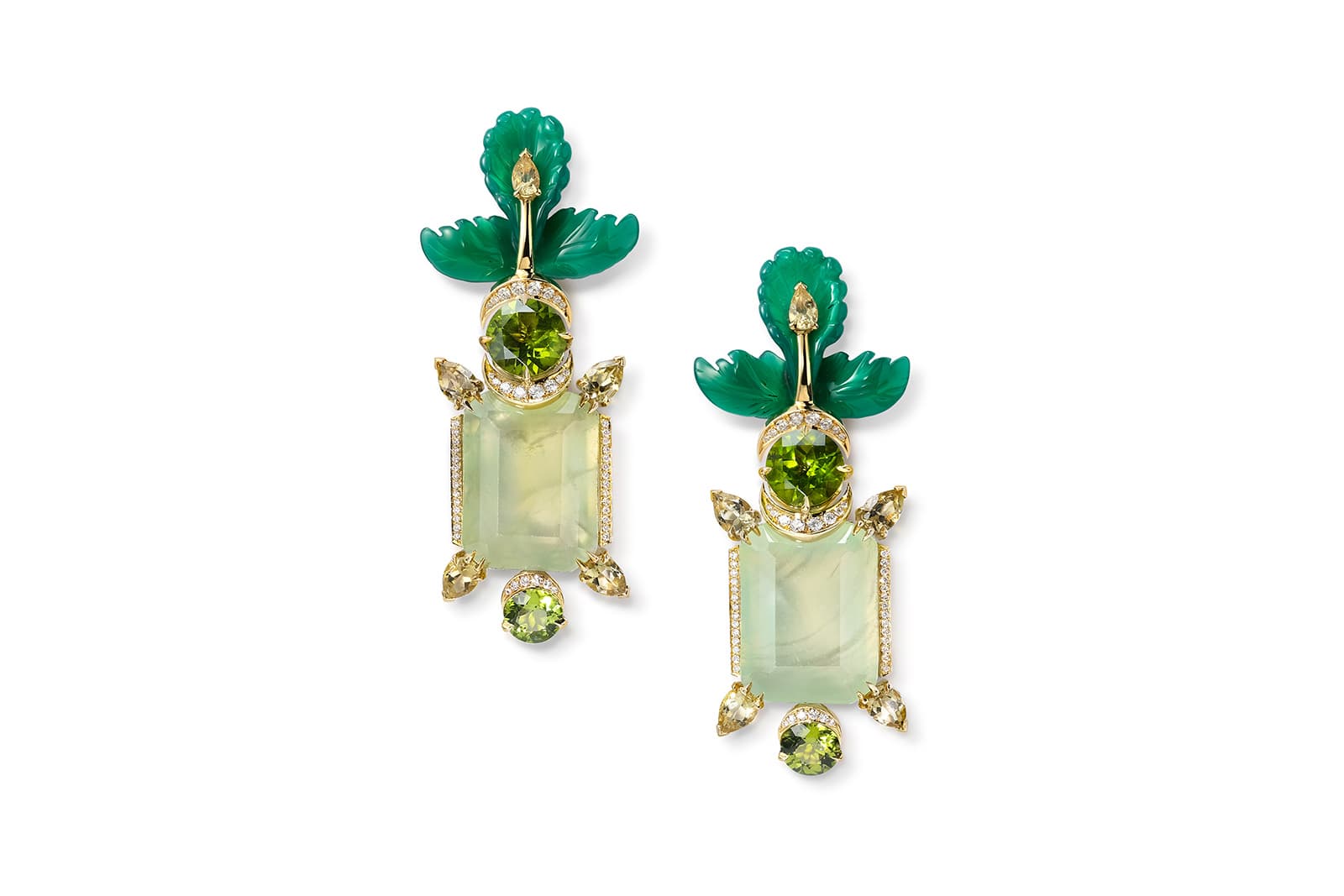 My personal favourites from the collection are a pair of earrings adorned with ammonites, smoky quartz and diamonds entitled The Key to the Past. In the mind of the designer, they are a symbol of evolution and rebirth. I feel that this is an immediately comprehensible idea to the viewer, thanks in large part to the clever use of ammonites. These are the fossils of an extinct subclass of cephalopod that existed an astonishing 65 million years ago and yet we still find their remains during excavations. We will no doubt continue to find such specimens for millions more.
As I finish my conversation with Sabine, I ask why all the jewels in her collection are earrings. The designer confesses with an admirable candidness that she hadn't thought about this in the slightest. "Having become a mother of two children, I began to wear earrings more and more often, because all other forms of jewellery seemed to be ripped off me by my children. Furthermore, it just so happened that in my collection of stones there were more paired specimens than single ones. In this sense, their use in earrings was a natural solution. A final potential cause of this earring focus is that now, as a consequence of the pandemic, we wash our hands so often that rings have become a less and less obvious choice."
As it turns out, there are many more precious stones in Sabine's collection that she has not yet had time to incorporate into jewellery. She is, however, planning to make use of all of these residual pieces in the near future. According to the designer, she is at the crest of a new creative wave since her children have started to spend more and more time on their own. This has freed up their mother to return to her beloved business: that of jewellery design.