"Pavé is essential to my work because it enables me to create natural, organic and 360-degree, fully rounded artistic jewels that capture the exact movement and life of what I've envisioned," says Cindy Chao, a highly successful jewellery designer from Taiwan, who applies gemstone pavé setting in her artistic pieces. "I often mix diamond pavé with various other gemstones, such as sapphires or tsavorites. The reason is purely aesthetic, to help me fulfil my creative intention. When, in recent works, I have entirely covered metals with sapphires and rubies, the result was completely different from pavé set diamonds: the jewels had a strong sense of mystique and allure."
At first glance, pavé might seem a fairly straightforward technique of positioning gemstones to achieve striking results, but in reality it is a complex process requiring a particular set of skills. And who would know this better than the recognised maestro of precious stone inlay, Carlo Palmiero.
"Making a perfect pavé requires expert eyes to select the stones, excellent manual skills to drill the holes and set the stones at the right distance as well as at the same height, and time, paired with the passion to create works of art. I personally travel the world to look for the best quality gemstones, and I select them one by one, according to their colour. In Palmiero, not only have we brought the art of pavé to its highest standards, but we have also introduced colour shades into contemporary jewellery design," says Carlo.
Often, the jewellery Palmiero designs himself is associated with the artworks of Pointillist painters, so much so that the miniature stones inserted into the metal sometimes configure their very own pattern. With the help of tiny faceted gems Palmiero creates astonishing gradients of colour and, given his ability to do so, there are probably few who can compare.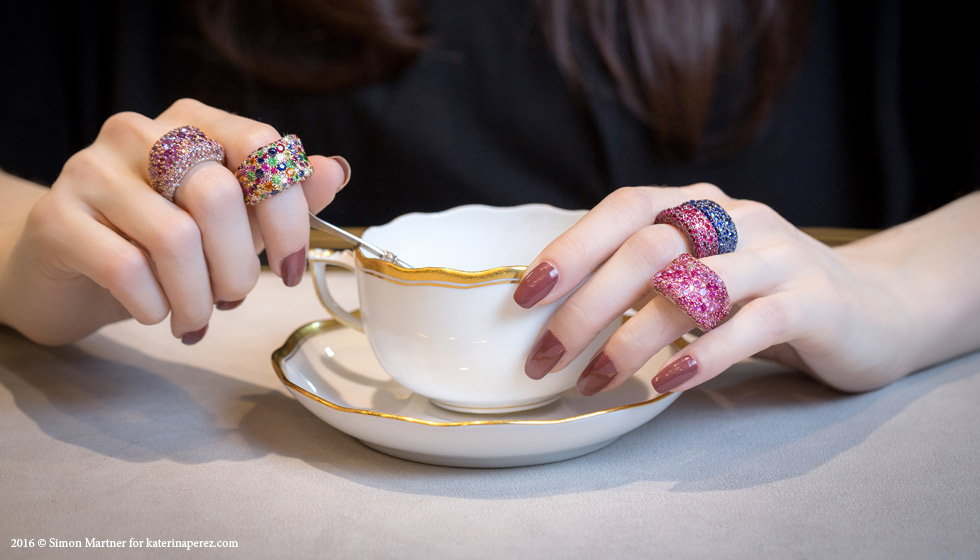 Not all jewellers set themselves the task of reflecting a riot of colour, with some of them preferring to use the pavé technique to give their jewellery additional volume or texture. To achieve the desired result, pavé experts first shape the metal and then encrust it with the stones. Doing this on curved surfaces becomes almost doubly complicated, but the end result is well worth it. A striking example of sculptured, stand-out jewellery can be found in the popular Fabergé rings from the Emotions collection, which were inspired by the embossed surfaces of Russian's raging rivers. "We applied the pavé technique to a sculptured, curved surface to create more than just pieces of jewellery: they are decorative, abstract compositions with colourful gemstones. By painstakingly selecting the stones and immaculately setting them, we have achieved a unique, organic feel. The metal had to be reduced to the very minimum to achieve the effect of fluid colour," says Design Director of the Fabergé line, Natalya Shugaeva.
Of course, paving pre – shaped metal is not the only way of creating an effect of volume on surfaces. To prevent the precious material from appearing flat, jewellers apply an even more sophisticated method: setting stones of different calibers side by side. "A combination of gemstones of different diameters gives pieces more dimension and beauty. In my eyes, it adds value to the artistic aspect of my creations," says Dori Mouzannar, who inlaid items of the Meteor jewellery line with different sized diamonds, rubies and sapphires. "It is a specialised art to set different sized stones on the same piece and still have it turn out to be aesthetically pleasing to the eye. The challenge starts with finding and matching gems of varying shape and size, then skilfully setting them in a geometrically harmonious combination. It's like building a puzzle."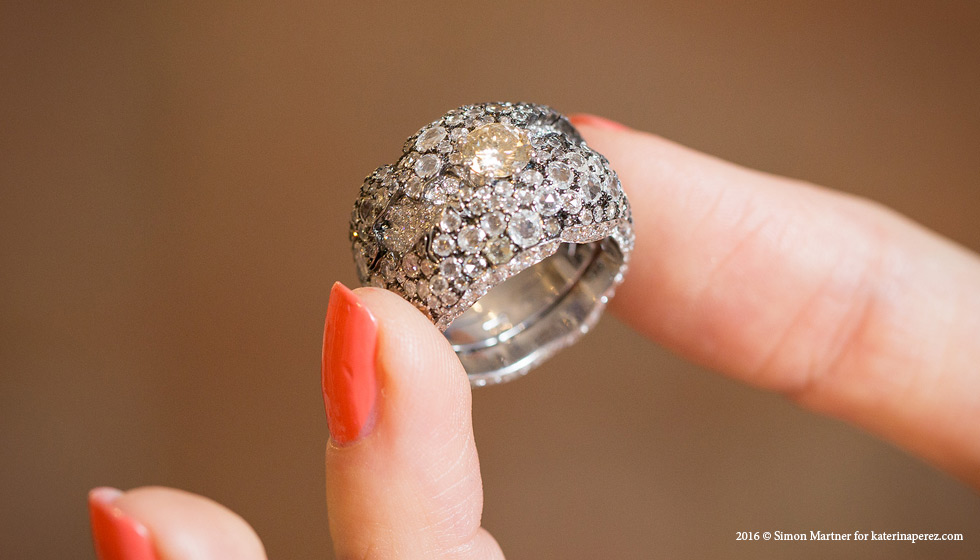 From all written above one can say that the art of pavé lies in the ability to combine stones of different colours, carefully set them side by side on a curved metal surface and form a harmonious visual story with gems of differing caliber. But surely there is something more to achieving a truly unique visual effect? The answer to this question is found with Christian Hemmerle, who over the course of the last ten years has been experimenting with a setting gemstones in reverse pavé. "It gives pieces a very contemporary feel as the setting adds an unexpected depth when light is reflected from many different angles due to the increased exposed surface area. It is much harder to set pavé in reverse: the added challenge is to colour-match the stones when they are viewed from the crown side up and the colour experience differs from that when viewed from the pavilion. The hue becomes more intense and the end result displays a more complex array of colour tones," explains Christian Hemmerle.
However, the complexities do not end at ideally choosing suitable colours for each of the precious stones. "Another element to tackle in reverse pavé is to create the perfect shape and volume to the facetted piece as the sizes of the stones' pavilions are naturally dissimilar hence each individual stone has to be selected and set with absolute accuracy, in order to achieve the desired shape," adds Christian.
Creating paved surface is not just a mechanical process which can be executed on a machine, it is pure manual labour. A considerable number of hours is spent by the pavé setting expert in order to create a continuous sparkling surface effect. The result? Often, the number of hours spent crafting pavé jewellery has a greater influence on the price than the actual cost of the diamonds or gold used to make it.