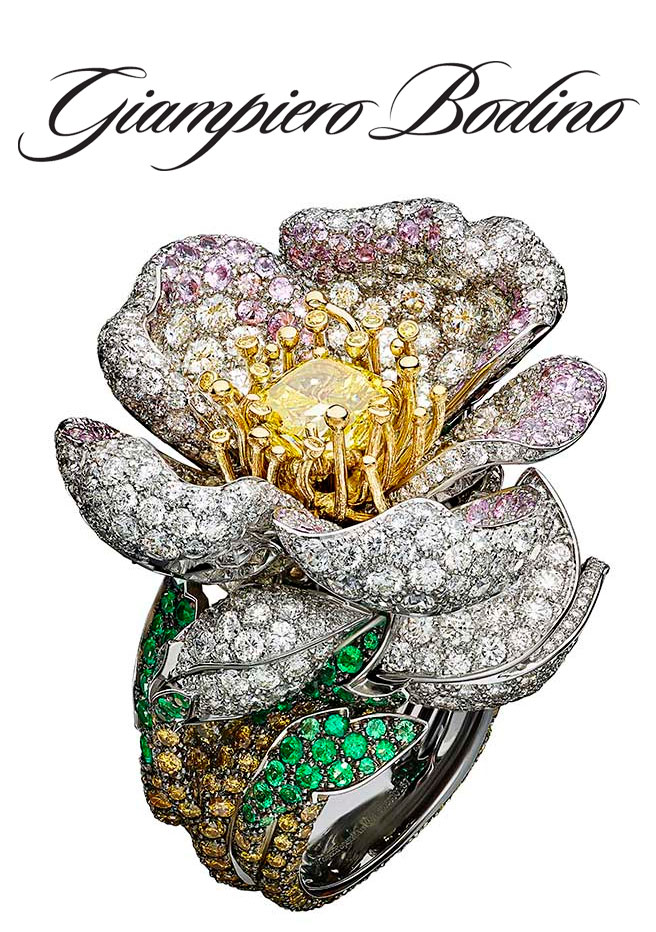 Giampiero Bodino Primavera ring with white, grey, yellow and cognac diamonds, pink sapphires and emeralds set in white and yellow gold. Photo by Laziz Hamani
I often compare jewellery to painting. The work of artists and jewellers regularly overlaps, originating from the same sources of inspiration. As far as Giampiero Bodino's work is concerned, the two go hand in hand: the Italian jeweller paints in his spare time. This is not what this feature is about though. I want to share one of Bodino's jewels with you that deeply impressed me.
To begin with, I should say a few words about the designer himself, because the name Giampiero Bodino is currently known only to a narrow circle of people.
Occupying the position of creative director of the Richemont Group, Bodino has remained in the shadows of jewellery 'giants'. Johann Rupert, the chairman of the Richemont group, watched this creative genius come up through the ranks with some outstanding designs and tried to persuade the modest Bodino to start working under his own name. It is thanks to Rupert's tenacity that a new jewellery star has been born.
43 works of art by Giampiero Bodino will be exhibtied for the first time at the Biennale des Antiquaries, to be held 10th – 21st September at the Grand Palais. Myself and other members of the press had the opportunity to see the master's work for ourselves during Paris fashion week. It was the only place where it was possible to see the designer's jewellery pieces since Bodino does not sell his jewellery in any boutiques. Those wishing to see his jewellery or discuss a special order have to visit the Villa Mozart in Milan, by appointment only of course.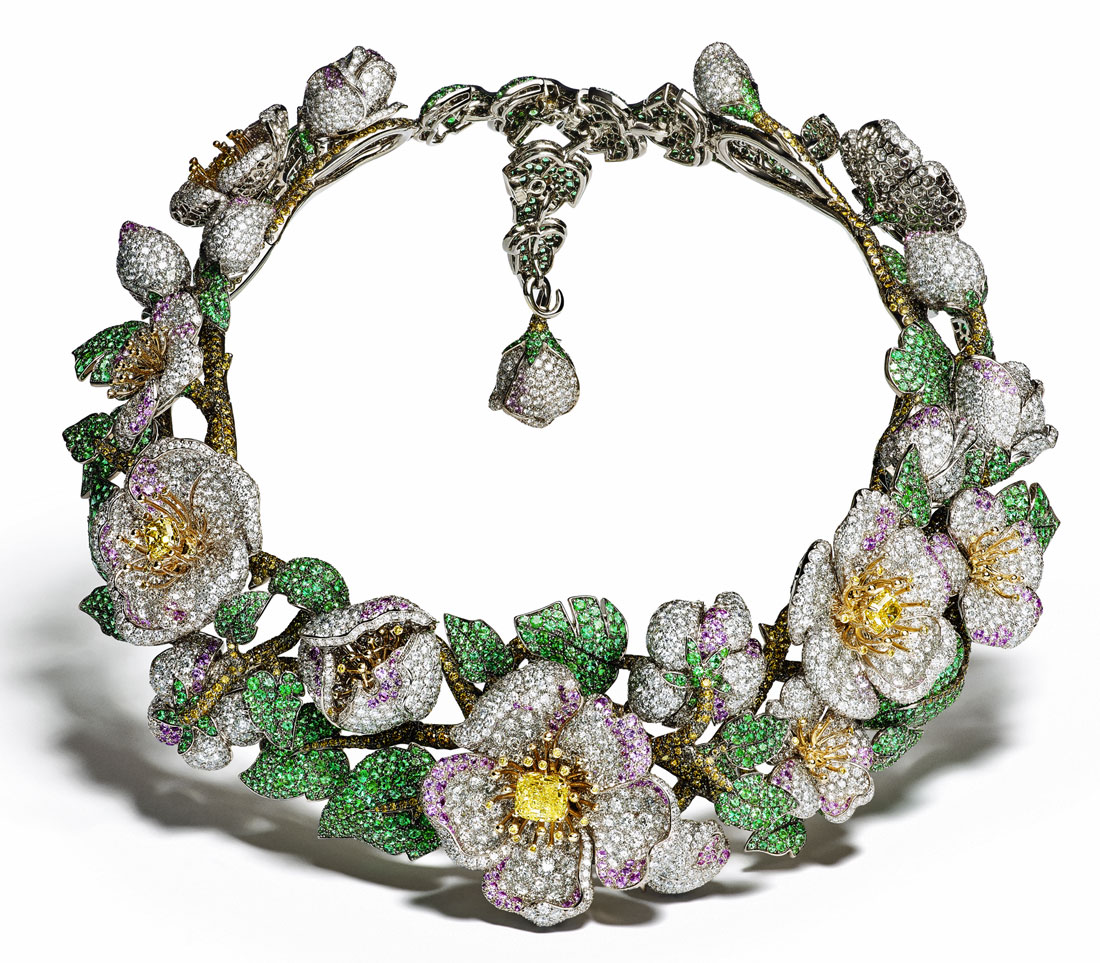 Giampiero Bodino Simonetta necklace from the Primavera collection. It features five intense and vivid yellow diamonds of 6.43 cts in total, white and cognac diamonds as well as pink sapphires and emeralds set in white and yellow gold. Photo credit: Laziz Hamani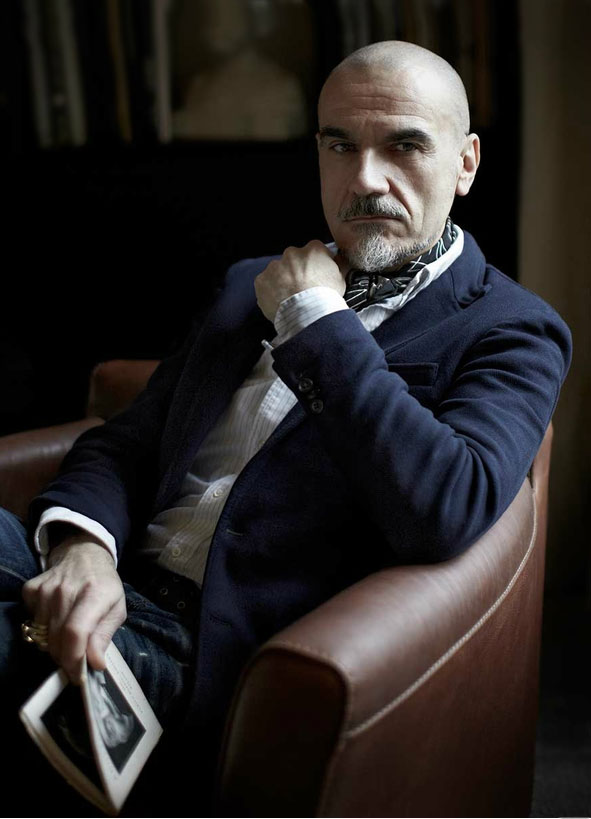 Giampiero Bodino portrait by Giuliano Bekor
On the way to the presentation I was anticipating something excellent; I knew that Giampiero Bodino prepared some masterpiece jewels. And I was certainly right in thinking so! In display cabinets that were arranged in a perfect circle I saw colourful baroque-style chokers, necklaces with elaborately carved cameos, cuff bracelets that feature geometric compositions of semi-precious stones, a gorgeous horse head bracelet, and… what I then saw just made me freeze.
In front of me was a necklace with apple buds that looked as if it was swaying in the wind. "Oh, what a poetic jewel!" I thought to myself. Of course, this is not the first piece with lush, sparkling buds that I have seen. But this was the first time I'd seen precious flowers with petals that were so malleable, graceful and vivid. They look natural because Giampiero chose to encrust the petals not with white diamonds but silver ones that were of a shade very close to the natural prototype. "Contrast and harmony of colour in jewellery helps bring out the right emotions. I just follow my intuition when it comes to choosing a colour palette," says the designer.
Do you see anything unusual if you study the picture? What about the fact that one of the buds in the centre is turned back to the front – how often do you see that? When it comes to flowers in jewellery, their blooming buds always "look" at us, however in nature or paintings this is not always the case because flowers are full of life and dance with the wind. It was this design element that caught my attention and made me study the jewel in even more detail.
If you were to tear off an apple tree blossom cluster, you would notice that the flowers do not have perfectly shaped petals; the edge of each of them will be bent inwards or outwards. This is also the case with the apple tree buds that decorate this jewellery masterpiece by Giampiero Bodino. To me it looks like they breathe, like they are alive. They possess the same unprecedented beauty as the actual creations of Mother Nature. KP