It is hard to say what I find most appealing about the chameleon, from its ability to change colour, the way it moves, so considered and self-important, or its funny rotating eyes. But I certainly can say what drew me to the 'Chameleon' brooch from the extensive Animals collection: the charming design, bright colours and high level of technical accomplishment.
You cannot help but be impressed by the verisimilitude with which Carlo Palmiero has brought these exotic creatures so perfectly to life in these delightful jewellery designs. The chameleon on the jewel has gently but firmly wrapped its split-toed feet around the branch, rooted to the spot as if fixated by something it has spied in front of it. The brooch, made with diamonds, coloured sapphires and orange topazes, has been perfectly realised. Two more colour variations have been created alongside this one: one red, blue and yellow, with diamonds, sapphires and blue topazes; the other red, yellow and black, with diamonds and sapphires. They are different not only in colour – each chameleon is looking in a different direction: one dead ahead, the second upwards and the third directly at the admirer.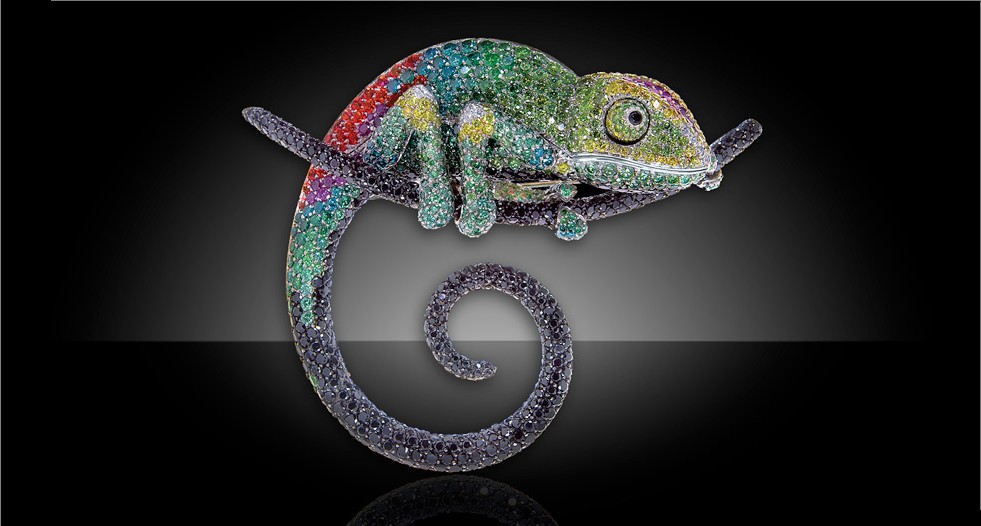 "The Chameleon has a specific meaning which Palmiero wanted to embody in this jewel. This animal has been compared to a lion, but in miniature, as it symbolises strength derived from chameleon's ability to adapt. This animal is also able to see far-off challenges and find solutions to them," says Carlo Palmiero about the hidden message of his brooch.
A chameleon's eyes move independently of one another, which means they can look simultaneously both backwards and forwards, an ability which makes this animal a symbol of awareness. Whatever the subtext ascribed by Palmiero to his jewellery, it is the design and craftsmanship which most impress. Developing the idea required both an acute understanding of the natural world and a landscape artist's approach – Carlo Palmiero is incidentally a big fan of fine art. As soon as the design was ready the jewellers set to work bringing it to life, first creating wax models, followed by a metal prototype, before moulding all the details out of gold and setting the gemstones. As you can imagine, the process took a number of years.
"This brooch is considered a real masterpiece of unique shapes and unexpected colours. Its manufacture was incredibly difficult as we had to assemble it from several parts. It is entirely covered with gemstones, from the branch on which it rests to the long wound up tail," says Carlo Palmiero. He actually was the one who personally selected the colours of the diamonds and precious stones that decorate Palmiero's marvellous brooch.