The Argyle Pink Diamond brand is a trademark licensed to select ateliers and to fifteen authorised partners. 'Luxury jewellers must qualify to buy directly from the Argyle mine. The hurdle rate is very high and is based on criteria such as design capability, financial backing, ability to develop the market, global reach and commitment to an ethical supply chain,' Josephine Johnson, manager of Argyle Pink Diamonds, explains. There are six select ateliers across the United States, five in Japan, one in Hong Kong, nineteen in Australia and New Zealand, and two in Europe. We have chosen eight, whose works exalt the beauty of Argyle pink diamonds.
Hartmann's (Denmark)
Ulrik Hartmann founded this company in 1995, and the flagship store was opened in 1997 on Bredgade in Copenhagen. In 2012, they were invited by Rio Tinto to exhibit unique Argyle pink diamond jewellery in the exhibition 'Out of the Vault: Pink Diamonds and Royalty' at Kensington Palace, London, as part of Elizabeth II's Diamond Jubilee. 'The Pure Love Ring' was unveiled at the event, and features a 1.35 ct heart-shaped Argyle pink diamond incorporated into a cacholong stone. The smooth white cacholong and the vibrant pink heart are symbolic of deep passion and sentiment.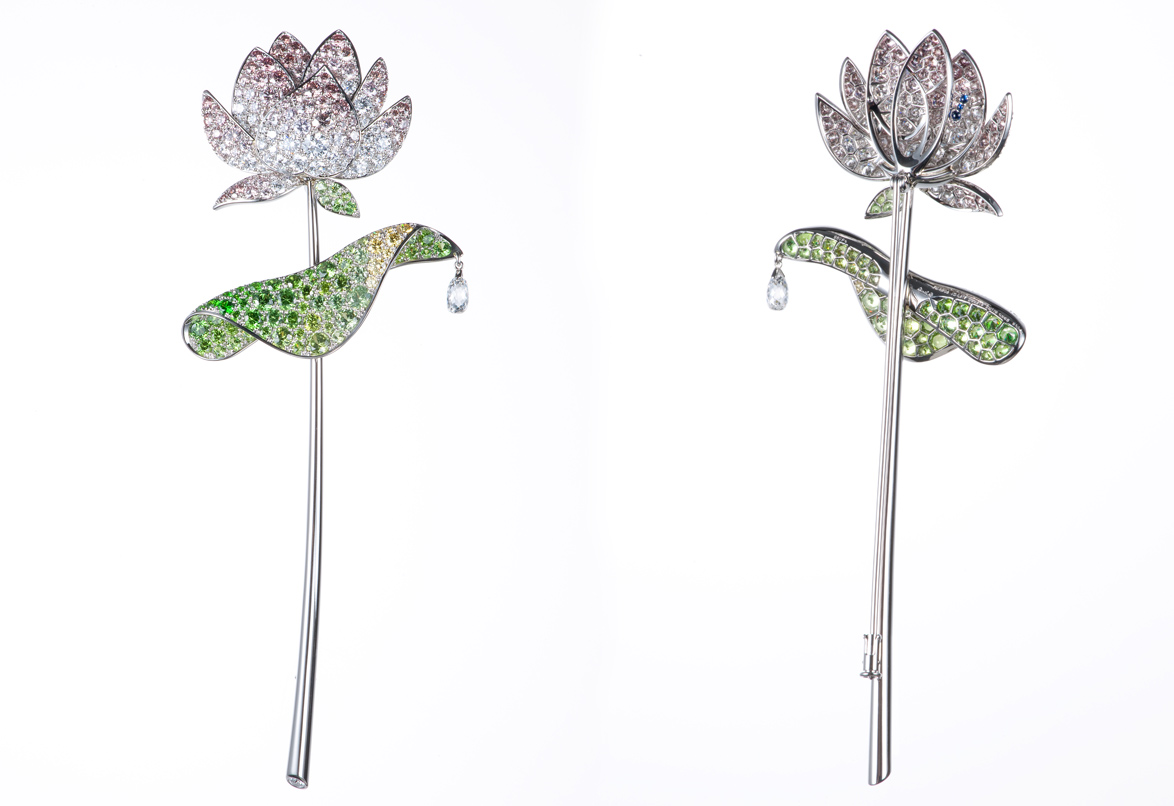 Gimel (Japan)
At Gimel, nature, through the seasons, is accurately depicted in ravishing renditions that incorporate only the finest gemstones, hand-picked by founder and lead designer Kaoru Kay Akihara herself. Akihara trained in Canada and Los Angeles before establishing her atelier, carved into a mountainside near Japan's Setonaikai National Park. 'The Lotus Flower Brooch' blends more than 5ct of Argyle pink diamonds of varying hues, producing gradations of colour akin to those seen on an artist's paint palette. She has set a further 17ct of yellow and white diamonds, green garnets and blue sapphires into platinum and yellow gold for the rest of the flower.
Nirav Modi (India)
The son and grandson of diamond dealers, Nirav Modi grew up in Antwerp. Extending the boundaries of jewellery into the realm of art, Modi weaves together the rarest and finest diamonds with timeless design, impeccable craftsmanship and new diamond cuts e.g. the trademarked 'Endless', 'Ainra' and 'Mughal' cuts. The 'Ainra-cut Pink Marquise Bracelet', visually delicate and strikingly light, features over 47 ct of diamonds, including seven Argyle pink and pinkish-orange marquis-cut diamonds and twenty-two brilliant-cut white diamonds.
Chow Tai Fook (Hong Kong/China)
Since 1929, the iconic brand 'Chow Tai Fook' has opened 2,300 stores, spanning more than 500 cities in South-East Asia and the surrounding region. It is a major actor on the jewellery market. 'The Argyle Empress Necklace' features two Argyle pink diamond-encrusted flower motifs, depicting the Hong Kong camellia, set against thirty-five luminous Imperial jadeite beads, representing the verdant colours of the camellia's leaves. The flowers feature five Argyle 'Tender' diamonds, collected over five years, totalling 3.73 ct. A further 40 ct of meleé Argyle pink diamonds fills the petals.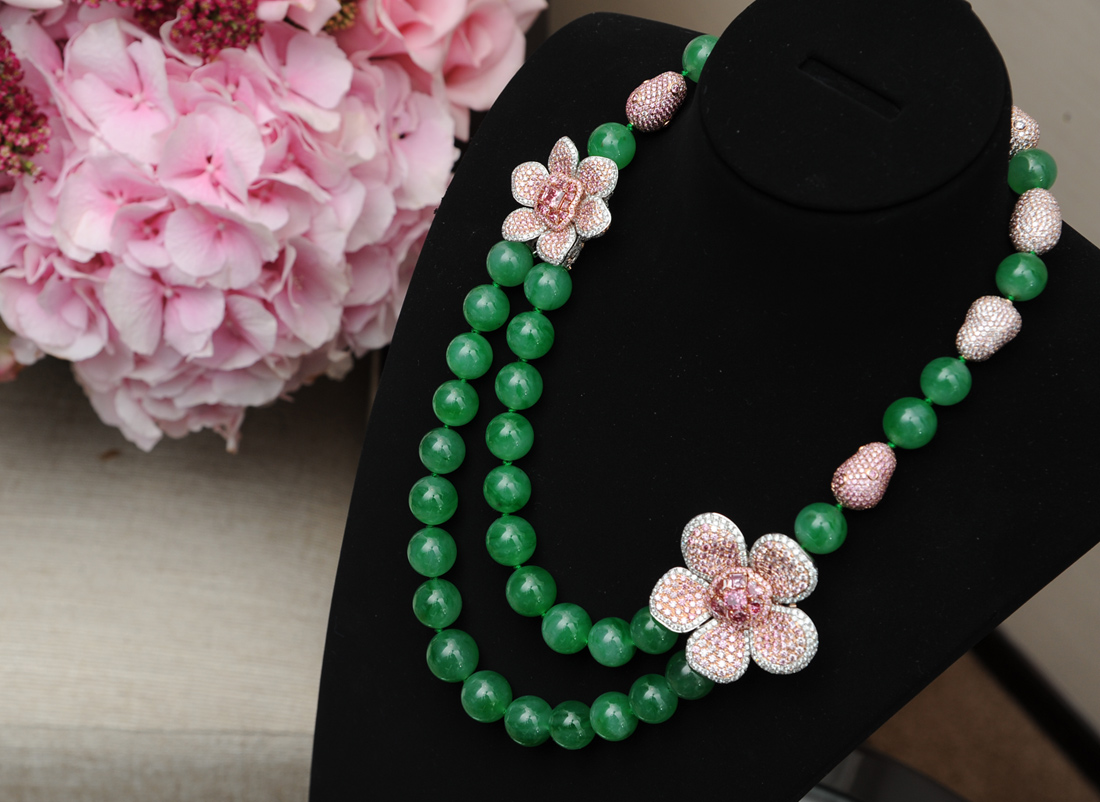 Rosenberg Diamonds & Co. (U.S.)
David Rosenberg actively travels the world to select the most ethical mines and hand-pick every single stone, so as to guarantee Rosenberg Diamonds & Co. only uses the finest natural diamonds. In 'The Dome Ring', pavé-set white diamonds encase 0.24 ct of Argyle pink diamond petals surrounding a central 0.37 ct Argyle pink diamond. This romantic, Fancy Intense Purple Pink-coloured centre-stone emanates a rich colour, creating a vibrant flower.
Mondial Pink Diamond Atelier (Australia)
Mondial's passion for pink diamonds started in the 1970s, when husband and wife, Fred and Maria Neuman, shifted their focus from retailing their own designs at Carina Jewellers boutique in Sydney to wholesaling – a move that has cemented their reputation as a source for highest quality gems and service to their clients. 'The Diamond Jubilee Blossom Brooch' is symbolic of Elizabeth II's 60-year reign: a 0.89 ct Argyle pink diamond is nestled within sixty rose gold stamens, each with a bezel-set pink diamond. The six leaves, two blossoms and fifty-two colourless diamonds connote Her Majesty's accession date of 6 February 1952.
Musson (Australia)
One of Australia's most respected bespoke jewellery design and manufacturing family businesses, Musson was established in 1972 by Robert and Kerry Musson. Their sons Olivar and Damien (respectively, creative and managing directors) have embraced their parents' vision, as can be seen in the spectacular 'Lowanna' ring, set in a bespoke 18 ct rose- and white-gold design. The 'Lowanna' diamond is an extremely rare Argyle Fancy Vivid Pink oval weighing 1.27 ct. It is beautifully framed by two pear-shaped, blush Argyle pink diamonds totalling 1.78 ct, and set within a halo of rare white and pink diamonds.
Rohan Jewellery (Australia)
Mentored by renowned jeweller Henry Dunay in New York City, Rohan Milne understands the importance of preserving old-age traditions in the art of handcrafted jewellery – so much so that, in 2007, he travelled back to Perth and, with wife Toni, founded Rohan Jewellery, a company that puts its Leederville studio and workshop front and centre. Advocating artisanship at its best, it was only a matter of time before Rohan Jewellery would join the prestigious Select Atelier club. 'The Argyle Tender Pear' in platinum and 18 ct rose gold, features a rare pear-shape diamond from the Argyle Pink Diamonds Tender collection, surrounded by a halo of Argyle blue and brilliant white diamonds.
Argyle pink diamond jewellery can be purchased from any of the thirty-three select ateliers around the world which are listed on the Argyle Pink Diamond website www.argylepinkdiamonds.com