Philippe was born into a family of antique boutique owners in Béziers "The oldest city in France", who also worked as jewellery manufacturers, producing collections for various brands. His father, Jean-Pierre Guilhem, was one of the best-known and most respected gemmologists in France, so from an early age, Philippe spent a lot of time in mining areas buying amazing gems with his father. He grew up surrounded not only by exquisite jewellery but also by art pieces. There is no doubt that his early submersion into the world of jewellery and gemstones played a vital role in the development of Philippe's tastes as a young man.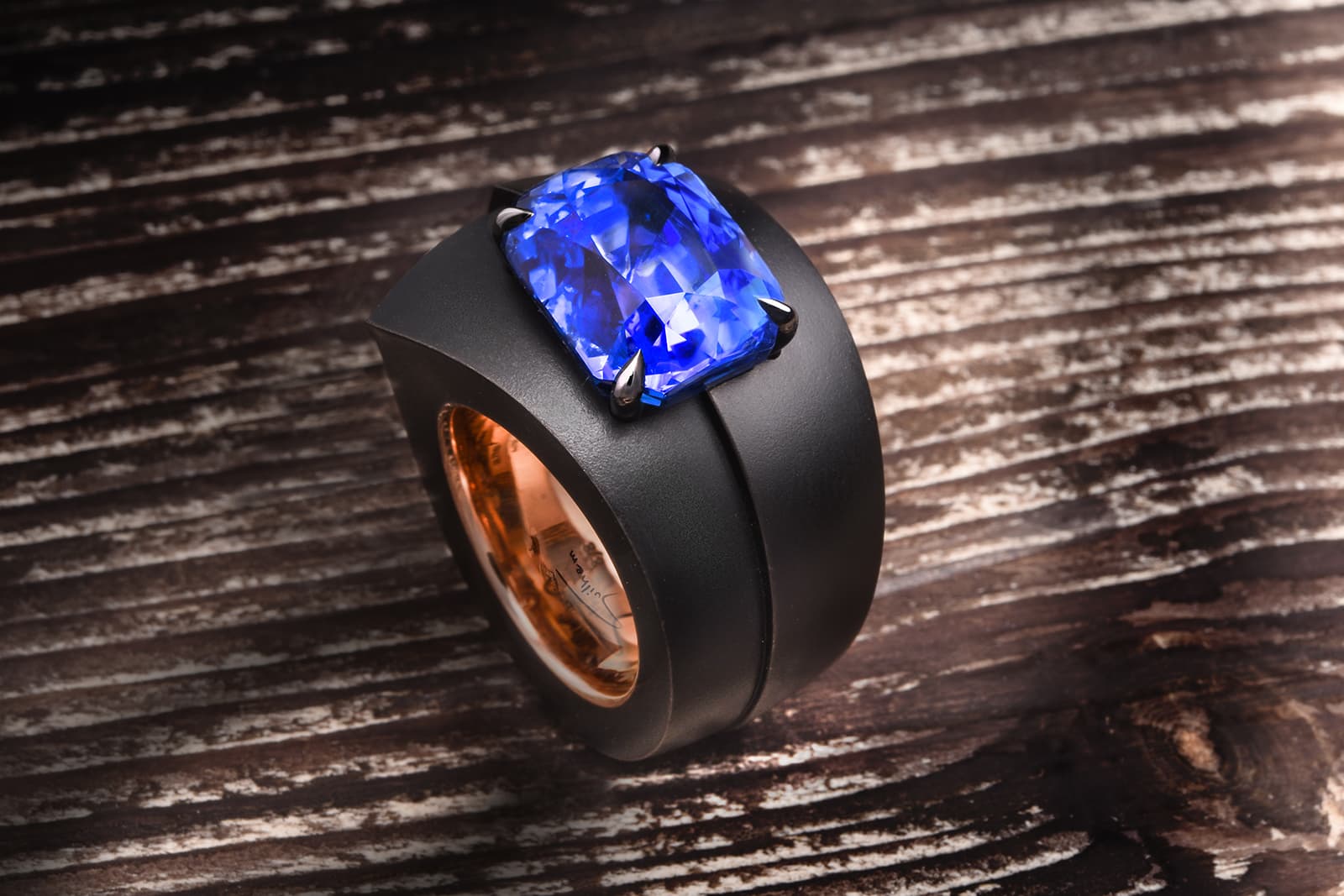 "I was surrounded by jewels but also estate furniture and sculpture. In fact, my great-great-grandmother was a sculptor. She was the one who opened the Jewellery in Béziers in 1865 " explains Philippe as he talks about his love for sculpted shapes in jewellery. "Now I love to pay homage to her and her work by including bronze in my jewellery." It is, incidentally, the sculptor Gustave Miklos and architect Zaha Hadid who have been key sources of inspiration to Philippe for many years.
The first things that catch your eye when admiring the French jeweller's ring collection are the purity and minimalism, the expressive gemstones and the unusual finishes of the metal surfaces. If you look closely, you can see that Philippe prefers the classic beauty of gold. "When I started creating my own jewellery about three years ago, I was exploring the idea of replicating the patina you see on bronze sculptures," continues the jeweller. "I have always loved how gracefully bronze transforms over time, allowing different streaks and marks to appear on the surface. Bronze jewellery matures along with its wearer."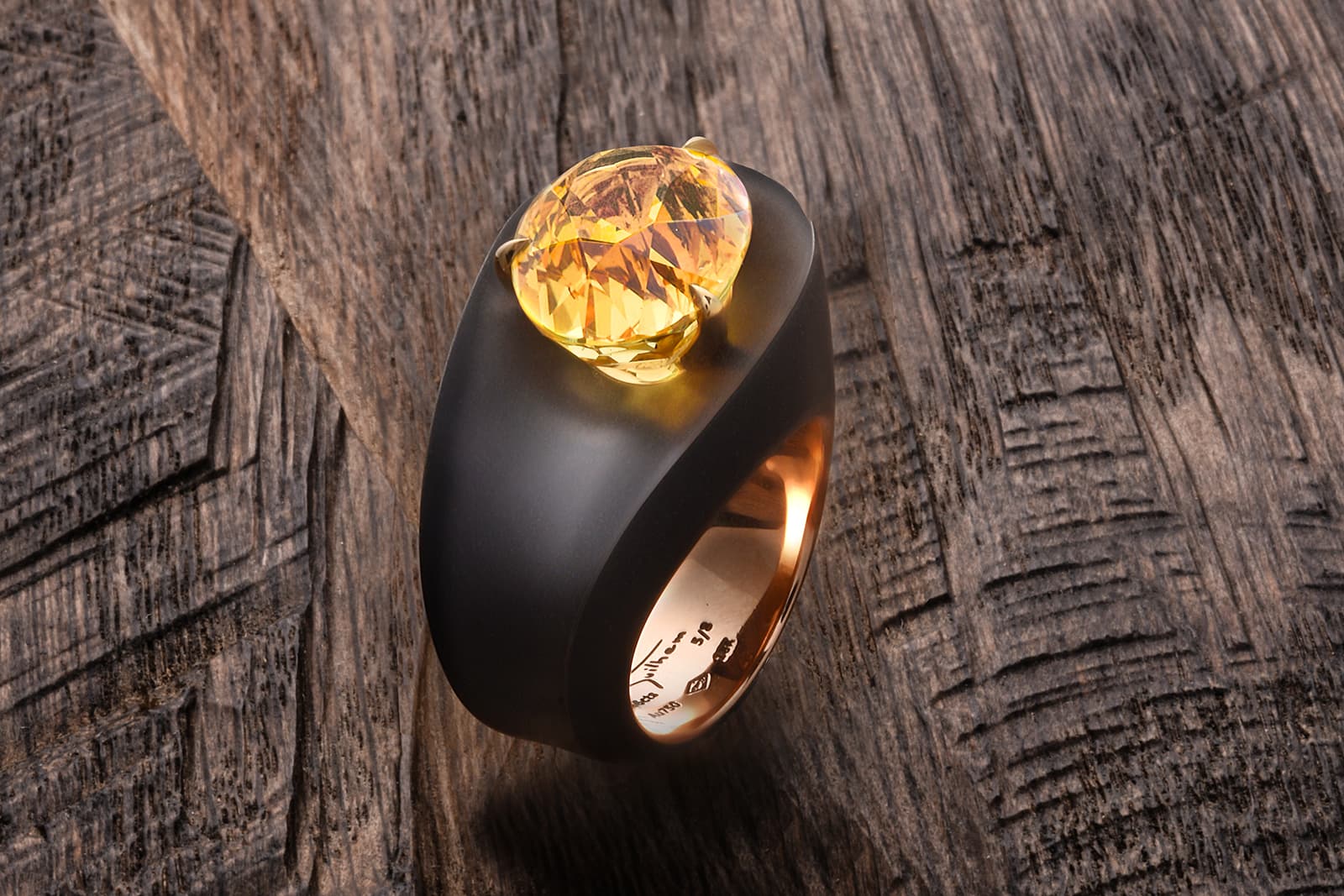 For Philippe, creating a single jewel is a lengthy process that can take several months because what might seem simple at first glance is actually extremely difficult to realise. Each line must be perfectly honed and each millimetre measured to ensure balance and harmony in the design. If you change the width of a ring even slightly, the roundness of the shank or the location of a stone or the angle at which it is set, the design is compromised. What's more, when the surface of the piece is so open, even the tiniest of flaws are immediately visible. Driven by perfectionism, the only way to achieve a flawless result is to have talented jewellery makers working alongside Philippe Guilhem.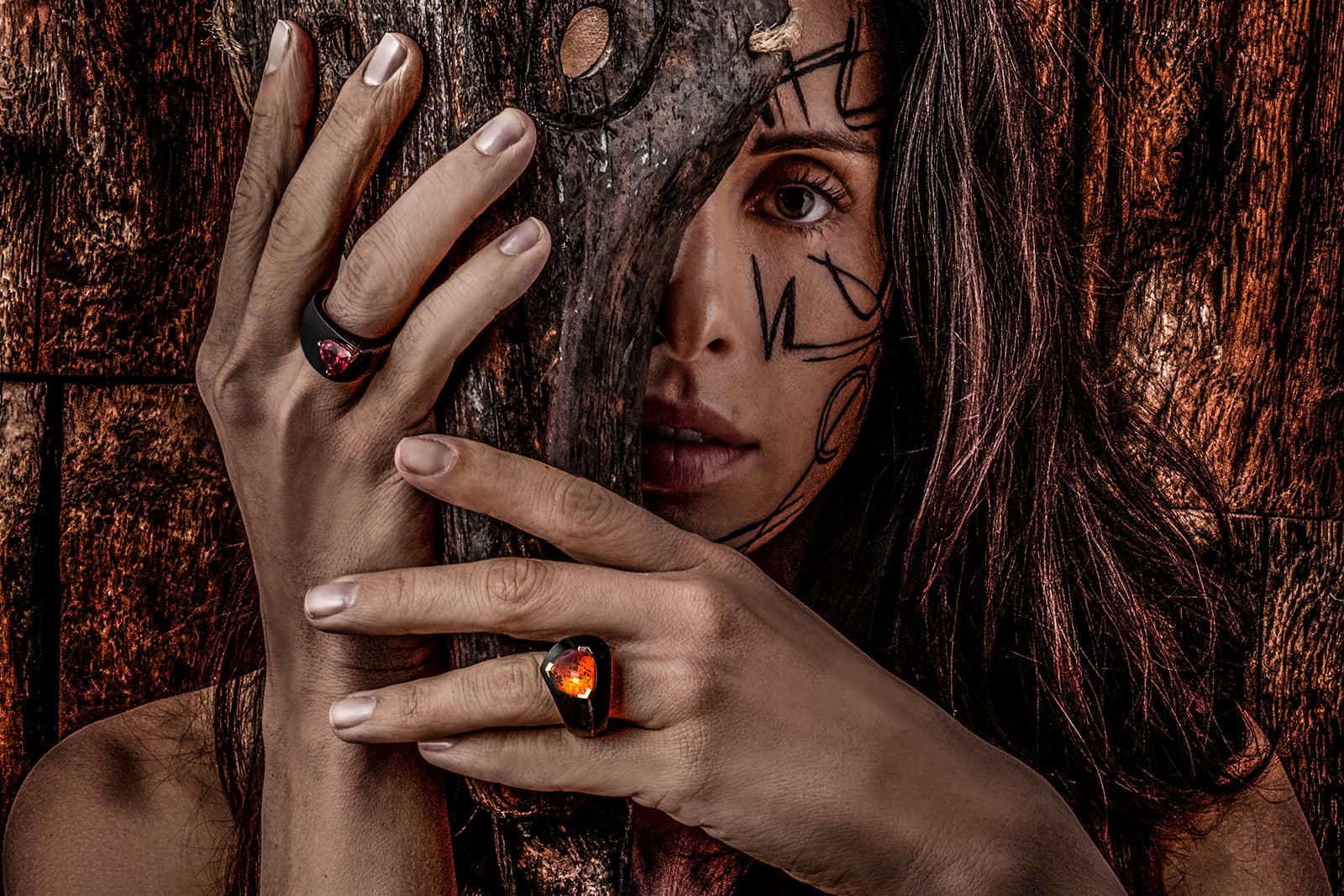 The conception of a ring's design begins with an inspiration, and after the idea is realised, through creating a mould of the jewel from a material that is easy to shape into the desired form. "It is not commonly used in jewellery making," Philippe reveals. "I came across it in Tuscany, in Pietrasanta, where I often go with my wife Maria. It's a special moist paste that allows me to play with several shapes before solidifying. Then I use various tools, one of which looks like a nail file, to give my rings their final shape." During our meeting, he admitted that he does not like using CAD modelling, which he feels creates lifeless designs. Instead, he makes all the prototypes with his own hands. "I really do prefer handmade designs. I feel the beauty is in the imperfection," he says.
Next, Philippe delivers his prototype to the workshop, where the jewellers produce the bronze element of the ring, after which it is sent to a different studio so that the gold base can be made. After that, the piece returns to the bronze craftsmen to undergo a special heat treatment of the metal surface, which creates the desired patina, and the process doesn't end there. For the gemstone to be set, the ring must be returned to the gold workshop. Only after this "finishing touch" has been added does the jewel become a beautiful sculpture in its own right.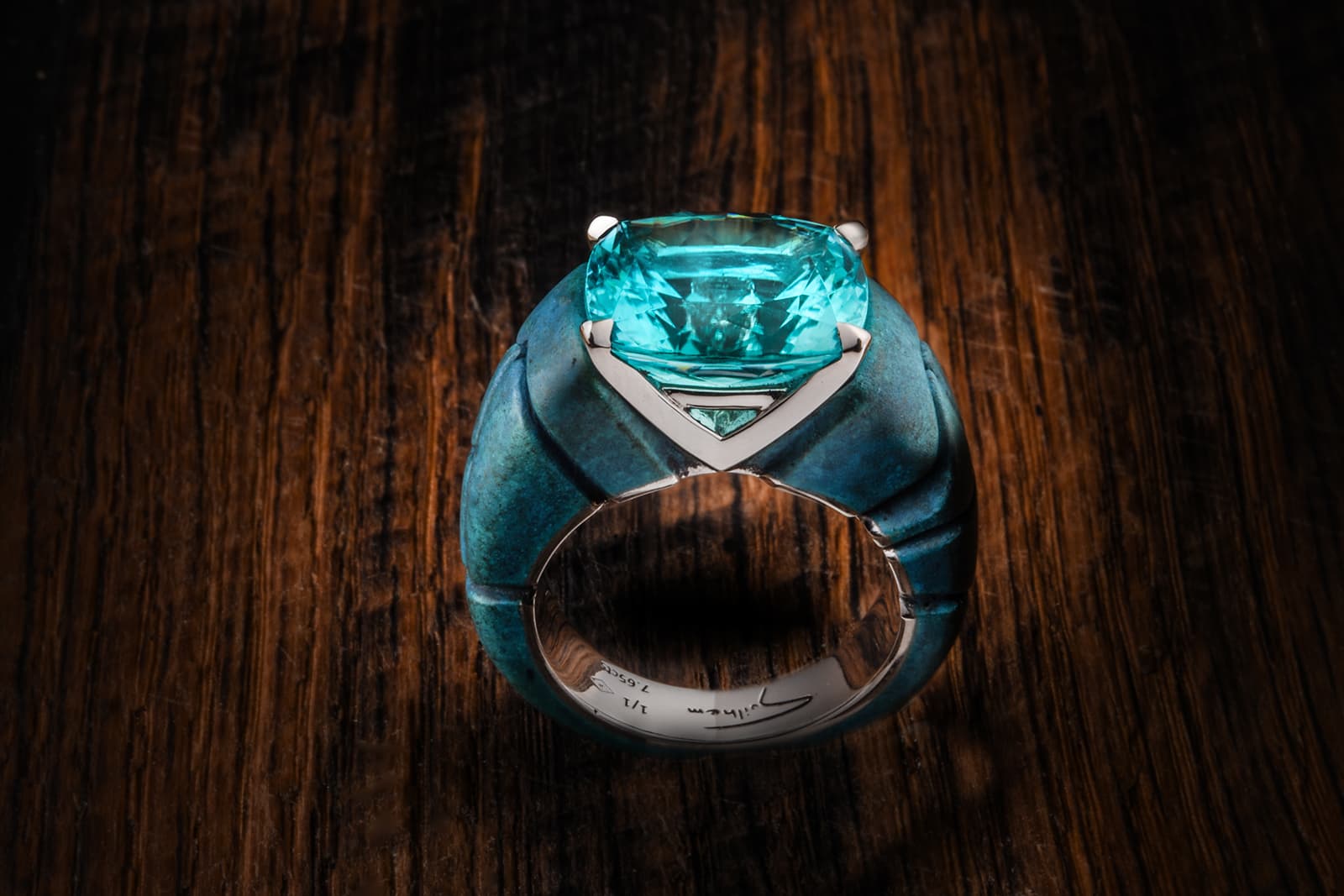 Philippe creates eight different versions of each design and calls them by different names, with the shape the only unifying factor. All the colour combinations of bronze and precious stones are unique. "I love this: a contrast between the exceptionally clean, shiny stone and the rough of the material. My work always starts with the gem and then I create around it," he tells me.
Philippe has long been under the spell of precious minerals and is very particular when it comes to acquiring sapphires, rubies, spinels, garnets, rubellites, Paraiba tourmalines and other brightly hued stones for his jewels. In his collection, there are many extraordinary stones that he handpicked directly at mines, including an 18.77-carat blue sapphire, an untreated fire ruby from Tanzania weighing 8.12 carats, an oval Padparadscha sapphire weighing 20 carats and a 6.03-carat heart cut spessartine garnet.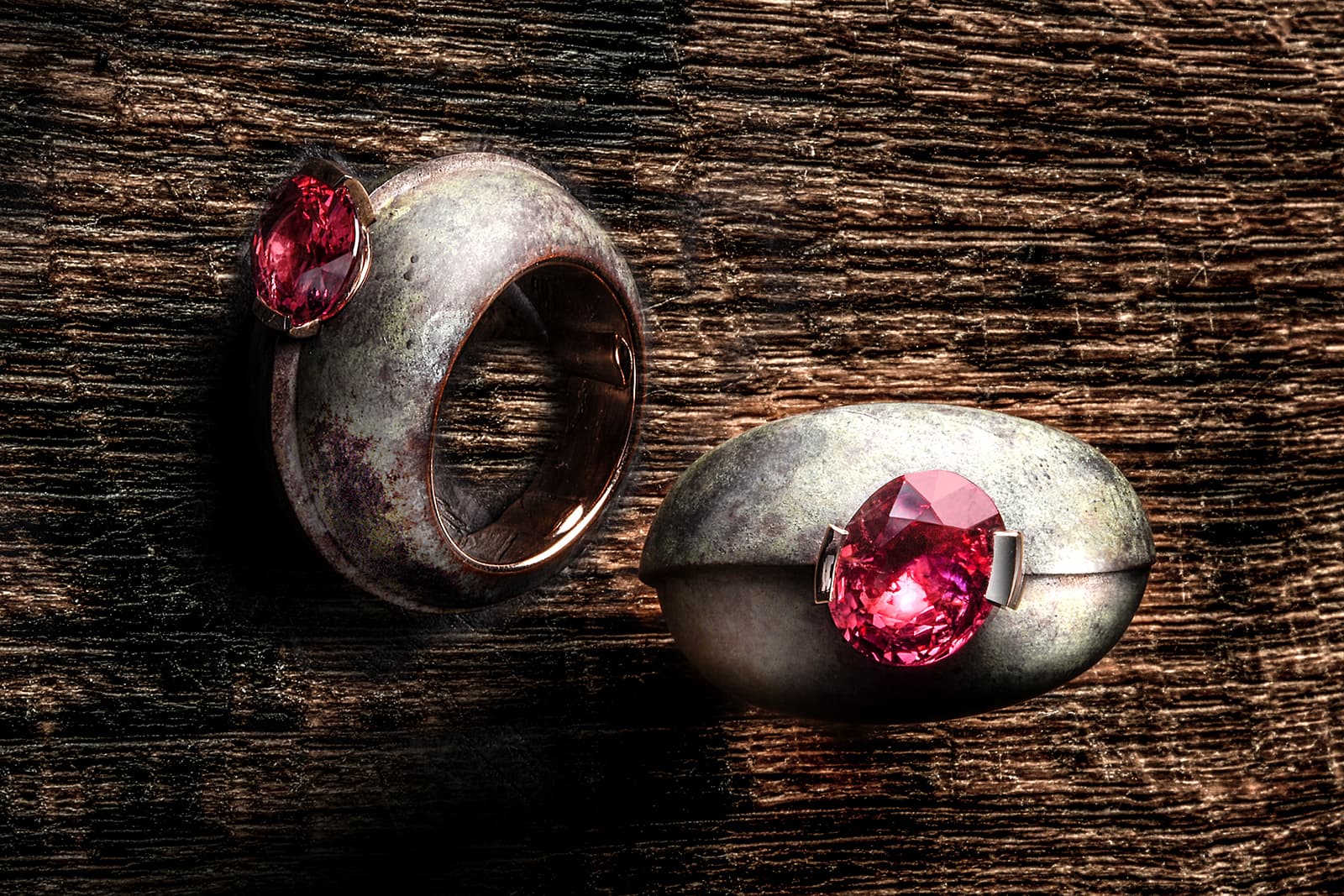 Philippe chooses diamonds with extreme care and is not attracted to those that have nothing to offer besides a hefty carat weight and good clarity. He believes that the stone should, above all else, be a harmonious complement to the sculpted shape of a jewel, create a frame through its proportions and hue, and provide a spectacular contrast with the warmth of the bronze.
With more than a dozen rings under his belt, Philippe has recently turned his attention to making earrings and even a cuff bracelet. "I am working on my first cuff, which will be crowned with a wonderful "Jedi" red spinel from Burma," he says. "I chose it out of perhaps 50 other spinels for its amazing colour and cannot wait to show you the result in a few months."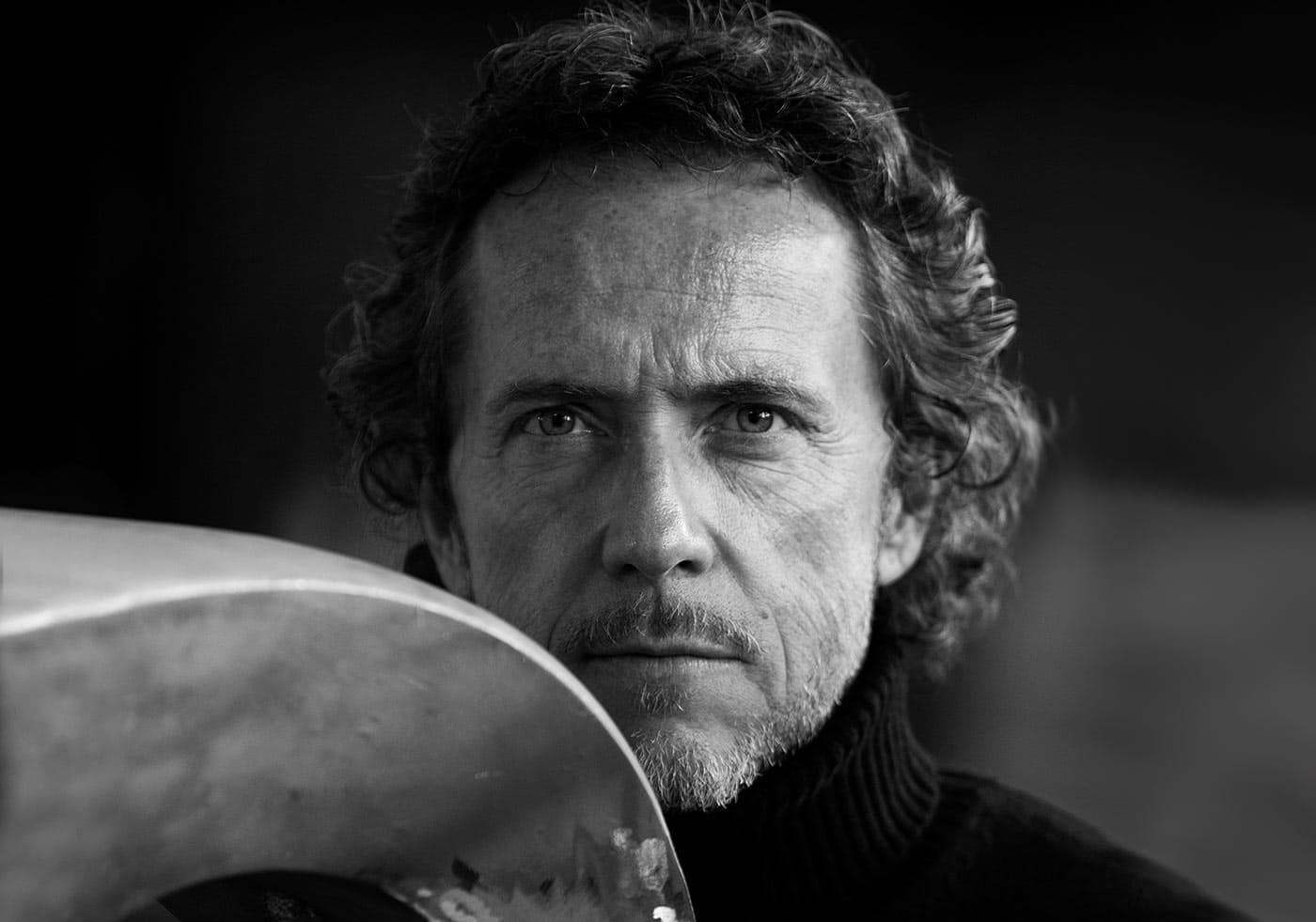 I, like you, cannot wait to see the results of this latest experiment. While waiting for the birth of a new work of art, you can see some of Philippe Guilhem's existing pieces at his family boutique in the town of Megève in France.