Brazil is home to many wonderful precious stones, including aquamarines. Over the past 200 years, all the most famous aquamarine specimens have been found here, the largest of which – the 10,363 carat Dom Pedro – was named "The largest faceted aquamarine in the world." In 2011, this giant made its way to the Smithsonian Institution to become an exhibit at the National Gems Gallery.
With an understanding of the value and uniqueness of what lies underground within their borders, Brazil's leaders have bestowed their peers with gifts that are positively regal. In 1953, the President of South America's largest country presented Queen Elizabeth II with a necklace and earrings made with aquamarines on the occasion of her coronation. It should also be pointed out that it took a whole year to select the right minerals! This was only the first part of the present however: the second - a bracelet and a large brooch - were presented five years later, in 1958, once corresponding stones to complete the set had been found. The Queen was so besotted with the gift that she decided to commission a new tiara to complement it. During her reign, Elizabeth II has repeatedly worn this aquamarine jewellery, together as a set or separately, for example, in 2011, during an official visit to Australia.
The stone is no less popular among the younger generations of the British royal family. The Duchess of Sussex, Meghan Markle, wore an aquamarine as "something blue" for her wedding celebrations and, on an official tour with Prince Harry, she wore the Princess Diana Asprey cocktail ring, which has an impressively large aquamarine, while visiting the Kingdom of Tonga. Aquamarine jewellery is also favoured by the royal families of Sweden, Spain, Denmark and other countries.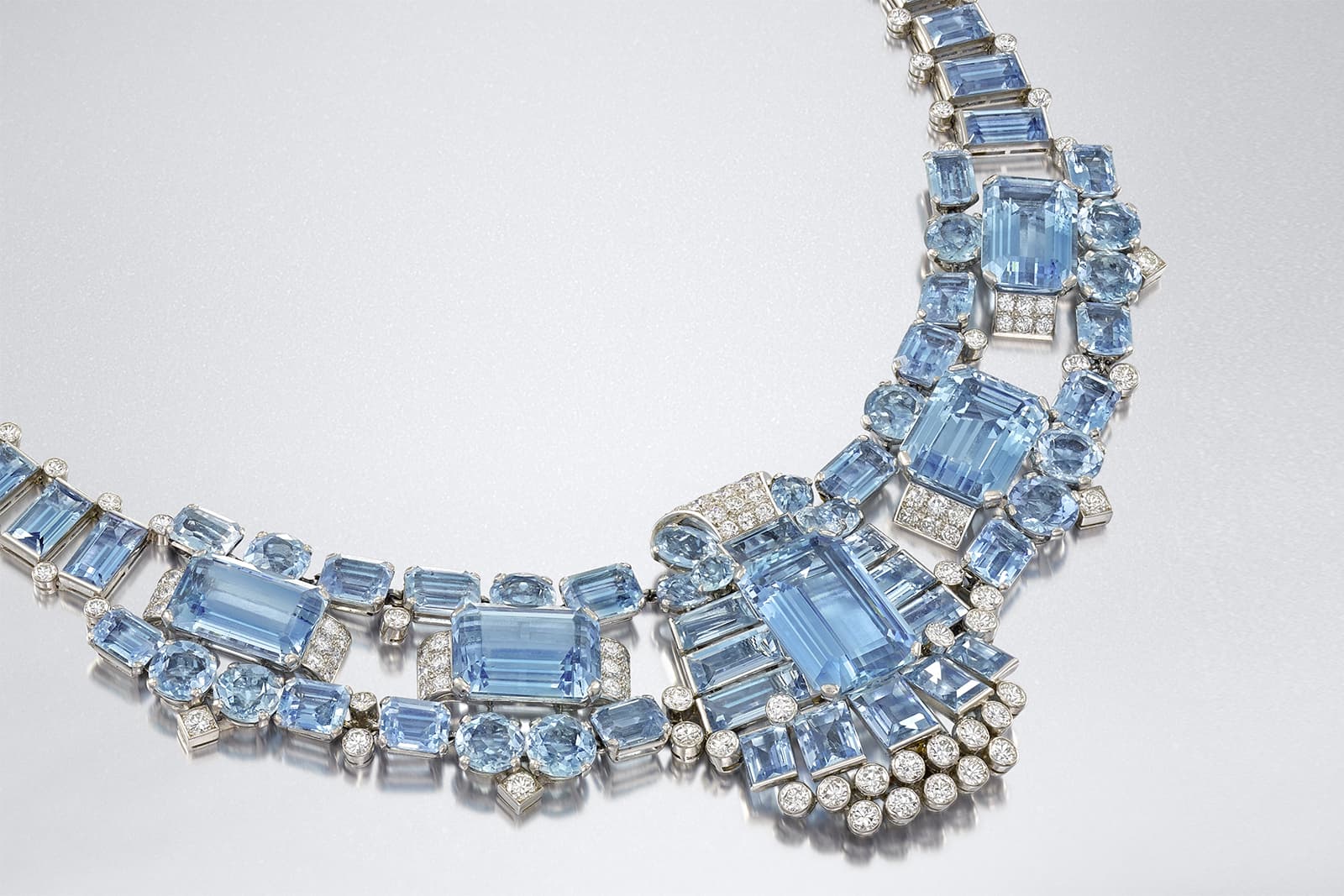 To keep up with aquamarine is to keep up with celebrities! Actress Jill Zarin celebrated her wedding anniversary wearing a giant aquamarine ring previously owned by Elizabeth Taylor. Justin Timberlake also chose an unusual, blackened platinum ring with diamonds and aquamarines to propose to Jessica Biel in 2011. However, on the red carpet aquamarine rarely makes an appearance: stars prefer sparkling diamonds and richly coloured gems to the delicate shade of this stone. There are some exceptions though. When she was a presenter at the 90th Annual Academy Awards in 2018, Emily Blunt matched her airy blue dress and romantic hairstyle with high jewellery pieces by Chopard, including titanium earrings set with 30.96 carats of pear-shaped aquamarines and diamonds; a High Jewellery Collection ring with a 12.92 carat aquamarine and diamonds set in gold; and a white gold ring from the Temptations collection with a 5.11-carat pear-shaped aquamarine, amethysts, tanzanites and diamonds.
Aquamarines do frequent high jewellery collections. They belong to the beryl family and boast impressive crystals: even after they have been cut, these gemstones often retain weights of 20, 30, or even 100 carats! This feature often provides them a central place in striking cocktail rings, brooches, luxurious necklaces and even earrings. You do not have to look far for examples. You no doubt remember Boucheron's Bleu Infini earrings, which were one of the most striking items included in the company's high jewellery Contemplation collection. These earrings are decorated with two teardrop aquamarines weighing a total of 121 carats. Some slightly more modest examples – weighing 50 carats each – are pear-cut and adorn a Van Cleef & Arpels bracelet in the Romeo and Juliet collection. And if you are looking for brooches, you will surely be impressed by the Picchiotti Eagle that holds an emerald-cut aquamarine in its claws.
Add to all the above qualities hardness, transparency and colour saturation, as well as a mysterious beauty fuelled by numerous legends, and you have the ideal candidate for your own jewellery collection.