As is true for so many creative professions, the output of a bench jeweller is uniquely shaped by their experiences, their influences and the ethos of the designer who guides their skilled hands. Alix Dumas is no exception. She produced impeccable works of art under the banner of a French icon of high jewellery – a name that's recognised for its feats of creativity and reclusive mysteriousness in equal measure. It would be impossible for any bench jeweller not to feel infused by the stylistic codes of such an environment but, what makes Alix Dumas so inspiring in my opinion is that she's embracing this fact, learning from it, and emerging with her own unique jewels that encapsulate all that she is as a designer, past, present and future.
Let's go back to the beginning. "I was raised in a family where craft was for leisure; it was far from my thinking that I could one day work as a jeweller and as an artist," Alix says. She began, like so many do, with jewellery pieces fashion from wire or hammered into shape, relying only on her hands and some simple tools, rather than professional equipment. After completing a degree and master's degree in an unrelated discipline, the lure of artistic expression became too strong to ignore. "When I started working, I realised I really needed the artistic part. I wanted to work in museums, so there was art but no crafts, and I wanted to do something with my hands." She attended a contemporary jewellery school in Paris that had an open-minded approach to the discipline, both in terms of materials and how jewellery can, and should, be worn. Her final presentation of a collar necklace and a ring obviously showed talent and she was spotted by an individual who, as chance would have it, worked for the aforementioned French powerhouse. She was offered a job and moved to the South of France to begin a fascinating journey as a bench jeweller.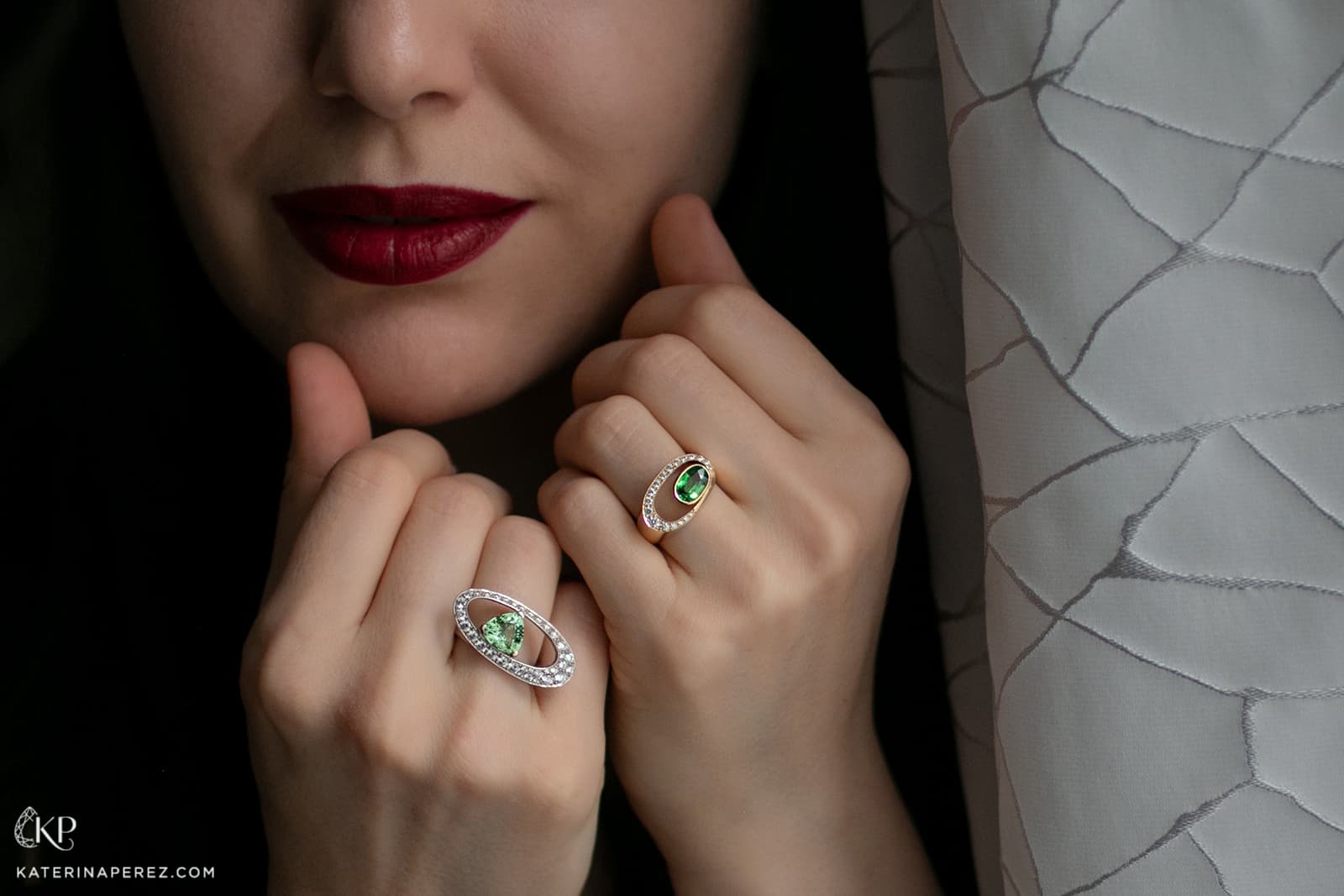 Alix swiftly realised that this wasn't your average workshop environment. From early-on, she was asked to make a complete jewel from start to finish. Her Parisian-peers were perhaps given the responsibility of just one small aspect of a piece – never seeing it to fruition – and, yet, here she was, owning the process and each stage and adding small elements of her personal touch into each creation. "This was how the work was organised and it really made it special. It gives bench-workers the energy and the desire to stay; you're not just a replaceable part of the process," she explains. "When you do just one part of a jewel at one time, there is nothing you can say you have 'completed'. With my boss, we used to finish a piece, show it to everybody and take pictures of ourselves holding the jewel. It was so rewarding!"
A change of circumstances in 2016 - the birth of her first child - led Alix to leave her position and, a few years later in 2019, she decided to venture out on her own. Of course, the pandemic has caused a roadblock, but it has also given Alix the opportunity to test the boundaries of her own capabilities and create new pieces that are closer to her ideal of 'objets d'art'.
"I really wanted to make my own jewels under my own name. I really see my pieces like art objects: I don't draw, I am not a designer, sometimes I use pencils and a drawing for a specific piece or to draw some sketches of the mechanisms, but otherwise I sculpt. I go to the material and, from there, my ideas come to me in three dimensions. I prefer to work that way, like a sculptor and not a designer," she says.
One of the defining advantages that Alix has is her hand-making skills. Aside from stone-setting (which is a life's work and a vocation in its own right), Alix creates every aspect of her pieces herself. She hasn't ruled out learning how to set stones herself and adding this layer of nuance into her already sizeable skill set. She tells me: "I am constantly bargaining with myself because what I like is making my jewels. I won't give this task to anybody. I will have, I hope, some people I train to help me in the future, but I want to stay at the bench." I think you will agree with me reader, that knowing a piece has been made by hand, over some 250 or 300 hours, adds to its value!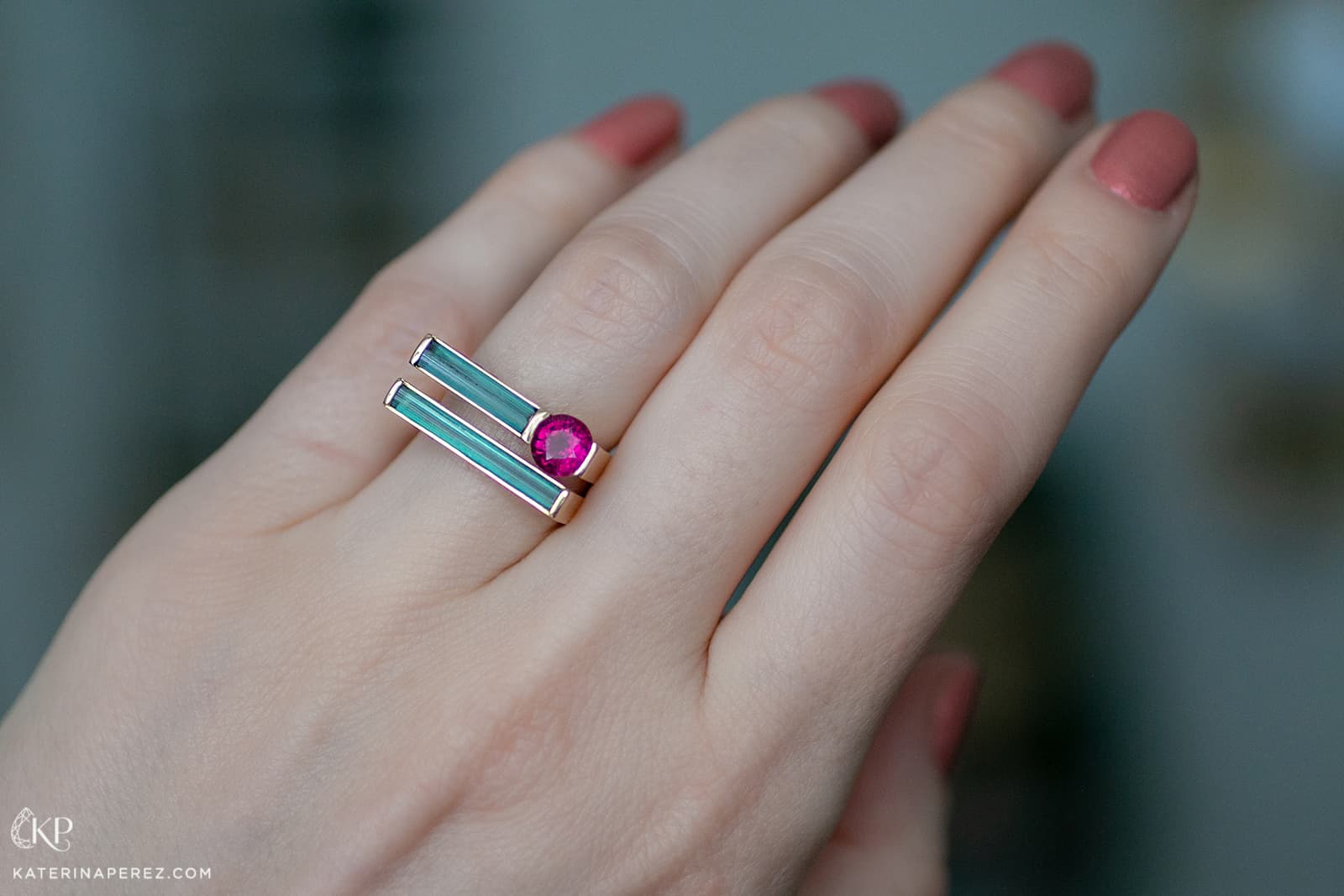 The jewels that emerge from Alix's workstation are in a process of evolution; what loosely started as non-classical rings appropriate for everyday wear have morphed into sizeable and intricate creations, such as a lace-effect cuff bracelet with blackened metal and aquamarines. Her colour combinations are neither demure nor garish, instead they reflect the essence of the house within which she trained – considered, artistic and organised. However, unlike her former home, her work relies more on the intricacies of precious metals, giving them plenty of opportunity as leading actors and not supporting stars. "I want the colour to be there to enhance the volume and play with light, but I want the metal to be there too and to be in a dialogue with the stones. I love to work with metal, and I think we can achieve some very tricky and interesting things with it." By the way, only Fairmined gold or recycled silver are used, gemstones are chosen with care, and all MAD Joaillerie cases are crafted in French leather, in France, using made-to-measure processes.
We often talk about jewels being heirloom pieces that can be passed from one generation to the next. In this instance, it is Alix who carries her experiences like an heirloom; a tangible entity that has been passed down from her previous employer and adds sentimental weight to her own, eponymous jewellery designs. Today, Maison Alix Dumas is the sum of many fascinating parts and, as one would expect, the pieces really do speak for themselves.