The excitement that I experienced in 2013 from the thought that I could finally share my jewellery discoveries with the whole world is something that has stayed with me ever since! Back then, I worked in the jewellery department of the British luxury Maison Asprey, at the same time as writing about jewellery for a Russian-English magazine based in London. However, a mere four glossy issues a year was not enough to quench my thirst for putting words on a page, and I decided to start my blog with a single goal in mind – to share the beauty of precious jewellery with the world.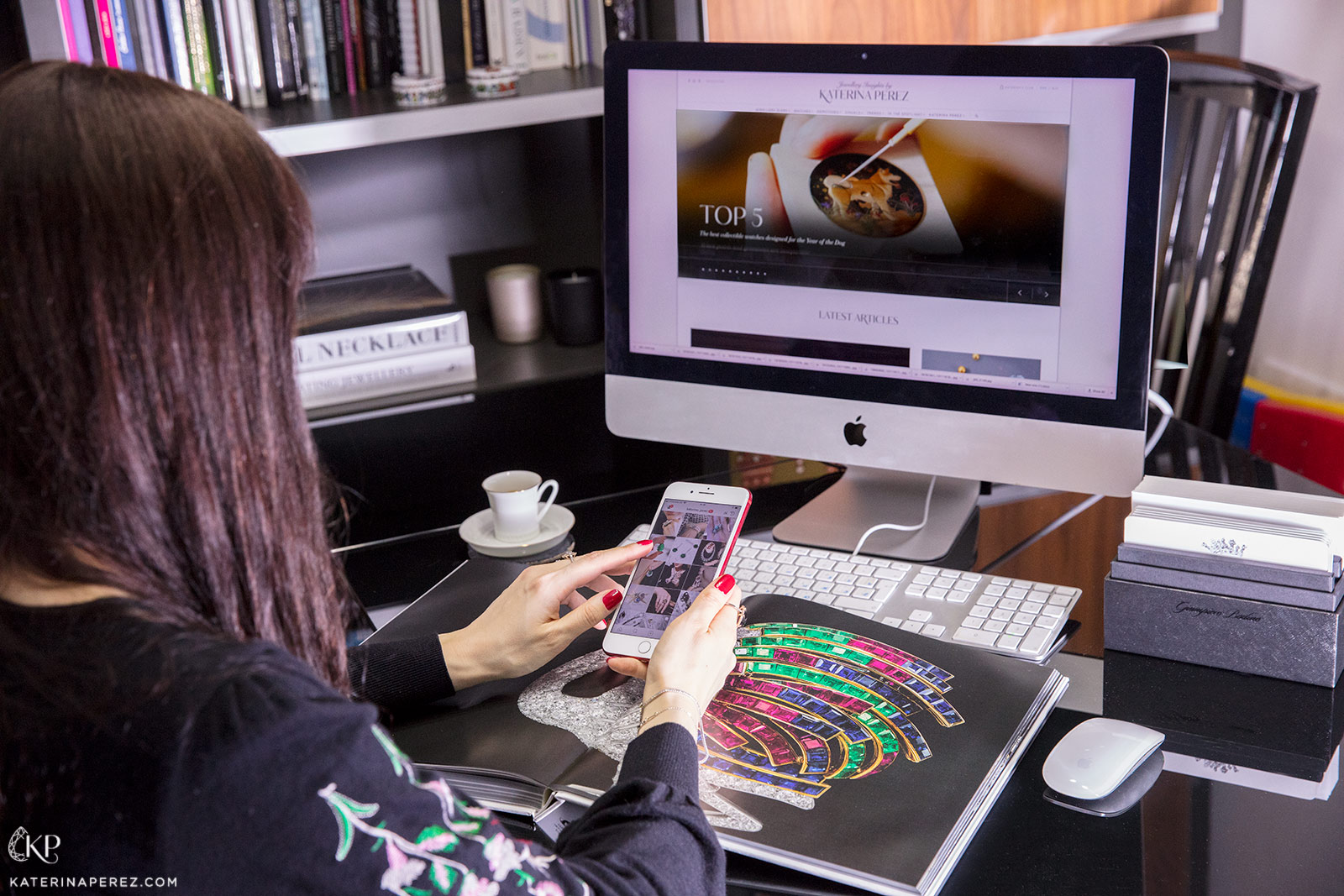 I remember that May long ago, my husband and I were moving to a new apartment, where there wasn't even any internet. So, one day after work, I returned to my old apartment (where there was only a single chair and table for furniture) in order to publish my very first article. By the time I clicked 'publish,' it was long after midnight, and yet I couldn't sleep, instead staring at the screen in fascination: my first article was published online!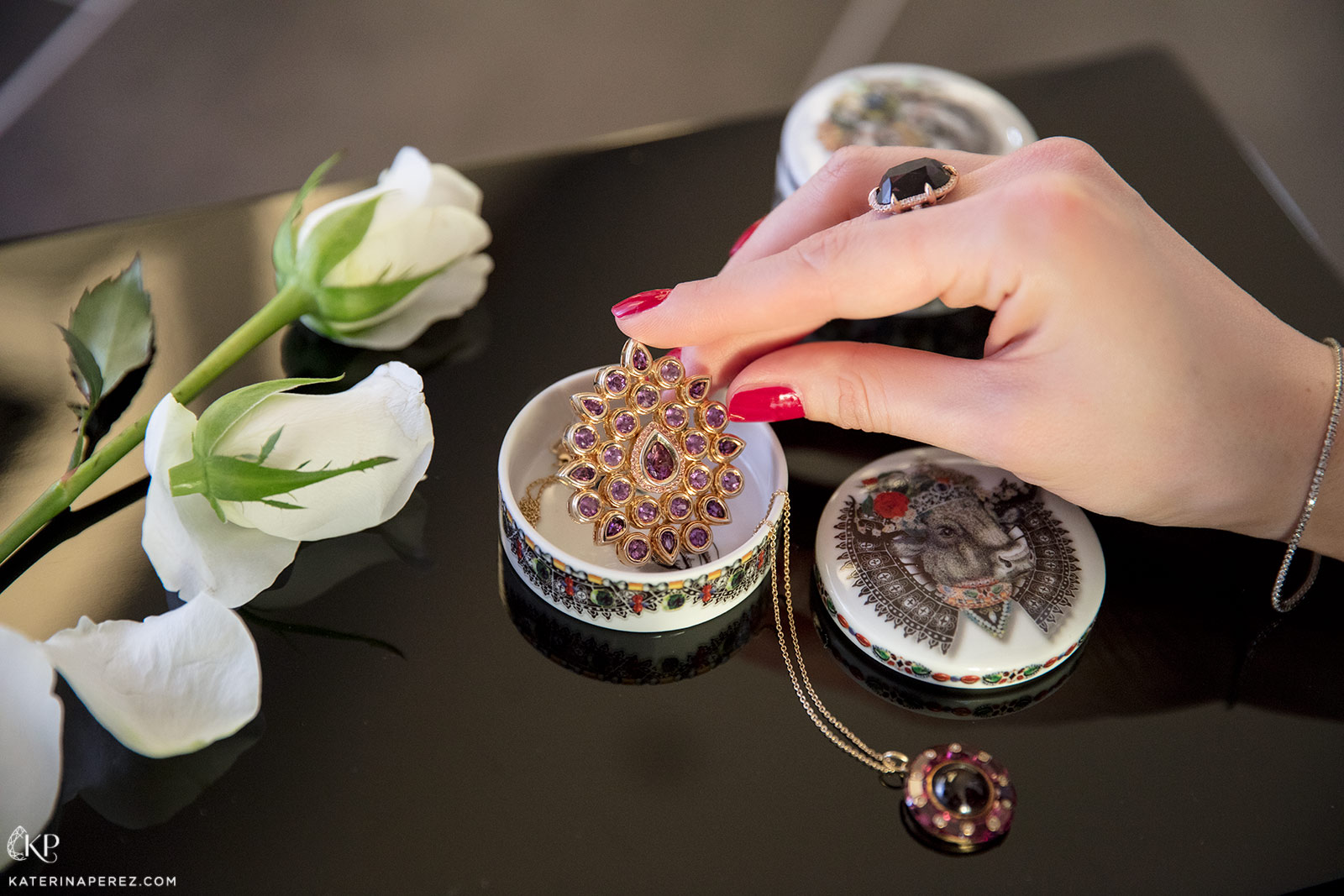 Now readers, do you really think I knew then how everything worked in the blogosphere? I had absolutely no idea! All I had was a WordPress template that I had purchased and customised according to my taste, several articles and photos to illustrate them, as well as an inexorable desire to do everything as beautifully and professionally as possible. Of course, I would be ashamed to dredge up those first articles. As the Russian saying goes, "the first pancake is always lumpy" (meaning 'worst-first.')
Nevertheless, any early hiccups did not stand in my way, but only furthered my desire to be the best blogger I could be. I mastered all the necessary WordPress features, the basics of SEO, and learned how to curate pictures in articles. I should note, however, that, in striving for perfection, it took me a great deal of time to find the proper relationship between word and text (I found that the text that runs parallel to vertical photos was uneven by default, resulting in an inelegant appearance, so had had to resize photos numerous times until they fit). After this, I worked on developing my social media presence – Facebook and Instagram – which I was also not so familiar with at that time.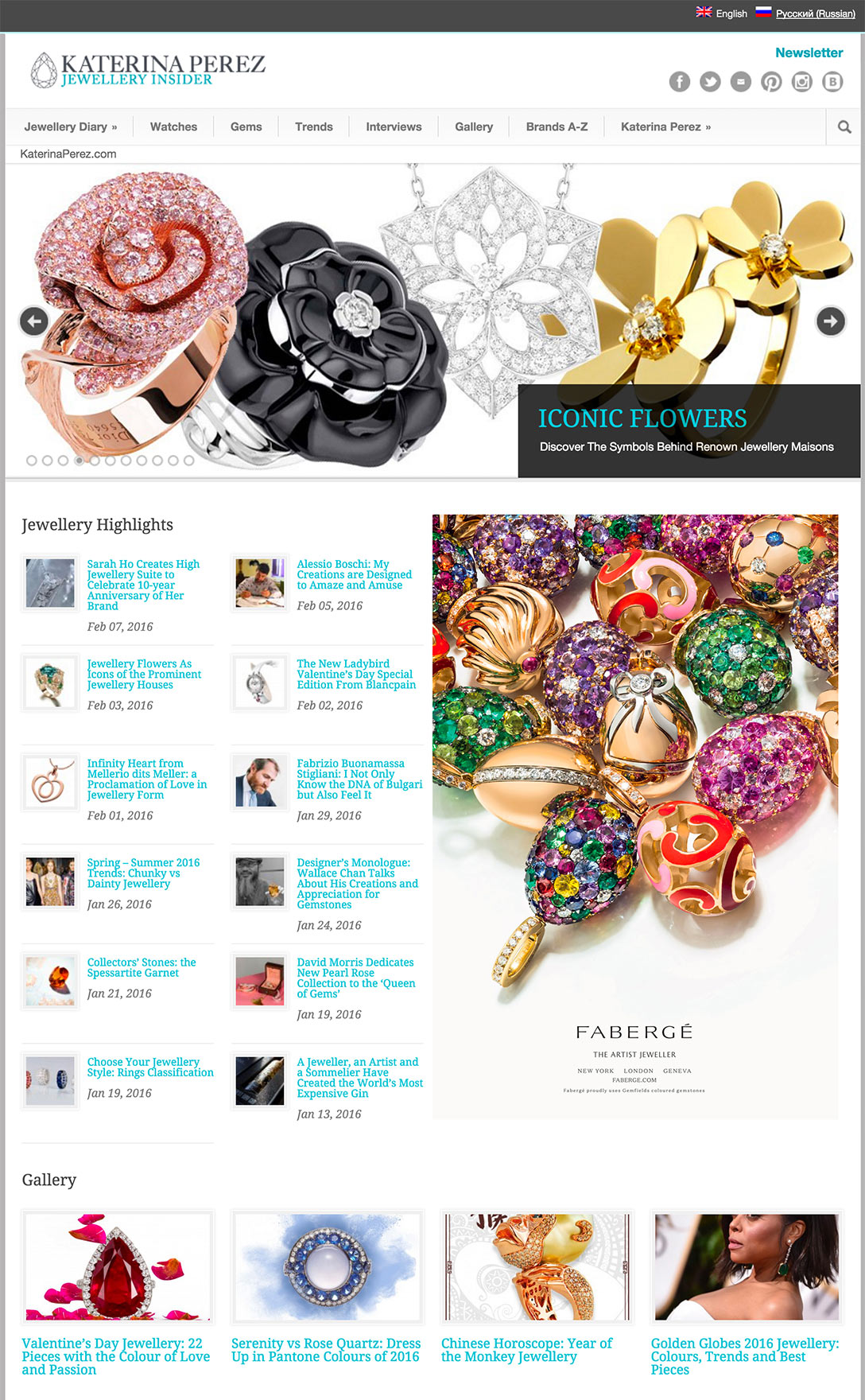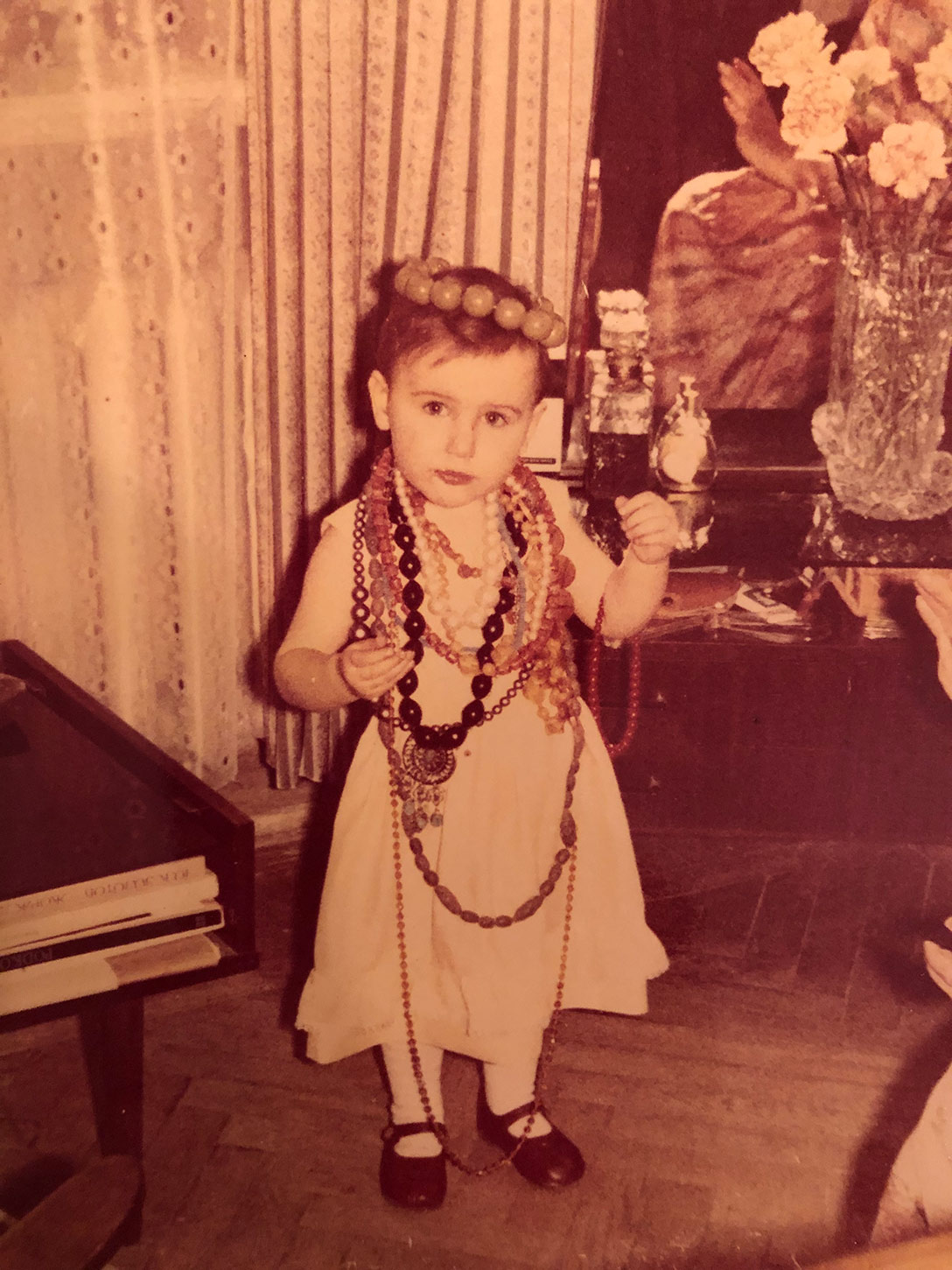 Yes, it is true that I now have over 300,000 followers on @katerina_perez, but you should have seen my first photos on Instagram! I have left some of them on my profile , because those amateurish photos are all part of my story. One of them – which depicts my niece when she was little with my ring on her finger – I remember with particular clarity. This photo always reminds me of a picture of myself as a child, where two-year-old Katya stands bedecked in her grandmother's jewellery. To find and try on these treasures was my favourite pastime as a child – as you can see little has changed.
Being a blogger has never been easy. When I started my career, there was almost no one who spoke about Haute Joaillerie on the internet. I only managed to attend jewellery presentations because of my work for the magazine. Six or seven years ago, the PR departments of the biggest brands had no idea who jewellery bloggers were or, more importantly, why they should show them their latest collections. Before me, there was only Lisa Urla, (now known as Gemologue, and earlier as Gem-a-Porter), GemGossip and The Jewellery Editor (Maria Doulton, who, in addition to her jewellery magazine, wrote for respected publications – which was hugely helpful for her online magazine) who wrote about jewellery online.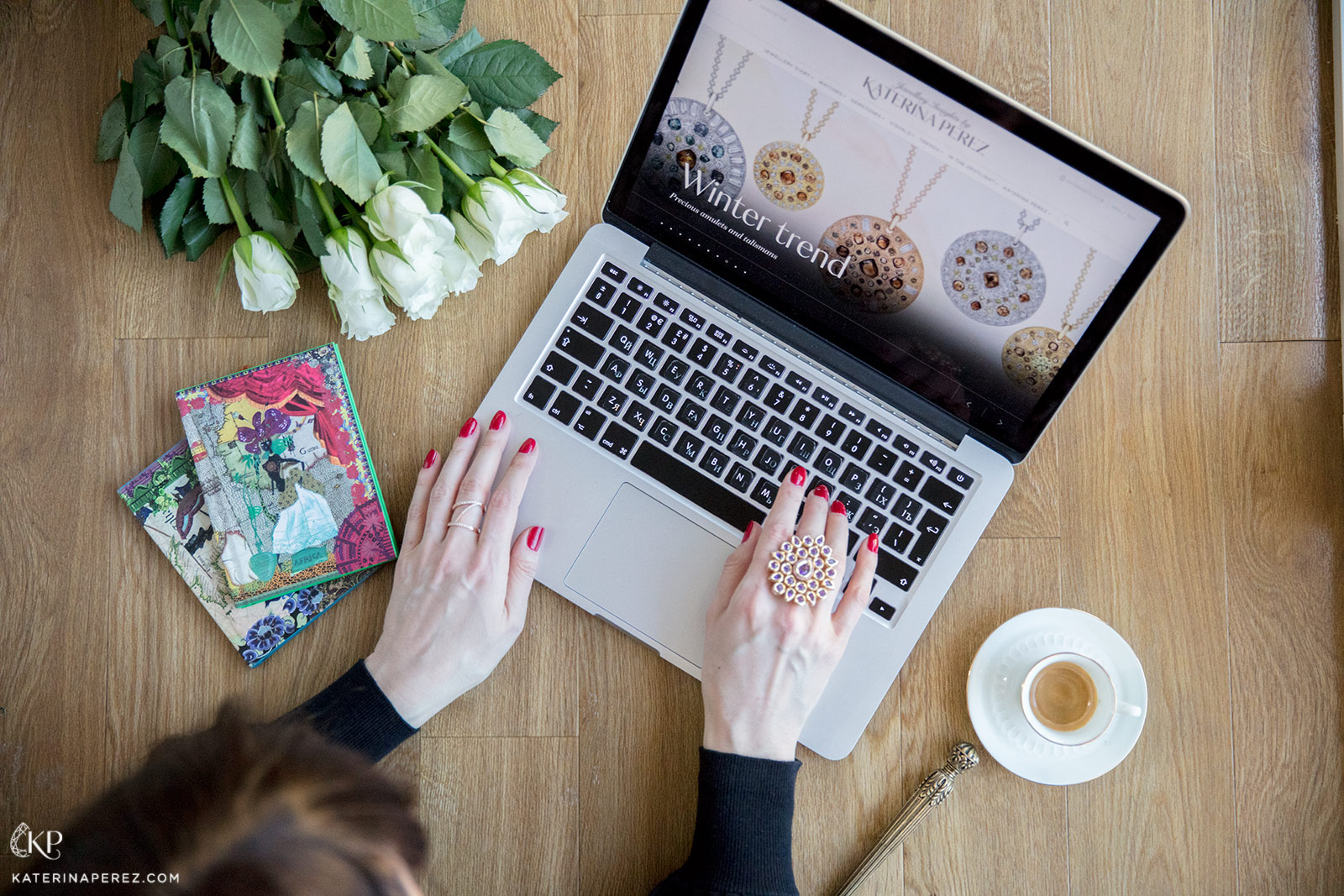 For the first two years I worked 12 hours a day, six days a week – I spent most of my time at work in order to earn a living and devoted the rest of my time to my favourite hobby. I spent more than half my earnings on katerinaperez.com-related expenses (which by my standards today were very modest contributions.) I have always invested in the website and everything associated with it – not only financially, but also with my heart and soul. The vivid feelings that I have always experienced and continue to experience when I meet with jewellers and study their work is an integral part of my work – I cannot write without them. Indeed, it was always this personal approach, as well as an obsession with quality, that allowed me to gain the respect of designers and brands in the earliest years of the katerinaperez.com. It was also, of course, the basis for the site's eventual financial viability.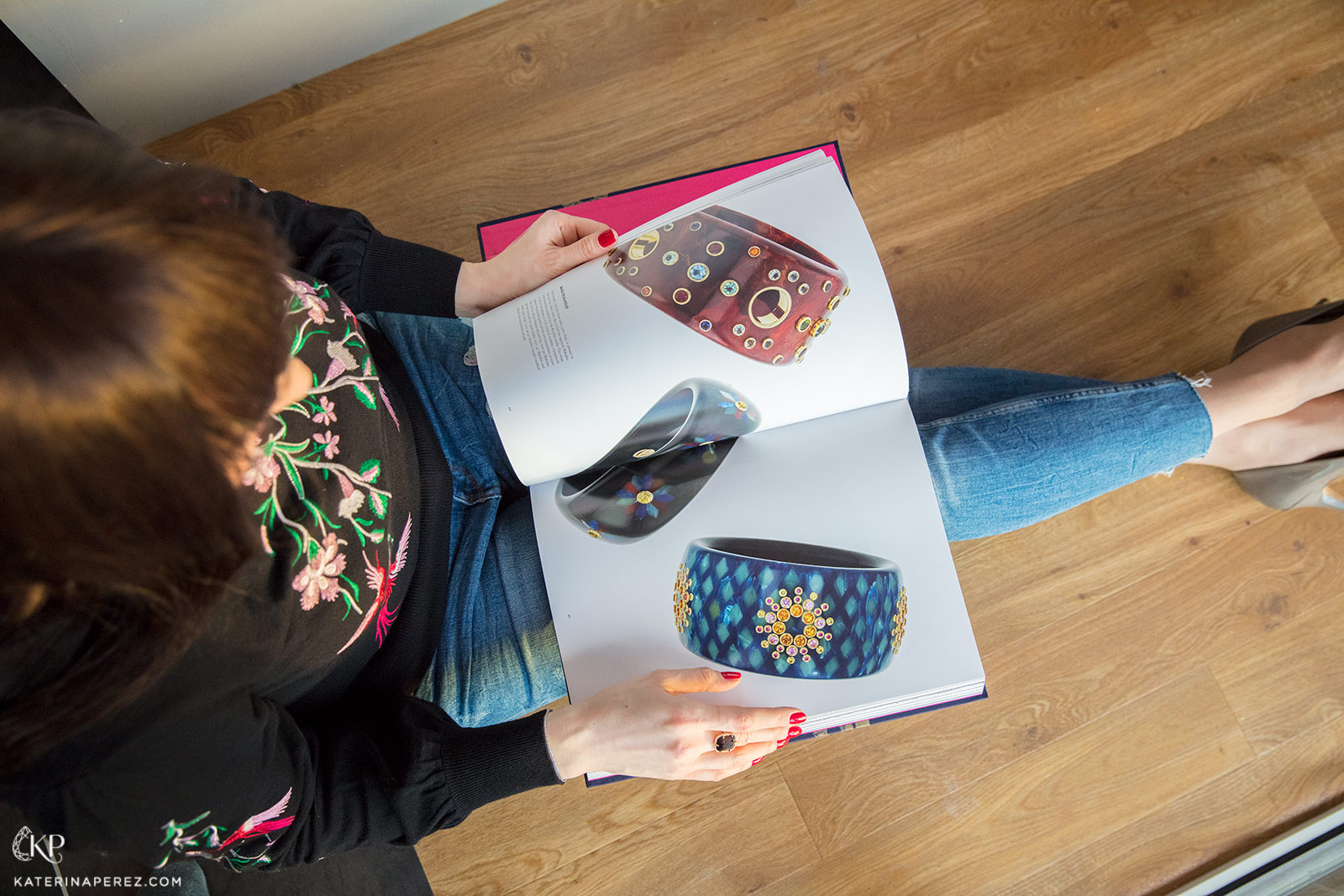 I have lived every moment of my project, rejoiced in its development, as has my husband, who has supported me through everything. Thanks to him, as well as to my last employer Roberto Bogossian, I had the courage to leave retail and dedicate all of my time to a passion that I still cannot go a day without.