If travelling is one of life's great joys, then travelling in pursuit of beautiful jewellery must be the icing on the cake! This year, I will be returning to Jewellery Arabia in Bahrain to meet many extraordinary jewellers from the Kingdom and from across the Middle East and West Asia, too. One of the companies on my must-visit list is Al Zain – a Bahraini heritage brand which was founded by the late Hassan Al Zain in the 1930s. During the days when Bahrain relied on the farming of natural pearls, including the nearly lost art of pearl diving, Al Zain was considered a pioneering Tawash (pearl merchant) and entrepreneur. When his son and present Chairman, Nabeel Al Zain, took over, the business continued to flourish. Today, it is truly a family affair, with Nabeel's wife, Samar Al Gosaibi, their two sons, Mohammed and Faisal, and two daughters, Noora and Mariam, all participating, whether as diamond graders, gemmologists, creative directors, graphic designers, business managers or finance graduates! Al Zain is now widely regarded as one of the most pre-eminent jewellers, manufacturers and retailers in the region, with 260 skilled artisans, 14 boutiques across the Middle East, and a recent global expansion into the United States.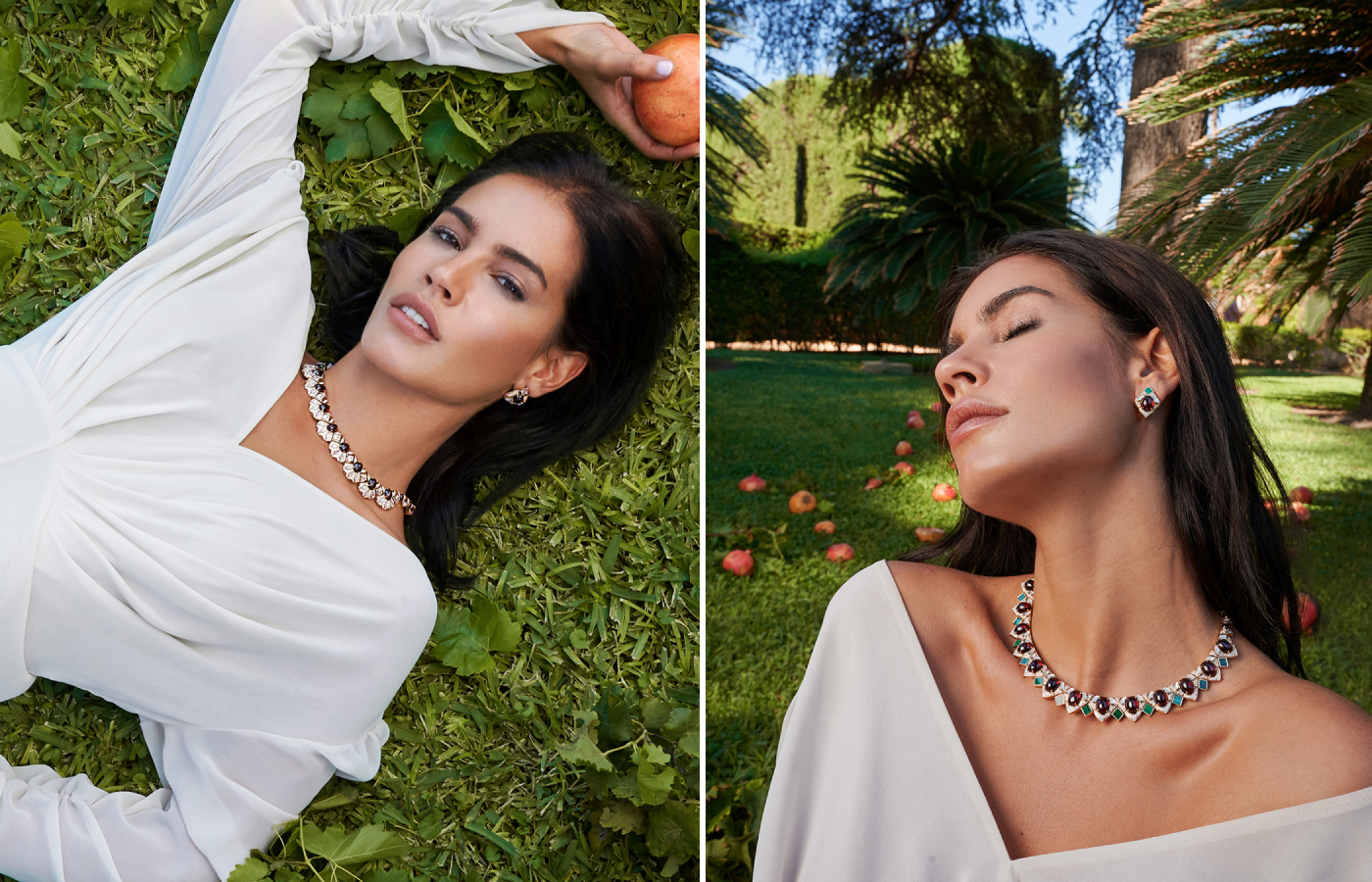 There are two aspects to this success story that really call to me personally. The first is Al Zain's mission to introduce Arabian heritage to a global audience, including showcasing Arabian-inspired jewels in New York and other international destinations. Jewellery is such a rich transmitter of culture, history, heritage and identity, so it is wonderful to think that Al Zain is creating both contemporary and traditional collections to cater to audiences far and wide. In fact, all its pieces are crafted in Manama, the capital city of Bahrain, using 18K gold and more traditional 21K gold with a nuanced hue.
"Al Zain takes great pride and joy in the fact that each design is made in its studio and factory and celebrates being an Arabian brand with a very deep-rooted and passionate heritage. This heritage is meticulously and deliberately incorporated in each design creation, thus ensuring an instant connection of a rich past and a present time celebration of life's accomplishments."
The second aspect of the Al Zain story that captured my imagination is the new Jena high jewellery collection. Of course, the brand has many other covetable ranges, suitable for both everyday dressing and special occasions, but there's something about this new offering that excites me. Perhaps it's the generous display of moonstone cabochons, or maybe it's the clever and unexpected colour combinations. Whatever it is, from the moment I saw pictures of the Jena collection, I had to find out more.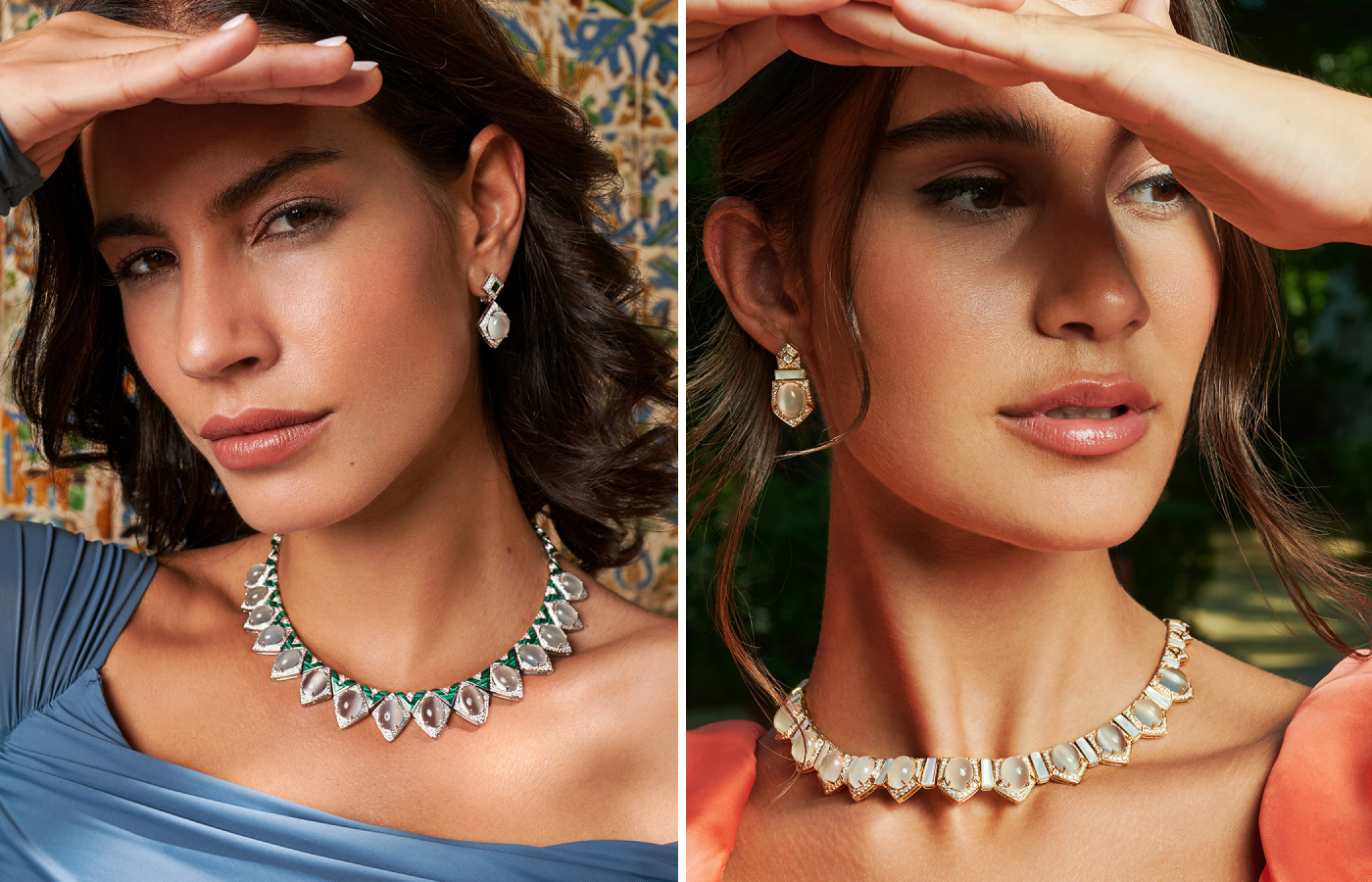 Al Zain describes the offering as a "fruitful high jewellery collection of vibrant natural materials coming together in celebration of the succulent gardens of paradise". Certainly, there's a bountifulness to the range, especially when it comes to garnets, moonstones, mother of pearl, citrines, malachite, lapis lazuli and amethysts. Jena also has a subtle Arabian identity, without this feeling like the central tenant of the collection. For example, there are the Lana, Jude and Muneera pieces that have a treasure-like, almost historical feeling, as if they've emerged from some ancient Bahraini collection. And, yet, the Leena, Zara and Ni'mah suites have a subtle Italian flair thanks to juicy cabochons and hardstone accents. Fittingly, Al Zain describes Jena as "the best of both worlds", adding that it carries "echoes of modernity while paying a subtle tribute to Arabian heritage".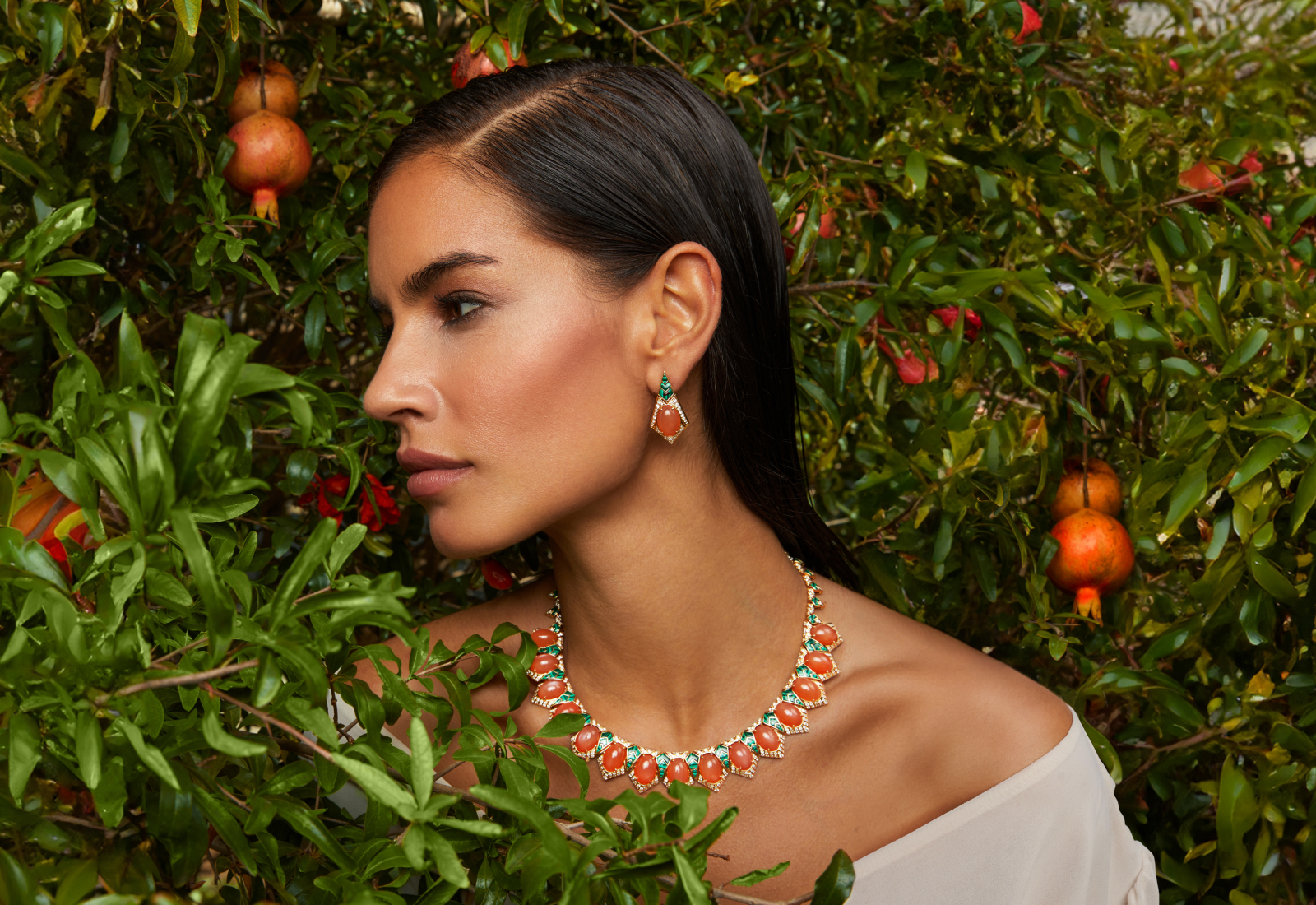 Throughout the design process, Al Zain imagined itself in an abundant garden, complete with pomegranate pops of deep red (garnets and rubies), sharp citrus fruits (citrines and peach moonstones), verdant greens and sky blues (malachite and turquoise). We can also see the influence of Islamic architecture and geometries, especially in the shape of earrings and the scallop-edged patterns that frame necklaces. What unites all the pieces is a sense of grandeur and joyfulness… how could one wear such striking combinations of yellow and green, deep orange and turquoise blue, vibrant purple and midnight blue, and not feel uplifted? It is also important to note that, despite this palette of gems, Jena remains an elegant and feminine story. There are plenty of diamonds and mother-of-pearl accents to keep even the largest pieces grounded, ensuring they feel sophisticated and not sensationalist.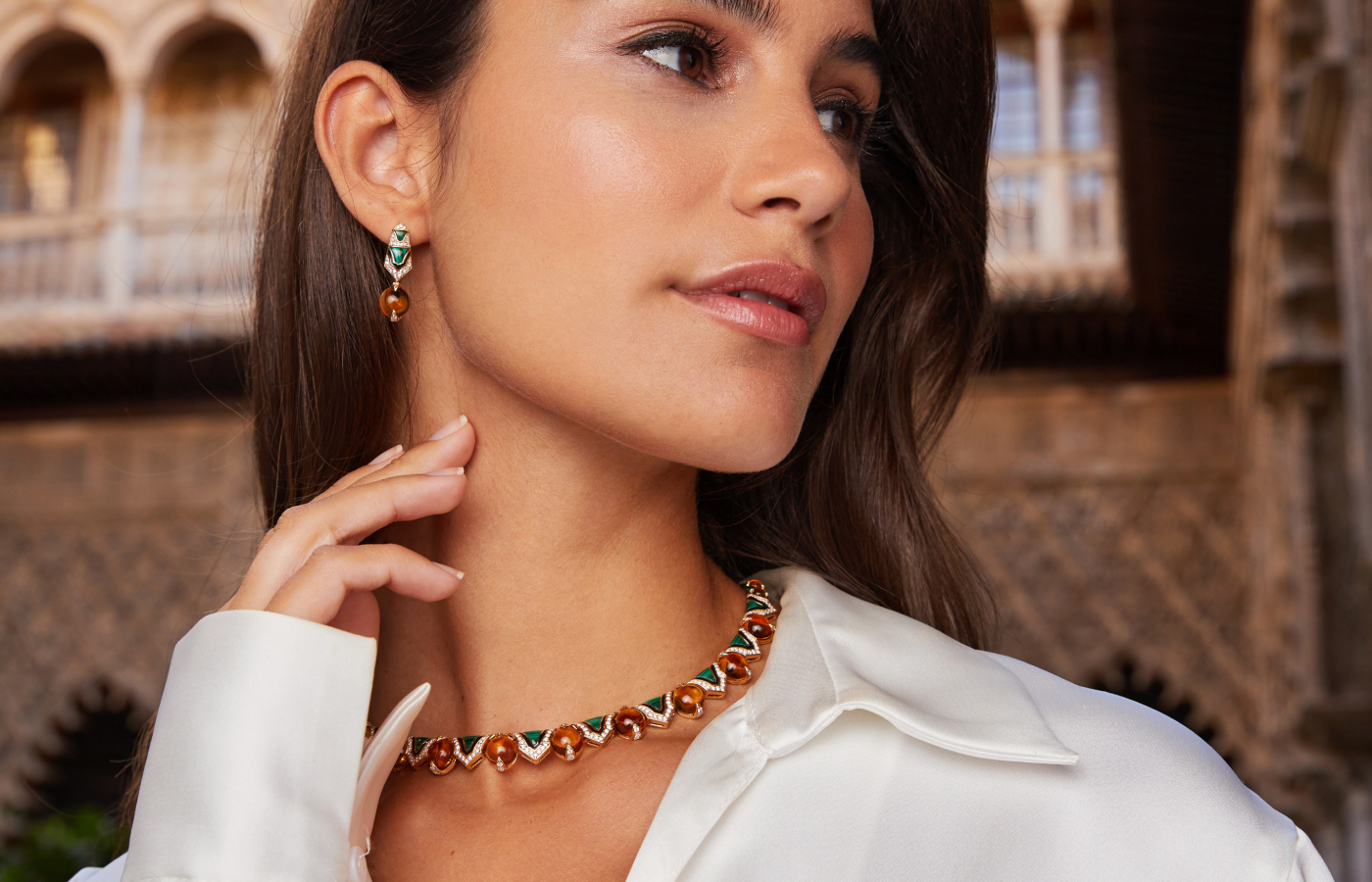 If I had to pick my favourites, I would pinpoint two creations: the supple Zara necklace with 22.32 carats of oval-shaped citrines, 4.15 carats of turquoise, onyx accents for a further 4.60 carats, and nearly four carats of diamonds, and the Lana long pendant necklace with a 12.20-carat amethyst, surrounded by 21.75 carats of malachite and 3.25 carats of diamonds.
If you are feeling tempted to see for yourself, Jewellery Arabia should be your next port of call. I am reliably informed that the brand will have four exhibition stands focusing on different aspects of its universe, including 21K gold 'Treasures of Arabia', high jewellery, luxury jewellery trends and fine jewellery trends. Jena will be formally unveiled here for the first time, including pieces that I have not yet seen but look forward to photographing.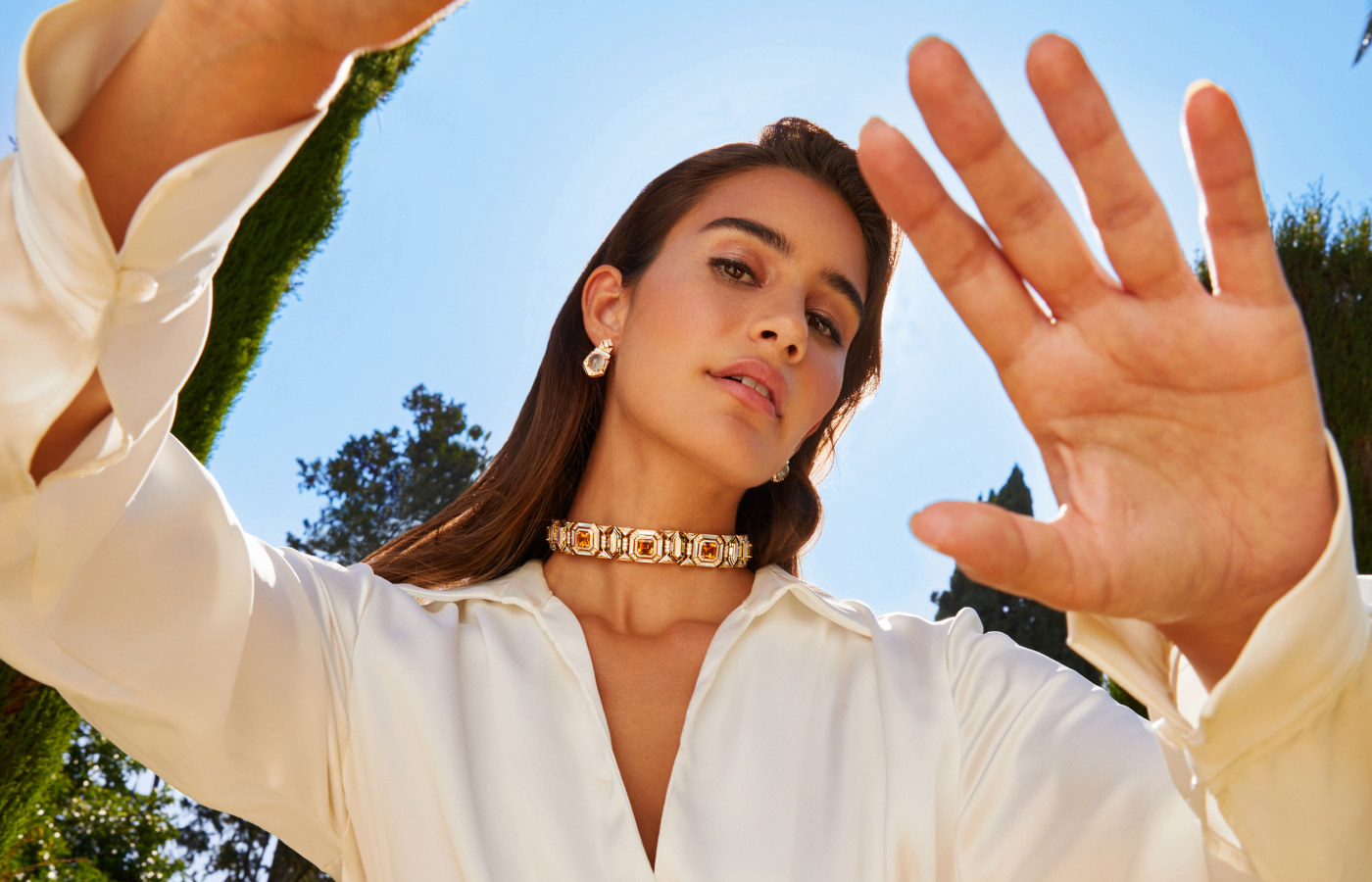 Finally, I must leave you with some wise words from Al Zain: "The only constant is change". The brand will celebrate its 100th anniversary in two years and has already created its "2025 Vision" – a kind of mission statement – to become the leading luxury Arabian jewellery brand of choice for global jewellery buyers and collectors. If Jena is a sign of what's to come, I have no doubt that they will achieve their aims and more.