"Yataghan was born from a pure need, a deep passion and unstoppable creativity," explains Sarah Abudawood, the creative force behind Yataghan. Her brand was founded in 2008 and named after the Yataghan sword – a shapely piece of weaponry famous during the Ottoman Empire. Born and raised in Saudi Arabia, Abudawood can trace her passion for jewellery back to childhood. She says: "My late mother was a jewellery fanatic. One of my first memories of her is catching her wave at me from the corner of my eye wearing a now vintage ruby and diamond bracelet. I guess I developed an unconscious bond with jewellery at least at first. Then after she passed, I believe the inception of Yataghan took place in a way to keep her memory alive. From a practical perspective, I started this brand because I couldn't find jewellery that appealed to me in the market at the time."
By finding a gap in the market, Yataghan became Abudawood's vehicle not only to create jewellery she loved and would love to gift to others but also tap into the world of online retail. "Almost a decade ago Yataghan was the pioneering jewellery brand that predominantly sold fine jewellery online in Saudi Arabia," she explains. "It was a major disruptor in the sector. The common way to buy jewellery was through brick-and-mortar avenues. I recall when I set up my Instagram and started to display high-jewellery items, there was a lot of resistance. My plan of action was to focus on my generation, given that they would be my ideal target market."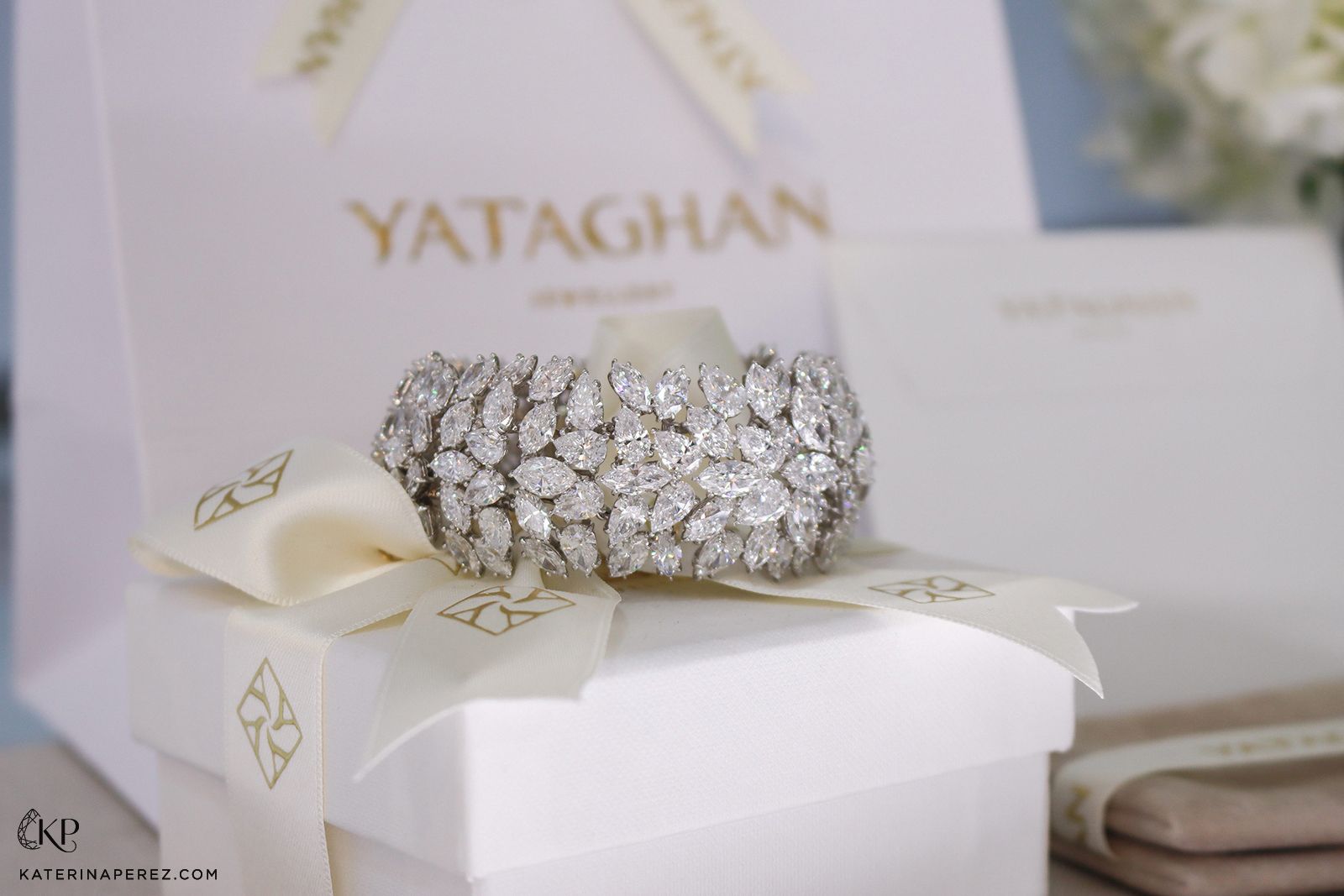 Now based in Dubai, Yataghan is a multi-national brand that has set the course that many others follow. Abudawood adds: "I carry a sense of pride and great responsibility knowing that because of my journey I am able to inspire future generations to not be afraid to choose a path of uncharted waters. I am so thankful to all my clients that have and continue to believe in me. Yataghan is what it is because of their undivided trust and loyalty."
Of course, to achieve this kind of success, there must be countless women who've fallen in love with Yataghan jewellery! The brand focuses on emotional experiences, creating pieces that are deeply rooted in culture and have a talismanic and symbolic meaning. The brand strives to "give women the confidence to express themselves in the most authentic way possible" and this manifests in warm yellow gold, diamonds, emeralds, geometric shapes and pendants engraved with Ayat Al Kursi, a verse from the Quran.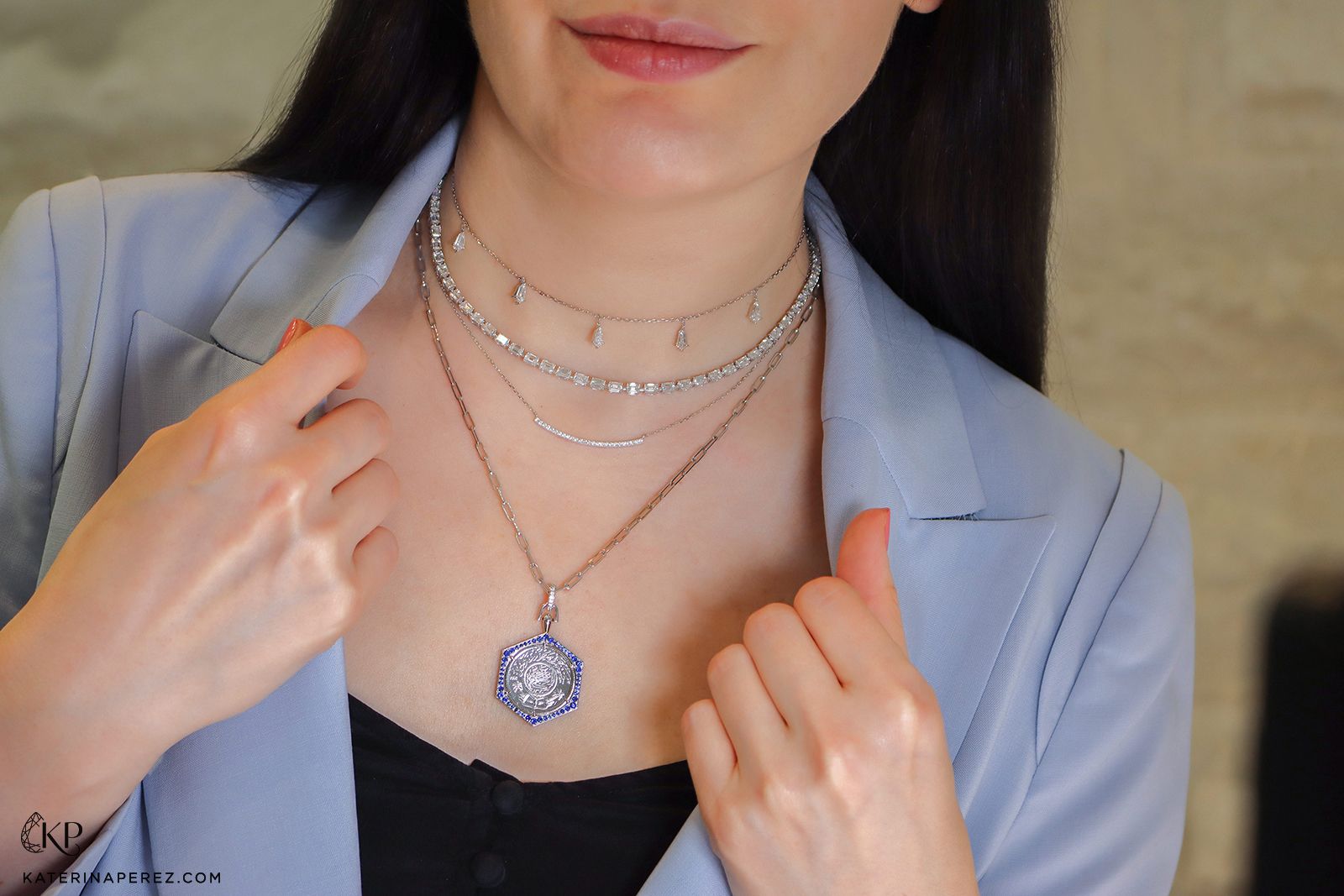 On her signature style, Abudawood says: "I find myself to be a creature of order and through my lens, I tend to gravitate towards bold lines and geometric shapes. There is a comfort that lies in the sleekness and minimalism of fine lines. As a designer and creative mind, I am fascinated by architecture. Space is intrinsic to my process. I naturally mirror the contours and essence of my surroundings in the silhouette of my jewellery design."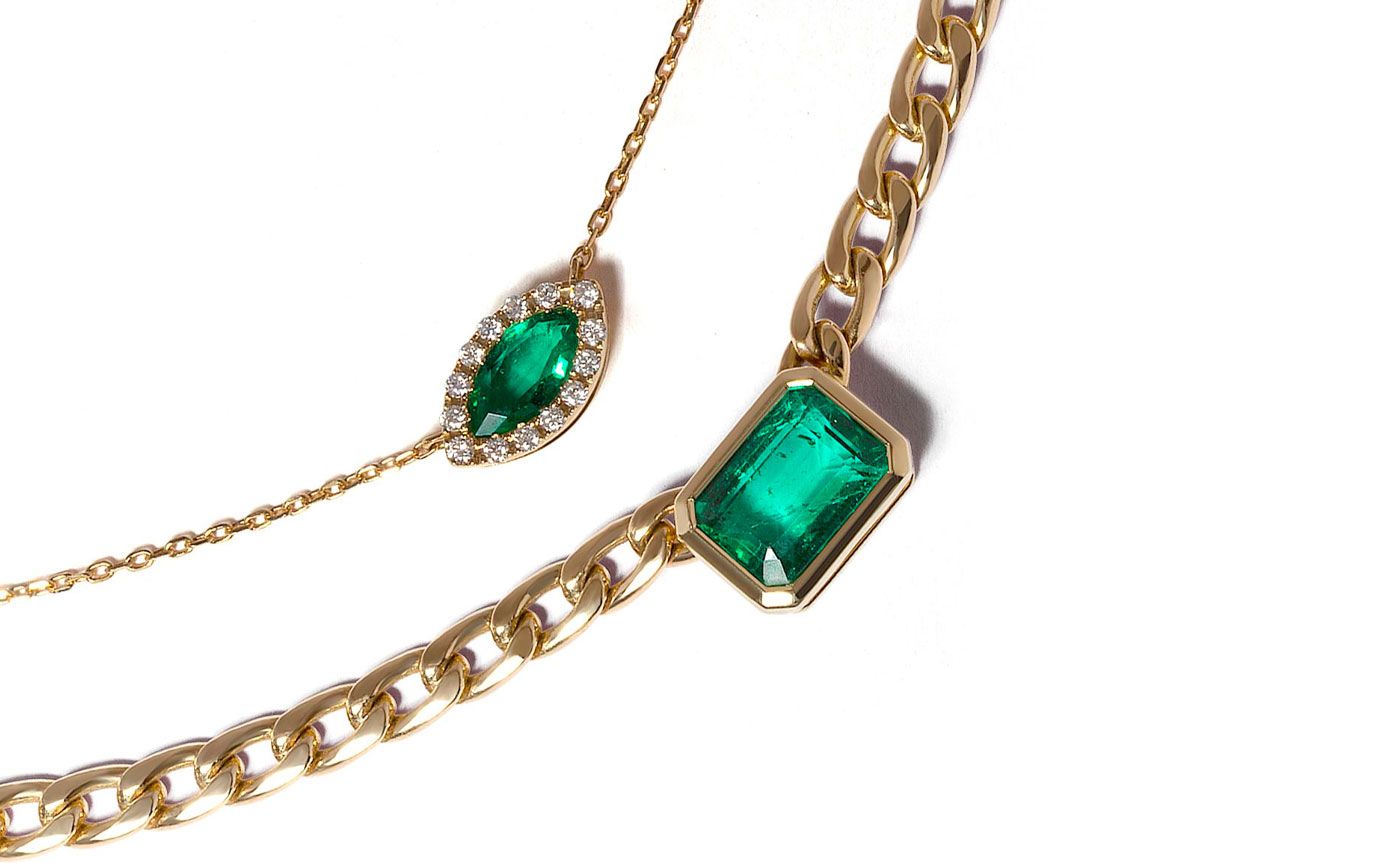 Her pieces are often styled in multiple layers or stacks that encourage the wearer's personality to shine through. Its essence, though, is in 'laid back' glamour that gives women the freedom to wear their pieces daily, regardless of the preciosity of materials. "As a finishing touch, we love to personalise the look by adding charms, initials, talismans, these personal elements always add character and make for great conversations pieces," Abudawood explains.
In addition to these sentimental daily pieces, Yataghan creates striking, one-of-a-kind high jewels that reveal its architectural and geometric focuses in new ways. The Roshan ear cuff, for example, is inspired by facets of Abudawood's memory. She tells me: "As I look back at the beginning of my professional journey, I cannot help but recall it in fragments. Distorted reflections … a combination of random sounds, scents and colours. The Roshan's geometric DNA resonates with Yataghan's design aesthetic, and its uniqueness reflects my passion to always push creative boundaries to create something extraordinary."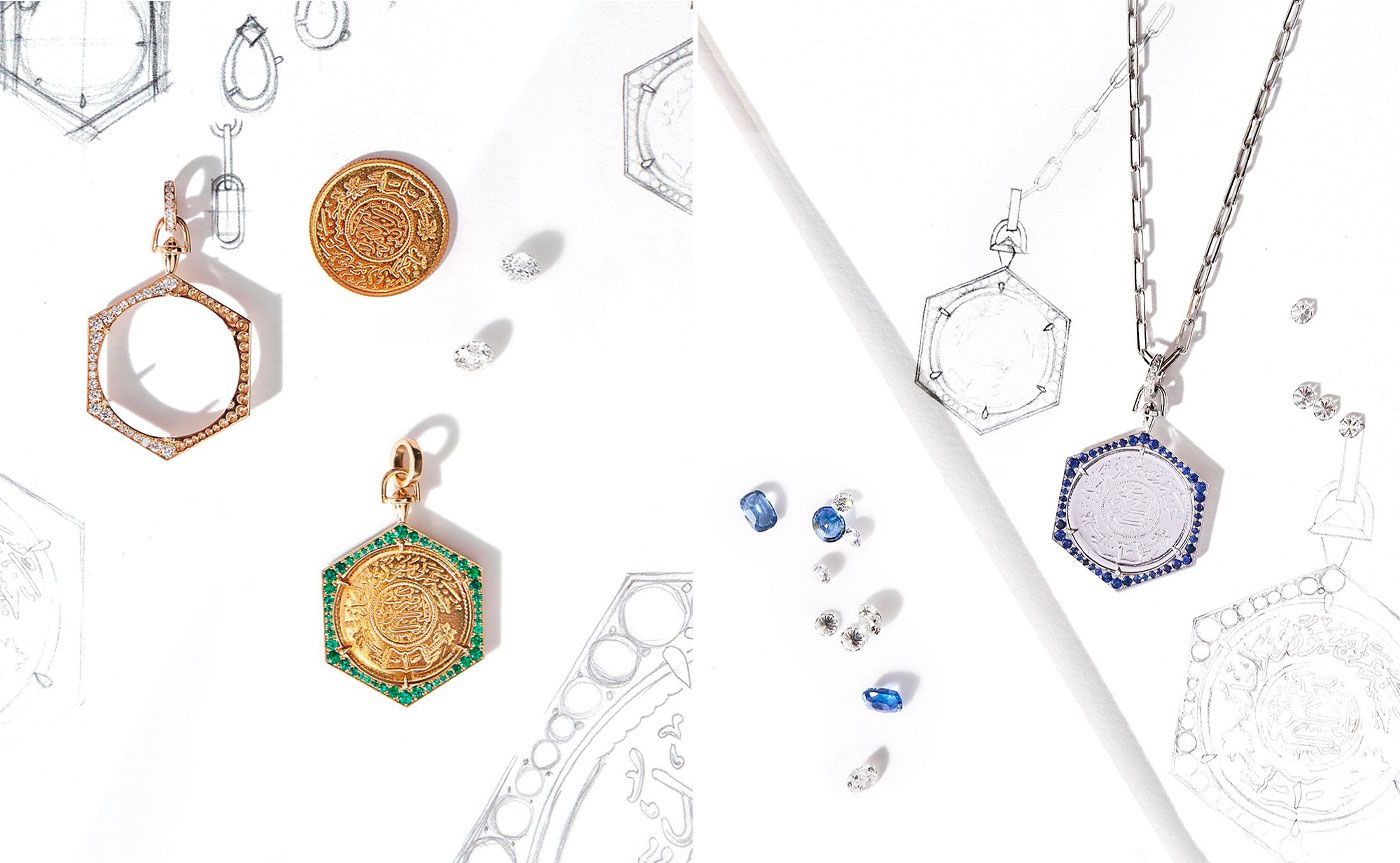 The piece is crafted in 18k yellow gold and encrusted with calibrated pavé single-cut diamonds and 1.20 carats of brilliant-cut emeralds from Zimbabwe that range in size and hue to achieve a 'vintage' finish. Alternating facets are presented in brushed gold that is laser-engraved with sayings that are "deep-rooted in Saudi culture". In fact, the calligraphy was drawn by a master hand-painter who re-wrote the scripts to fit the delicate dimensions. When translated into English, the sayings manage to transcend culture and have relevance no matter where her customers are in the world: no one can stand in your way but you; patience is a virtue; always keep your word, and wisdom is only gained through experience.
Abudawood continues: "The 'Roshan' takes tribal chic to a whole new level. It combines originality in design, and antiquity of heritage with architecture and abstraction embedded in a futuristic silhouette. It took about five months to finish the piece."
Looking ahead, the next Yataghan collection will use the Roshan as a springboard, incorporating elements of typography while being more suitable for daily wear. "I believe in design it is important to follow your thoughts and see where they lead you. And it is evident in many of Yataghan pieces that the Arabic script has become an integral part of the brand. The Arabic sayings that I chose to include were those repeatedly whispered to me by my father and beloved grandmother. It is in those sweet simple sayings that I find my drive and inspiration to be who I am as, as a mother, a sister, a daughter and a businesswoman that is determined to be an inspirational role model to future generations," Abudawood says.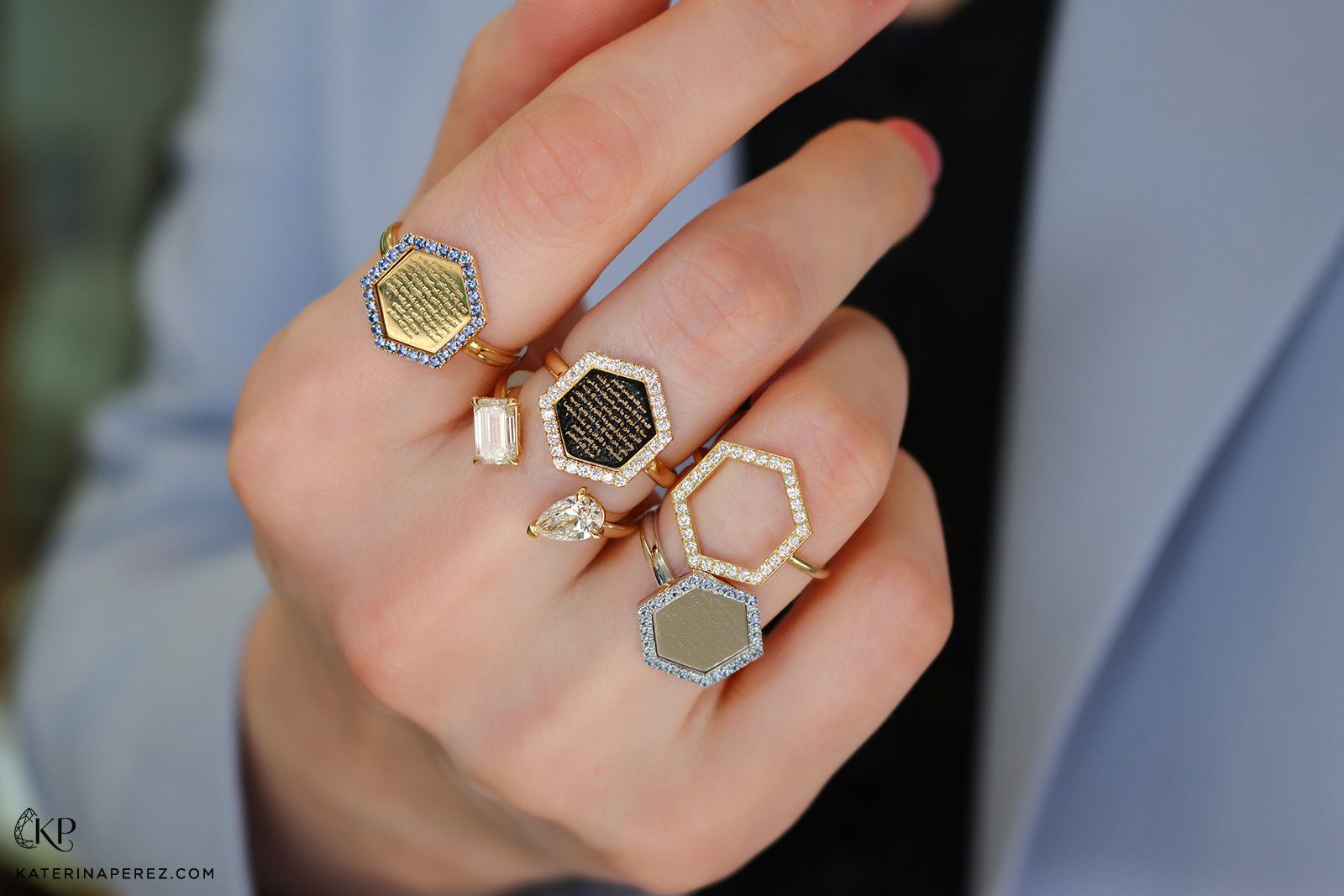 Having recently been selected as one of the top 17 jewellers in the Kingdom of Saudi Arabia by the Saudi Fashion Commission and Vogue Arabia, Yataghan is enjoying acclaim and international recognition (including dressing the likes of Lady Gaga, Jennifer Lopez and Billie Eilish to name a few). But even with this Hollywood success, Abudawood hasn't forgotten the heart of her brand. She tells me: "At Yataghan, we will only achieve our mission when our clients find in us an extension of themselves and their journey to growth and fulfilment."