The Cannes Film Festival is undeniably glamorous. It is a chance for celebrities who are used to the red carpet to up the ante even further by seeking out bigger carat weights, statement-making jewels and more creative colours. This year, I was pleased to see the works of independent designers on the red carpet, including Elsa Jin and Cindy Chao, alongside the dominant maisons like Bulgari, Chopard, Chaumet, Cartier and Piaget.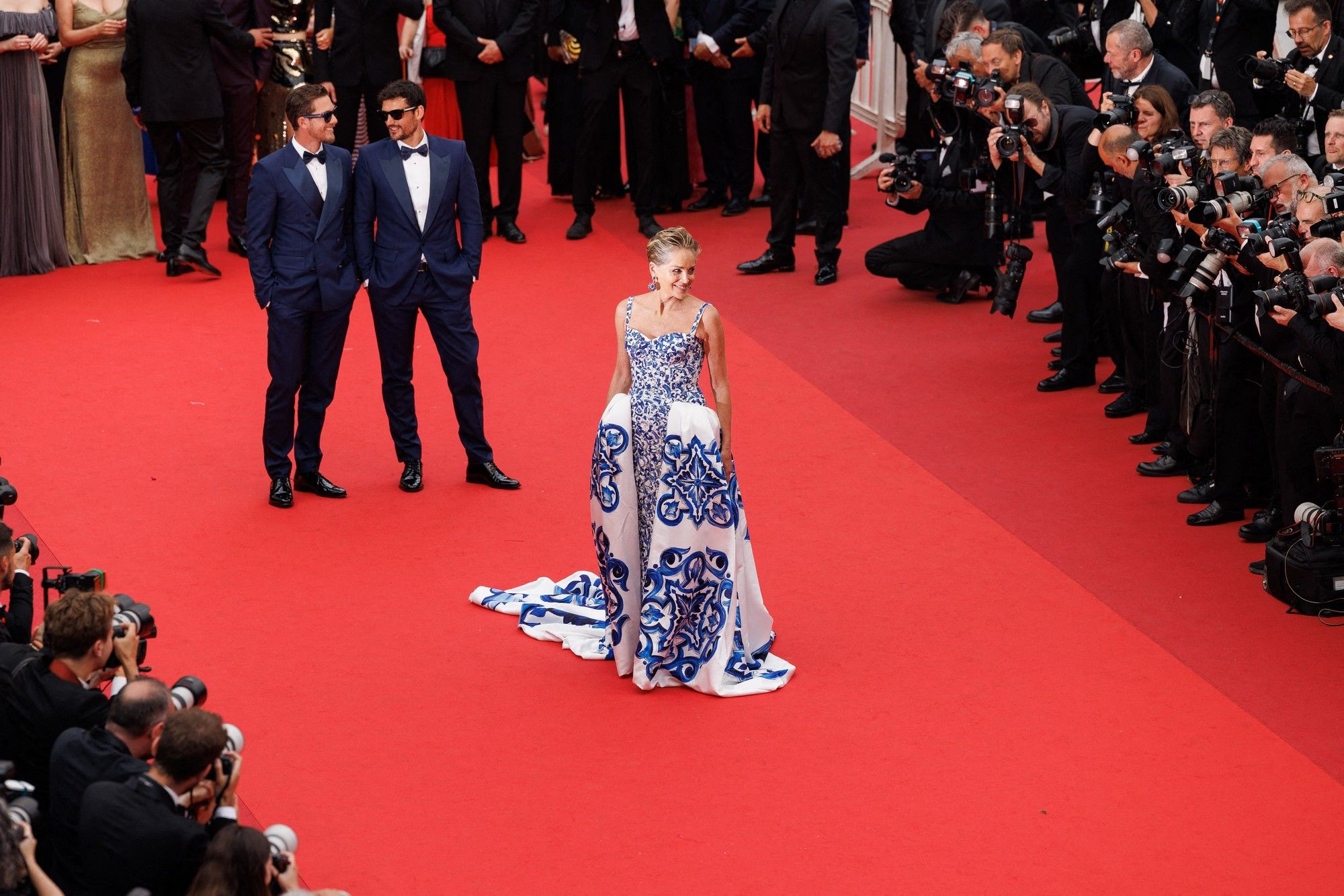 Plus, as I am sure you spotted on my Instagram, I also attended this year's Festival wearing diamonds by Hassanzadeh Jewellery, which also dressed many other red-carpet guests, models and personalities. The whole experience is a whirlwind of luxury, so it is only now that my feet are firmly back on solid ground that I can begin to decipher the jewellery messages from this year's big event, which took place from May17-28, 2022.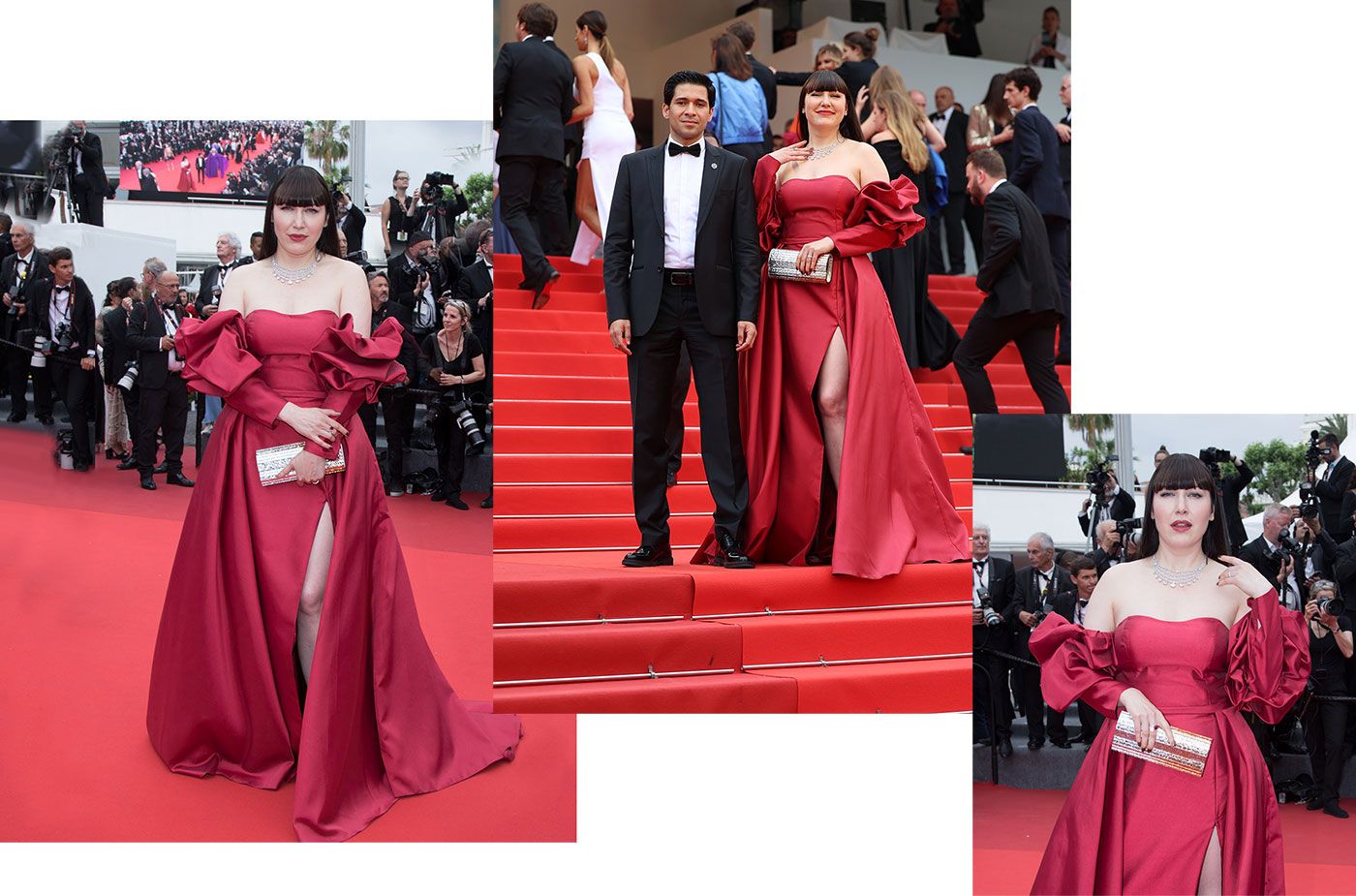 The theme of this year continues to be statement worthy jewels, whether that's oversized earrings, pendants with huge gemstone accents or striking collars. Earlier this year, we unpacked the shift towards big, bold and beautiful creations, so it is wonderful to see the peak of high glamour moving in this direction too. And it's clear the battle lines between diamonds and coloured stones, which were drawn at this year's Met Gala and Academy Awards, are continuing to shift in favour of rainbow hues. There were some truly fantastic looks on display in Cannes this year!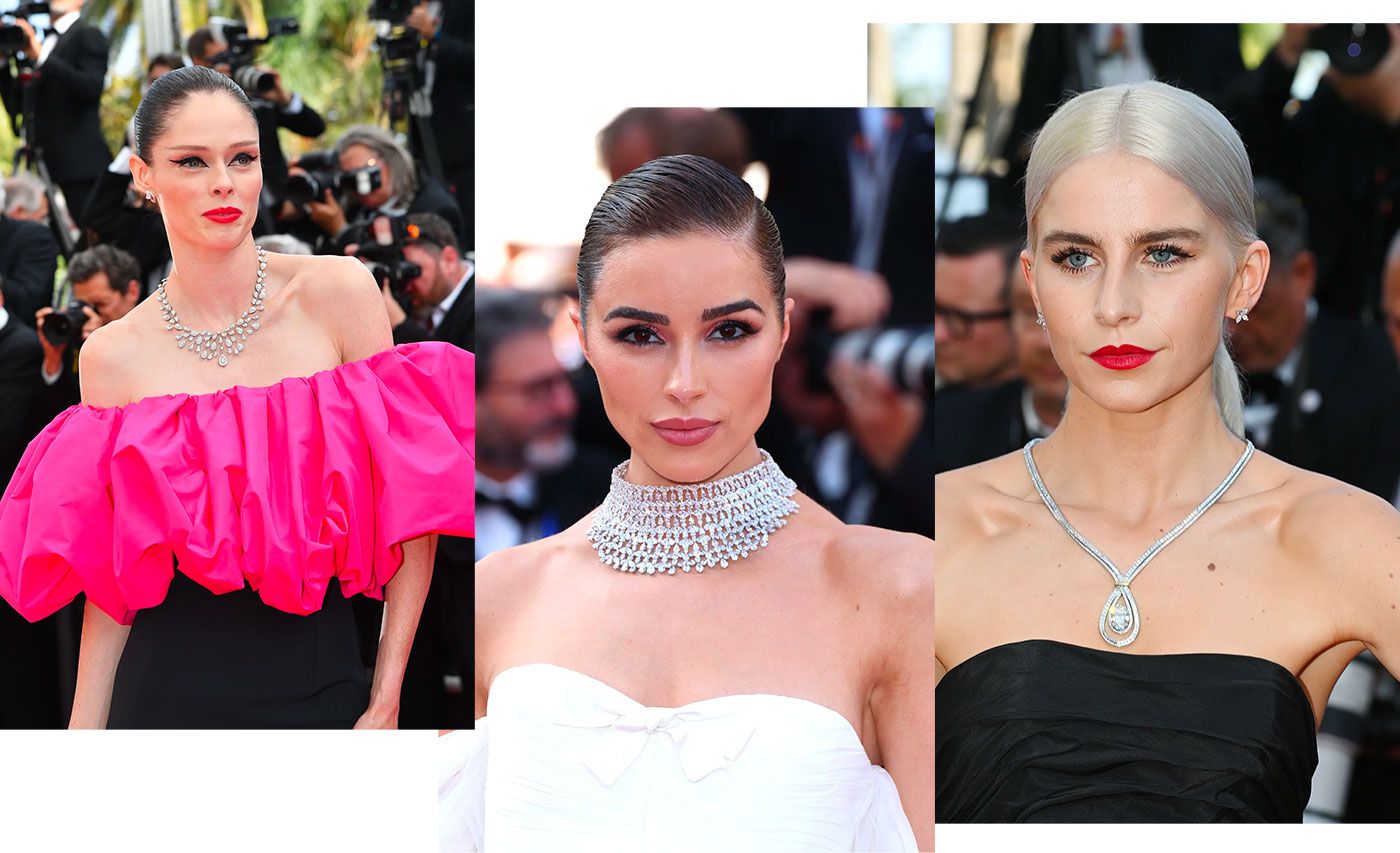 Let's start with Anne Hathaway who premiered the Bulgari 'Eden – the Garden of Wonders' High Jewellery Collection at this year's Cannes Film Festival by wearing the Mediterranean Reverie necklace. It is described as "one of the most precious creations ever realised by the Roman jewellery house," because it contains a 107.15 carat cushion-cut Sri Lankan sapphire, surrounded by baguette-cut sapphires and diamonds. She also wore a matching Octagonal Wonder ring with an 18.12 carat oval-shaped sapphire from Sri Lanka.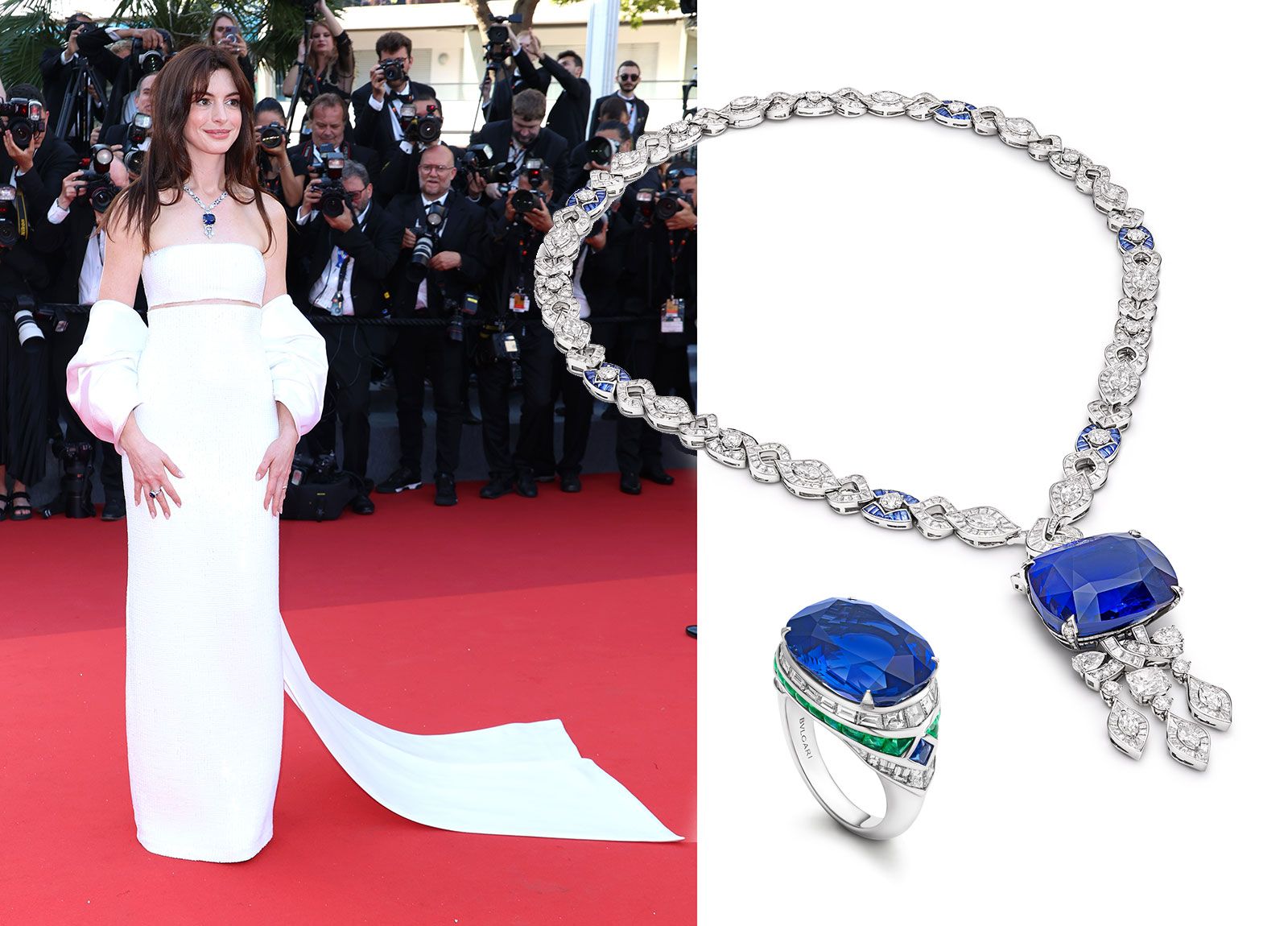 Also of note for Bulgari is actress Julianne Moore, who also wore the Bulgari 'Eden – the Garden of Wonders' High Jewellery Collection. She paired a black dress with the Tribute to Paris necklace set with a Colombian emerald cabochon of 35.53 carats, six pear-shaped diamonds of 6.08 carats, plus many more carats of buff top emeralds, fancy-cut diamonds and pavé-set stones. The look was completed with the Bulgari Emerald Ode ring with an antique cushion-cut Colombian emerald of 11.38 carats and 10 fancy-shaped diamonds.
Another big Hollywood star, actress Julia Roberts, also impressed us by combining a tailored black suit with a necklace by Chopard. The piece from the 2022 Red Carpet Collection is set with a central yellow diamond weighing over 100 carats, combined with countless colourless diamonds. This pop of colour and white diamond pairing was a hit for Chopard in 2022: Lashana Lynch, Noomi Rapace, and Rebecca Hallo all wore Colombian emerald and diamond suites, which appear to be the combination du jour. However, clean white diamond looks were battling for attention on the likes of Bella Hadid, Dame Helen Mirren, Maggie Gyllenhaal and Elle Fanning.
Model Lori Harvey wore a beautiful suite of diamonds by Messika, while actress Aishwarya Rai Bachchan also chose the brand's designs in the form of a sweeping ear cuff. Another Messika look of note was model Josephine Skriver who wore a Voltige Illusionistes ear cuff paired with the Once Upon A Time Zelda diamond choker.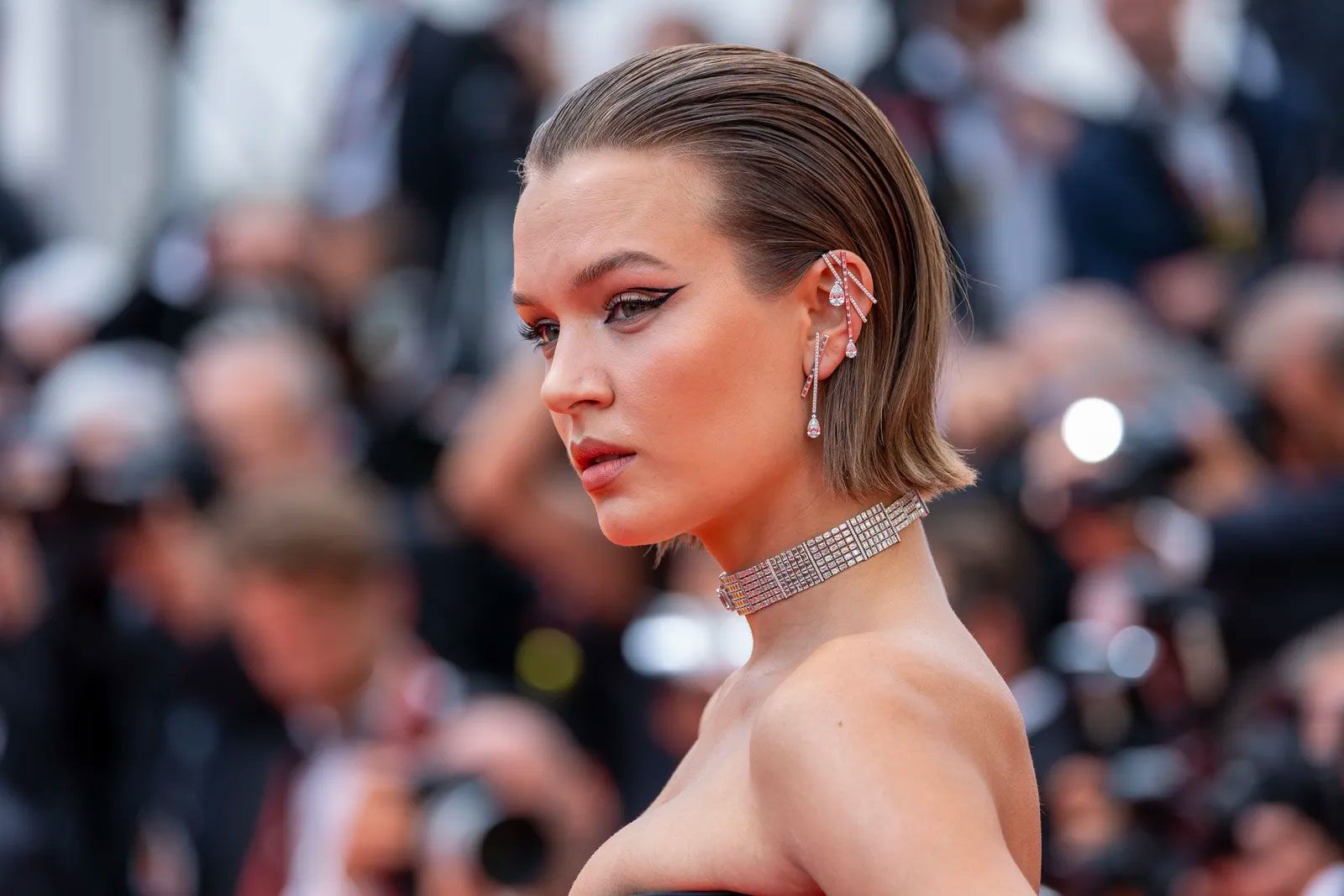 One of the most striking all-white diamond looks of the year was worn by Indian actress Deepika Padukone, who opted for a shapely Cartier necklace with an oval-shaped diamond drop. As you may know, guests often attend multiple events during the festival, so I must again point your attention to Deepika Padukone who wowed in the Sabyasachi Lucknow Rose necklace with gemstones and rough diamonds in the first few days of the Festival. Although this piece is in the Indian tradition, it does demonstrate the leaning towards the 'neck mess' trend that we have been seeing throughout the year.
Perhaps it is colour that makes people bolder. Actress Katherine Langford wore an emerald and diamond necklace by Piaget backwards, so it accentuated her gown. At a different event, the same actress wore the Piaget Limelight Mediterranean Garden ring with a Colombian cushion-cut emerald of 14.67 carats, as well as a pair of Piaget Wings of Light earrings set with six marquise-cut spessartites, yellow sapphires and pink sapphires, as well as two cushion-cut pink sapphires from Madagascar weighing 5.85 carats.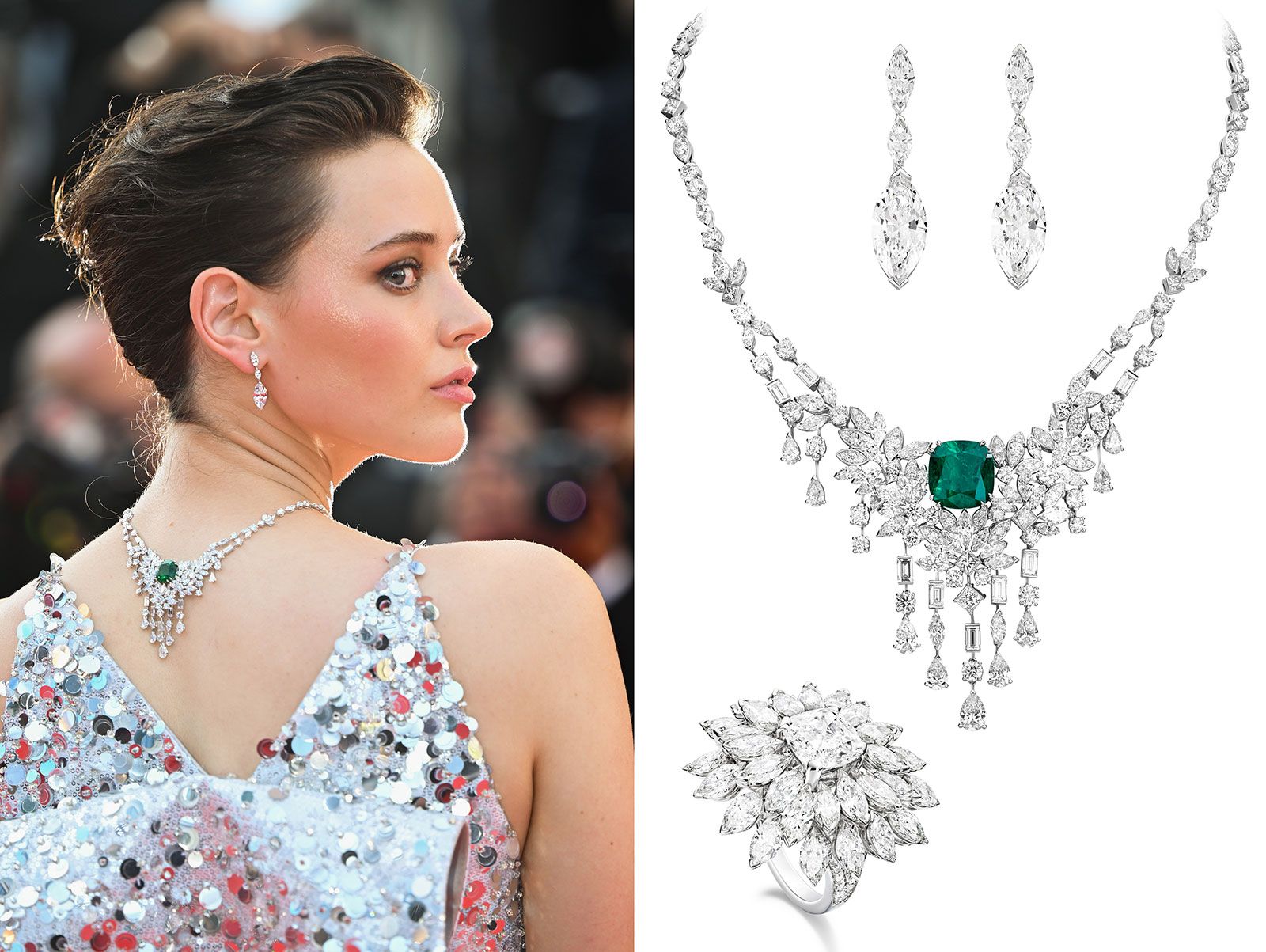 Another who followed the back-to-front concept was French model Cindy Bruna, who wore the Chaumet Promenades Impériales necklace, set with a pear-shaped Padparadscha sapphire of 16.81 carats, so it flowed down her back.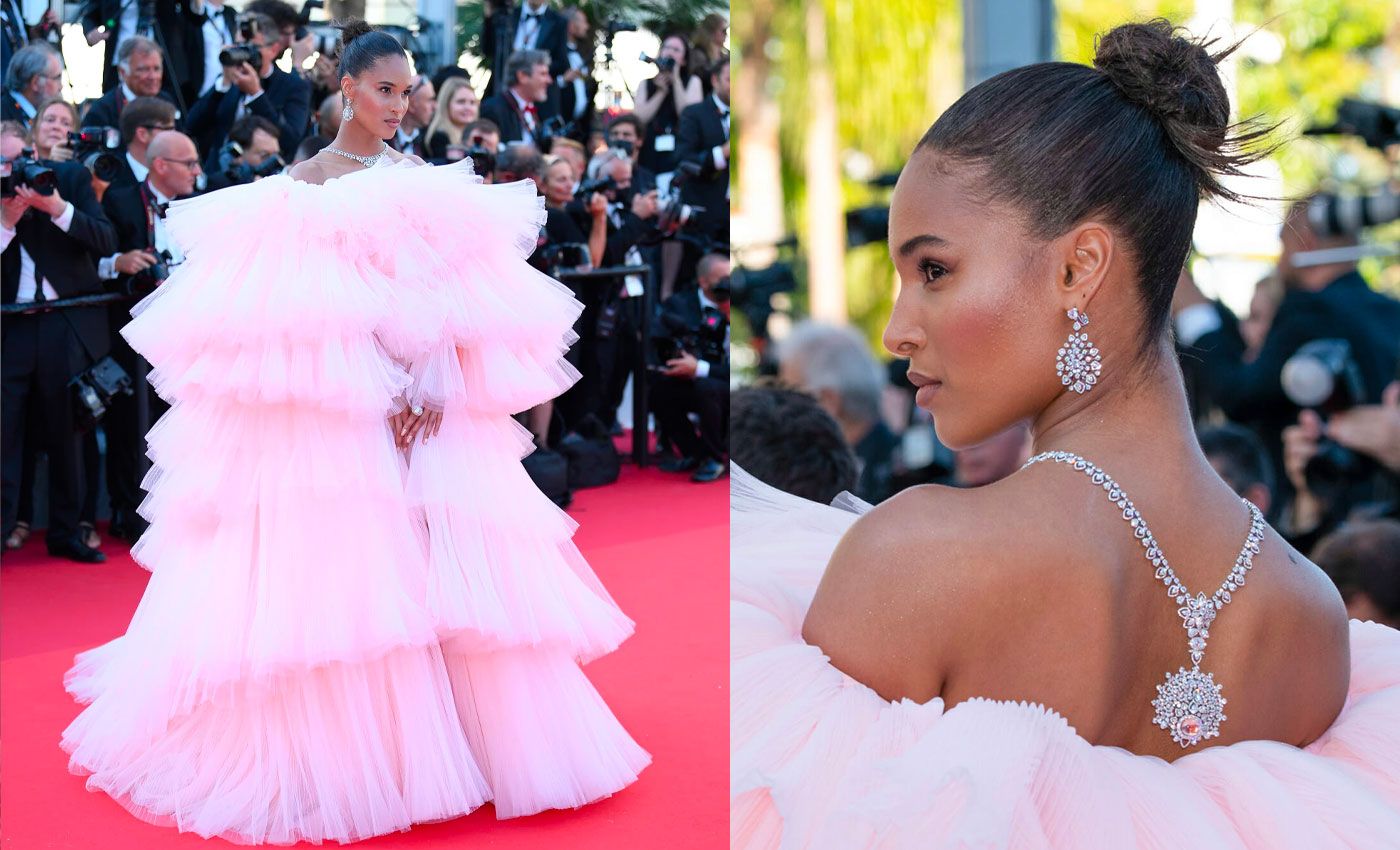 Some of the most experimental looks came in the form of chokers, which are a significant trend this year both on the red carpet and on the runway. Diane Kruger opted for a neck hugging piece by Chaumet, while American blogger Chriselle Lim wore a torque-style yellow gold and white diamond neckpiece and matching earrings. Just as an aside, yellow gold was not prominent at this year's Cannes Film Festival, with the vast majority wearing white metals.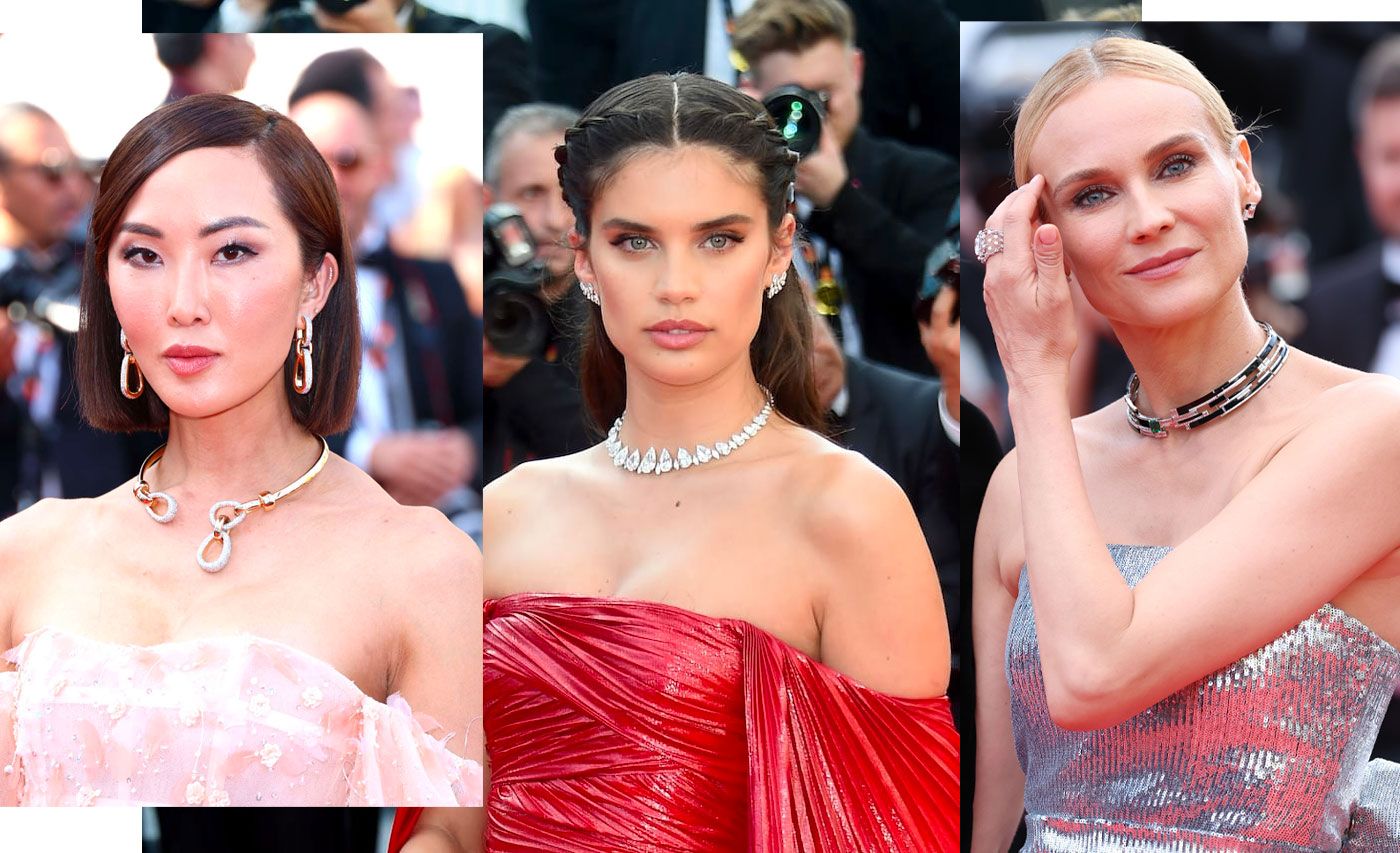 There are a handful of further looks deserving of special mentions. Brazilian model Isabeli Fontana wore Elsa Jin's Life 2022 brooch with a 71.93 carat emerald and diamonds on the collar of her black dress! Model Catrinel Marlon wore a pair of Chopard carved jadeite earrings with turquoise, amethyst, spinel and Paraiba tourmaline butterflies, while model Natalia Vodianova also wowed in a Chopard suite of pear-shaped aquamarines, including a cocktail ring with a 57.55 carat gem.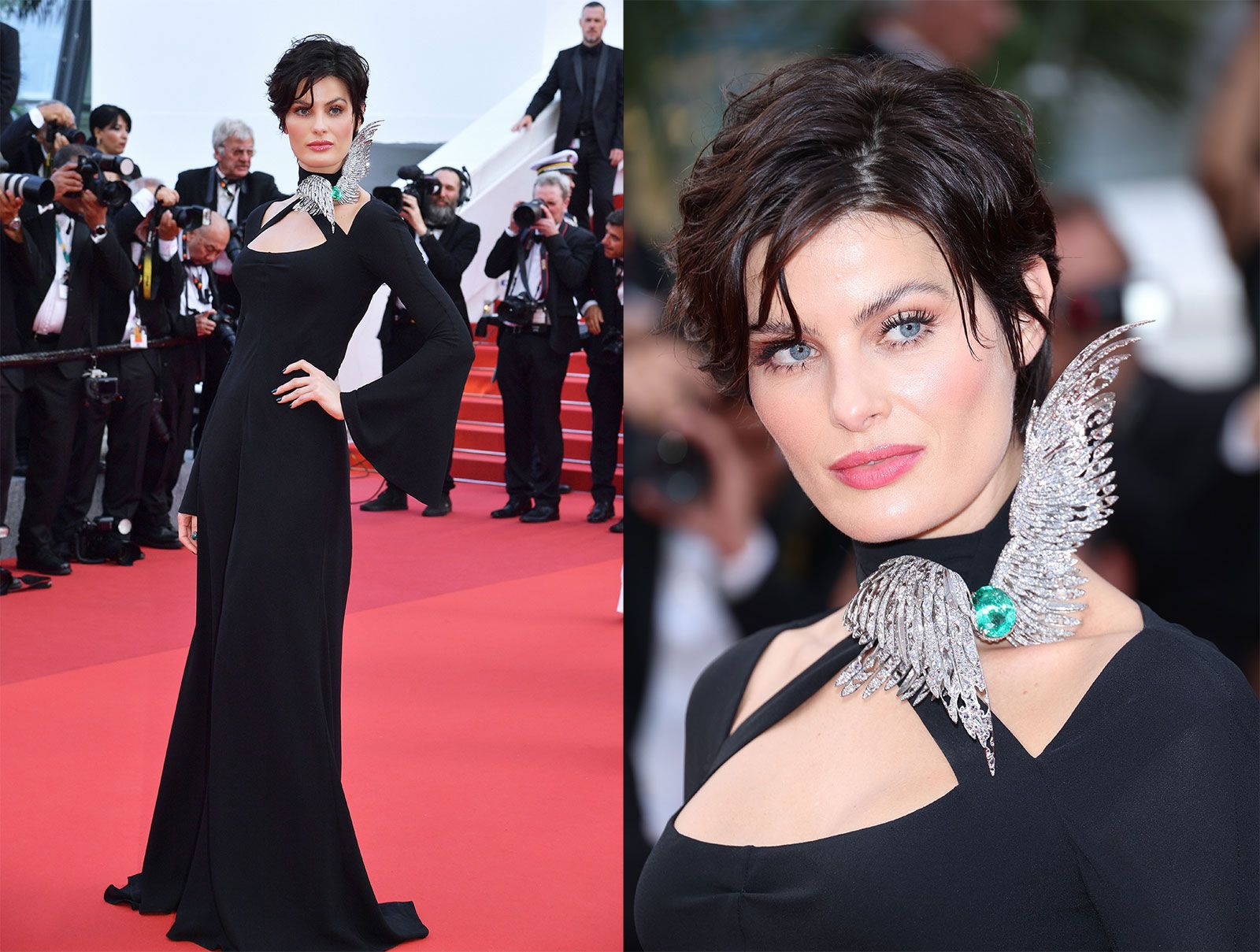 One of the best looks emerged from Nour Arida, a Lebanese fashion blogger, who wore a striking and sculptural necklace from Boucheron with a large rectangular diamond centre. This is new to our eyes, so we predict it may be part of an upcoming High Jewellery collection. And, of course, actor Sami Outalbali needs to be mentioned for his incredible ear cuff – a diamond octopus from, I believe, Boucheron's upcoming High Jewellery collection. I can't wait to see more!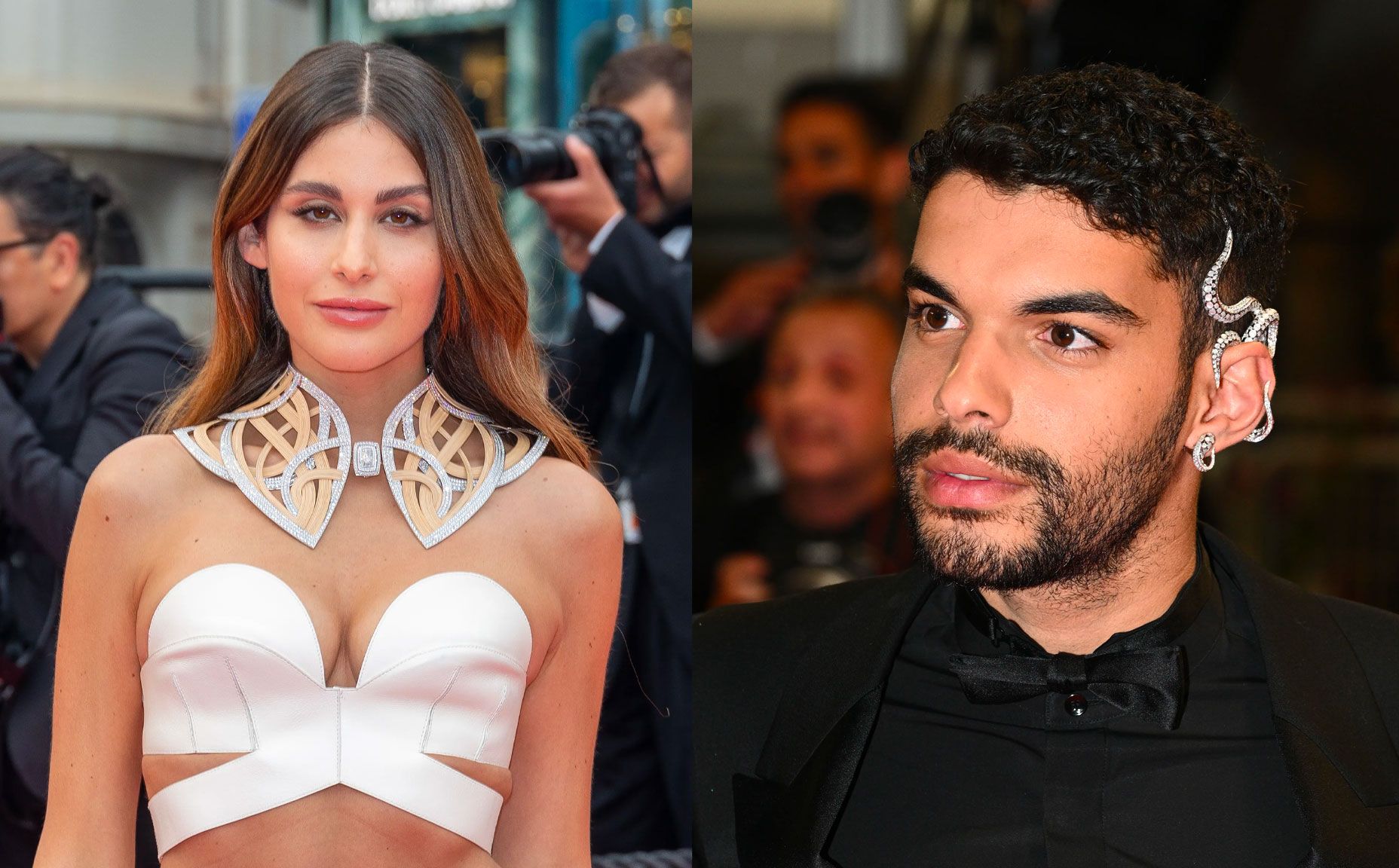 Finally, let's not forget the gentlemen! There were some notable brooches, including French actor Pierre Deladonchamps in the Chaumet Espiègleries Lion brooch with sapphires in white gold, paired with a yellow gold mane. Actor Edgar Ramirez wore a Cartier Panther lapel pin on his blue velvet suit, while Irish actor Paul Lescal, who was named a Cartier ambassador at the Cannes Film Festival, wore a Pasha de Cartier Grille watch alongside a vintage brooch by the Maison in yellow gold and diamonds. And speaking of Cartier ambassadors, actor Austin Butler also made the cut and wore the Cartier Juste un Clou bracelet in white gold, the Tank Must watch and a Love ring in white gold.
As you can imagine, if space and time were of no consequence I could continue for hours about the pieces on display at this year's Festival. However, for now, here are some of my favourite pieces that will fuel my excitement until next year.