Suzanne's showroom resembles a violet kingdom where works of art like George Nelson's famous 'Marshmallow' sofa form the background to the jewellery. Unique earrings, rings and bracelets sparkle in the purple boudoir – from beneath the glass of a round vintage Yves Saint Laurent display case complete with handles in the shape of shells, and several other 1940s style cases.
"The environment where I present my creations is as important as the creations themselves. Works of art can be perceived differently depending on the museum displaying them. I enjoy spending time here with my clients; talking about my artworks on the walls and the objects brought back from my travels; and presenting them my latest creation," says Suzanne Syz.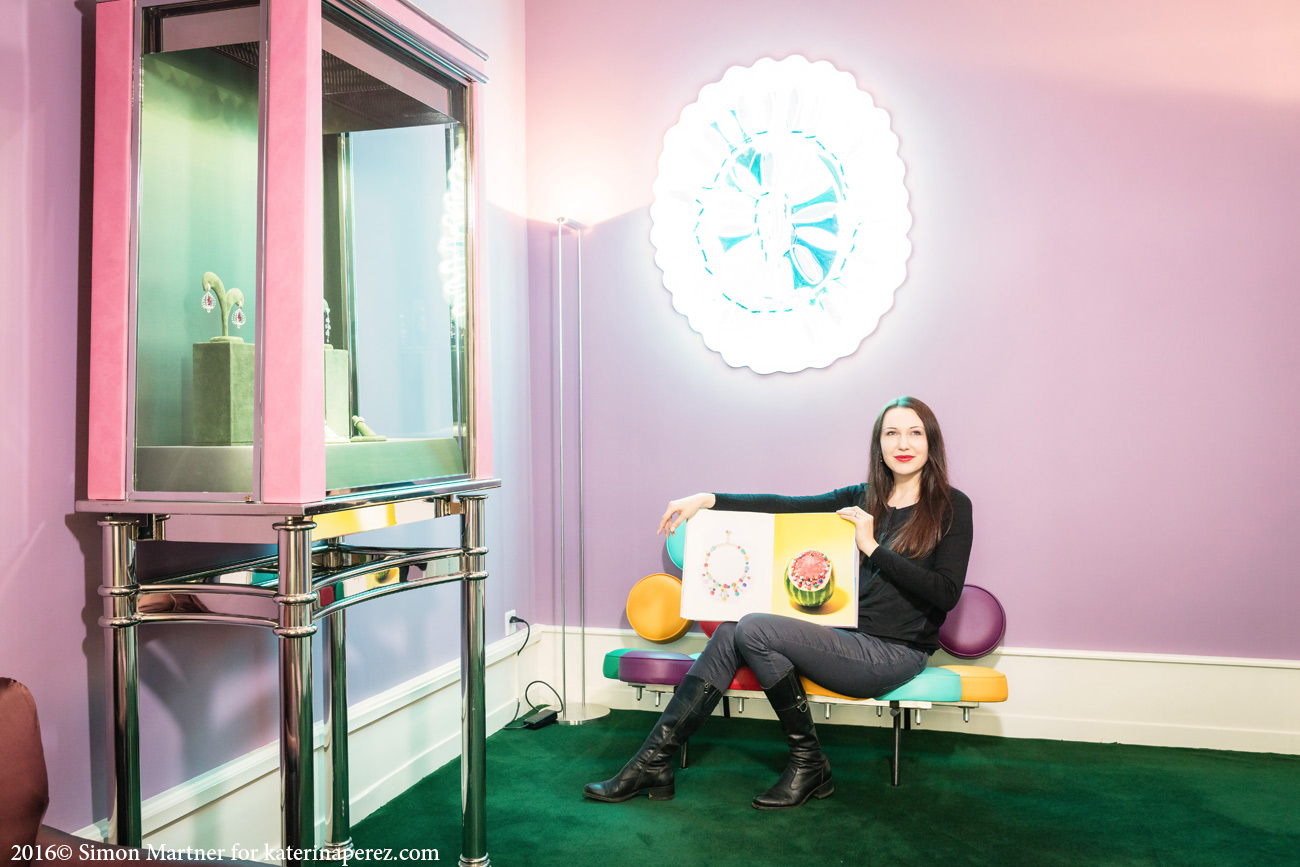 The walls of the showroom are painted a deep shade of violet – one of the most mysterious colours on the spectrum. It comes right at the end, and is said to be the 'crown' of all colours. Violet is supposed to sharpen one's intuition and make one pay more attention to details – and in Suzanne's designs there are a lot of details. Which is why I made sure to take a look at the pieces from all sides. And when I talk about the detail in her work, I'm not talking only about the finish on her pieces, but also the way each concept is carefully thought through so that the pieces of jewellery themselves become works of art in miniature.
Sometimes Suzanne's works have a daring and provocative feel – like pop-art of the 1950s. Her designs boast the bright, contrasting combinations of colours and audacious designs, which have put Suzanne Syz's name on the map. Her approach to decorating her jewellery is the result of some important influences – modern art as well as notably her friendships with Andy Warhol, Julian Schnabel and Jean-Michel Basquiat when she lived in New York.
"Many of my clients like the fact that much of my inspiration comes from contemporary art. My jewellery is also greatly influenced by materials like titanium and zirconium, which I often treat as sculptural elements, or the stones, which are sometimes left in their rough state. This sets me apart from other designers," explains Suzanne.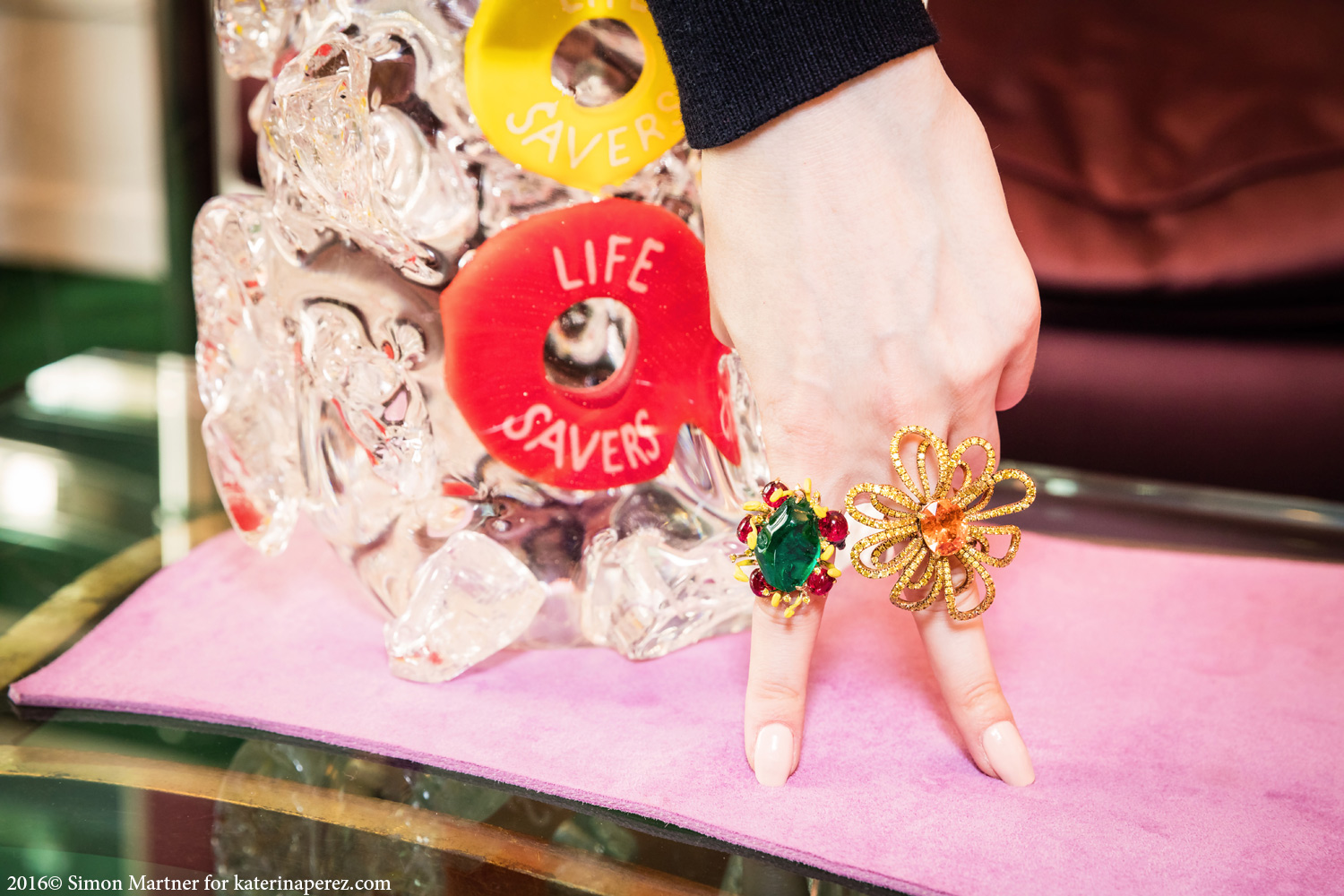 It's fair to say that Suzanne Syz's jewellery often falls outside what you might call 'ordinary'. It's funny and ironic, but is still of real value. A good example is her ring Star Wars Treasure – one of her most recent works. It's made to look like a spaceship from fiction, out of blue titanium decorated with 215 sapphires. At the centre of the piece you will find a cabochon sapphire from Burma that weighs 43.40 carats. Another of designer's recent works is a colourful ring Power to the Flower with an uncut 23.83 carat Colombian emerald, spinels, and both yellow and colourless diamonds.
Suzanne Syz will stop at nothing to make her musings reality. For instance, when making her ring Picture Perfect she used miniature pearls strung on a metal thread. In order to get the beads to sit properly on the curves of the metal, they all had to be individually drilled at different angles before being strung together. Given the small size of the pearls, it can't have been easy. But in the end the valuable 10 carat Colombian emerald was given a very appropriate setting.
It's not possible to get through all of Suzanne Syz's works in just a single article. I've merely given my impressions from a visit to her showroom. If you want to get to know her and her work better it is a good idea to buy the book Suzanne Syz: Art Jewel, published by Maison Assouline.