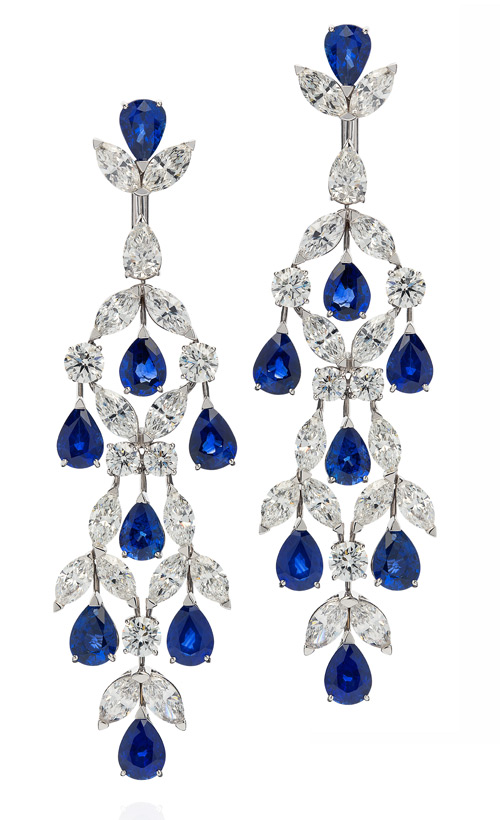 A PRECIOUS DREAM is the name of the current high jewellery exhibition that Angela and Christian Orlov, the founders of Orlov Jewelry, organised to showcase their latest creations in the Hotel De Paris, Salle Puccini – Monte Carlo.
As centrepiece of the exhibition, the brand will be unveiling a stunning €4 million statement bracelet, set with fancy shape diamonds and natural Burmese rubies (you can see the bracelet below on the right-hand side). The oval ruby in the centre is a unique gem of 12 cts; if you read my feature about Burmese rubies, you would know how extremely hard it is to find a natural Ruby of this size. Having been cut and polished to perfection, it makes the €4 million bracelet an ORLOV masterpiece.
Specialising in sought-after precious gemstones such as important emeralds, rubies, sapphires as well as rare diamonds, Angela and Christian have now enriched their collection with another gem that is known and desired for its magnificent colour – Paraiba tourmaline. Two striking pieces will be on display in Monte Carlo – a white gold ring with a Paraiba tourmaline of whopping 27.35 cts (see below) and a pair of earrings with 4 pear-shaped Paraibas totalling 63.76 cts (see above).
Another piece that should not be missed is the white gold emerald ring featuring a Colombian emerald of 16.28 cts, 267 white diamonds of 1.13 cts and 2 trapezoid-shaped diamonds of 1.54 cts on the shoulders. The importance of this jewel is of course in the centre stone which is a gem fit for collectors.
If you feel like treating yourself to a jewel that boasts an elegant design and everlasting beauty, it is worth viewing ORLOV jewellery in person. The exhibition that will run until the 1st of September. KP