David Webb New York celebrated its 70th anniversary this year. In many respects, the success of the brand has been based both upon the brilliance of David Webb himself, as well as the principles upon which he built his brand: true independence in the creative process, as well employing a succession of artisans and craftsmen whose passion is evident in their creations. Bold designs have become a signature of David Webb jewellery; alongside his inclination for using a wide range of materials and techniques – such as bright enamel, textured gold, rock crystal, and an array of motifs from the ancient world - all playing a significant role in the creation of the now universally recognizable brand. David Webb personally had a special affection for nature and living things, and so the use of nature motifs and images of animals in his designs are both frequent and abundant.
The first animal inspired bracelet from David Webb was designed in 1957 - the "Dragon" bracelet was bought by Elizabeth Taylor, and subsequently named the 'Elizabeth Taylor Makara Bracelet'. David Webb followed this design with enamel animals, among them a Zebra bracelet designed in 1963, which incidentally can be found on the brand's logo – in 18K gold and platinum, decorated with enamel, diamonds, and rubies. The immediate success of the piece exceeded all expectations, and this early triumph opened up a world of possibilities - qualifying the demand for more animal themed designs.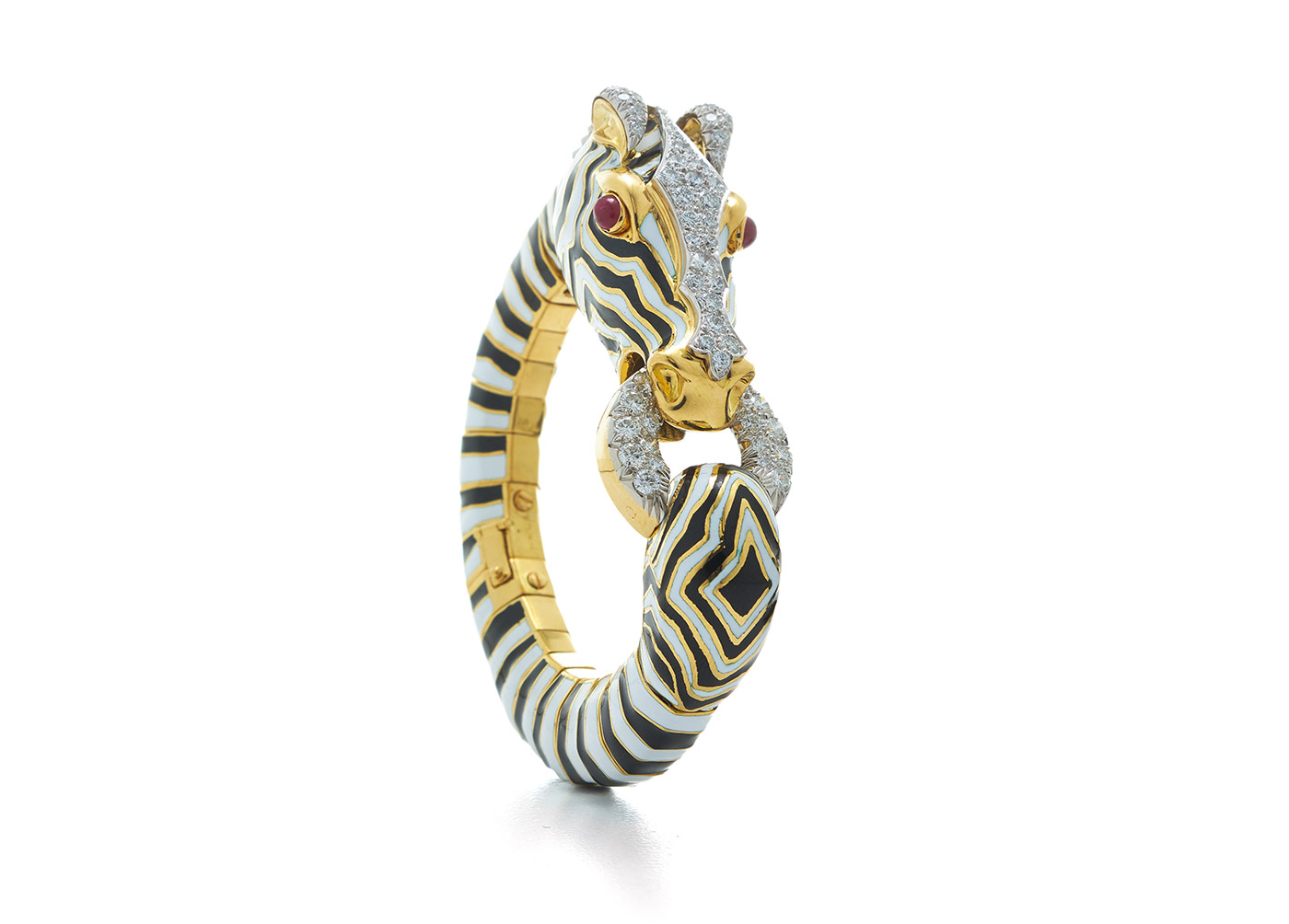 Elizabeth Taylor's passion for jewellery is so well documented that for many, this is the prevailing association with the actress, even surpassing her most famous roles. What is perhaps less well-known is that she had a special love for David Webb's work in particular –therefore it is not surprising that the great actress also contributed to the creation of a second symbolic animal themed piece. She commissioned a bespoke Double-headed Lion necklace and bracelet. The bracelet made from twisted pearls and interchangeable ruby beads was dominated by a diamond lion head adorned with emeralds and gold accents.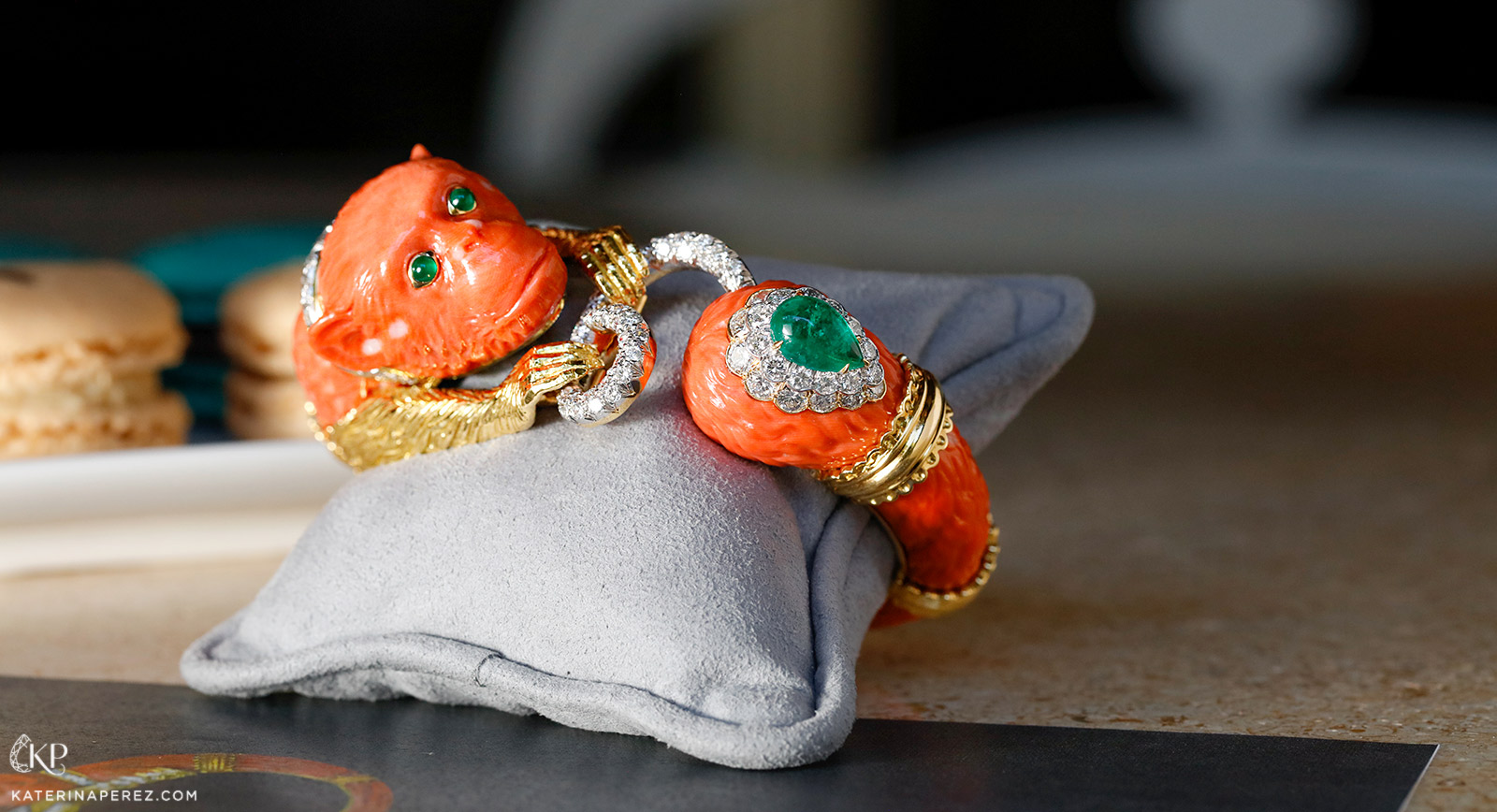 Necklaces, earrings, rings, brooches and especially bracelets in the form of animals comprised of gold and enamel became a style icon of the 1960's.
Angela Taylor of the New York Times wrote: "1964's fashionable woman woke up in the morning wearing Sylvia Pedlar's harem nightgown […] at night she danced wearing a skimpy black dress with lace stockings or a wide-legged jumpsuit and bare feet. Her jewellery was likely to be an animal piece or two made by David Webb."
Monkeys, frogs, elephants, tigers, seahorses and many other members of the animal kingdom were created with Webb's classic choice of materials: gold with primary coloured enamel, sapphires, rubies, emeralds and diamonds, or in other opaque minerals - lapis lazuli, malachite and, of course, coral. Being particularly fond of red and pink coral, Webb used coral for the creation of many of his animals.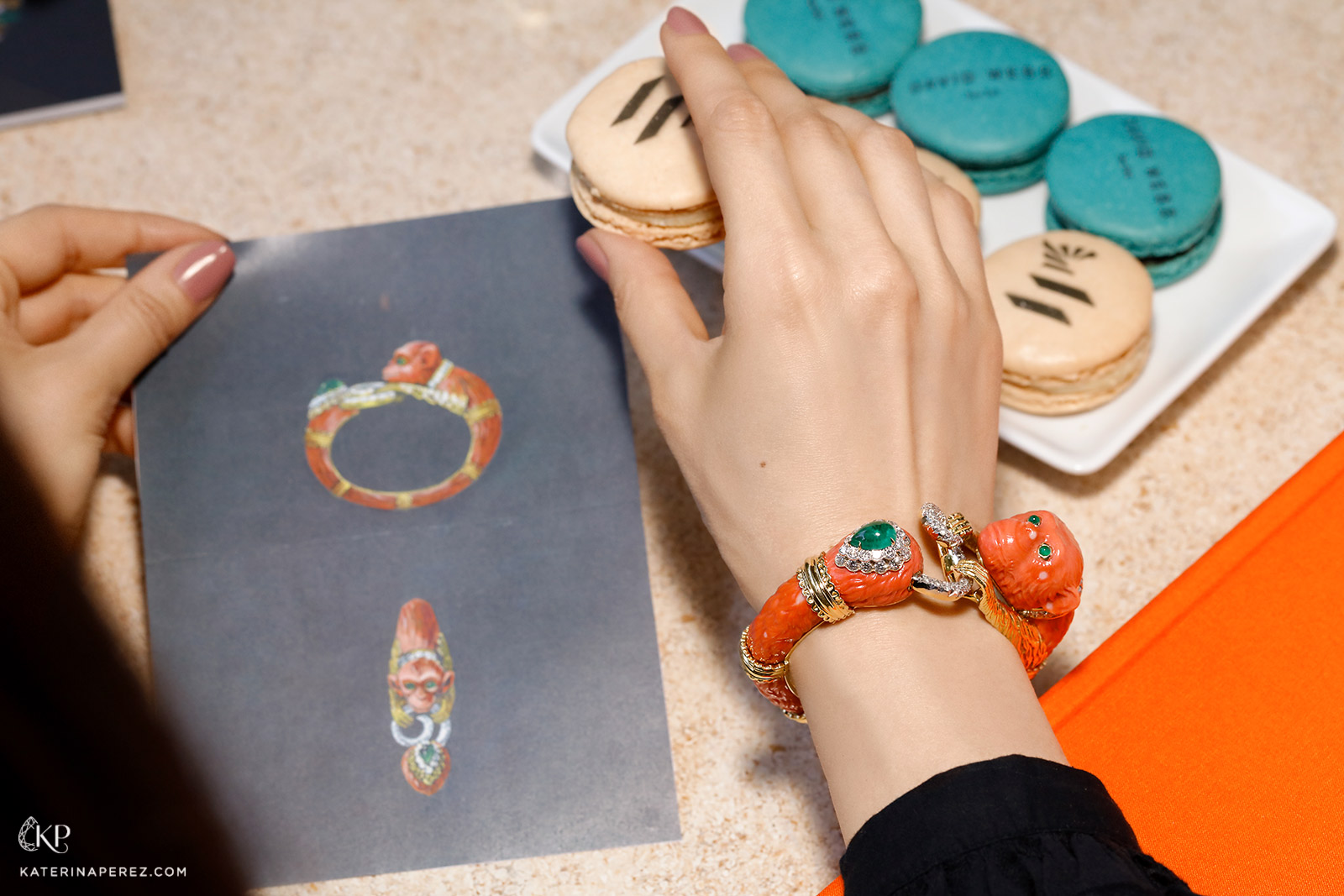 Having toyed with literal interpretations of his animal theme, David Webb moved on to creating representations of the zodiac signs. These pieces are so highly sought after that they are scarce - even at the world's largest and most famous jewellery auction houses. The Zodiac jewellery collection was created in 1968, and comprised of pendants, bracelets, buckles, rings and brooches featuring textured gold - both decorated with diamonds and without. Using the same technique, Webb later created animal bracelet cuffs : 'Leopard', 'Monkeys', 'Alligator' to name a few; each possessing detailed 'bodies' that have been crafted in gold, with the only exception being their precious gemstone eyes. Throughout the history of the brand, Webb created so many different jewelled animals that an animal kingdom was inadvertently produced, which in turn became the eponymous 'Kingdom' collection. Although most animal lovers would adore meeting the creatures, which have inspired David Webb in the wild, their precious counterparts are a fantastical alternative.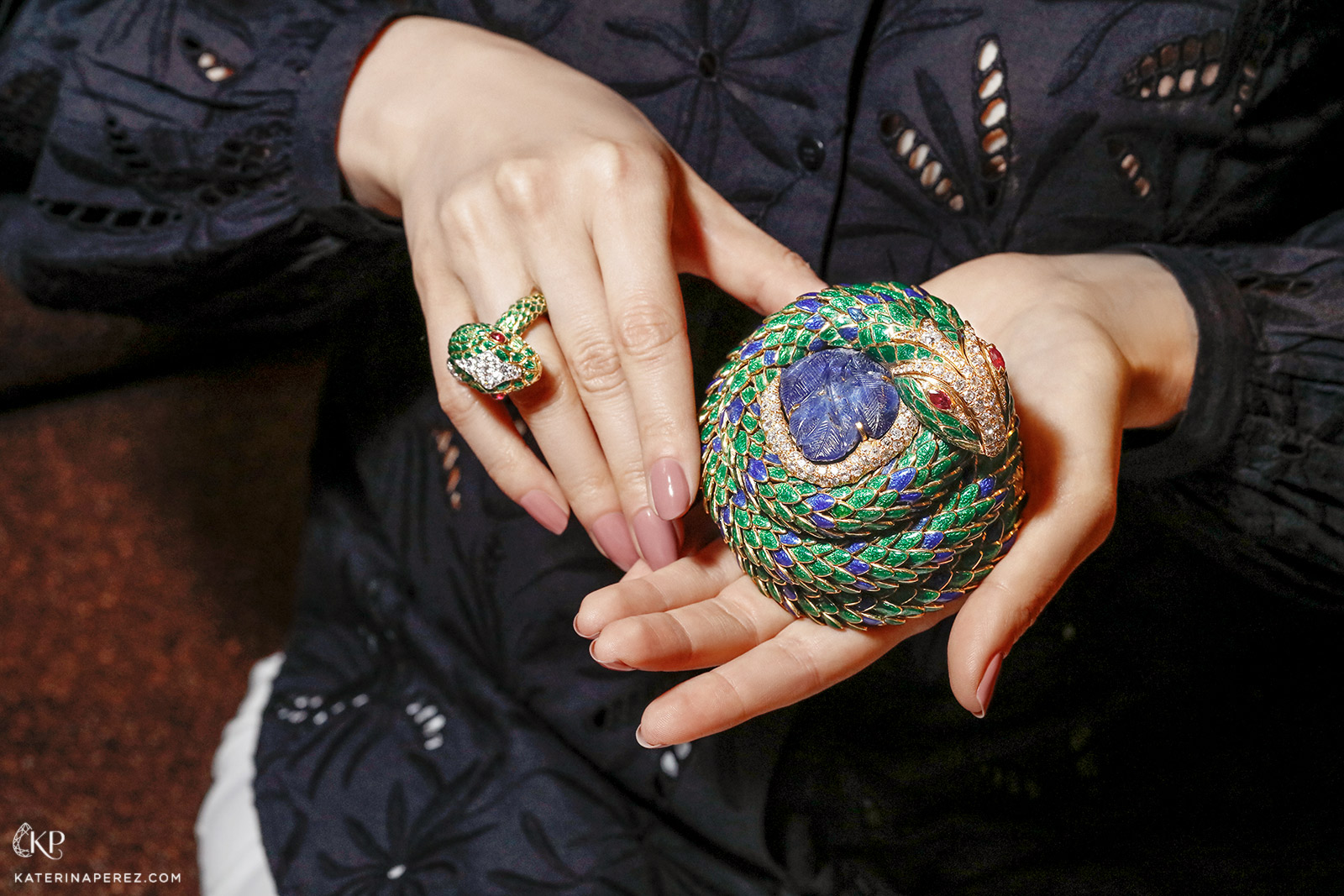 David Webb's jewellery is some of the most sought after and instantly recognisable in the world. These pieces are now appreciated not only for their beauty and the levity of their design - but also for their enduring value.