Christian Dior was born on January 21, 1905 in a sleepy Norman town called Granville on the shores of the English Channel in North-western France. He was the second of five children in the family of a successful entrepreneur. As a child, he preferred the company of the natural world to the chaotic and noisy games of his four siblings. He would walk in the garden, dream, paint the Channel or the flowers of his native Normandy. Here, the first seeds of the young man's love of all things floral was planted. It would ultimately blossom into an unimaginably various range of creations: the Tulip show, the Lily of the Valley collection and, of course, the rose—the very symbol of the Christian Dior Perfume brand, in whose name so many delightful fragrances have been released.
As Christian Dior grew tired of his fame and his ever-busy schedule, he began to look for an estate where he might recreate that magical atmosphere of his childhood. After viewing more than thirty different properties, he finally settled on a dilapidated building with vast grounds in the south of France in 1950. This was his Chateau de la Col Noir, located near the city of Grasse. Much like his fashion collections, Monsieur Dior designed the estate himself: from the facade to the interior and from landscape design to the planting of whole hectares of flowers. Why so many, I hear you ask? Here at the Château de la Col Noir, both then and now, roses and jasmine grow not only for their inherent charm, but also as crucial ingredients of Dior perfume.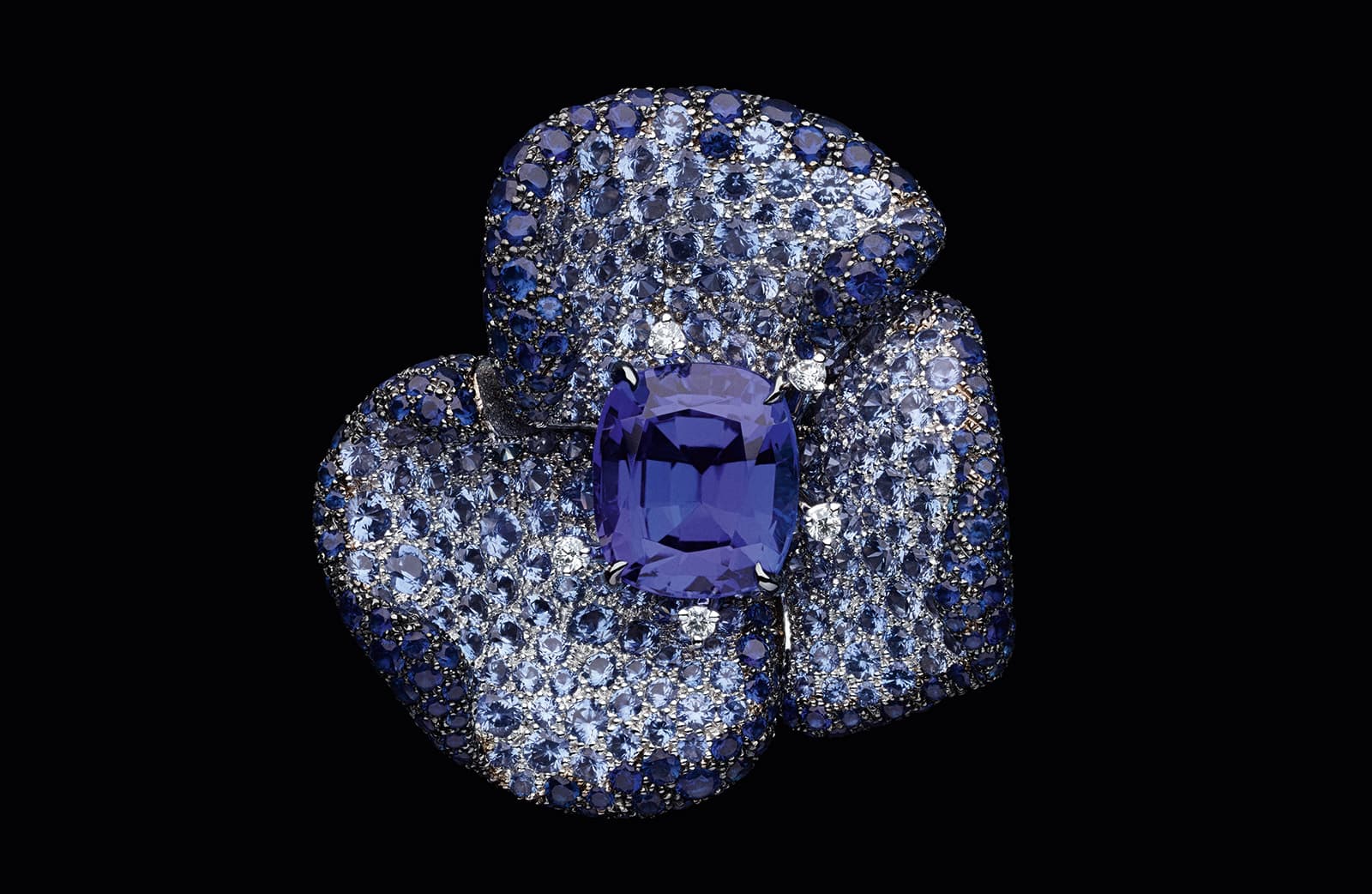 "After women, flowers are the most divine creations. They are so gentle and so charming (...)," wrote Monsieur Dior.
Finding a seemingly inexhaustible source of inspiration in the biography of Dior's founder, Victoire de Castellane presents us with the traditional rose, but with a stunning new twist. To reflect the striking beauty of the buds at dawn as well as the blooming petals of the flower as the sun sets over them in the evening, the Dior Artistic Director has drawn on her talents as a colourist as well as a varied gemstone palette.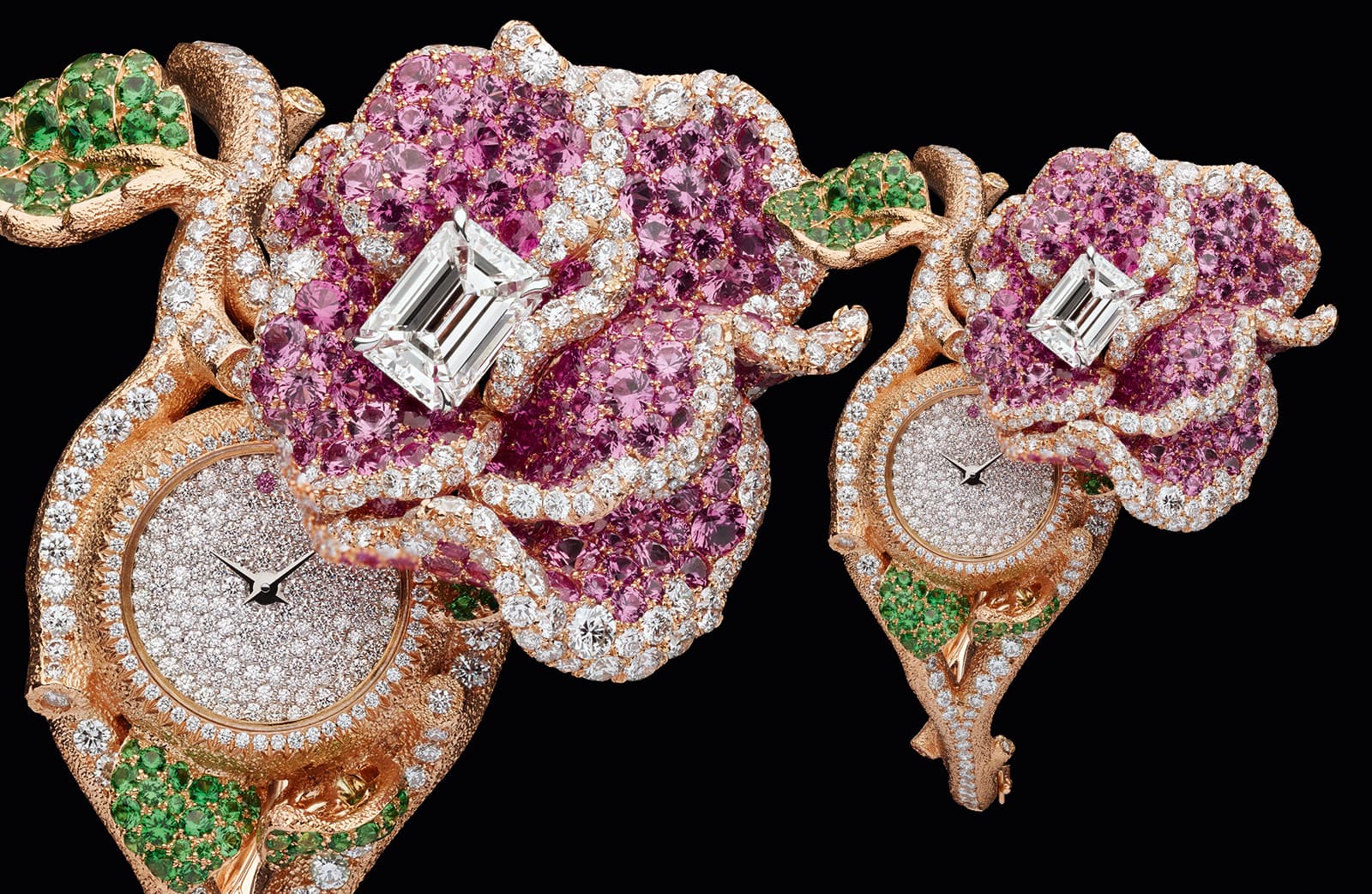 In the collection, of course, you will find the classic trio of gems, that are well established as an integral part of all high jewellery collections. One necklace is decorated with a scattering of rubies, another with a sapphire from Madagascar weighing over 8 carats, while a third is adorned with an unusual cut emerald, reminiscent of a tapered baguette with an extra point on top. These same stones adorn a number of cocktail rings, sometimes in the role of a "soloist" at the very centre of the object, and sometimes as an accompanying "pavé" of rose petals.
Victoire de Castellane at times chose to mix several colours in one piece, while at other points she has left entire necklaces, pairs of earrings or rings in a colourless monochrome, deliberately choosing to focus instead on just one juicy shade. Expanding upon this tinted palette, Victoire has painted Monsieur Dior's favourite flowers using neon coloured Paraiba tourmalines, pink spinels and sapphires, as well as ochre with sparkling yellow diamonds. The brand's creative director has further emphasized these shades with colourless diamonds that outline rose petals on most jewels.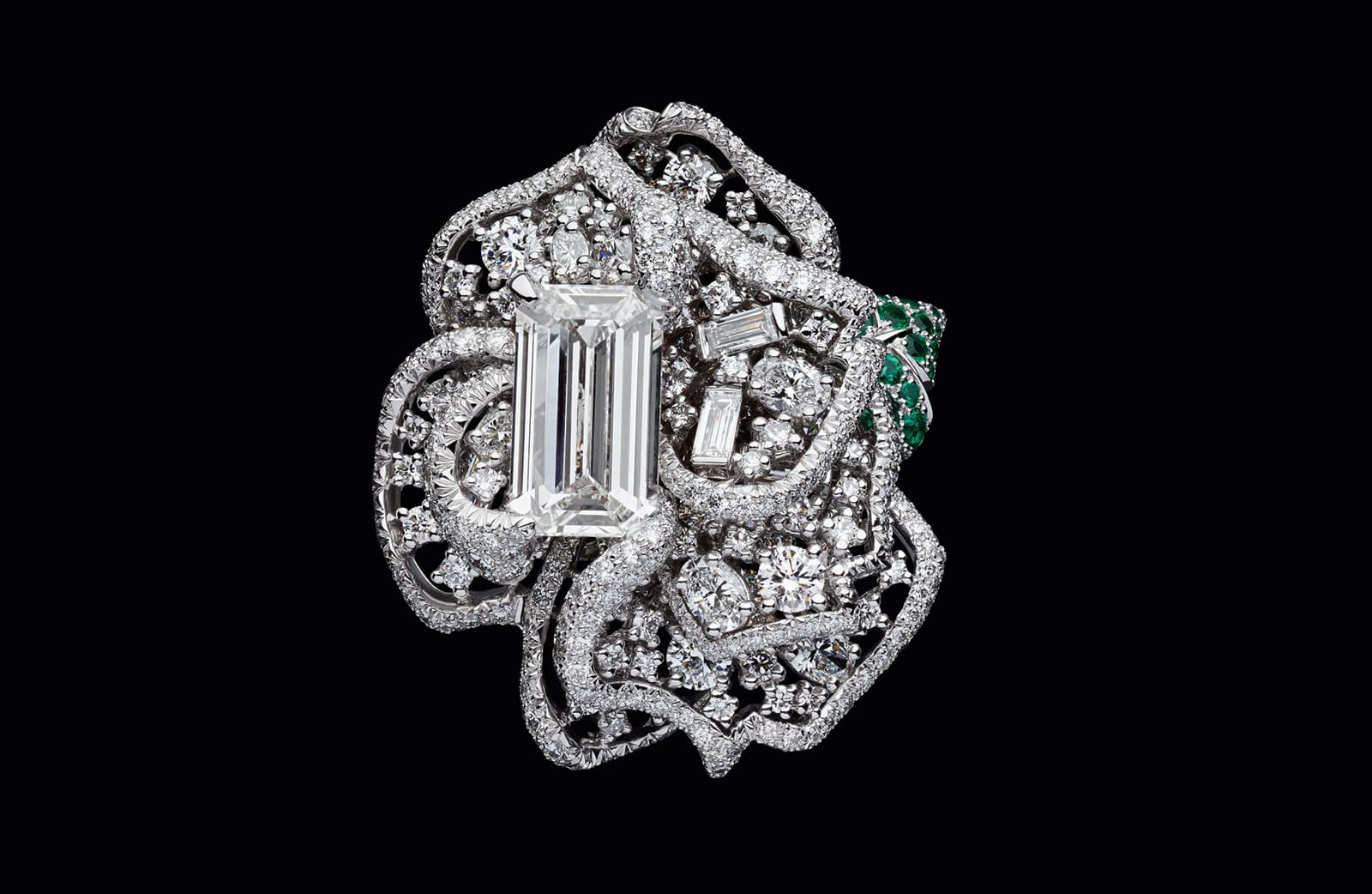 It should be noted at this point that this diamond-paved 'frame' is present for a reason: it holds together the round, oval and teardrop-shaped gems which are attached only to it. If you were to inspect these roses very closely, you would see that the diamonds, emeralds, rubies and spinels inside the petals seem almost to float in the air. And if you look at the jewellery from the top, then the gold and the setting of the stones are practically invisible—a truly striking image. This was the first time I have seen such a technique used in Dior jewellery and I can say with confidence that it makes the designs feel far more voluminous, ethereal and ultimately more alluring.
On the note of "allure", I would like to take this opportunity to mention that in almost every Victoire de Castellane collection you will find invariably the use of coloured stones or diamonds of an unusual cut. RoseDior is no exception to this rule I have found myself observing. I mentioned the fancy-cut emerald above, and I also remember a pink spinel of over 4 cts that was shaped like a lozenge. This spinel seemed to lord over the green, blue, pink and yellow petals in one of RoseDior's most striking cocktail rings. I would also classify three RoseDior secret watches among my category of striking and intriguing jewellery.
Due to the pandemic, at the time of the collection's launch, not all fifty-four pieces were quite ready. However, this only means that the collection will continue to be replenished with new jewels throughout the year. We will savour them, no doubt like a good wine, when they are ready.