To tell the story of Harem's Garden, we need to start with a poem. An epic poem, to be precise. It was written by Nizami Ganjavi, the greatest romantic epic poet in Persian literature. In 1197 AD, he wrote Haft Peykar, translated figuratively to mean "seven beauties," which weaves a seven-part tale of seven princesses from all corners of the globe. The poem tells of King Bahram Gur, who built a palace with seven domes for each of his princesses. According to her origins, each woman was associated with a colour, a planet, and a day of the week. They hailed from India, Central Asia, the Mediterranean, modern-day Croatia, and Persia, with their own stories that Alessio Boschi has sought to capture in jewellery form.
The details behind the Harem's Garden collection are far more nuanced than we can give credit to here. For example, the first princess, Farak, the daughter of the Rajah of India, is associated with a black pavilion and the planet Saturn. In contrast, the second, Yaghmanaz, is linked to the Sun and the colour yellow. Each woman has connections to flowers and the seven chakras too, so the sheer amount of symbolism and creative potential to be drawn from Nizami Ganjavi's poem is immense!
Alessio Boschi has channelled this myriad mythology into a concise suite of jewels that feature many hidden details. We journey through each of the princesses using colour as a guide, punctuated with baroque freshwater pearls that serve as a canvas for miniature paintings by artist Arash Groyan. These pearls are the fruit of experimentation done in the late 1980s in China involving the insertion of a coin in the shells of molluscs and allowing them to be covered in nacre. Alessio wanted to have large surfaces to apply hand-painted Persian miniatures. Beyond that, the idea that inside each pearl, there is a nucleus that is actually a coin is quite fascinating! Each pearl is then encased in a precious, floral cage of metal and gemstones that evoke the story of each princess. These 'cages' are crafted in a style that resembles the frescoes and paintings of the harems in aristocratic palaces, specifically during the Safavid and Qajar dynasties.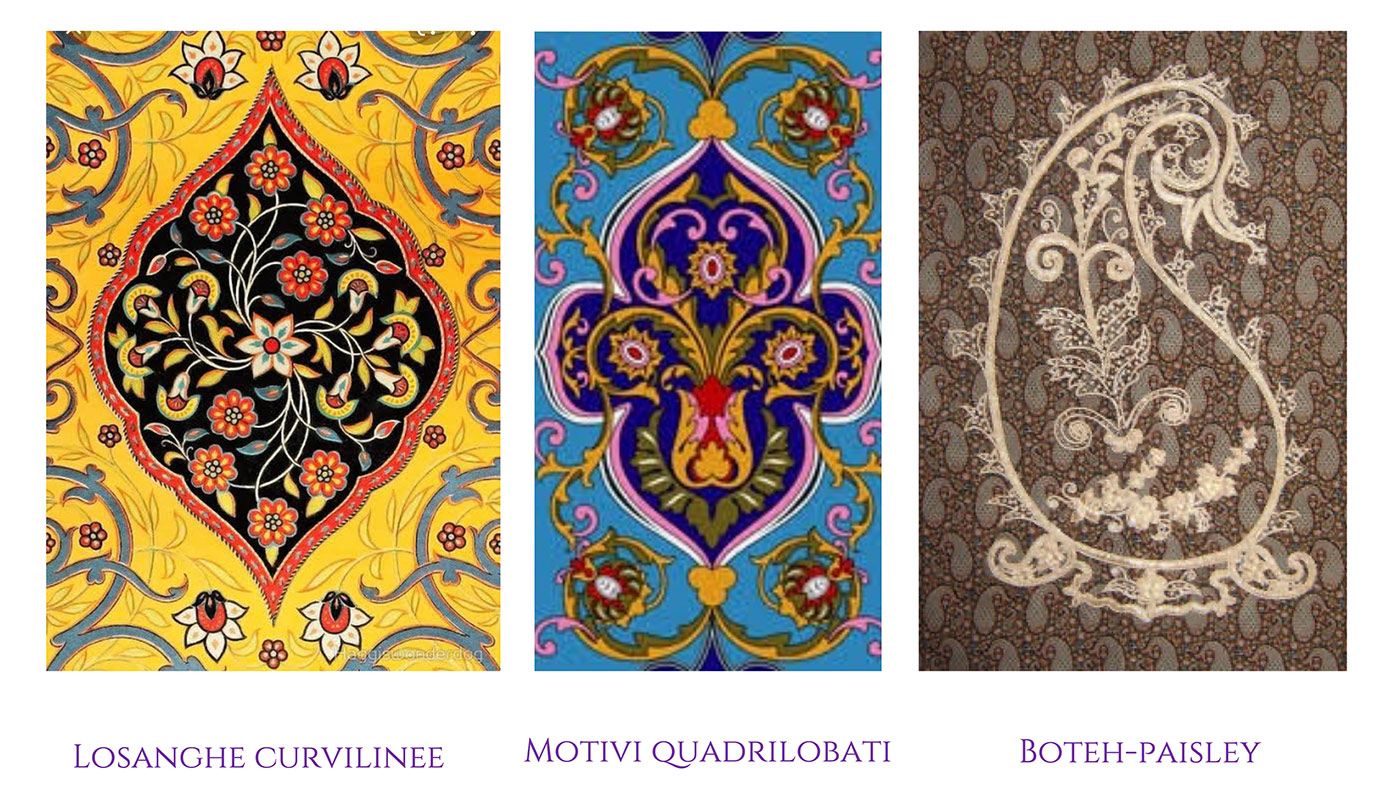 These delicate designs, which frame the colourful miniatures, are carved in 18k yellow, rose, and white gold and are encrusted with petals and bird feathers set with diamonds. Alessio asked all his gemstone suppliers to come to his studio so he could personally hand-pick each stone based on its shade. The result is a mesmerising myriad of gems in different sizes, shapes and shades according to the seven chakras. Overall, the set required 12 months of work from 45 individuals, including professional enamellists, and contains 2,046 gemstones with a total weight of 183.8 carats.
When guided through the jewels by Alessio Boschi himself, it was remarkable to see the amount of creative inspiration and detail that gave direction to each design. From Islamic art, botanical patterns, ancient motifs, paisley, geometry, and Ottoman clothing … all are somehow channelled into the works. The set also pays homage to the architecture and decorative arts of the Persian Qajar dynasty (1789-1925), including tiles frescos, embellished stucco panels and paintings. As I mentioned, Damascus roses (counted among the most beloved flowers on the 'Silk Road' across the Middle East) and wild roses (a nod to the European connection) are prominently featured. Again, this relationship between birds and roses contains a far deeper meaning, both culturally and for Alessio Boschi. He explains: "The bird indicates the male figure sitting or flying between bunches of flowers, usually roses, famous for their aromas and beautiful rich multiple petals, which indicates multiple women of different beauties and from different provinces and cultures, all wondering in the harem."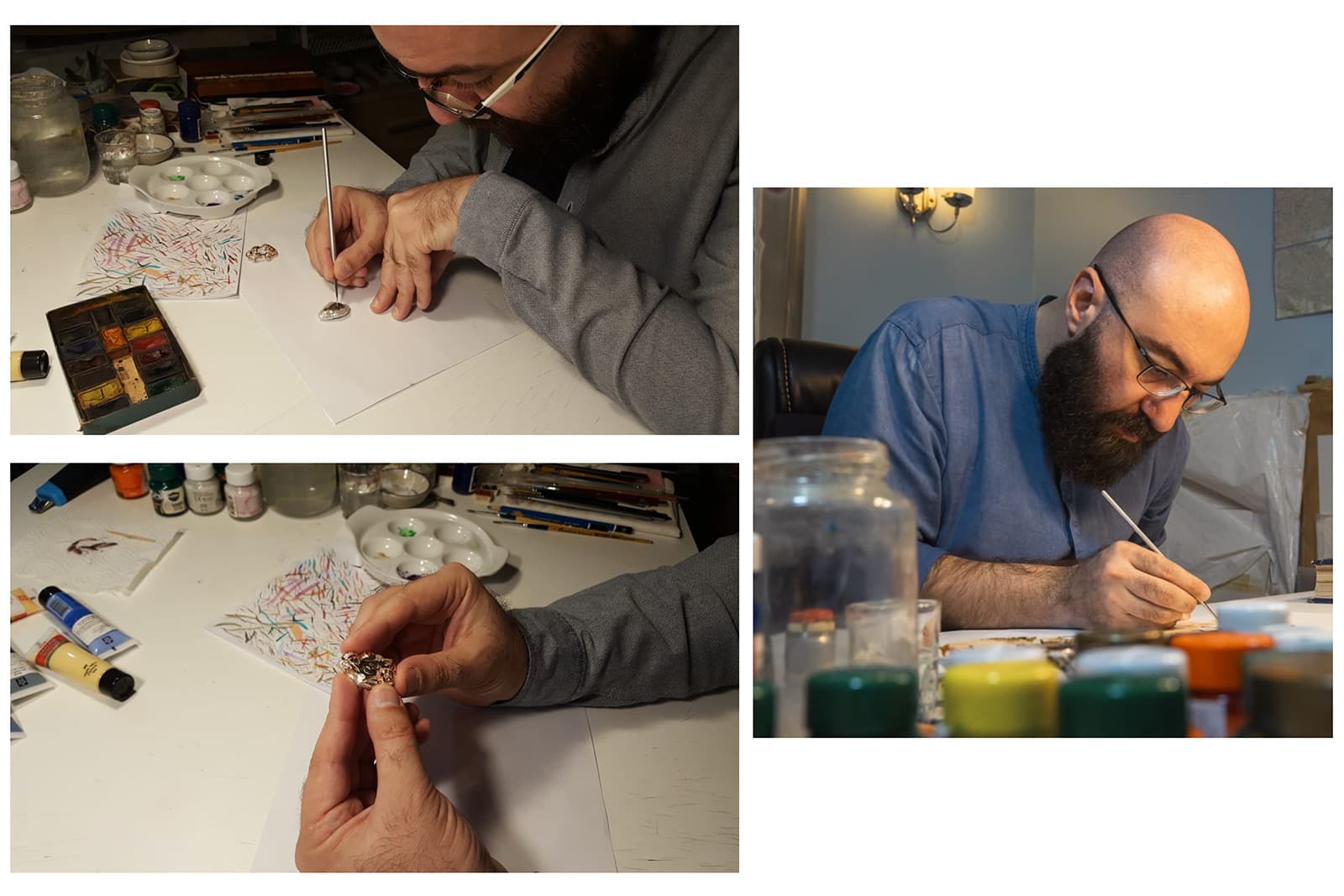 Now, attempt to keep all this information in mind as we discuss the pieces themselves! Let's start with the ring, crafted in 18k white, yellow and rose gold with white and black diamonds, multi-coloured gemstones and a 12-carat freshwater pearl. The colours associated with all seven princesses envelop a miniature painting of Prince Bahram Gur on his quest to recover the women, surrounded by a geometric star pattern, turquoise enamel, and diamond-set 'Abbasi' flowers. Another clever element of this piece is its adaptability; it can be sized up or down three finger sizes to accommodate the heat or the changing shape and size of the wearer.
When paired together, the Harem's Garden bracelet and earrings contain all seven colours to represent seven princesses achieved through yellow diamonds, white and black diamonds, coloured gemstones and freshwater pearls. The bracelet has a sliding system clasp that's fashion from bird feathers are rose petals set with 543 white diamonds. It's also 'double face,' which means it can be worn on both sides; the front reveals 48 large stones in shades of yellow, orange, purple, blue and green, and the back is intricately decorated with floral precious metal frames of "ghol o morgh" (bird and flower patterns) and hand-painted Persian miniatures.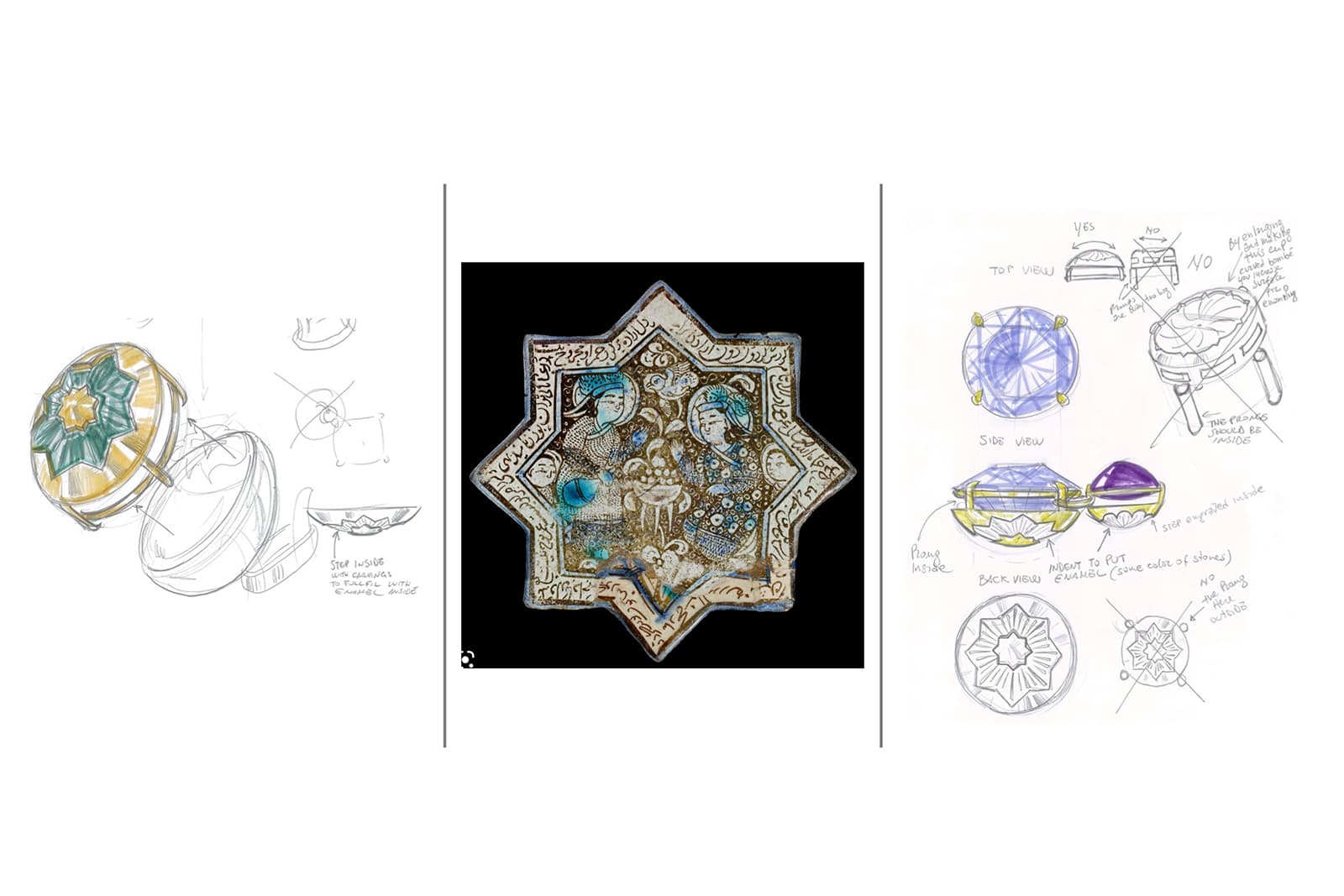 The stars of the show, however, are the canvas-like freshwater pearls that reveal miniature paintings of each princess to tell her unique story. "It was the perfect solution for me to use a material so feminine and precious as the base surface for the Persian artist, Arash Groyan, who hand-painted each of the princesses with her attributes," Boschi explains. "Only after a second and more attentive look, you may discover that those precious paintings are framed by lines of gold and diamonds shaping birds amongst roses."
Finally, the most emphatic piece in the offering is the 'double face' Harem's Garden necklace in 18k white, yellow and rose gold. From the front, it is set with rainbow gemstones, including multi-coloured sapphires, rubies, emeralds, semi-precious stones and brown, yellow, black and white diamonds, plus more than 123 carats of freshwater pearls that create a rainbow band around the neck. From the reverse, these pearls are transformed with intricate, diamond set 'jackets' and hand-painted motifs with an entirely different character.
In addition, most of the gems larger than 3mm are set in bombé cups, reproducing the shapes of the cut or cabochon gemstones. They are engraved with motifs from the rich Persian Botanical archives of images and patterns. Some leaves and flowers are reminiscent of Chinese patterns, and others are more similar to Persian flowers or elaborate carvings of Rajasthan's Mughal era. Each flower is hand-enamelled to match the stone set on the reverse side – ensuring absolute harmony from front to back. The role of the large baroque freshwater pearls, purchased from old and increasingly unavailable stock, is to "relax our visual perception" thanks to their soft and delicate hues with pink and lavender nuances. The complexity of this design, and the other pieces in the collection, reflect the complexity of the source material and the many ways its story can be interpreted.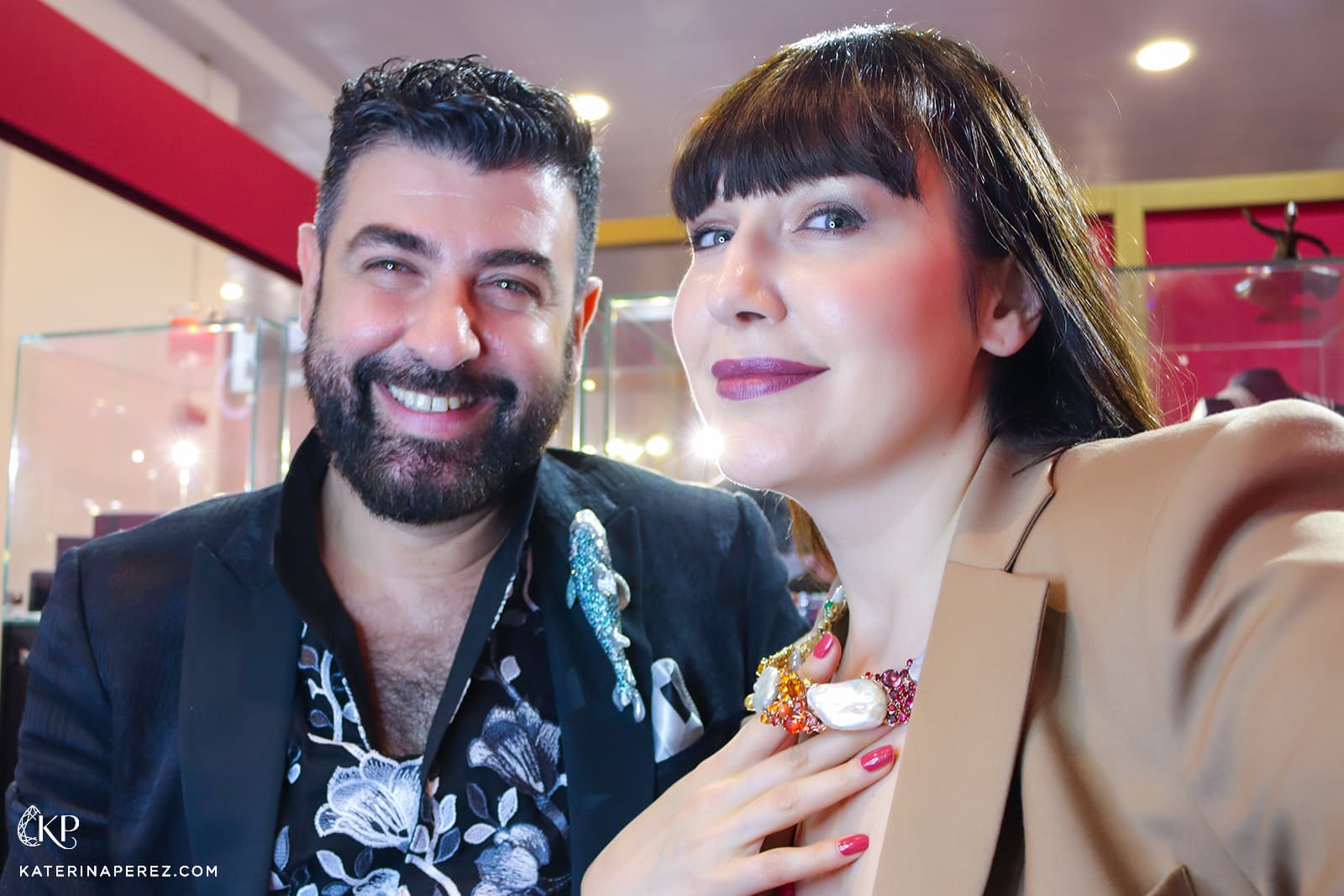 I'm sure you will agree that this is an unusual and creatively fulfilling suite of high jewellery. I have never seen anything quite like it! According to Alessio: "This set is a homage to female intelligence and strength. Seven Princesses tells us how a wise and fair king was educated and taught lessons of life by beautiful, smart and talented women." With this in mind, the designer is dedicating this set to women worldwide fighting to have their voices heard and to the #womanlifefreedom movement currently expanding in Iran. Therefore, Harem's Garden is beautiful and has an equally beautiful and meaningful message of positivity.
If you want to see the Harem's Garden suite in real life, visit Alessio's booth #833 in the Designer Room at VicenzaOro, which will run in Vicenza, Italy, from the 20-24th January.