As someone who is admittedly a little afraid of the ocean, feeling such excitement at a high jewellery collection dedicated to the seas comes as a surprise. Tiffany & Co. is continuing to dive deeper into its aquatic themes for the 2023 Blue Book collection, which is named 'Out of the Blue' and is being regularly enhanced throughout the year. This latest instalment and, indeed, the entire offering, draws inspiration from iconic mid-century Tiffany & Co. designer Jean Schlumberger, who had a passion for the ocean. It has been the task of Nathalie Verdeille, Tiffany & Co.'s Chief Artistic Officer of Jewellery and High Jewellery, to pay homage to both the man and his marine masterpieces in this modern-day retelling. She started with five themes - Shell, Coral, Pisces, Star Urchin, and Starfish – and now, we have Sea Anemone to add to the list.
The Sea Anemone is a weird and wonderful creature, no doubt, and yet Tiffany & Co. has chosen to interpret this "flower of the sea" in a classical way… at least at first glance. In this suite, we see a contemporary cluster arrangement of blue cuprian elbaite tourmalines, turquoises, and tanzanites paired with inverted-set diamonds, occasionally set en tremblant, as a nod to the anemone's arrangement of tentacles. This juxtaposition of traditional silhouettes and a 'spiky' finish is what makes the Sea Anemone suite stand out.
Among the other new launches are some significant minerals, including the Shell necklace adorned with a tourmaline weighing over 10 carats, the Coral necklace with unenhanced purple sapphires totalling more than 37 carats, and the Starfish pendant with a green cuprian elbaite tourmaline weighing above 22 carats.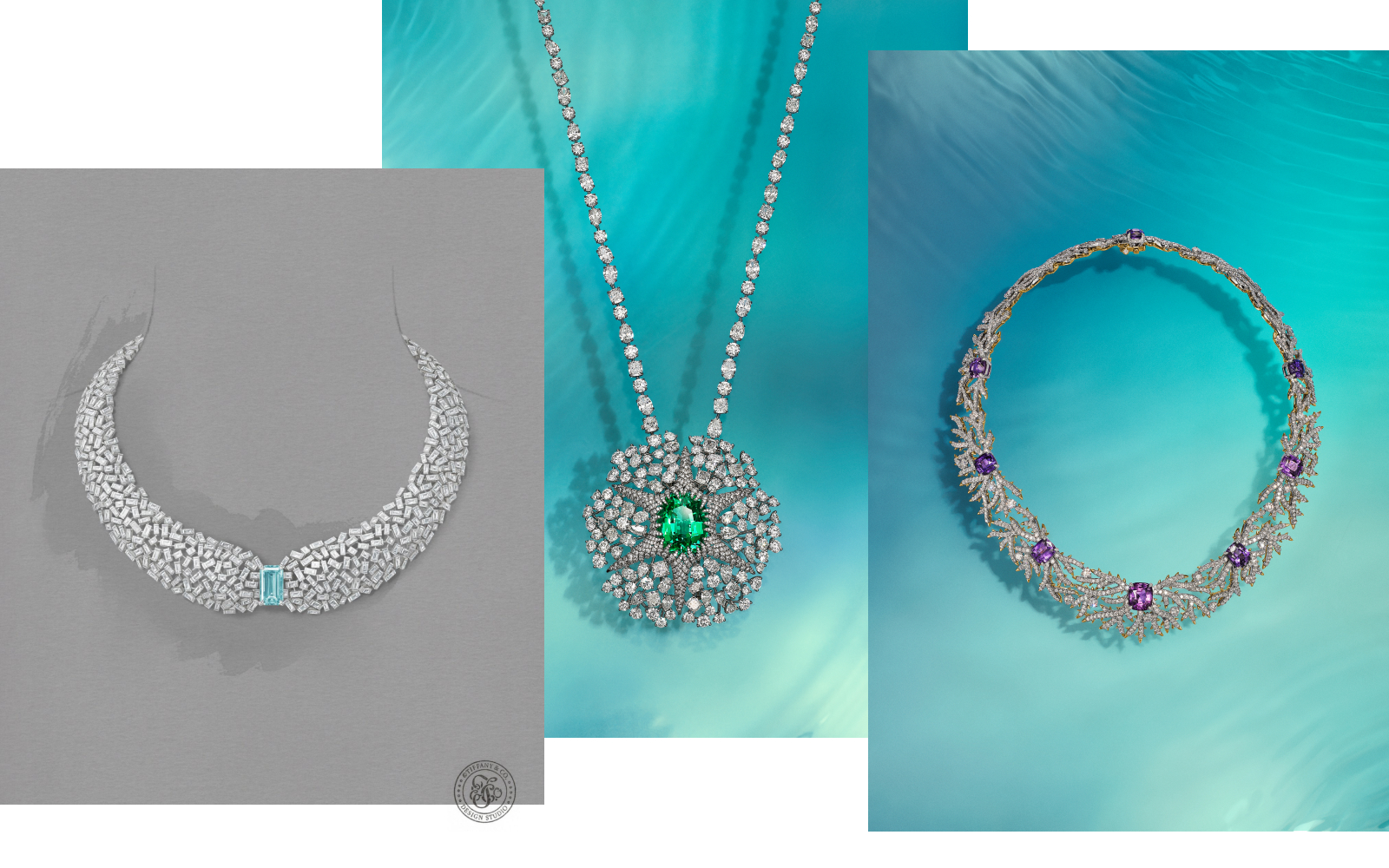 There are two chapters in particular that stand out: Pisces and Sea Urchin. Neither is entirely new, but both have been added to with fresh pieces for the AW23 season. Pisces explores the geometric repetitiveness of fish scales, both literally and figuratively, using rubellites, unenhanced padparadscha sapphires, pink, orange and Umba sapphires and contrasting cool ocean tones. The voice of Jean Schlumberger is strongest in the bejewelled fish, captured in moments of fast-paced movement, immortalised in brooches, ear cuffs and rings with peach and orange sapphires, rubellites, diamonds and white opal in platinum and 18k yellow gold.
The Star Urchin phase of 'Out of the Blue' is striking due to its warm colour palette. Whenever ocean themes arise, they are so often expressed through blue minerals – tourmalines, sapphires, iolites, turquoises and tanzanites, to name a few. Here, Tiffany & Co. has flipped this on its head with Imperial topazes, hand-carved carnelians and diamonds that echo the needle-like texture of urchins. The carnelian designs, whereby carved and shaped spikes of orangey-red mineral jut out in different directions, are my favourites, largely for their volume and three-dimensionality. The Star Urchin brooch atop a men's black tuxedo jacket simply has to be worn on the red carpet this awards season!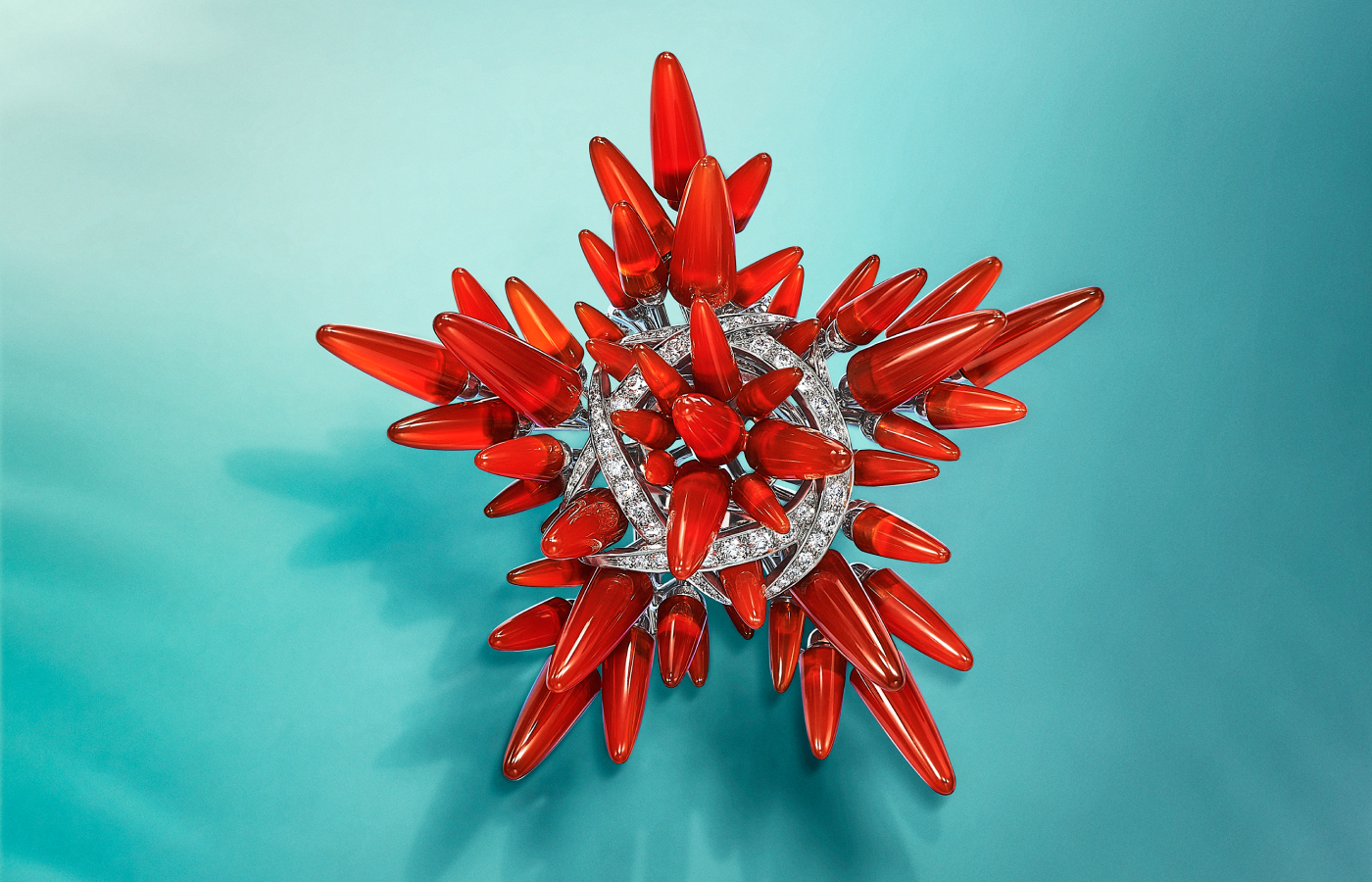 Below, you will find our pick of the most striking pieces from this ever-evolving selection of oceanic masterpieces. When taken as a whole, Tiffany & Co. has surely dived deeper into the creative depths of the ocean than any other in recent memory… who knows what we can expect next year.