This isn't the first time I have written about Elie Top. In fact, I wrote about his route to high jewellery and his remarkable background in fashion back in 2021, so I am pleased to be returning to the topic of his distinctive jewellery now. His eponymous brand has several thematic inspirations, including nature, medieval history, the cosmos and what I think of as a futuristic steampunk aesthetic, which is amplified by his use of gold and distressed silver. Many of his creations are talismanic, often with a combination of gold and Elie's signature silver 'scales' that appear like organic armour - think of the patterns of tortoiseshell or snakeskin punctuated with diamonds.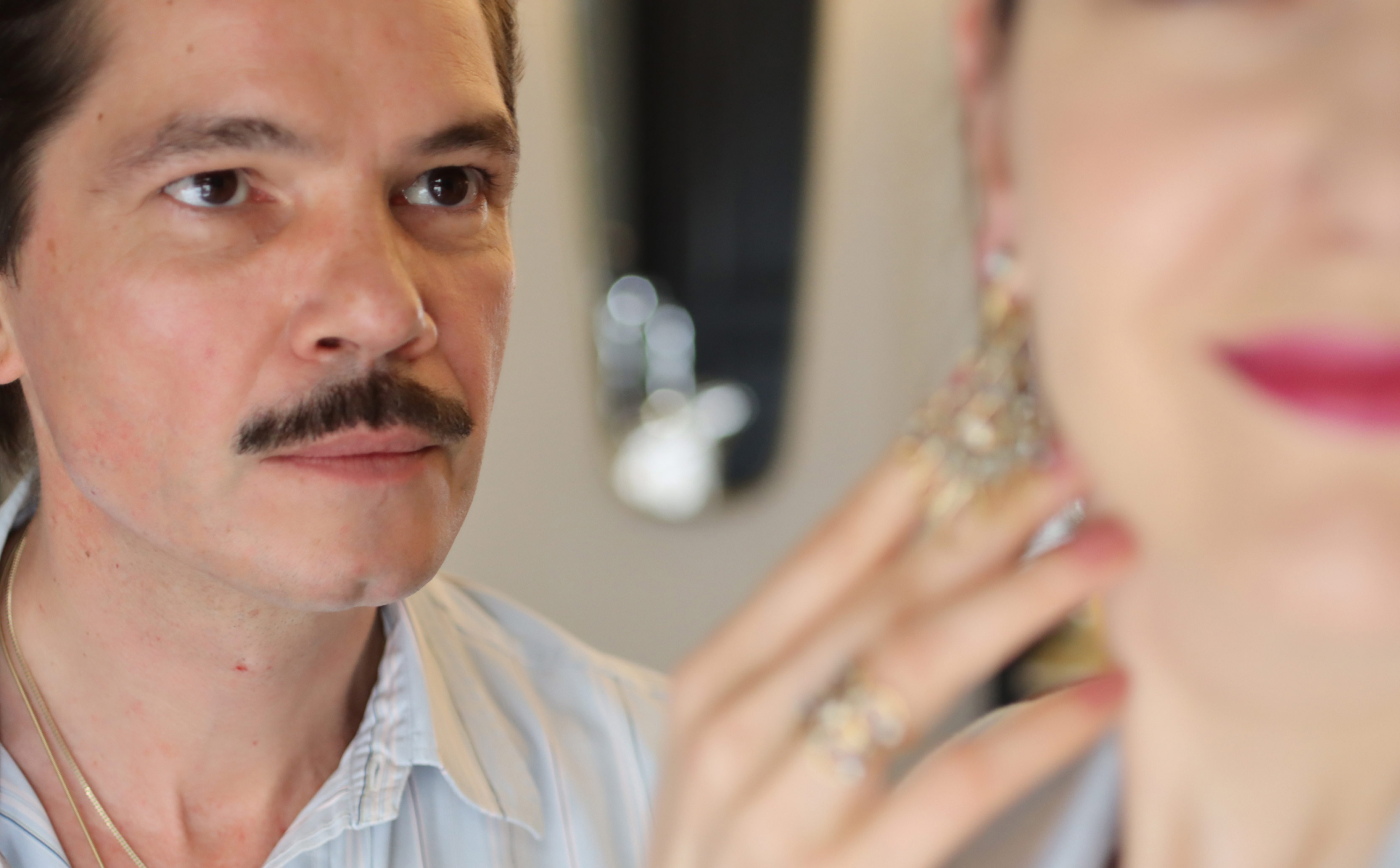 Since founding his brand in 2015, Elie Top has produced ready-to-wear collections and a high jewellery offering, known as Magica Naturae. Each piece in this range is themed around a specific animal, which is immortalised in Elie Top's signature patinated silver and yellow gold. What makes these pieces stand out, however, is the injection of natural diamonds and coloured gemstones, including emeralds, garnets, sapphires, rubellites, and rubies.
"For my precious bestiary, I imagined five fantastic animals leaving the virgin forest and arriving in town after being transformed into jewellery," Elie Top explains. One of these animals is the snake, or serpent, which is a historic creature of high jewellery art, but what about the more obscure animals, notably a chameleon, turtle and hornbill… these animals weren't necessarily picked for their beauty but for their shape, their history, and their symbolism.
Let's start with my personal favourite, the Chameleon ring with a perfectly poised old-world lizard perched atop a twisting tendril of yellow gold. Its body is entirely three-dimensional, checkerboarded with yellow gold, rose gold and patinated silver, and set with diamonds. Its tail is formed with a curling rope of yellow gold, while its dorsal spine is accentuated by a line of diamonds for a total weight of 2.8 carats. When worn, it dominates the finger, like a slightly gothic animal companion – a familiar – from old Halloween movies.
Next, there's a pair of Snake earrings with sinuous scales of yellow and rose gold and distressed silver studded with diamonds, leading the eye to two pear-shaped ruby heads. In this instance, the blackened hue of the silver is the ideal counterpoint to the blood-red corundum drops and the golden-yellow sapphire eyes. To complete the suite, there's the Serpent cuff with similarly fashioned scales, an articulated head with a rubellite cabochon, plus diamonds, sapphires, and a moveable tail with a deliciously cherry-hued ruby cabochon.
The animals don't stop there, though. The Tortoise pendant has a sunny mix of yellow and orange sapphires, totalling 32 carats and a cushion-cut spessartite garnet of 7.08 carats. Further gems include a navette-shaped yellow beryl, comfortably over 2 carats, and a similarly hefty 2.6 carats of diamonds. What I especially like about this piece is its sheer size and demanding presence, the exceptional detail on the reverse, and the twisting silver and yellow gold chain that is quintessentially Elie Top.
The remaining two animals are a fantastical case study of how one designer can interpret two significantly different creatures through the same creative lens. The Hornbill pendant is Aztec-like, with yellow gold, silver, diamonds and antique diamonds suspended from a twisted chain. In contrast to this historical interpretation, the Crocodile double ring feels contemporary thanks to its emerald cabochon eyes and cushion-cut emerald spine, totalling 6.53 carats, and the articulated tail, which curls around the pink finger. It's a very glamorous 'knuckle duster', to say the least!
To me, pieces in the Magica Naturae collection immortalise nature for the urban landscape. As someone who lives in the hectic hubbub of Paris, I aspire to jewels that anchor me to time, history and nature without losing the edge that's needed to survive the city. But there's something else about this collection that I admire, too: the repurposing of antique and vintage gems. Elie Top describes it as a type of metamorphosis, whereby minerals that spent a portion of their existence one way suddenly change and find a new lease of life in a different setting, figuratively and literally. This is really exemplified by another version of the Serpent ring with a 5.8-carat antique cushion-cut diamond nestled in its head, which was upcycled from a vintage piece from a time gone by.
He says: "Jewellery is a matter of transmission. It crosses generations, sometimes centuries and recounts its time, loved ones, glorious ancestors, happy moments... Sometimes, it is an object of value, but mostly sentimental. From one era to another, it is metamorphosed under the influence of fashion and circumstances. True luxury cannot be industrial; it remains timeless and is transmitted. Moreover, I hope that my own jewellery will be one day transformed in turn."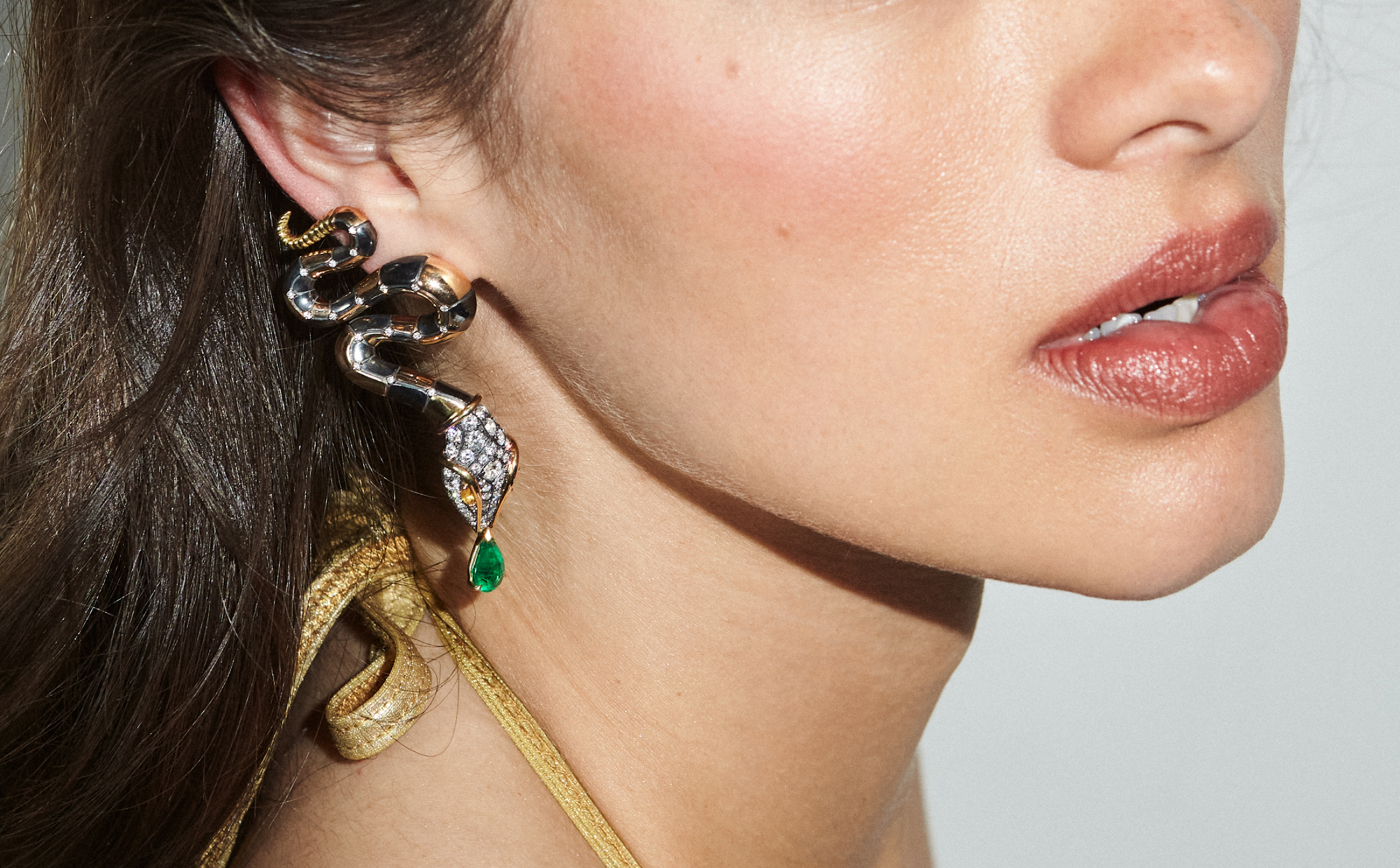 As part of this ethos, Elie Top revives old heirlooms, too, including a recent commission from a client to turn an old emerald ring into a 'double horn' necklace with a geometric diamond bail and two tusks of gold and patinated silver. I love this notion of giving treasures a second chance to shine, as there's nothing sadder than seeing a beautiful gemstone wallow in a dark drawer for years if not generations. Plus, this all ties into the brand's fascination with time travel and melding what's come before with what's new and fresh and exciting.
"Preserving the precious resources of our planet by reviving treasures from the past is participating in an enchanted, ecological and ethical metamorphosis," Elie Top.
I am reliably informed that Elie Top goes on the hunt for stones ripe for reassembly, too, including the old mine cushion-cut diamond mentioned above. Many of these stones appear in his La Dame du Lac or 'Lady of the Lake' creations, inspired by old Arthurian legends, or are featured as standalone solitaires in the Mécaniques Célestes suite.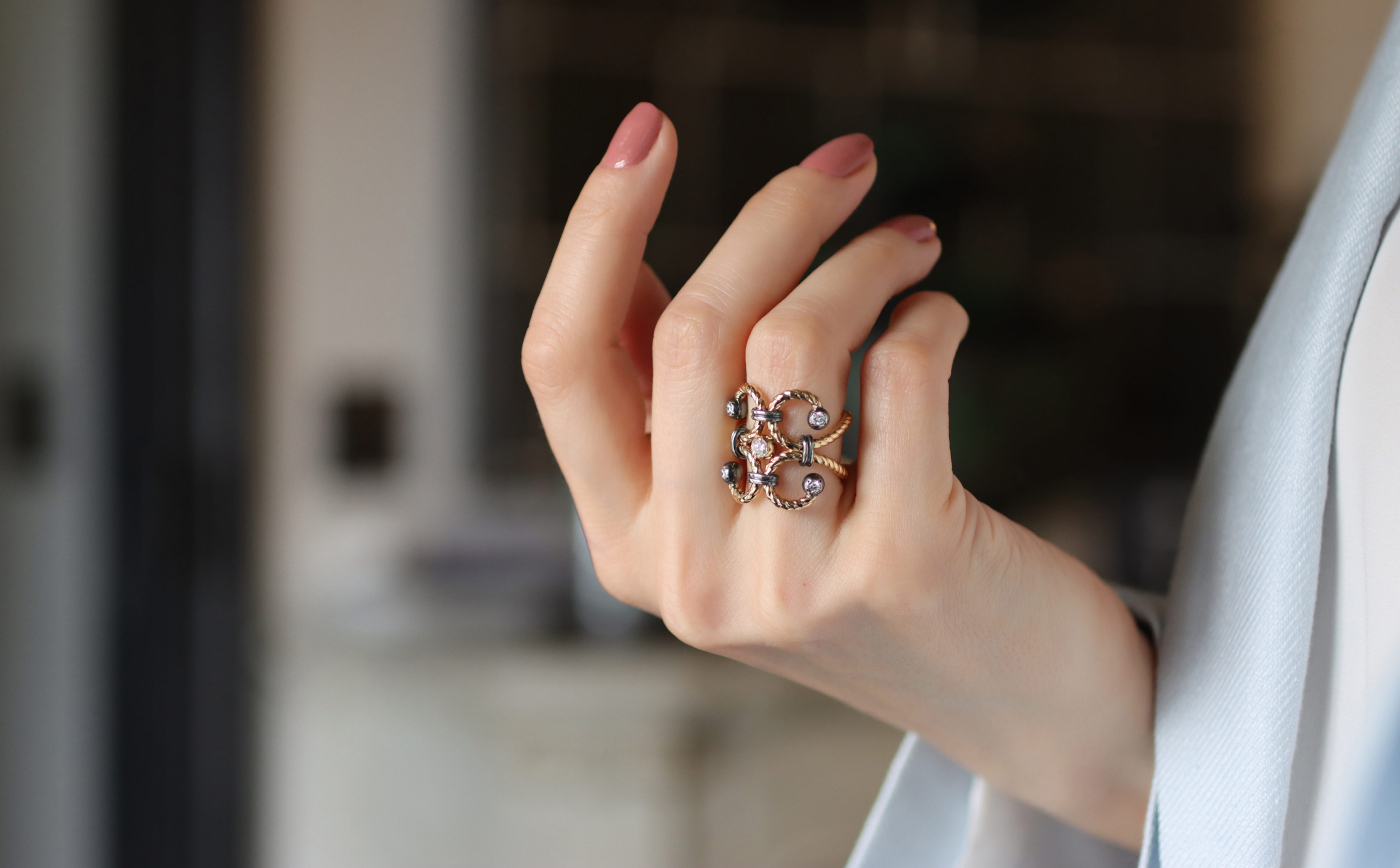 And, finally, if all this talk of animals and metamorphosising materials has piqued your curiosity, Elie Top will be showcasing his eponymous brand at PAD London from 10-15 October 2023. This event on Berkeley Square in Mayfair is the perfect chance to feel immersed in high jewellery, starting with the Magica Naturae collection. I hope when you arrive, you are similarly inspired to rethink the magnetism of animals in precious, immortal form.