Sicis has always been special in my eyes because of its seamless blend of high jewellery with the ancient art of micromosaic tesserae – a technique that involves combining hundreds if not thousands of tiny pieces of stone, glass or ceramic to create a colourful design. Today, the brand is led by creative director Gioia Placuzzi, who channels the complexity of micromosaics into feminine and typically floral jewels bursting with diamonds and gemstones in a host of vibrant shades. At this year's Haute Jewels Geneva, I was reminded that each tiny piece of tesserae has to be laid one by one to achieve the finished mosaic design… it certainly adds to the wow factor when looking at Sicis' high jewellery creations!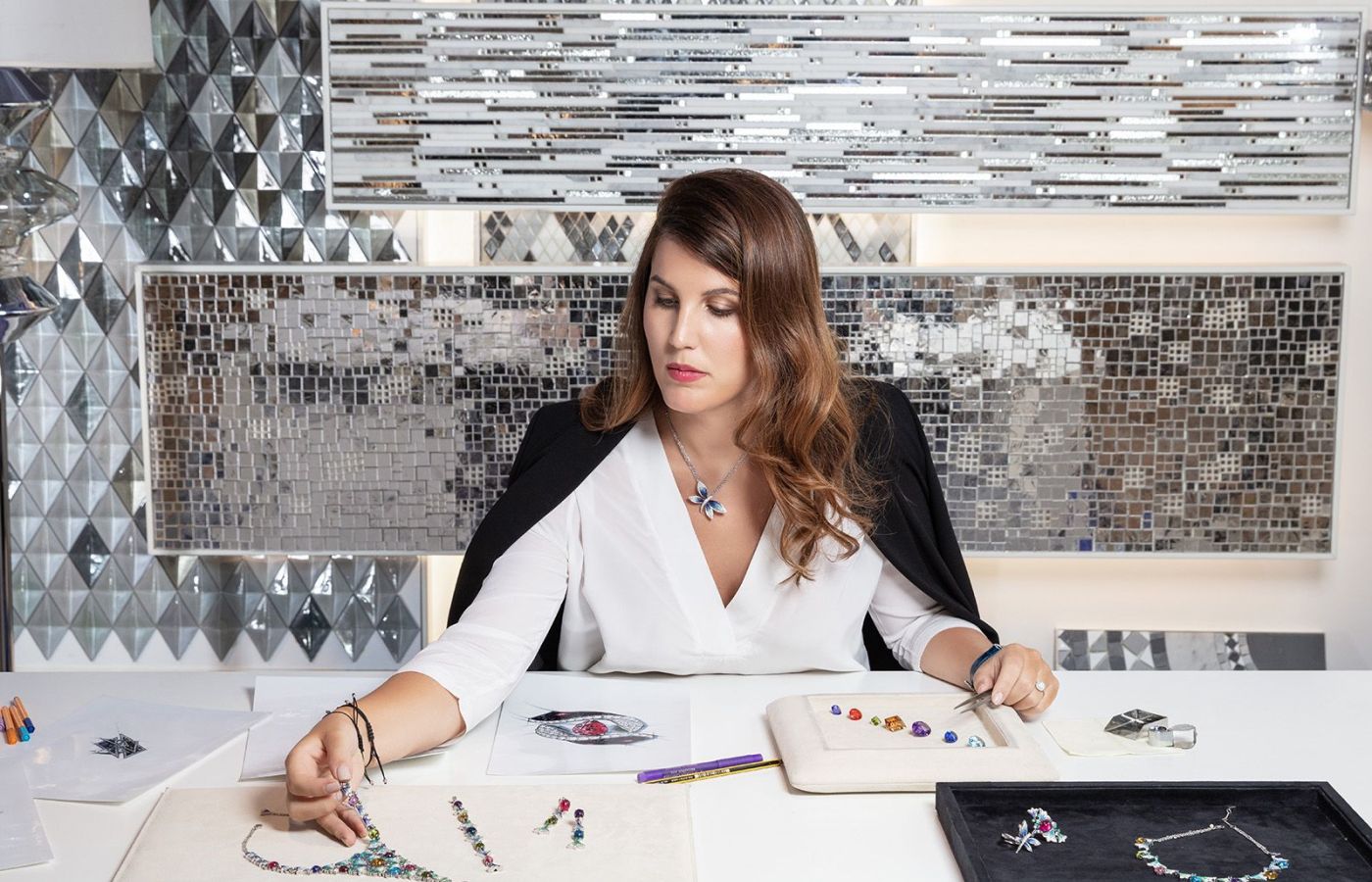 The brand first exhibited at Haute Jewels Geneva in 2022 and was pleased to return for the 2023 edition. It transformed its space at the Fairmont Grand Hotel into a pop-up concept store, complete with mosaic flowers in pastel shades. Guests were invited to see the Tesserae collection – a mainstay for the brand – with jacketed rings characterised by a central coloured gemstone surrounded by a 'dress' of micromosaics. New additions included a piece with a violet sapphire that epitomised the brand's relationship with uplifting colours. Next, the Nymphalia collection was also on display, which spotlights the colour and shape of butterfly wings. I was pleased to see a new necklace in this offering which perfectly matched a ring and earring set launched last year.
But before the brand makes its debut at The Couture Show at Wynn Las Vegas in June 2023, I would like to share with you some of the new pieces that were shown in Switzerland for the very first time. The Nebulosa Supernova suite was one of my favourites in hot shades of red. The necklace, earrings and ring are fashioned like exploding petals in red micromosaic tesserae, paired with flowing lines of orange sapphires and round brilliant-cut diamonds accents.
Elsewhere, the Incanto set was revealed to buyers for the first time. It comprises a ring, earrings and a necklace decorated with fuchsia, lilac, pink and red micromosaics. The shape is like abstract flower petals, almost akin to the scalloped edge of a seashell. Each curve is accented with round brilliant-cut diamonds and pear- and round-shaped rubellites and kunzites for more pops of colour. In the necklace, we can see how each abstract petal is decorated with a tesserae flower as if we are seeing just a snapshot of a much larger artwork. The final piece of the puzzle – a jacketed ring – offers two ways to wear a raspberry-hued pear-shaped rubellite, either as a solitaire ring or as a 'dressed' ring that dominates the finger.
One of the most elaborate new creations to emerge from Sicis is the Fantasia necklace, which also has matching earrings and a ring. The piece is inspired by colourful fireflies with wings of royal blue and yellow micromosaics lined with diamonds. Falling from each winged creature is a cascade of pear-shaped yellow and pink sapphires that perfectly graduate in colour from soft, pastel shades to deeper, hot pink hues. The curves of the pear-shaped gems continue into the white gold necklace itself, which is made up of marquise-shaped openwork gold links.
Finally, I must mention the Damisa Ice set, which is a re-edition of an iconic piece from the Sicis archives. Here we see the big cat motif interpreted through micromosaic with its three-dimensional body covered in leopard spots of white, black and grey. This is punctuated with bezel-set and pavé colourless and black diamonds extending around the neck and down the cat's tail in a subtle graduation from white to grey to black. The highlight of the necklace, however, is a beautiful pear-shaped rubellite drop, which adds a pop of colour and draws attention to the leopard's marquise-shaped red gemstone eyes. The matching ring is equally striking, this time with an octagonal-shaped rubellite between the feline's claws.
If you are preparing to visit The Couture Show, I recommend stopping by the Sicis booth to see these creations for yourself. They say a "picture is worth a thousand words," but when it comes to micromosaics, one really must see the workmanship up close and personal. You will find the team and all the latest novelties at Booth #737. I hope to see you there!