Firstly, a quick history lesson. PICCHIOTTI was founded in 1967 by Giuseppe Picchiotti in the heart of Valenza, Italy. Now, more than 55 years later, the brand is known for its use of superlative coloured gemstone in fine jewellery, designed and produced in-house under the watchful eye of Mr Picchiotti himself. Today, though, we are talking all things Xpandable™, specifically the new Reversible Xpandable™ Collection that combines everything we already love about the brand's patented stretchy technology for bracelets and rings with dual-sided decoration.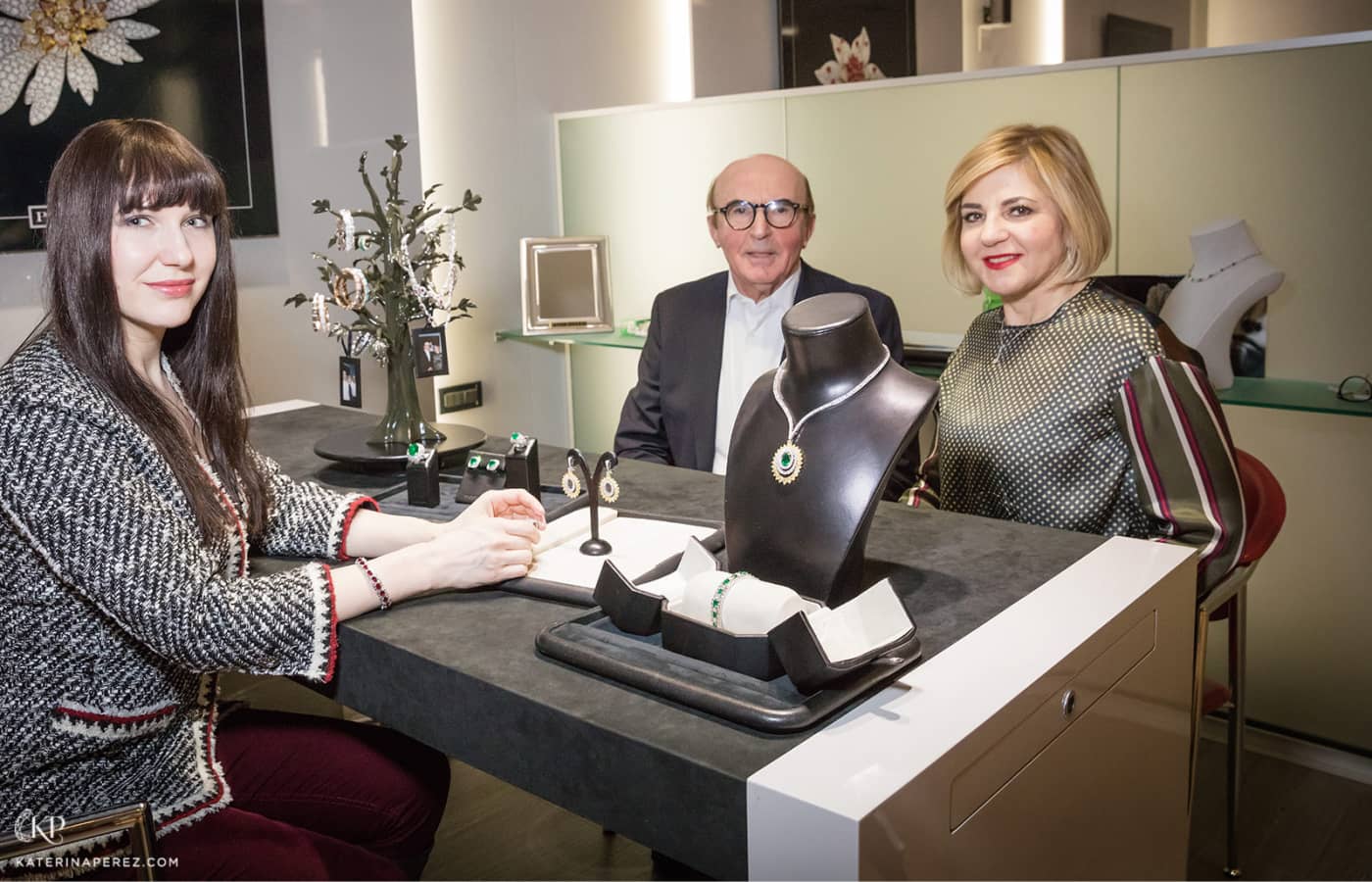 I was alerted to this new chapter in the Xpandable™ story in March 2023, and now, at The Couture Show in Las Vegas from June 1-4, 2023, I can try the pieces for myself. The concept dates back to around six years when PICCHIOTTI was exploring customer concerns regarding ring sizing and cumbersome bracelet clasps. After much research, the brand first developed its comfortable expanding-and-contracting mechanism that allows precious metals to subtly stretch and then return to their original position, eliminating the need for ring sizing and for bracelet clasps. Best of all, this technology is invisible, so what looks like a beautiful ring or bracelet on the outside is internally quite complexly engineered yet still very comfortable to wear.
Now, the Reversible Xpandable™ Collection takes this mechanism and adds the ability to smoothly flip a bracelet, ring, necklace, or drop earring over to reveal an alternative colour palette and design. It's akin to owning two pieces of jewellery – one that's a little demurer with classic gold and hardstones and another that sparkles for the evening – but in one construction. PICCHIOTTI is aware of the busy lifestyles of modern women and their need for versatility, so this new collection provides a unique solution to the day-to-night jewellery dilemma!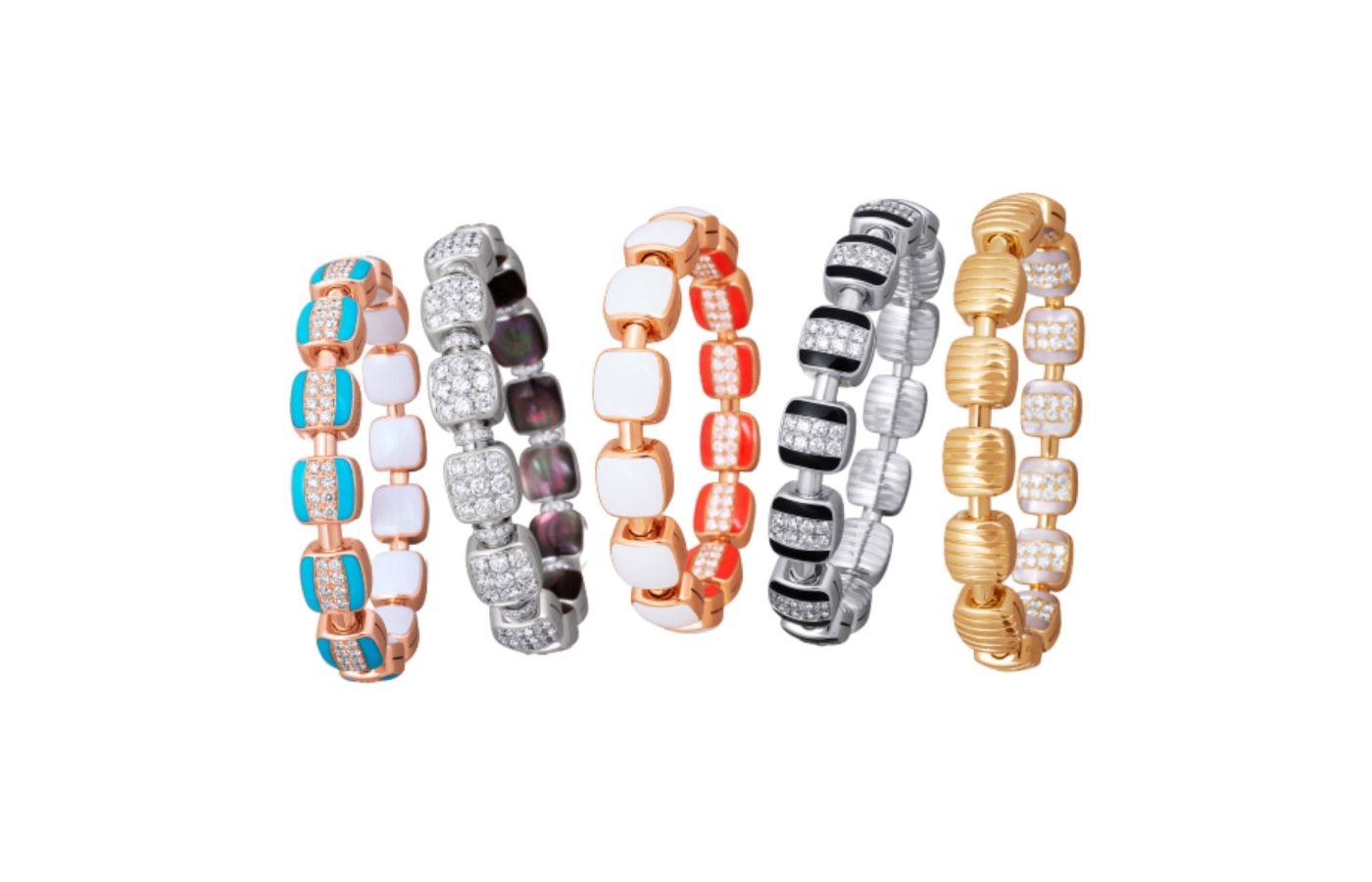 Giuseppe Picchiotti, Founder of the house of PICCHIOTTI, says: "In over five decades of brilliance, one common complaint from the women I have met has been a sense of hesitation to wear their fine jewellery every day, particularly diamonds, or the sense of limitation as it relates to colour-coordinating coloured gemstones. I love the idea of technology that can solve problems! In the same way that we solved the problems of ring sizing and cumbersome bracelet clasps with our Xpandable™ technology, we have now tackled the issue of design versatility."
So, what dual-designed bracelets can you expect in this first wave of the Reversible Xpandable™ Collection? Some of my favourites include a combination of 308 round diamonds on one side and 14 green mother-of-pearl tiles on the other, set in 18k white gold. There are some striking bright colours, too, such as coral and turquoise juxtaposed with smooth white ceramic. Some are especially extravagant, such as a bracelet with one side set with 9.83 carats of buff top sapphires and the other bursting with 412 round diamonds for 16.40 carats.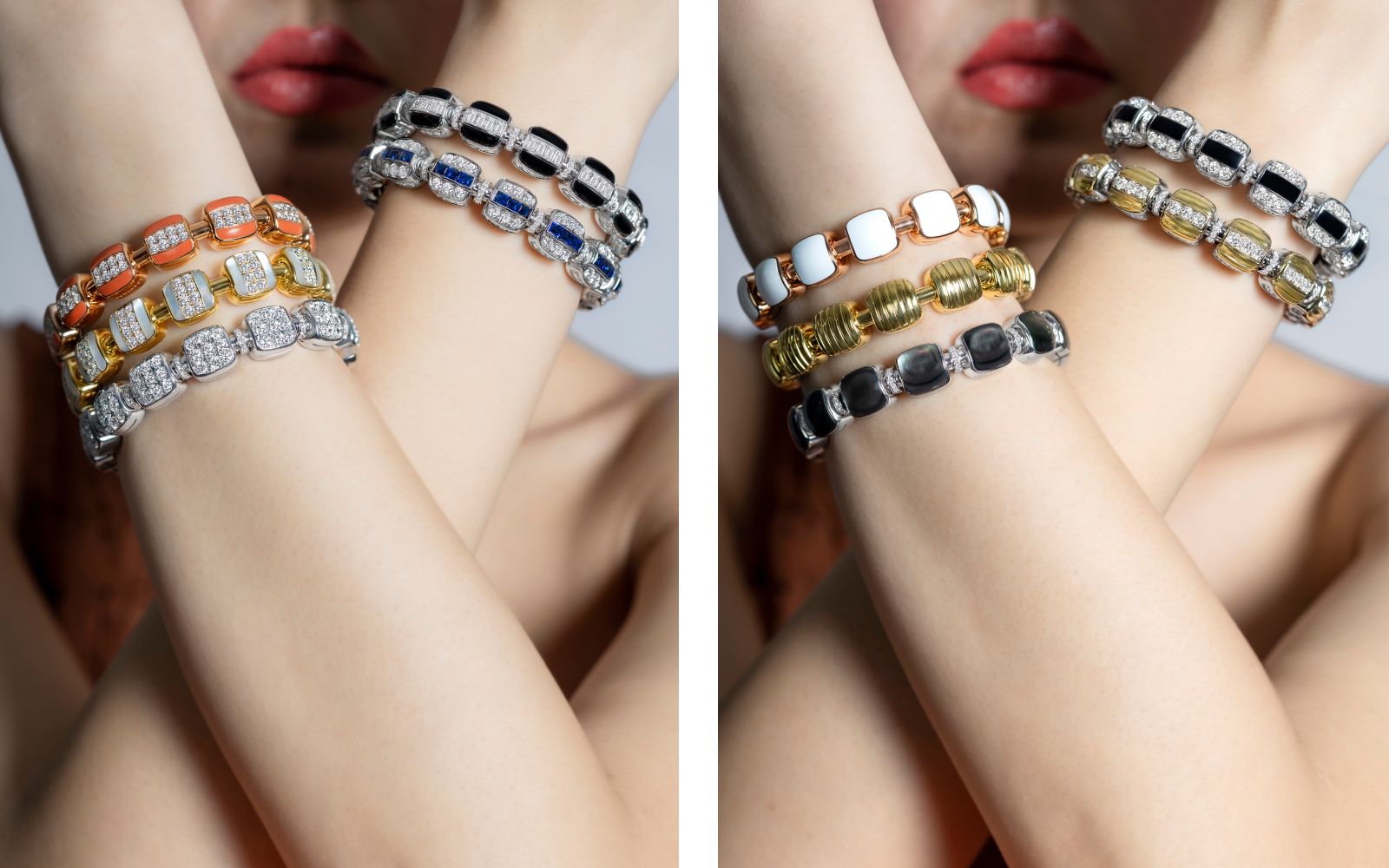 According to Giuseppe Picchiotti: "Our new reversible bracelets, necklaces, rings, and drop earrings feature completely different designs – luxurious diamonds on one side and solid gold on the other, or sapphires on one side for wearing with cool hues in the wardrobe and rubies on the other to wear with blacks, neutrals, and warmer toned fabrics."
The designs don't just need to look beautiful in both directions, they must also be comfortable. Anything too bulky or raised wouldn't sit flush to the wrist and would therefore ruin the surprise! PICCHIOTTI has really considered this with the Reversible Xpandable™ Collection, so its pieces can be easily stacked and layered without feeling hefty on the wrist.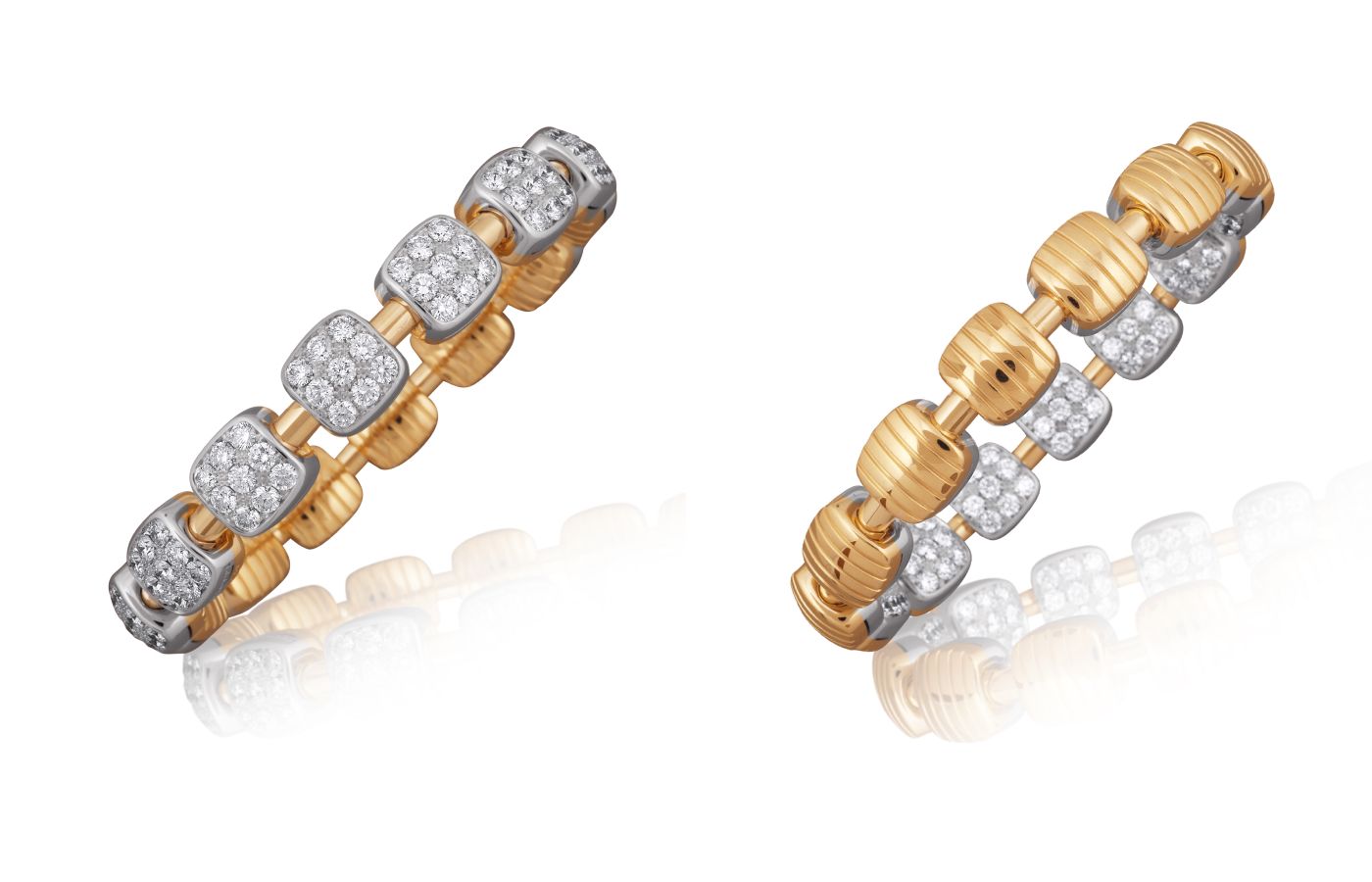 Now that you're familiar with this patent-pending innovation from the house, let's look at some other Xpandable™ pieces you will see at The Couture Show! Let's start with the Xpandable™ Collection cocktail rings in monochrome and multicolour designs that easily slide over the knuckle and comfortably expand up to two ring sizes. Examples include a ring with three Zambian emeralds of nearly seven carats and a ring with a marquise-shaped fancy brownish-yellow diamond coupled with two Burmese rubies and a colourless diamond halo. And speaking of diamonds, a new fancy yellow diamond diffusion offering within the Xpandable™ line bursts with sunny hues, especially in beautiful stackable bracelets and rings crafted in both yellow and white gold.
The Love of Colour line reflects PICCHIOTTI's obsession with coloured gems. This incarnation of the Xpandable™ Collection includes emerald-cut gems, soft ovals and rounds, bright tutti frutti shades, and sparkling diamond-set dress rings. In contrast, the Gold Accent line is more classical, almost vintage-inspired, with smooth surfaces of yellow gold paired with diamonds. Remember, these golden links can expand and contract to easily fit around your wrist… no more grappling with clasps on bracelets!
Last but not least, there's the new Bullet Bracelets – an edgier concept for the brand with stackable, three-dimensional bullet-shaped links of gold, including yellow, rose and white, injected with diamonds, rubies, or sapphires. I can imagine these pieces becoming quite addictive for a jewellery lover, especially as they look so striking when stacked together in different colour combinations. You have been warned!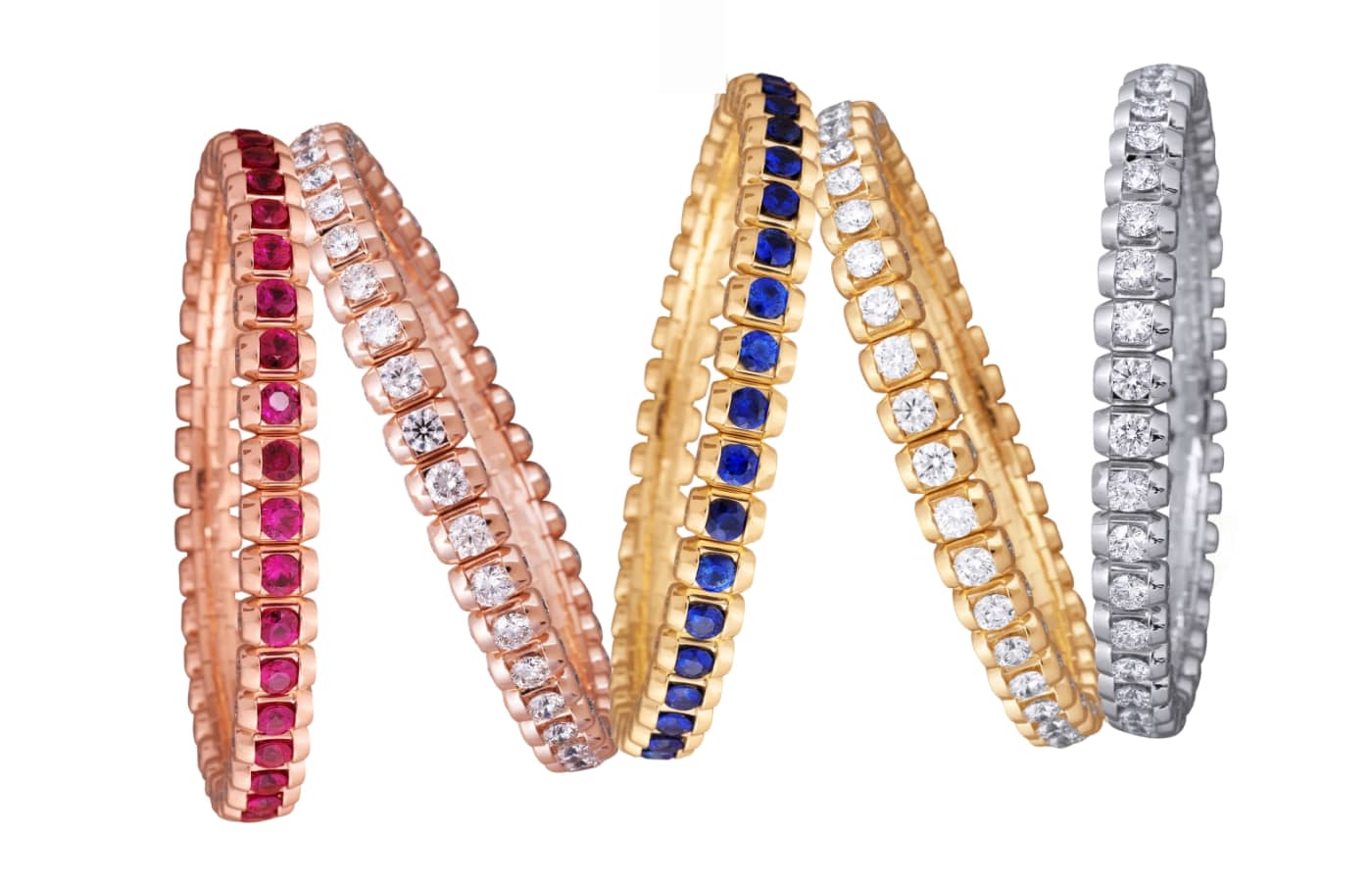 Looking ahead, I am assured that the Reversible Xpandable™ Collection will continue to grow with more necklaces, earrings, and rings in the near future. If you are terrible at making decisions or just want the best of everything, this current selection of reversible jewels could be just the solution you are looking for.