With a target client base of people who 'have it all', it is the role of The Unnamed Society to envision and create art objects that can surprise even the most privileged individual. Its most recent collaborative work is "The Diamond", a gem-encrusted revolver table clock that symbolises the preciousness of every moment and the speed at which it can be stolen away. Its ethos is all about 'carpe diem' or a willingness to 'seize the day'. To create "The Diamond" The Unnamed Society drew on the support of heritage Swiss clockmaker, L'Épée, and Swiss atelier, Salanitro, which specialises in the field of gem-setting for haute horlogerie. The Diamond comprises 2,518 round brilliant-cut diamonds of 21 different sizes with a total weight of 78.26 carats. It took 140 hours to make, plus an additional 300 hours of painstaking gem-setting by six master setters in Geneva.
A 'snow spirit' setting technique was utilised, which calls for a particularly difficult grain crimping method that only a handful of setters can achieve, especially on such large areas. On the barrel of the gun, the 'snow spirit' technique has been cleverly used to mimic the lingering smoke after a revolver is discharged. Although they appear randomly set, each diamond is placed in a pre-destined way to achieve the perfect result.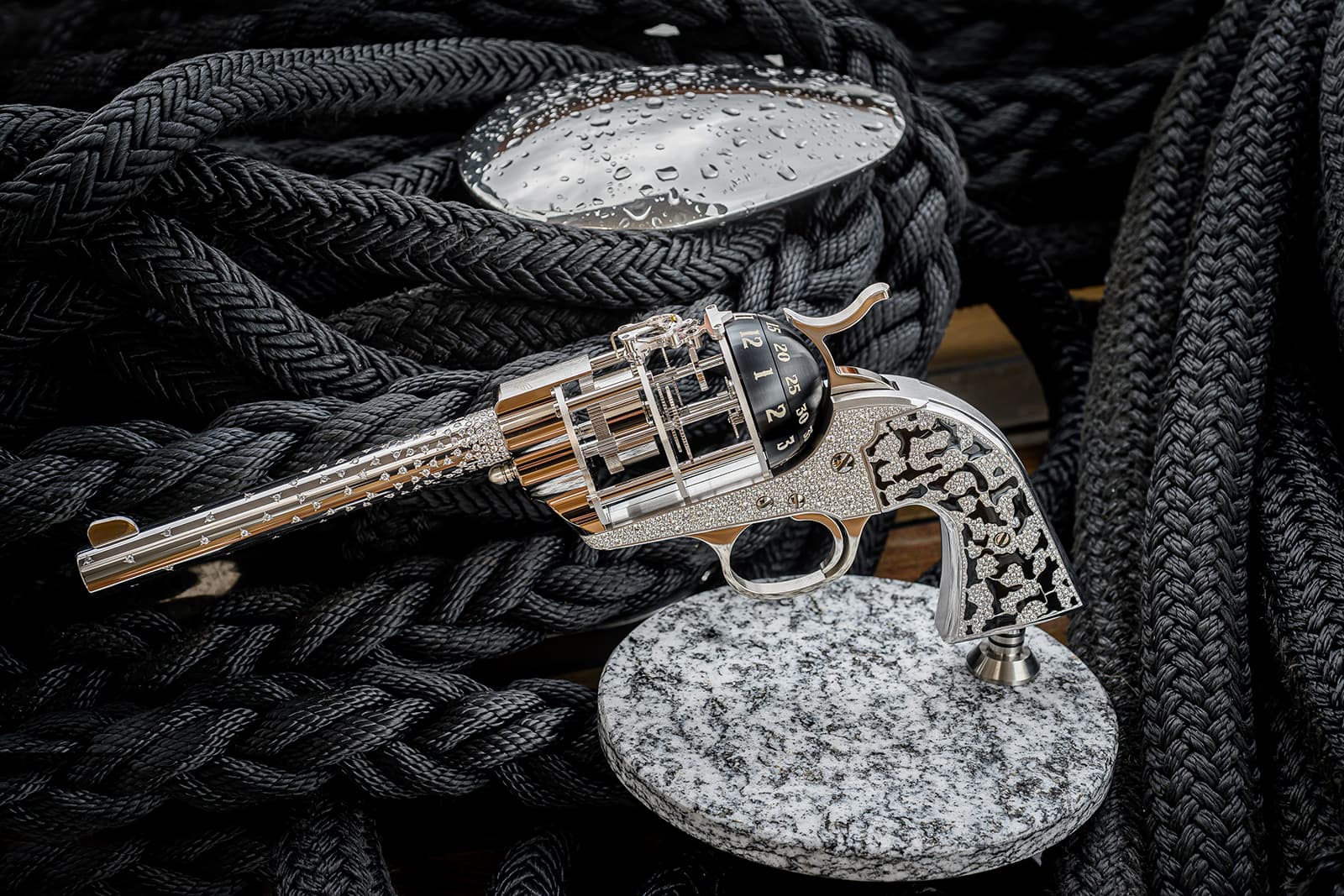 Between the black lacquer grip and the diamond-set barrel is the real star of the show, L'Epée's bespoke watch movement. Interestingly, only three years separate inventor Samuel Colt's patent for the first mechanically indexing revolver cylinder and the founding of L'Epée in 1839. The Swiss manufacture created a skeletonized movement that rotates two elements to display the hour and minutes. It's refined, deceptively simple, and provides a visual balance with the diamond-set extravagance of the grip and barrel on either side.
The concept behind "The Diamond" was based on Pancho Villa, a Mexican general and one of the most prominent figures of the Mexican Revolution (1910 – 1920). The Unnamed Society was inspired by the exclusivity of his inner circle and the legend that his reputation and actions fostered. He famously starred as himself in Hollywood films and gave interviews to foreign journalists, notably John Reed, who described his "Ancient Order" of supporters.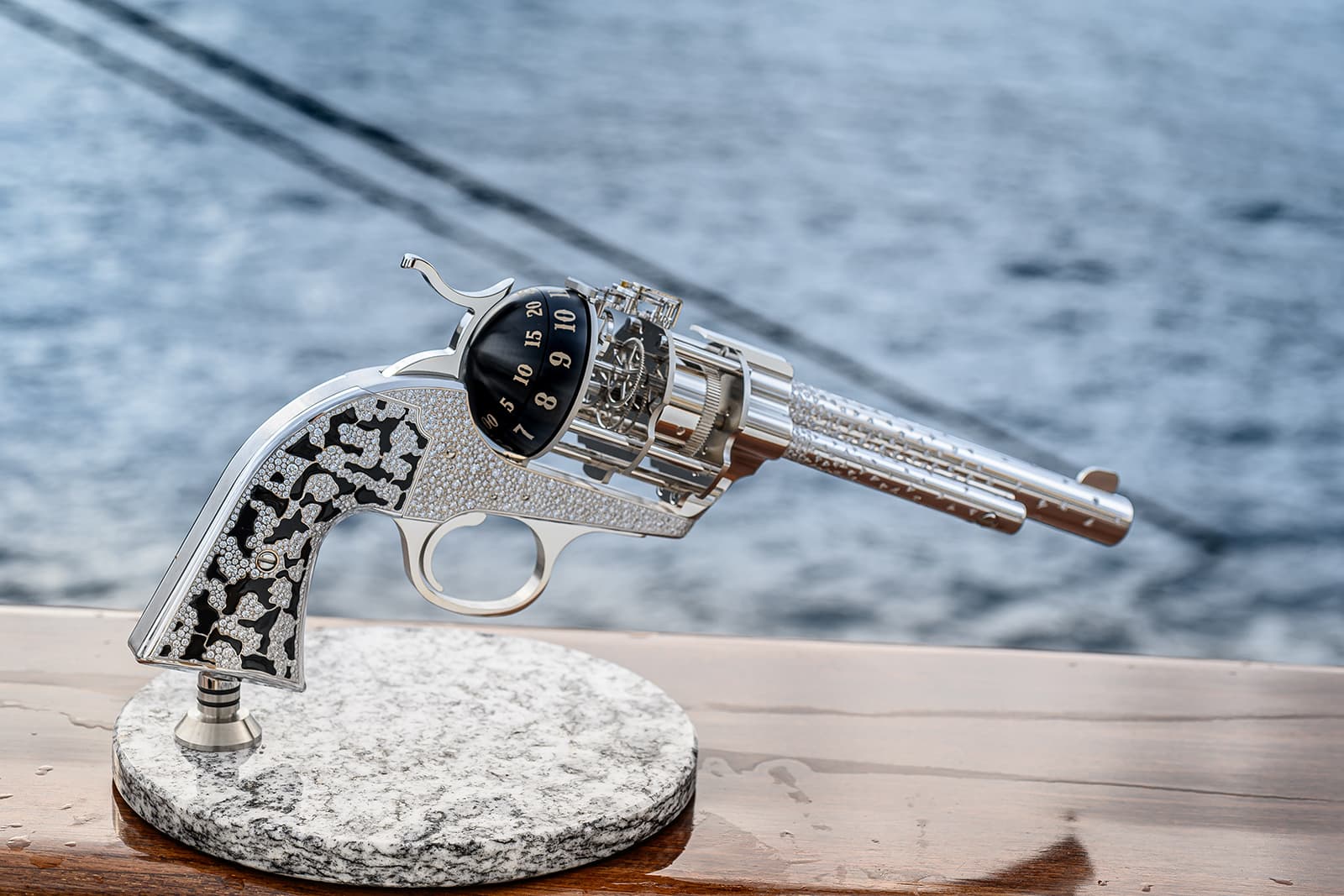 "The Diamond" was unveiled in December 2020 at the ART in Time gallery in Monaco, which is known for its displays of haute horological works and has been well-received by collectors. Although I normally write about timepieces in the context of high jewellery, it amazes me how, in a creative field with so many extraordinary talents, there is still something new to see. A diamond-set revolver table clock may not be to everyone's tastes, but it's the willingness to dream of something unique and bring it to fruition that inspires me.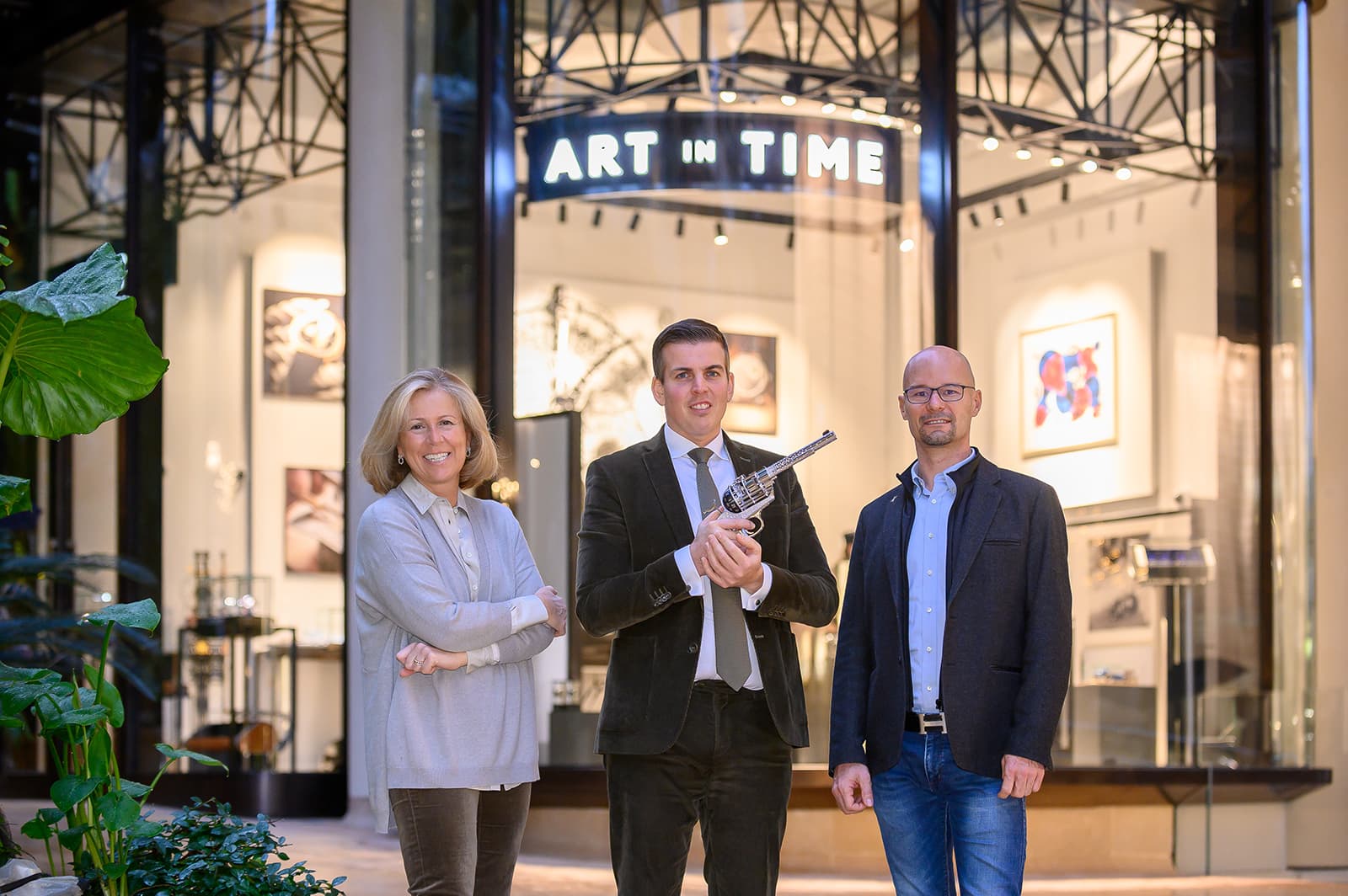 Pictures of "The Diamond" were taken aboard a superyacht named M/Y AFRICAN QUEEN… no doubt it will one day be used as a desk ornament aboard a similarly extravagant superyacht, private jet or in a penthouse apartment owned by a powerful individual.