If you were to ask me to describe Philippe's pieces in a few words, I wouldn't be able to do so. His pendants, gemstone bead necklaces, long earrings and studs, as well as his cocktail rings, represent an enchantingly eclectic collection that diverges into completely different categories. This disparity in design reflects the artist's rich imagination, capable of transforming familiar (and unfamiliar) jewellery materials into original and often provocative items.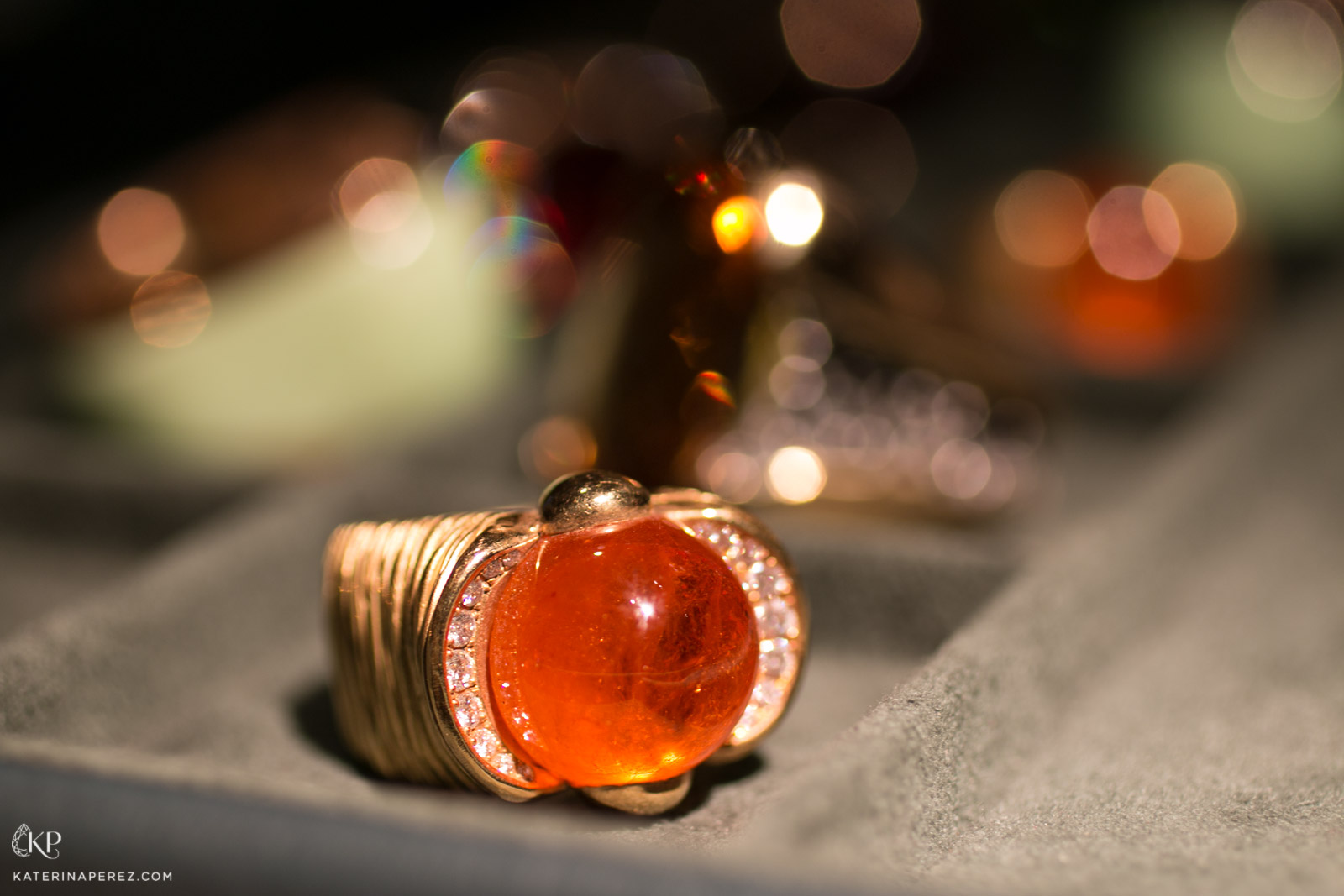 In Philippe Pfeiffer's collection, you will find rings that might look ordinary at first glance – such as the peach pearls set in the polished golden mount. Yet their zest lies not only in the simplicity of the design but also in the sea mineral itself: Tahitian pearls, subjected to a bleaching process that endows them with their unique shade. Philippe is hugely fond of working with pearls, both regular and baroque, stacking them in strands or bolstering them individually.
This jeweller has his own signature pieces of statement unisex rings, with minimalistic and sometimes slightly rough design. Philippe adorns them with large gemstones of different kinds: tourmalines, amethysts, citrines, moonstones and peridots amongst others. When I saw a selection of these adornments they reminded me more of miniature sculptures that can be worn on the finger, a testimony to their wearer's strong personality (and you had best believe that Philippe Pfeiffer's designs are not for the faint hearted!).
Another technique often found in this jeweller's work is metal finished with unusual textures. Sometimes, Philippe mixes silver and gold to create some ornament on the metal surface, as is the case with his signature cuff bracelets. He also creates texture from the same metals in order to imitate either reptilian skin, the surface of a coral reef, or the simple abstraction of a rough surface.
In this jeweller's collections, you will also find many pieces with natural, rough, precious and semi-precious gemstones, as well as natural materials that in themselves might not be of some great value. We are talking about seashells, hardened lava, ebony and other such rarities. However, after being set in Philippe's designs along with such precious materials as gold and diamonds, they begin to shine in a completely new way. The jeweller also extensively uses gem beads and rough minerals that become the central motif of pendants or rings, as is the case of the stunning heart-shaped druzy pendant on a string of tourmaline beads.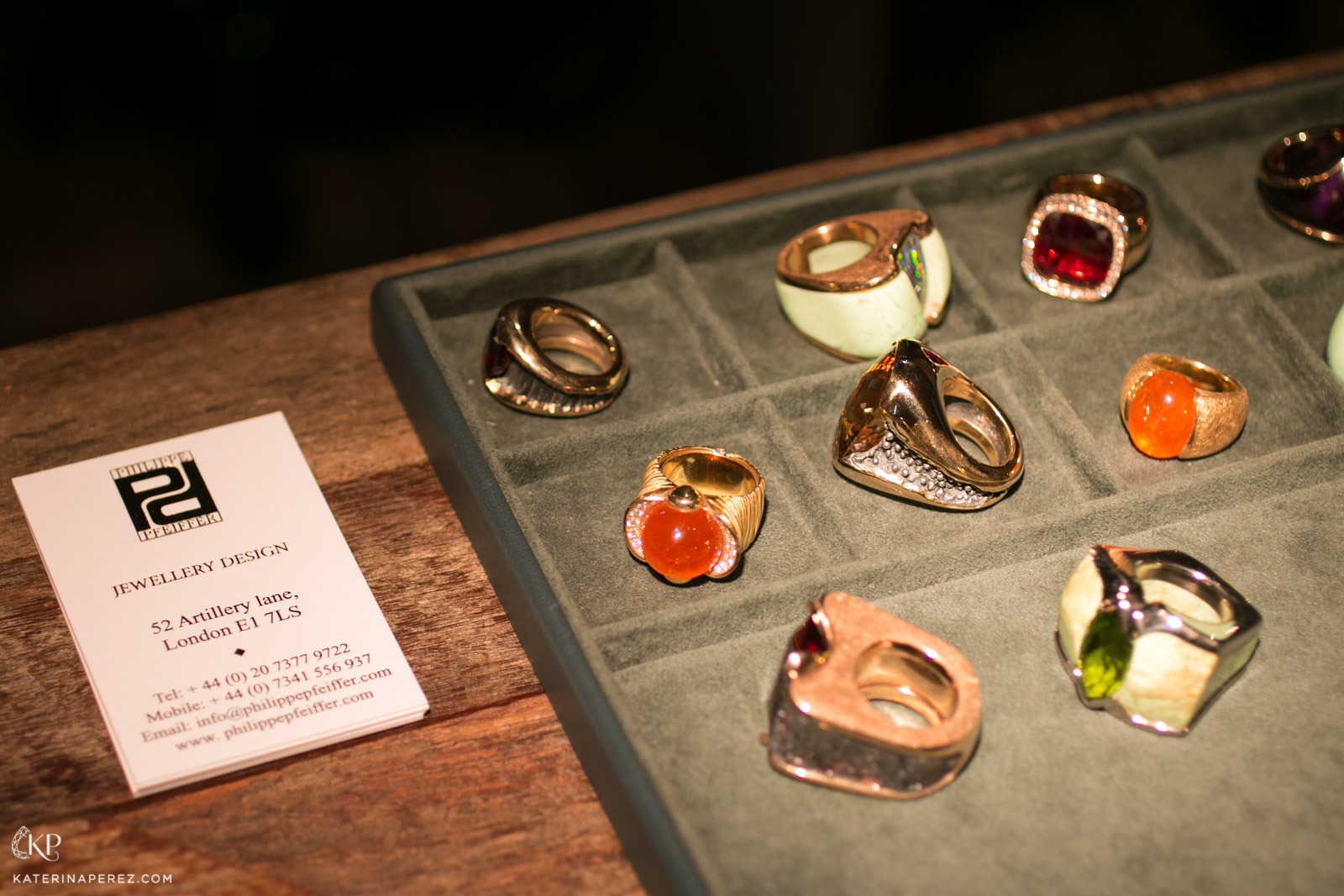 Philippe has been making jewellery for over 25 years, although it is only in 1997 that he began to make it under his own name. He studied jewellery making in Switzerland and opened his boutique in Zurich in 1997. He moved his atelier to Spitalfields, London in 2016, and it was here at 52 Artillery Lane E1 7LS, that he hosted The Art of Jewellery Making event for a select group of clients and friends.
Guests were invited to watch the entire process Philippe Pfeiffer employs in creating his jewellery: from the abstract idea to the wax model, then metal prototype and, finally, the finished product. All steps were quite easy to imagine, given the boutique shares the building with the showroom and the workshop where Philippe works with precious metals, sets gems and polishes the final jewels. At the event, I along with the other visitors had an opportunity to see the jewellery workbench and the tools he uses in order to imagine clearer 'how the magic happens'.
Especially for the event, Philippe and his team re-arranged showcases to better display final jewels with their corresponding wax models, components in gold, as well as gems and pearls. Visitors had a chance to hold wax models in their hands, play with them and compare the prototype with the final result as well as devise their own version of the components of the piece.
When we have our jewellery, we do not always understand or appreciate how much effort its makers spend on creating the pieces, so I truly believe evenings like the one organised by Philippe Pfeiffer ought to be held more often. I really felt that after going through all the stages of the jewellery making process, we began to appreciate each finished piece even more.