In all, the collection includes about 30 pieces that can be distinguished by three different themes: Genesis, Metamorphosis and Apotheosis. The work that makes up these mini collections is a valuable example of high jewellery art with perfectly straight graphic lines (as if a ruler were used to draw them) and delicately faceted stones that have a variety of geometric forms. The value of the collection's key pieces lies not only in their simple and elegant art deco aesthetic but also in the vintage precious stones that were specially brought to Paris. These include black opals from Australia, emeralds from Afghanistan, light blue sapphires from Myanmar and Paraiba tourmalines from Africa.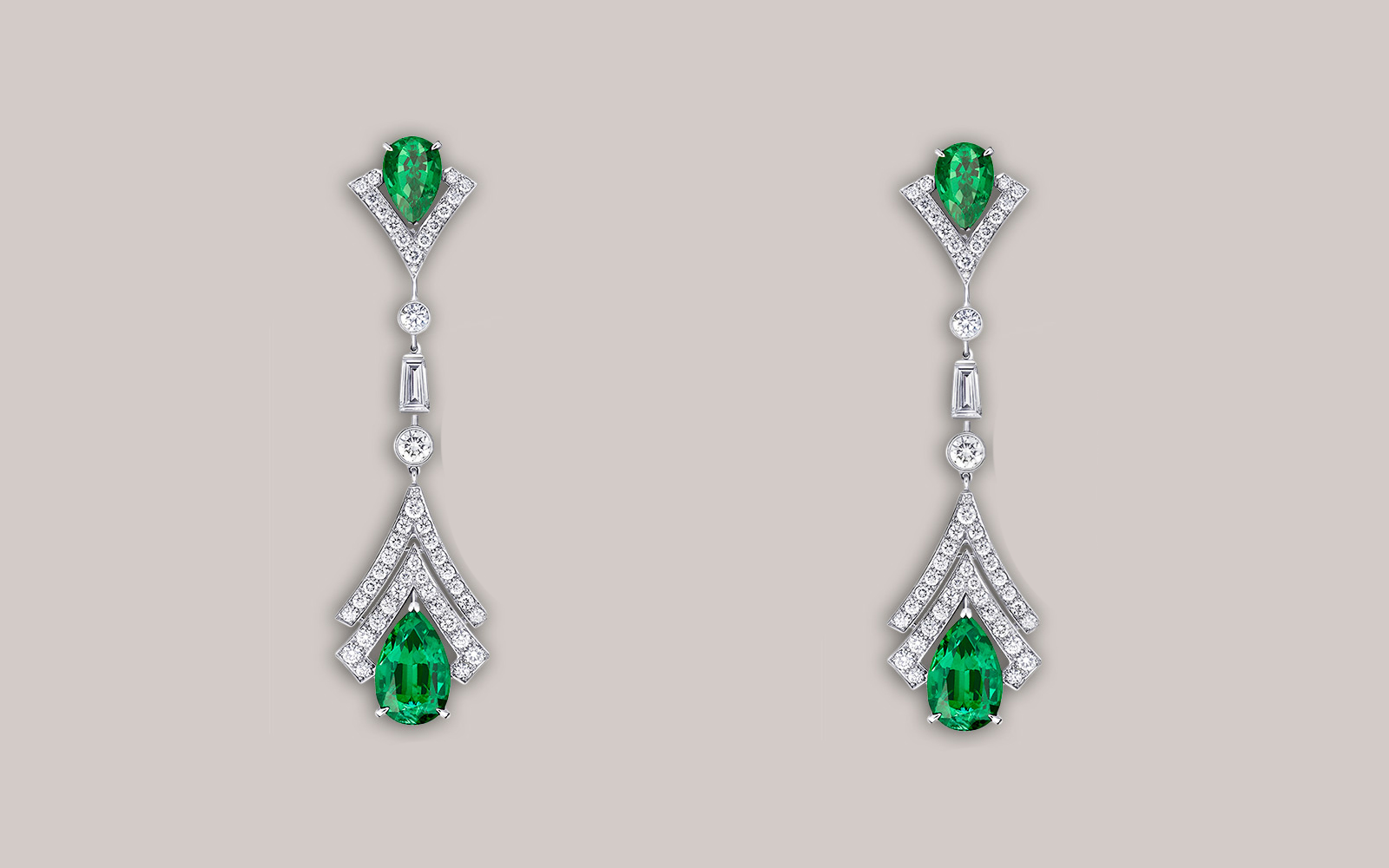 After studying every piece, I made a mental decision as to what I felt were the three most impressive pieces. Let's begin with the most important: the Act V Genesis necklace that incorporates lavish black opal from Australia, a stone that was particularly difficult to find according to the maison's high jewellery director Katia de Lasteyrie.
If you're not holding an opal in your hands, it's hard to describe the way in which it surpasses its ridge-less cousins. I shall try to describe it in words. Firstly, black opals (as I have mentioned before in another article) cannot always reflect every colour of the rainbow; sometimes only flickers of blues and greens are visible. In the Genesis opal, one can definitely see the whole spectrum of colours and not just if you look at it directly but also at an angle. Secondly, this large stone is of such an exceptional quality that whatever side you look at it from, you won't see a single black streak or any dark blotches. It was formed in the depths of the earth over the course of hundreds of years so I heartily thank nature for nurturing this treasure.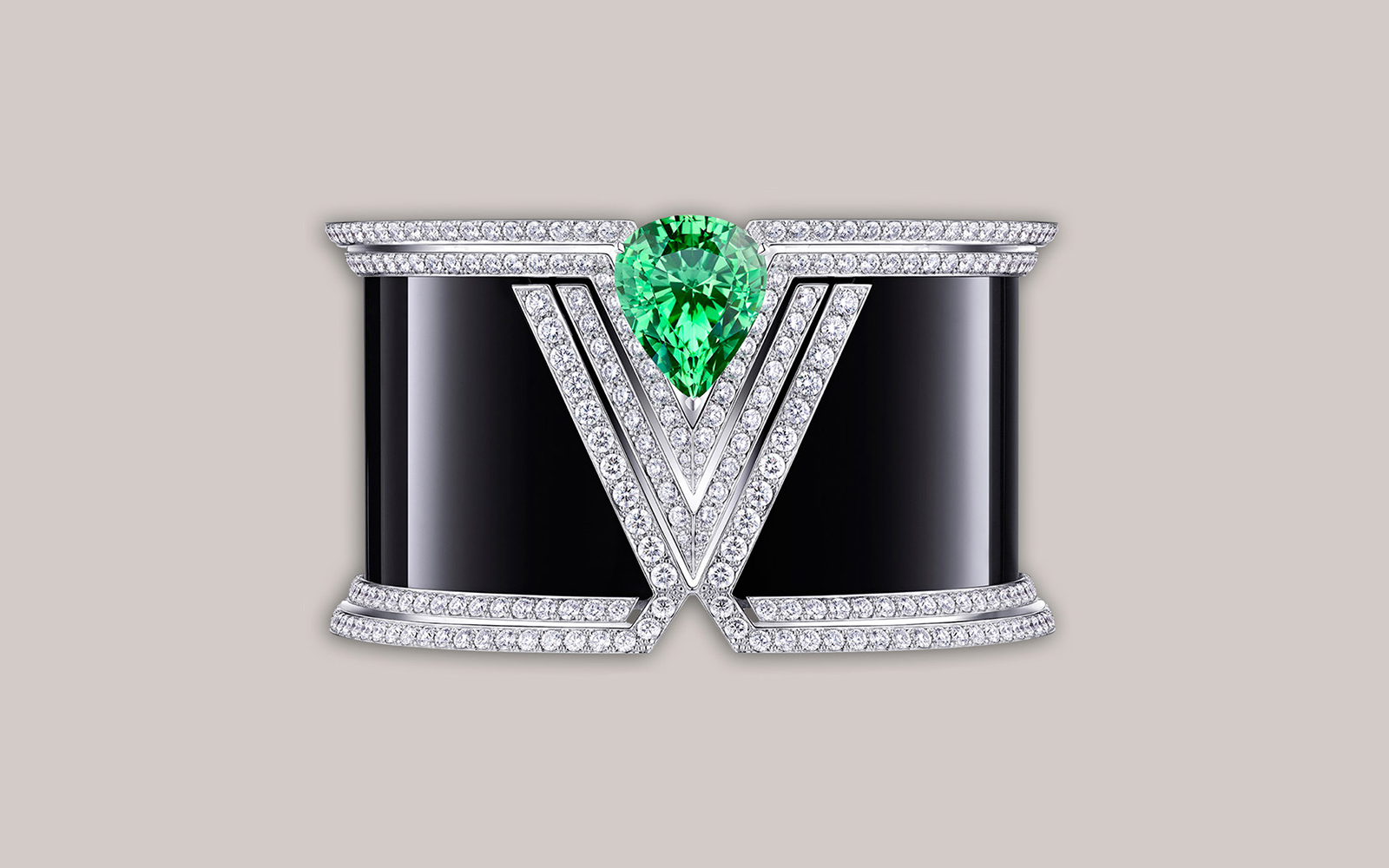 If you were to talk about the ingenuity of the pieces, then the one which turned out to be the hardest to realise was the Apotheosis cuff bracelet with its large tsavorite stone and onyx rim (see above). The rim had to be made with extreme care because the thickness of the black stone was only 2.5 millimetres and due to its round shape it could have just snapped at any moment. However, this wasn't what indicated the value of the bracelet to me. It was the diamond V tsavorite proudly positioned in the centre that caught my eye.
Tsavorite is not a particularly rare stone, but if you look closely you can probably recognise that it is usually used as part of a pavé design covering metal since this form of granite is hardly ever found in a size that is more than a few carats. Louis Vuitton's faceted specimen is 16.15 carats and for that reason it deserves its status of a collectible gemstone.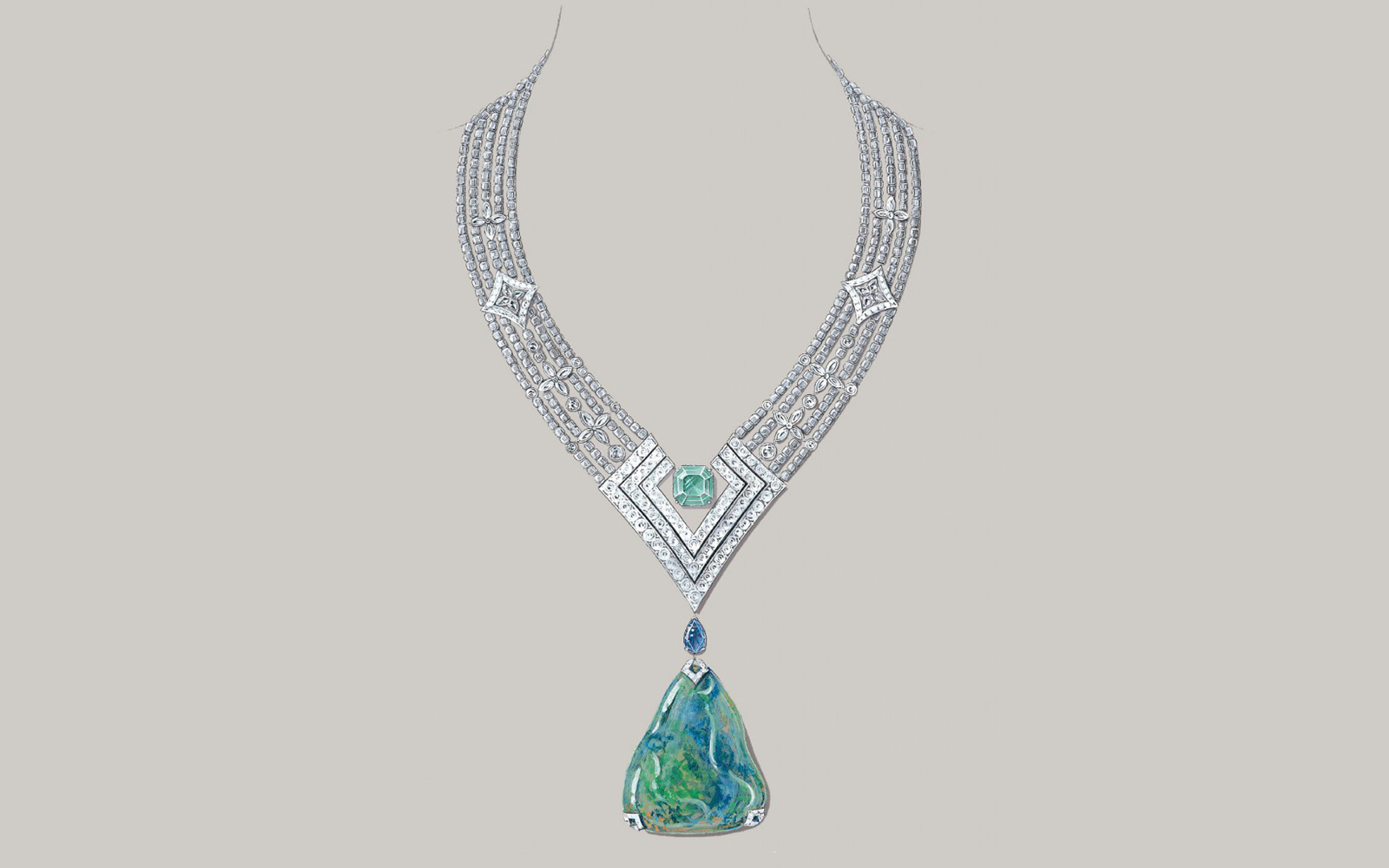 Another piece that is important due to the precious stone it includes is the Genesis ring with is grey blue sapphire (on the very top of the page). This impressive 20-carat stone was extracted from the depths of the Pien Pyit mines in Mogok, Myanmar (a place where stones of the finest quality are found). The birthplace of the sapphire is signified in the clearly distinguishable speckles that are characteristic of Burmese sapphires from Pien Pyit.
I could spend all day analysing every piece separately like this so I'm not going to delve any further into the details of Louis Vuitton's work. Instead I invite you to simply enjoy looking at the rest of the collection.