You probably have not heard of the Thai-born duo behind Kavant&Sharart before; in fact, until recently, Nuttapon Yongkiettakul ("Kenny") and Shar-Linn Liew designed jewellery independently. Sticking to my philosophy of finding and showcasing the world's best brands for you, I met with the artistic duet at the COUTURE exhibition in Las Vegas. I wanted to find out what got Kenny and Shar-Linn into jewellery design, what influences their design decisions and how the pair came up with the earrings with an unusual "ear-tux" clasp which can be changed depending on what you feel like.
To start with, I'd like to point out that the style of Shar-Linn's pieces is fundamentally different from Kenny's. Her delicate hand creates ethereal patterns with gently angled, or, by contrast, rounded lines to highlight the central element of her work, be it a pearl or a precious stone. Kenny's pieces, however, are more statement: in his opinion, the beauty of jewellery is hidden in the minerals used and the precious stones' natural attributes that are only slightly refined by designers. This diverse, almost contradictory, union is a trump card that the designers feel is, in principle, hard to beat.
Kavant&Sharart Origami earrings in yellow gold with diamonds
"We feel that the merger allows for greater focus on one unified line and we will be able to offer our customers contrasting pieces. Kenny's avant-garde style coupled with my fascination with the art deco period and Oriental arts has allowed us to weave the design inspirations of two people to create a never seen before line of versatile pieces," says Shar-Linn. "We incorporate our personalities into a joint collection and the contrast in our inspirations somehow allows for a natural juxtaposition of geometric lines and subtle curves." It logically followed that I was immediately interested in precisely why simple geometry and complex organic forms have determined the direction in which the pair have gone and dominated Kavant&Sharart pieces.
"I think it's the elements and the graphics we are surrounded with in our daily lives in Asia," explains Kenny. "My mind is always calm and at ease when I am out on the ocean. It has a powerful and inexplicable impact on me as a designer. Living close to some of the best beaches in the world is definitely an advantage". What does Shar-Linn think? "The eclectic style of art deco elements and East Asian art up to this period play an important role in my designs as they really intrigue me". So the Asiatic origins of Kavant&Sharart's founders are still very much a part of their work, however after living in the US for over 10 years, the American culture and art scene has definitely influenced some of Kenny's and Shar-Linn's creations.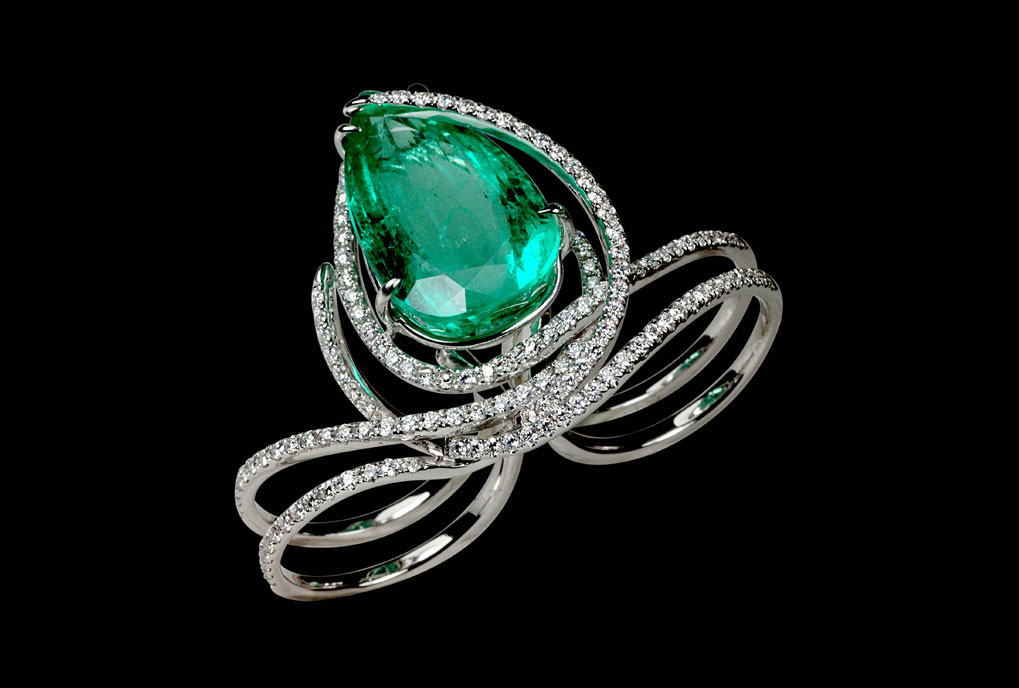 Kavant &Sharart one of a kind Le Phoenix emerald ring with diamonds
"So when did you basically know that you wanted to work in jewellery design?" I asked, understanding that Shar-Linn was working in the financial sector until Kenny convinced her to take a gemmology course at GIA. "My mum was a couturier who inspired me to be creative. I was spoiled with beautiful fabrics, laces and buttons from an early age. I even suggested a design for a dress when I was 9! Although it was not connected with jewellery, it proves that I had a predisposition to arts." Unlike his wife, Kenny was born into and grew up in a family of jewellers.
His grandfather ran a jewellery shop  So the young Kenny quickly mastered the right skills before "coaching" his other half in his love for jewellery. That's when Shar-Linn went to do a course in gemmology and started to work on the line that won her a 2011 Centurion Emerging Designer award. Kenny has three awards which he more than deserves: a 2009 Centurion Emerging Designer award, a 2010 JCK Jewelers' Choice Award and a prize from the Cultured Pearl Association of America in 2011.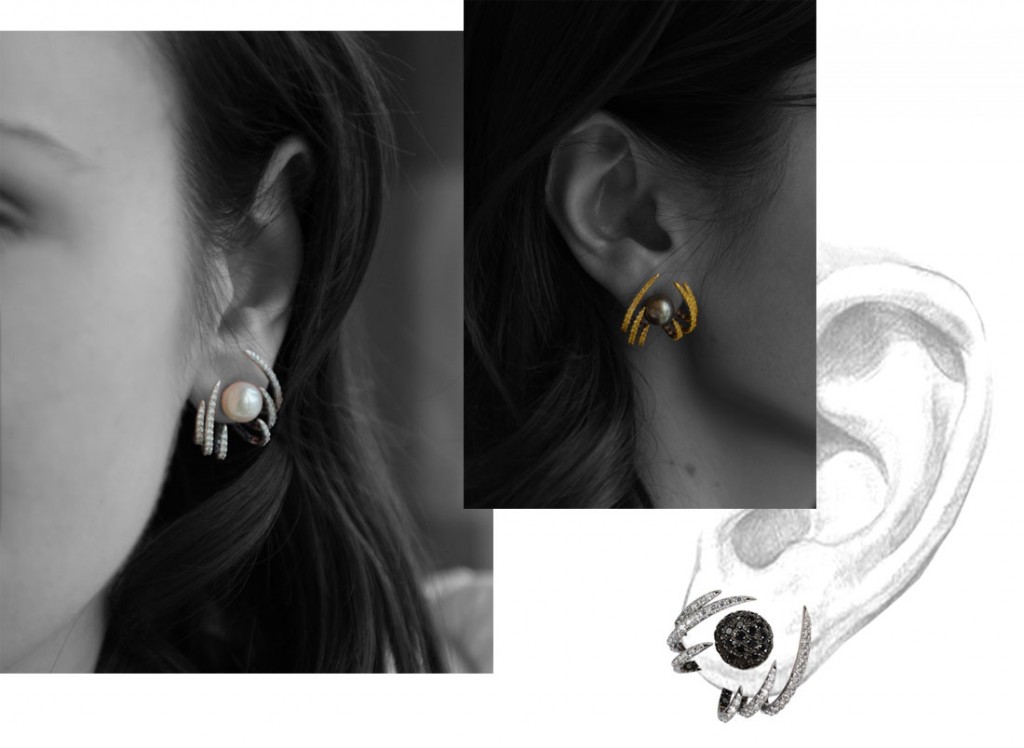 Thanks to Kavant&Sharart's jewellery creations, women today can choose pieces that help them to emphasise their individuality by means of certain interchangeable elements incorporated into the pieces. I, for example, have been waiting an age for a designer to replace simple butterfly clasps for something more original that could be an interesting part of the design. Someone has finally done it: the replaceable earring parts that Kenny and Shar-Linn call ear-tux are a significant asset of the pieces in their latest collection "Phoenix".
"The Phoenix Collection is inspired by the graceful movement, form and beauty of the mythological animal. The wing-shaped earrings represent the wind and freedom to move while the clawed (single and triple) shaped earrings represent the earth and being grounded and mindful," they tell me. The distinguishing feature of the "Phoenix" stud earrings from any other earrings is that out of two pairs of earrings you can create eight or even ten different looks. All you need to do is change the positions of the clasp and pin.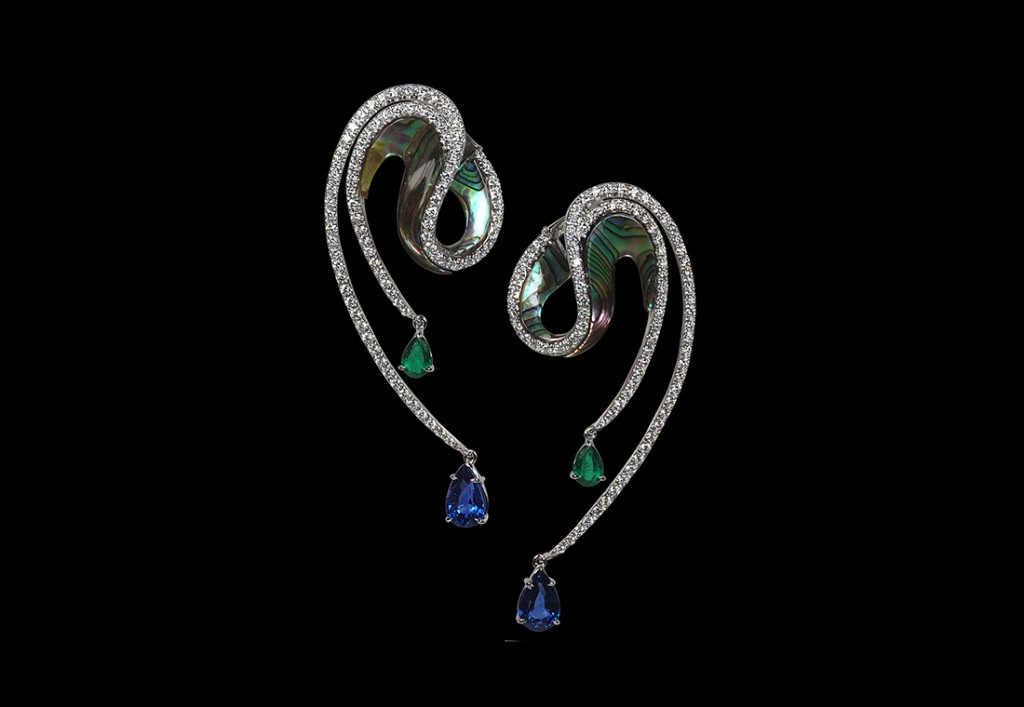 Kavant&Sharart Abalone earrings with mother of pearls, sapphires, emeralds and diamonds
So how did this simple, interesting idea for ear-tux clasps arise? "The engineer (Kenny) woke up one day with the concept for something versatile. Typically, this was after a couple of glasses of red wine the night before," laughs Shar-Linn. "He felt that the traditional approach to wearing earrings, the most popular jewel amongst women, could be altered in favour of a more contemporary and playful look.
Together, we developed the concept further by merging my view of aesthetics with Kenny's ability to engineer a jewel that is comfortable. As a result we gave women the freedom to change their look without too much effort." "We believe that besides the need to wear something charming our customers should be able to identify with their pieces and select pieces that reflect their personality," adds Kenny. "This is one value we recognize and stand by."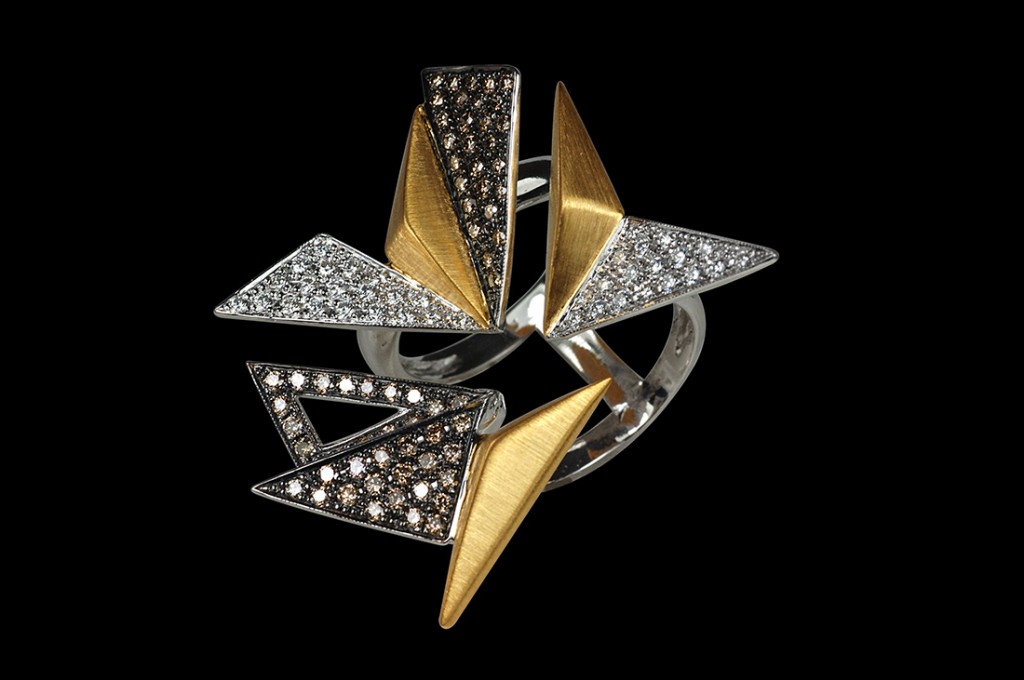 Kavant&Sharart Origami ring in white and yellow gold with diamonds
Kavant&Sharart Official Website: www.kavantandsharart.com // Photos of Katerina Perez are by Lordale Benosa, jewellery images cournesy of Kavant&Sharart.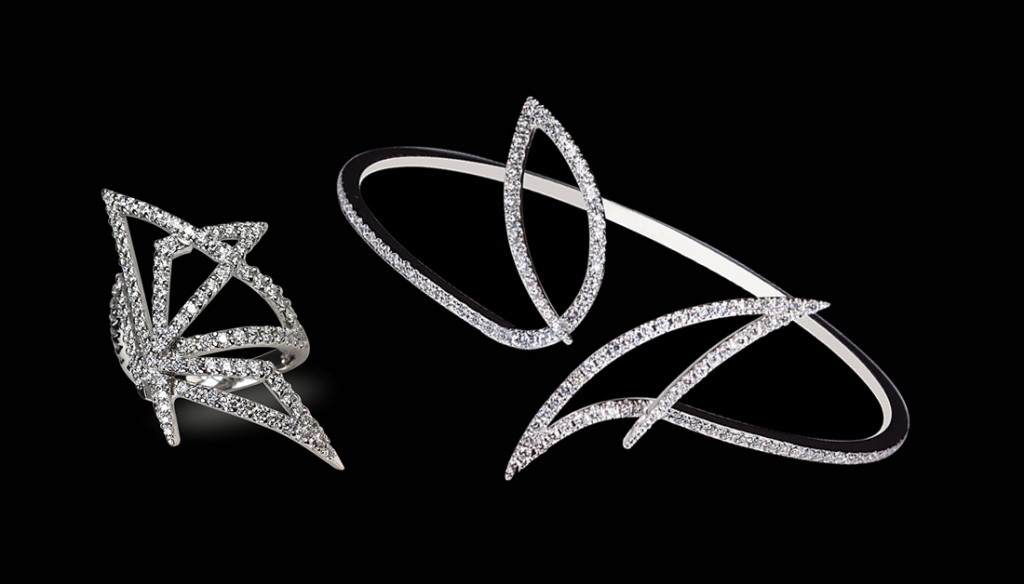 Kavant&Sharart Le Phoenix bangle and a ring in white gold with diamonds