The exhibition draws together 75 pieces, each of which displays the unique creative voice of its maker and - in its own way - reflects the beauty of the floral world.
Among the exhibitors are numerous famous names in the world of jewellery: Cindy Chao (Taiwan), Irene Neuwirth (America), Neha Dani (India), Gimel (Japan), Jessica McCormack (Britain), Lydia Courteille (France), Silvia Furmanovich (Brazil) to name but a few. World famous houses such as Cartier, Chanel, Dior, Van Cleef & Arpels, Fabergé or Tiffany & Co. have all created entire collections of flower themed jewellery, as well as single masterpieces.
Specially for 'In Bloom,' Bina Goenka, a jewellery artist from Mumbai, has created a chic 'Hibiscus' necklace with a huge flower comprised of Mozambican rubies in various cuts, brilliant briolettes, as well as Zambian emeralds on a gold frame. British designer Shaun Leane has also created a unique pair of transformable earrings in the form of an orchid. One flower is decorated with a green pear cut diamond, while the other is entirely colourless. The detachable stem, adorned with thorns, is made in the idiosyncratic style of Shaun Leane, and is fully encrusted with miniature diamonds and tsavorites.
Gimel is another designer who has created jewellery specifically for this Sotheby's exhibit; consisting of an extremely delicate white gold flower with demantoid garnets, pink and colourless diamonds – all of which appear as if to bend over, blown by a gust of wind and gracefully frozen in time. One cannot help but get the impression that the founder of the Japanese studio Gimel - Kaoru Kay Akihara - is depicting something that they have witnessed in the natural world.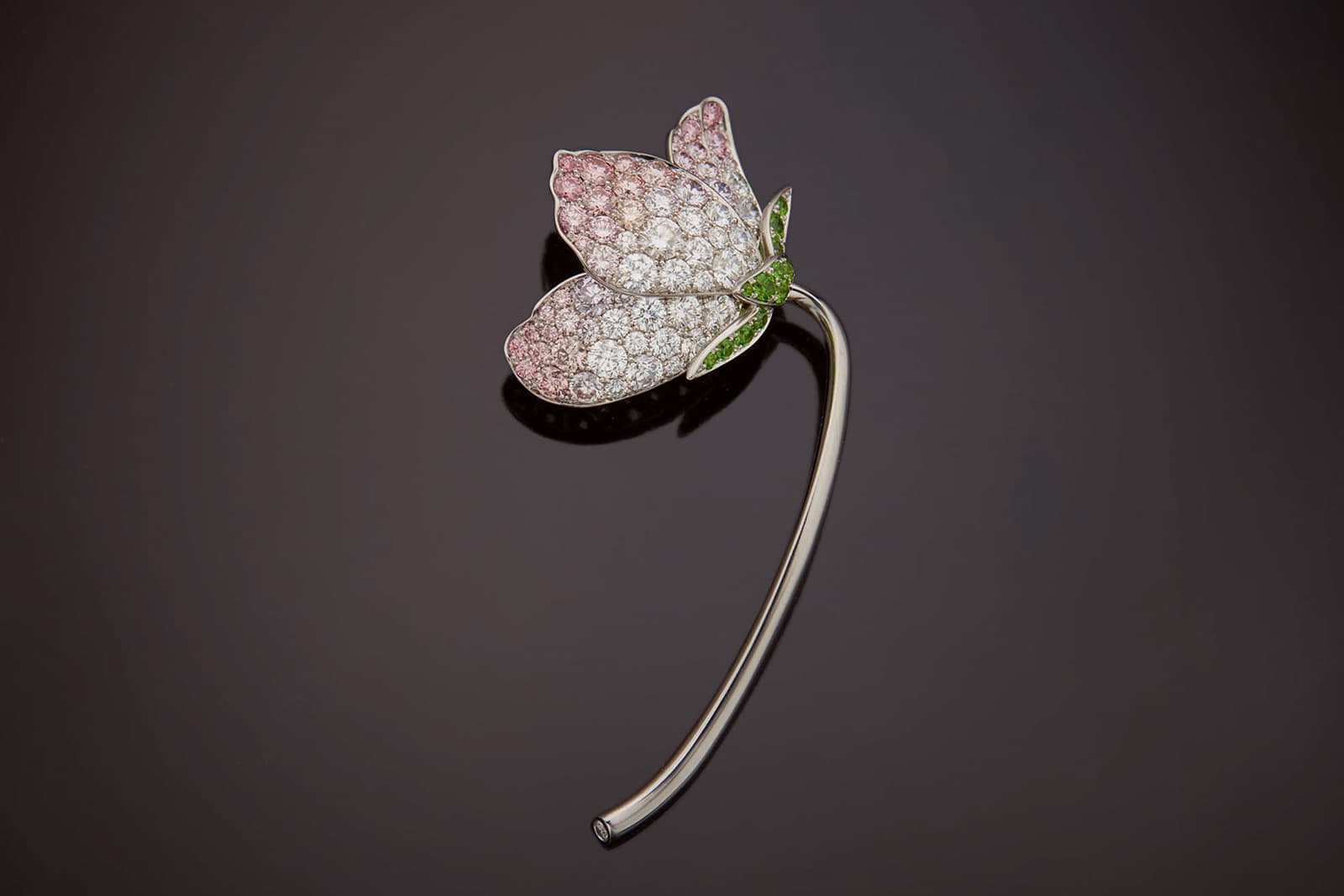 The Italian House Dolce & Gabbana, better known for its bright and extravagant fashion designs, will present a jewellery collection for the first time at the 'In Bloom' exhibition. Another debutant is the French designer Tatiana Verstraeten, who has released her first collection of high art jewellery. Her 'Vienne' necklace adopts an abstract flower petal form, resembling butterfly wings. The piece is made from white gold, along with thousands of diamonds, moon stones and enamel.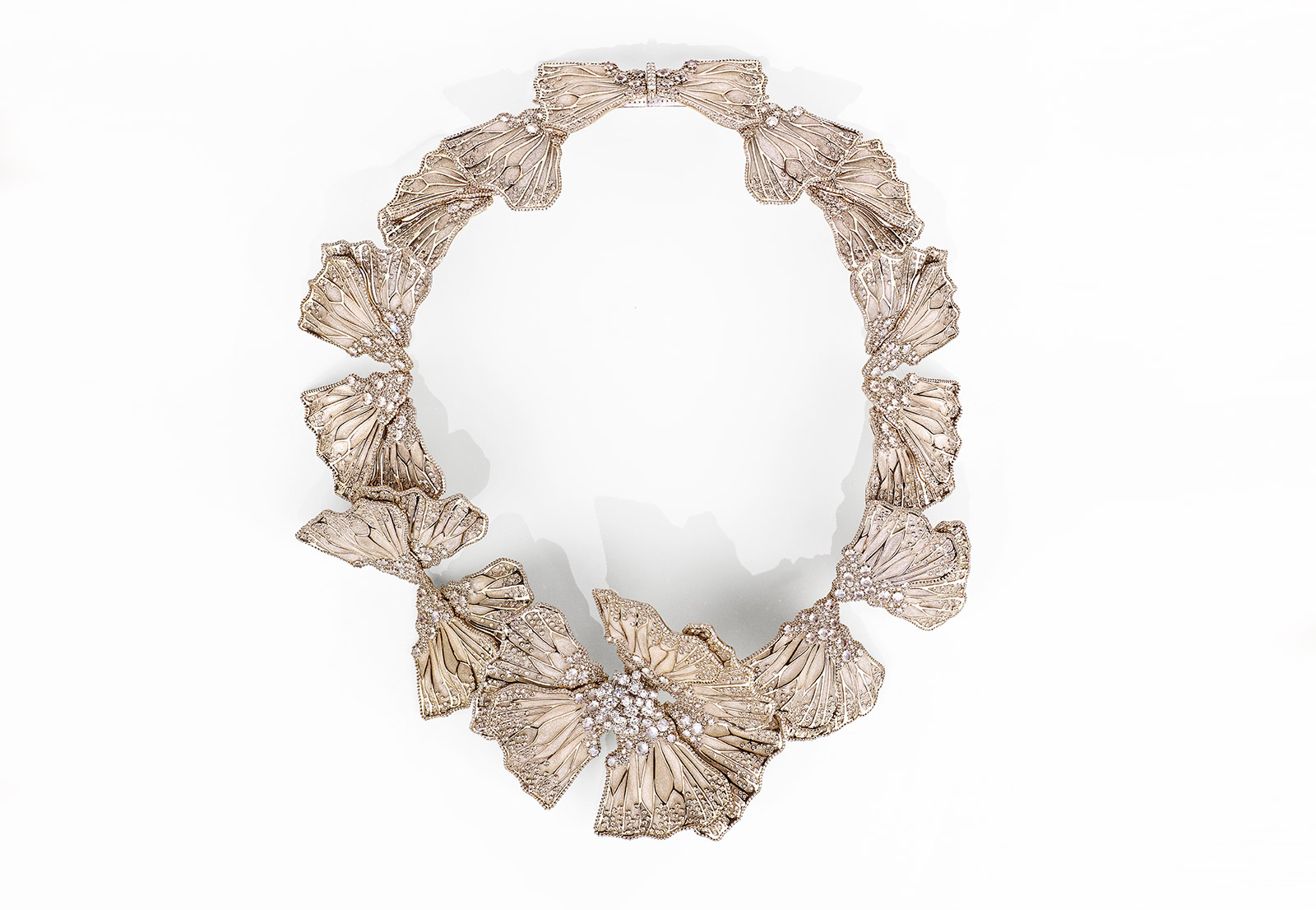 The co-organizer and curator of the exhibition is Carol Woolton, a jewellery historian and journalist, as well as the author of the book 'Floral Jewels.' While working on her book, Carol studied various aspects of flower based jewellery; what techniques and materials jewellers use in their work; how the aesthetics of flowers changed with different fashion trends, and so on. She argues that there is something about flowers that is fundamentally different: "flowers are one of the ways we measure particular moments of our lives, and jewellery is another. Small wonder that flowers are a recurring and significant theme in oeuvre of the jewellery designer, arguably the greatest leitmotif in the history of jewels, cropping up time and again studied from every angle for inventiveness and brilliance of colour to be reimagined in fresh forms to suit the prevailing whims of fashion."
All pieces featured within the Sotheby's collection are available for purchase, with prices ranging from $10,000 to $3 million.
Banner image: Neha Dani Amarante bracelet with pink diamonds