Becoming a recognised expert in a particular type of gemstone is not something that happens overnight. For Emil Weis Opals of Kirschweiler, near Idar-Oberstein, the journey to becoming an opal aficionado officially began 116 years ago when the company was founded and, unofficially, some 500 years before that as the influence of the German town evolved.
The Emil Weis story doesn't just have this European cutting centre to thank, however. Its 'second home' is the "big red and warm heart of the Australian Outback," according to the business, which explains that the first lot of Australian opal came to Europe in 1849 via the German geologist Johann Menge. By 1895, the first company from Idar-Oberstein had set sail to Australia to source rough opal and bring it back via Rotterdam and Hamburg. It was around this time that Emil Weis himself had the chance to cut opal for the first time and it sparked a love affair that would last a lifetime. In 1905, he founded his own business specialising in opal and, today, it's the fourth generation of the same family that continues his legacy.
The trade show Intergem is one of the best opportunities to meet these individuals who continue long family traditions with passion and purpose. I had the pleasure of bumping into Juergen Schuetz and Tanja Schütz – the third and fourth generations respectively of the Emil Weis lineage. Unlike his forefathers though, Juergen spends far more time at opal mining sites – some six months of every year driving more than 10,000km through Outback terrain – and no doubt gets to see some rarer and more unusual opals from more diverse locations. Today, Emil Weis operates the oldest opal cutting factory in the world and deals in every kind of Australian Opal (black opal, light opal, boulder opal, yowah nut opal and rare opal specimens) as well as Mexican fire opals. The company also offers opal carvings, opal necklaces and a large collection of ready-to-wear opal jewellery, and custom-made opal creations that suit the tastes of collectors.
Speaking of opal jewellery, I must share a story Schuetz told me about Emil's strong principles. As he tells it, Emil had created an extraordinary necklace set with 16mm opal beads. He was approached by someone who wished to buy the necklace to present it as a gift to the soon-to-be Queen Elizabeth II, whose coronation was quickly approaching. Emil said the necklace was not for sale. Trying a different tack, the wannabe buyers gave Emil a blank cheque and told him to write the number he felt suitable for the necklace… again he declined. When asked why a man with seven children would turn down such a route to riches, he simply explained the necklace took him his whole life to fashion. Why should he allow it to fall into the hands of a queen who will add it to an extensive collection, never to be worn again?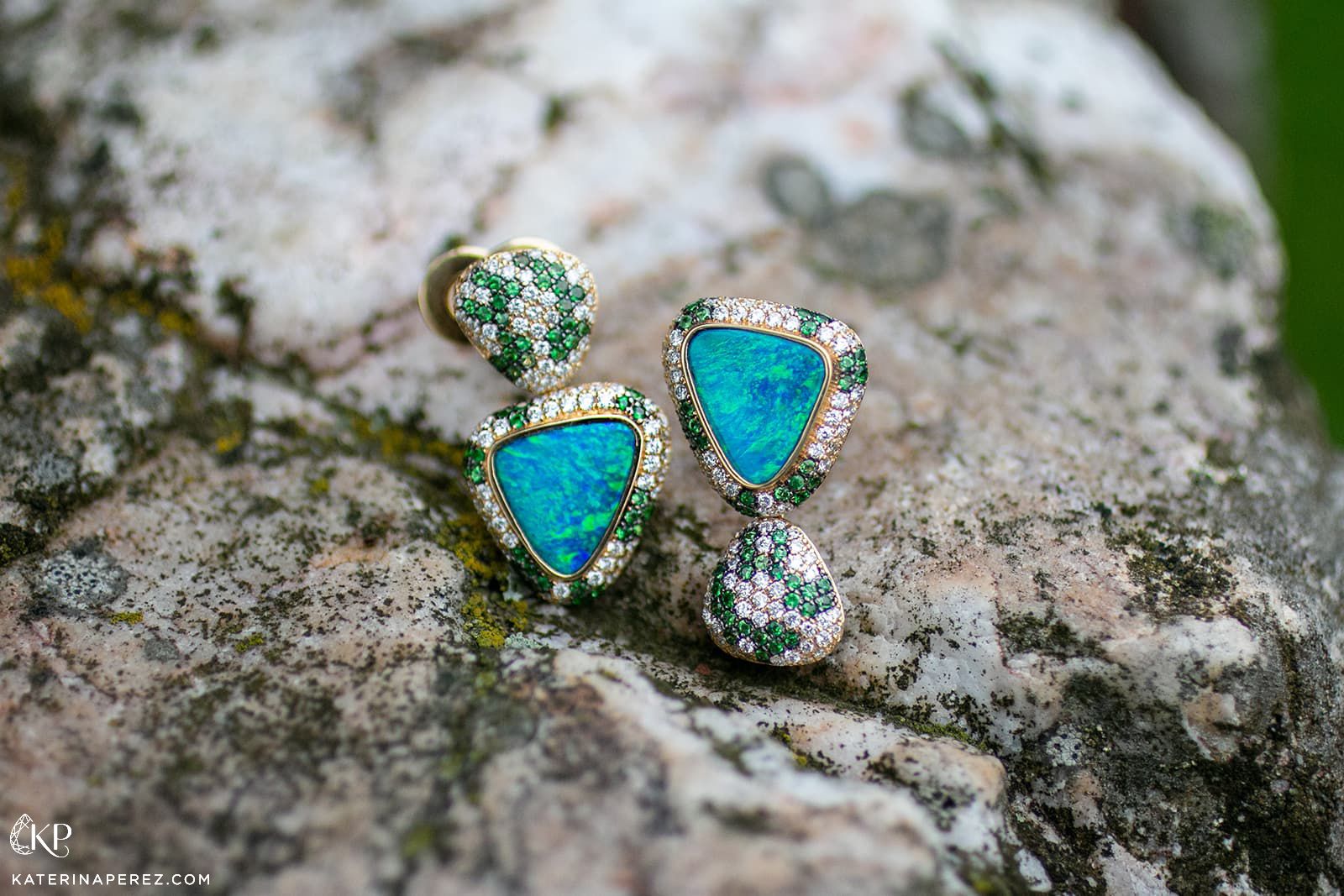 This anecdote helps to spotlight another skill in the Emil Weis arsenal – the ability to decipher what an opal is worth. From water opal to opal doublets and triplets, it takes someone with experience to understand the hierarchy of body colour, play of colour and colour patterns that contribute to an opal's value. The business can evaluate the "financial worth of individual pieces and estimate and compare their potential – to be included in beautiful jewellery, extravagant one-of-a-kind designer pieces, as unique collectables or investment goods." And bringing out the best from a rough opal is another skill of the house. Through its cutting factory, Emil Weis offers a range of services such as repairing lacklustre stones, cutting calibrated sizes, and manufacturing series or suites of matching opals.
If you are dreaming of a collection of opals that you would also refuse to sell to Queen Elizabeth, there are some types you need to be aware of. It's certainly not a one-size-fits-all model in the world of opals – there are light body colours and dark body colours; rare flashes of red and orange; harlequin, ribbon and Chinese writing patterns; and factors like shape, transparency and brightness to be aware of. Light opals can be found in the desert of South Australia, in its famous mining areas like Coober Pedy, Mintabie and Andamooka. They are light, milky or have a transparent body and show a characteristic vibrant play-of-colour. Their softly shimmering pastel colouring makes them ideal for high jewellery, which is equally true for crystal opals that offer rainbow colours in conjunction with rare clarity.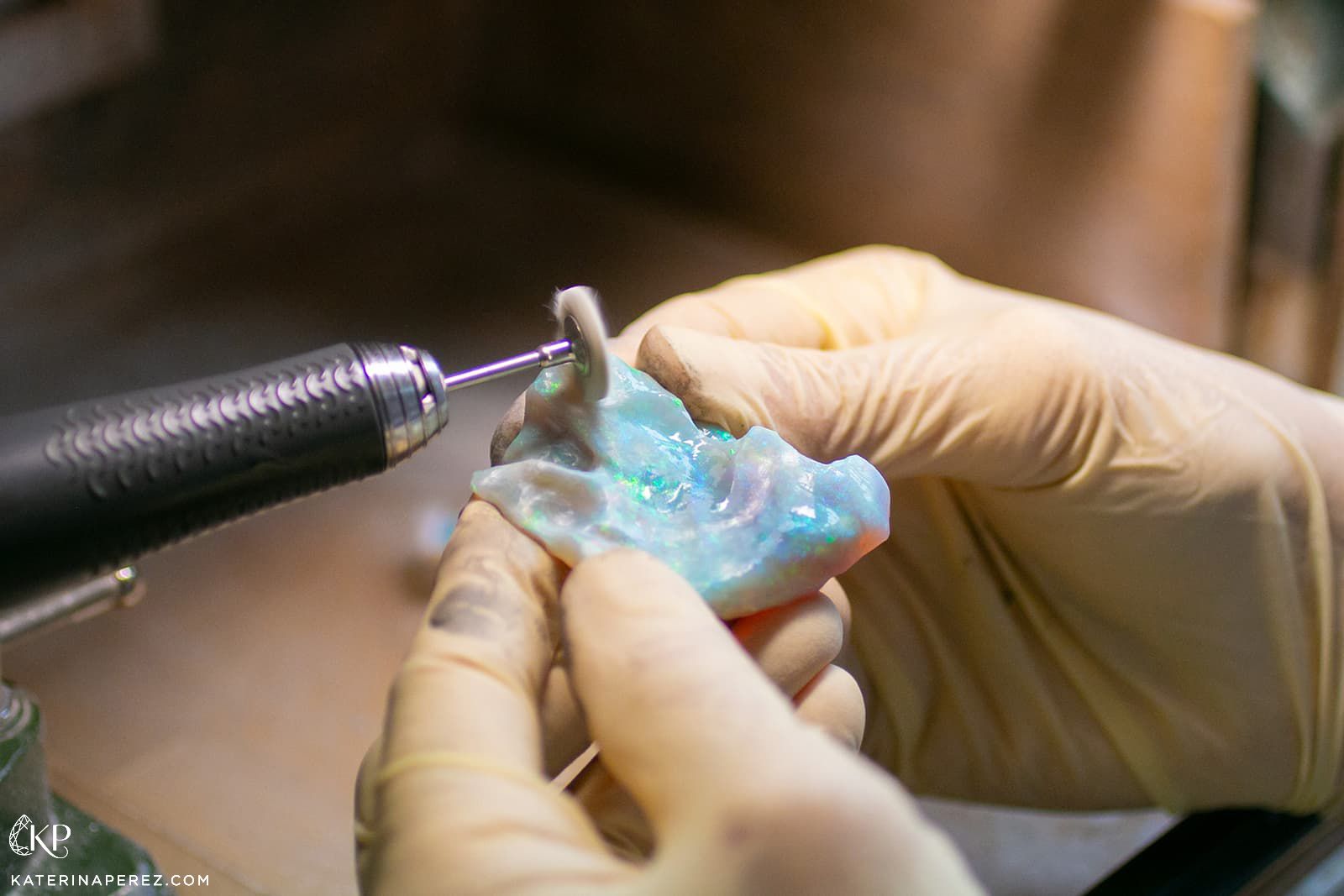 Another hugely important group of Australian opals is boulder opal, which is found in Queensland. It needs to be treated with care to ensure its contrasting colours, shapes and textures are respected and preserved. Think of these as the exotic rarities in the Australian crown, which are often cut into free shapes with baroque forms for designers and collectors. Belonging to this group are yowah-nut opals that are sometimes referred to as 'picture opals'. These gems can be found in southern Queensland (Australia) in the Yowah and Koroit fields by true enthusiasts and connoisseurs, who discover them hidden inside unremarkable brown stones (nuts) and cut them to reveal the wonders within.
Perhaps you are wondering what the most precious opal is? Black opal is the rarest and shows a distinctive play-of-colour on a dark grey or even jet-black body. Blue-green or orange-red opalescence are spectacular, while sought-after patterns (like the harlequin, for example) can cause the price per carat to skyrocket. They are typically found around Lightning Ridge in New South Wales, Australia, where they are mined manually. Finally, I'd like to mention two further types of opal that are some of my favourites: fire opal and water opal. The former is luminescent red or an intense orange, sometimes translucent or almost transparent, with fascinating rainbow-coloured opalescence. Water opals have a translucent or transparent body that can be watery clear or show delicate traces of blue or light orange. The soft, dreamy body colour and the play-of-colour within can shimmer in all the colours of the rainbow to create a gemstone of surprising dimensionality and depth. Both of these treasures are found in Mexico.
Without travelling to Intergem I may never have met the Emil Weis team and learned more about the rainbow world of opals. I suppose there are some parallels; just as networking is better in-person so too is evaluating the flashes of colour in a rare and unusual opal.