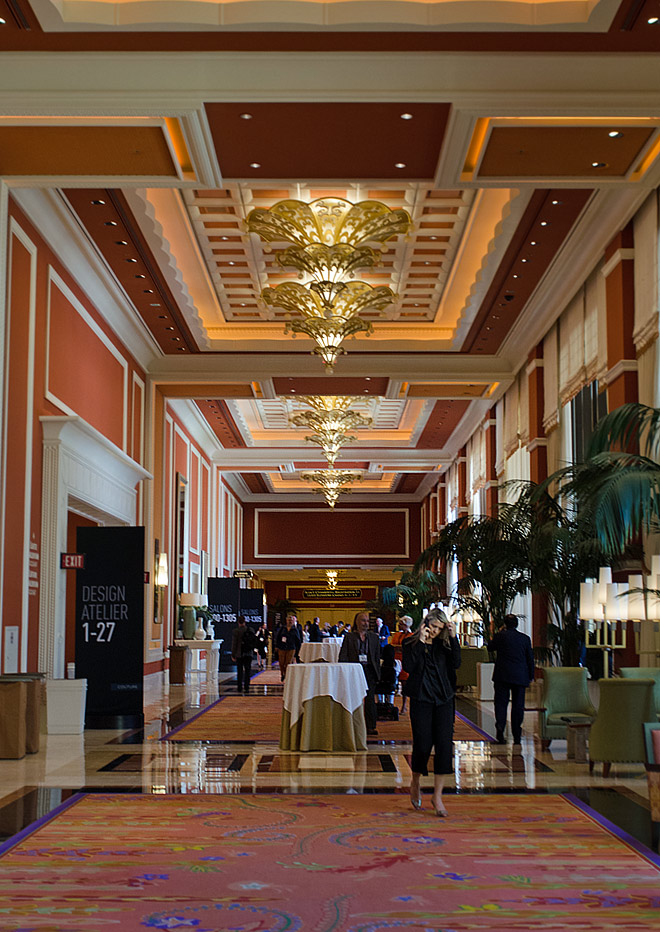 The Wynn hotel, Las Vegas
Photographer: Lordale Benosa / http://lordalebenosa.4ormat.com
COUTURE 2014 at Las Vegas, Day 2. In case you have missed Day 1, click here. On the second day my first meeting was at 9am, but I was raring to go at 7. The 8 hour time difference between London and Vegas had taken its toll. With my moisturiser and eye-drops (you must have them on you when in Vegas) to hand I was definitely ready.
The booth of an incredibly talented French designer was my first destination. She really is a "jewellery story-teller", to coin a phrase. You might have guessed it – Lydia Courteille. Her jewellery corner at the COUTURE show was perfectly presented as the Parisian boutique just off Place Vendôme, that resembles a 'cabinet des curiositiés' (cabinet of rarities) full of hidden gems.
I have always admired the sheer scope of Lydia's imagination, which never fails to produce a tantalising array of daring and extraordinary pieces. While scrutinizing booth displays, I took my time to drink in the eye-opening spectacle: a sparkling turkey, pig, dog and other animals from the 'Animal Farm' collection; exotic flowers carved out of gemstones; exquisite ear cuffs; full finger rings detailed with luscious roses peeked out from underneath the glass display casement, inviting curiosity.
Particularly astonishing was a cuff bracelet, featuring a large cushion-shaped morganite that was surrounded by very adorable pink sapphire-encrusted rabbits. This bracelet was just one of the many unusual accessories that might appeal to those looking for "one-of-a-kind" pieces or something more off-beat.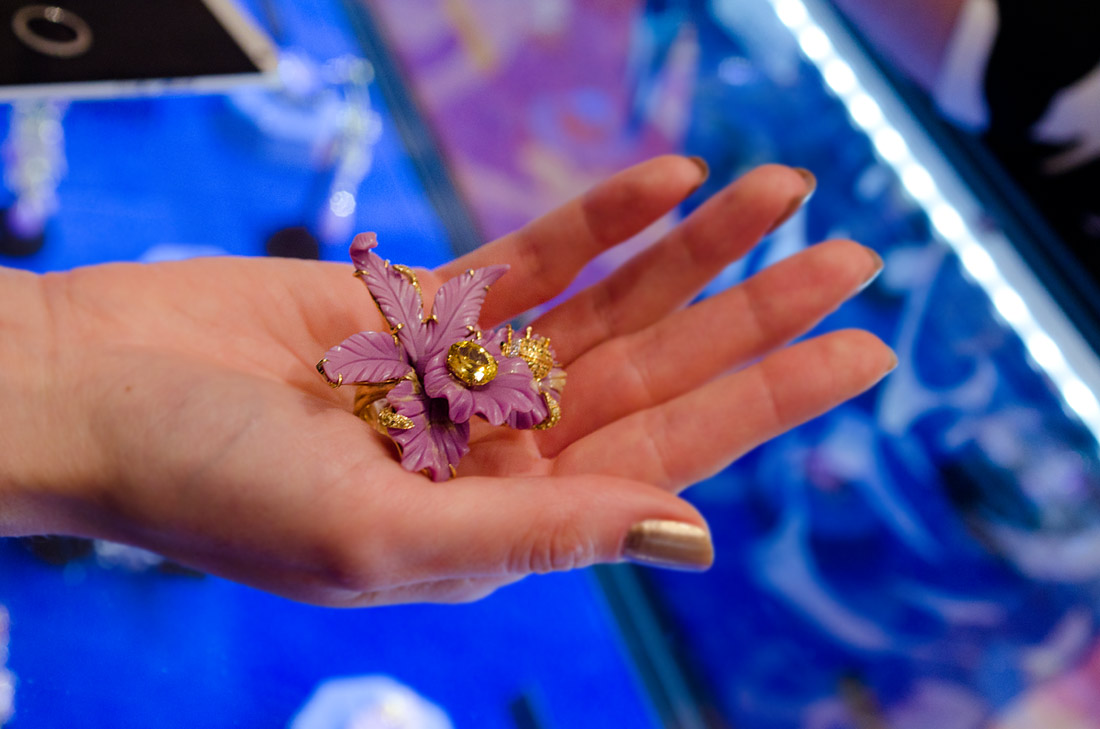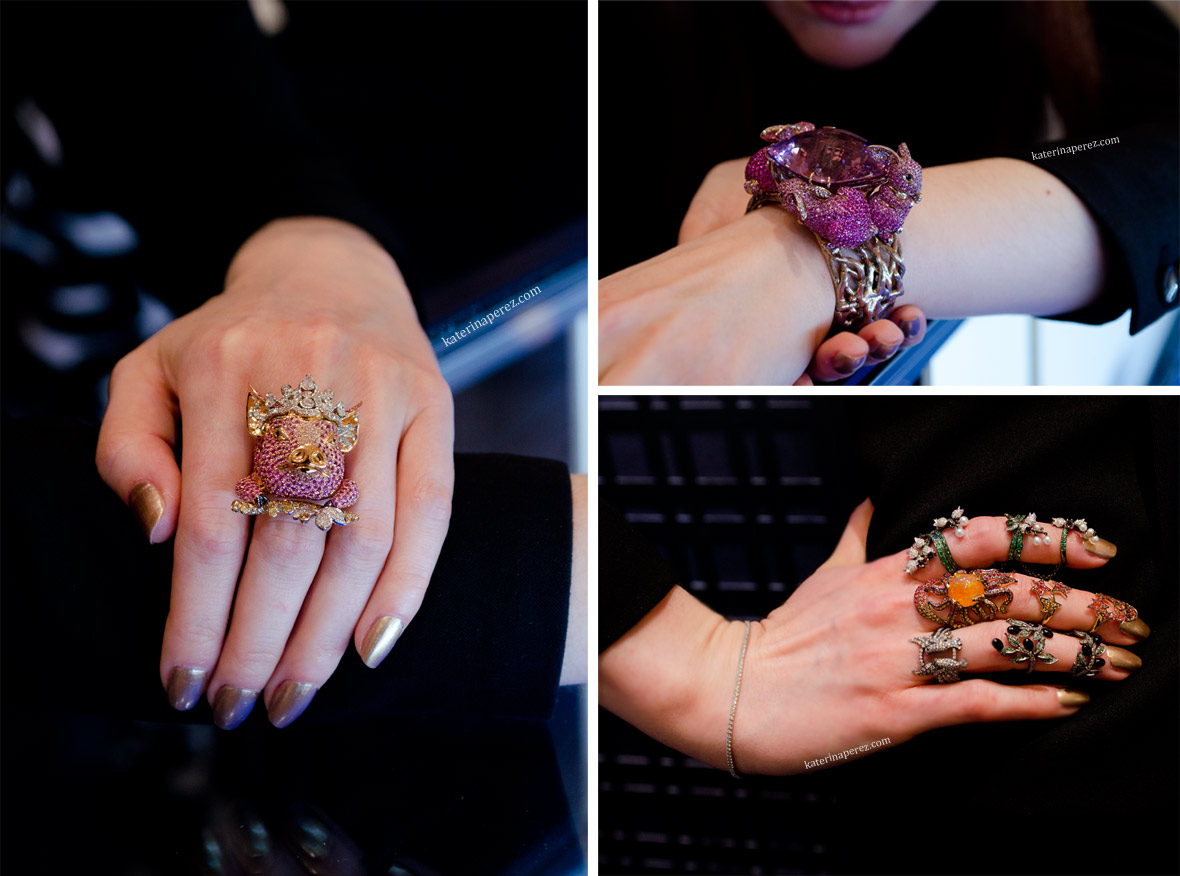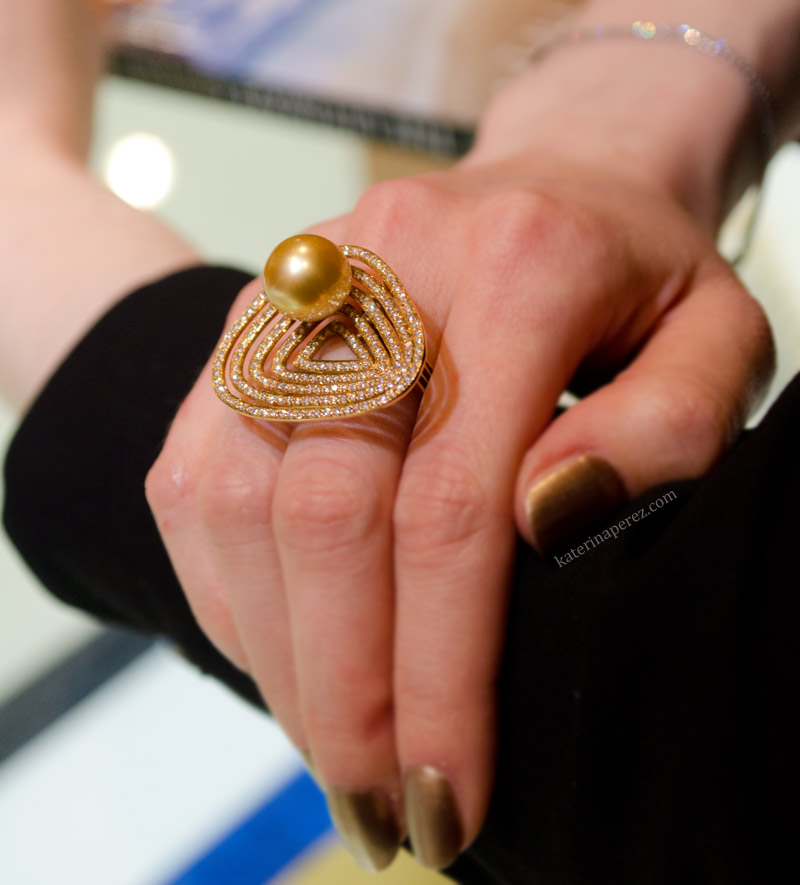 Emerging from the bejewelled wonderland of Lydia Courteille, I dived straight into the deep waters of the South Sea that surround the Philippines, where Jewelmer cultivates its pearls. These are in fact totally unique in their unmistakable rich golden colour.
Months, or even years, later Jewelmer extracts these precious pearl beads, selling them individually or set within their precious jewellery. My favourites were the Art deco Cuffs, which were paved with diamonds, multi-coloured sapphires and other gemstones, accompanied by large golden Jewelmer pearls.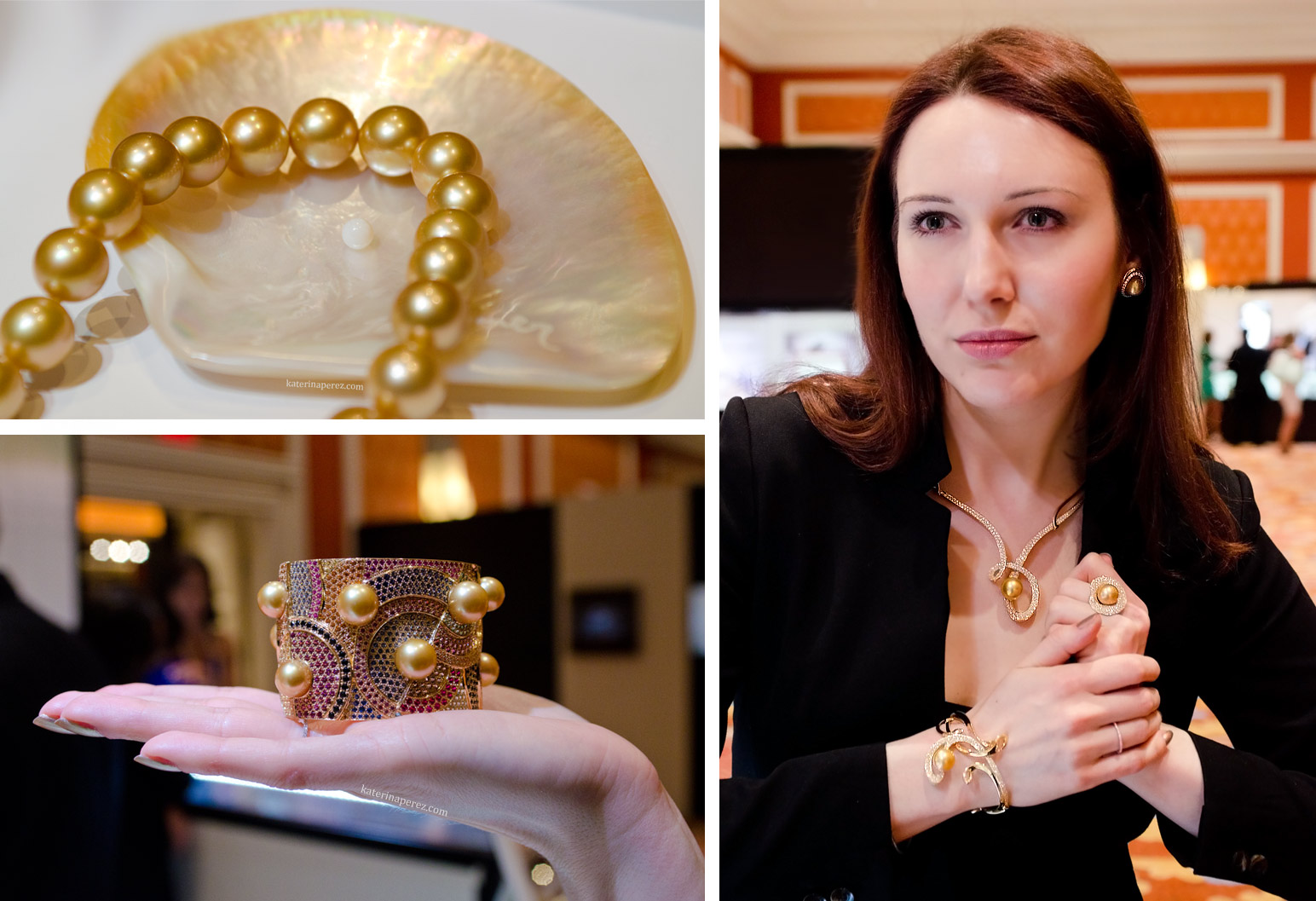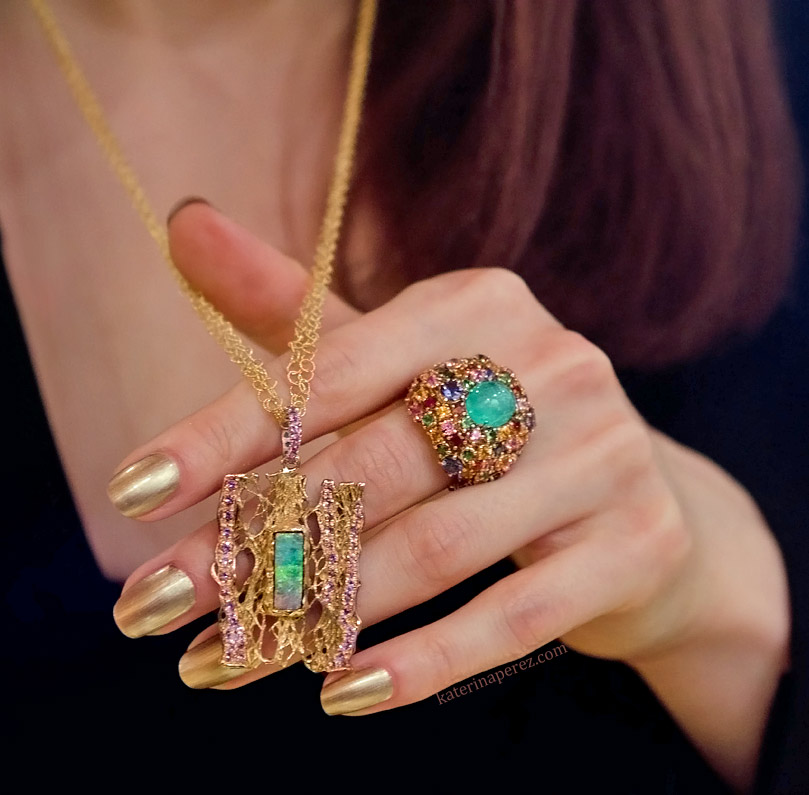 Mauro Felter – "the master of precious fireworks" as I call him – had the most vibrant and colourful jewellery amongst all exhibitors. His work dazzles with a daring colour palette.
A summery feel pervaded the collection: I wanted to swim in the tourmaline blue; the yellow sapphires needed their own solar system; looking at the tsavorites I could almost freshly cut grass; the gold relaxed like warm beach sand. Dolce vita!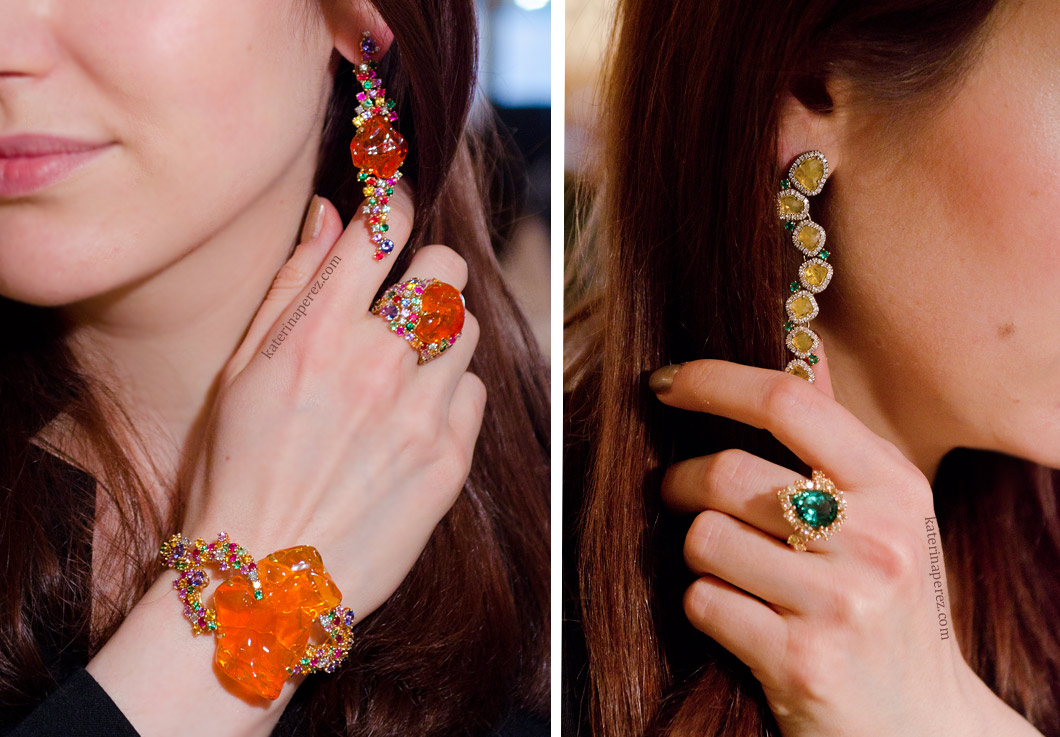 var OB_platformType=3; var OB_PlugInVer='8.0.0.0_Regular';