Tantalising tanzanite's enchanting colour is magnificent: the deep purple-blue is charming like the boundless star-studded sky at night. Pleochroism (the ability to exhibit different colours when viewed from different angles) undoubtedly adds a certain charm to it, one can observe violet, blue and purplish red (sometimes yellow) hues when admiring it.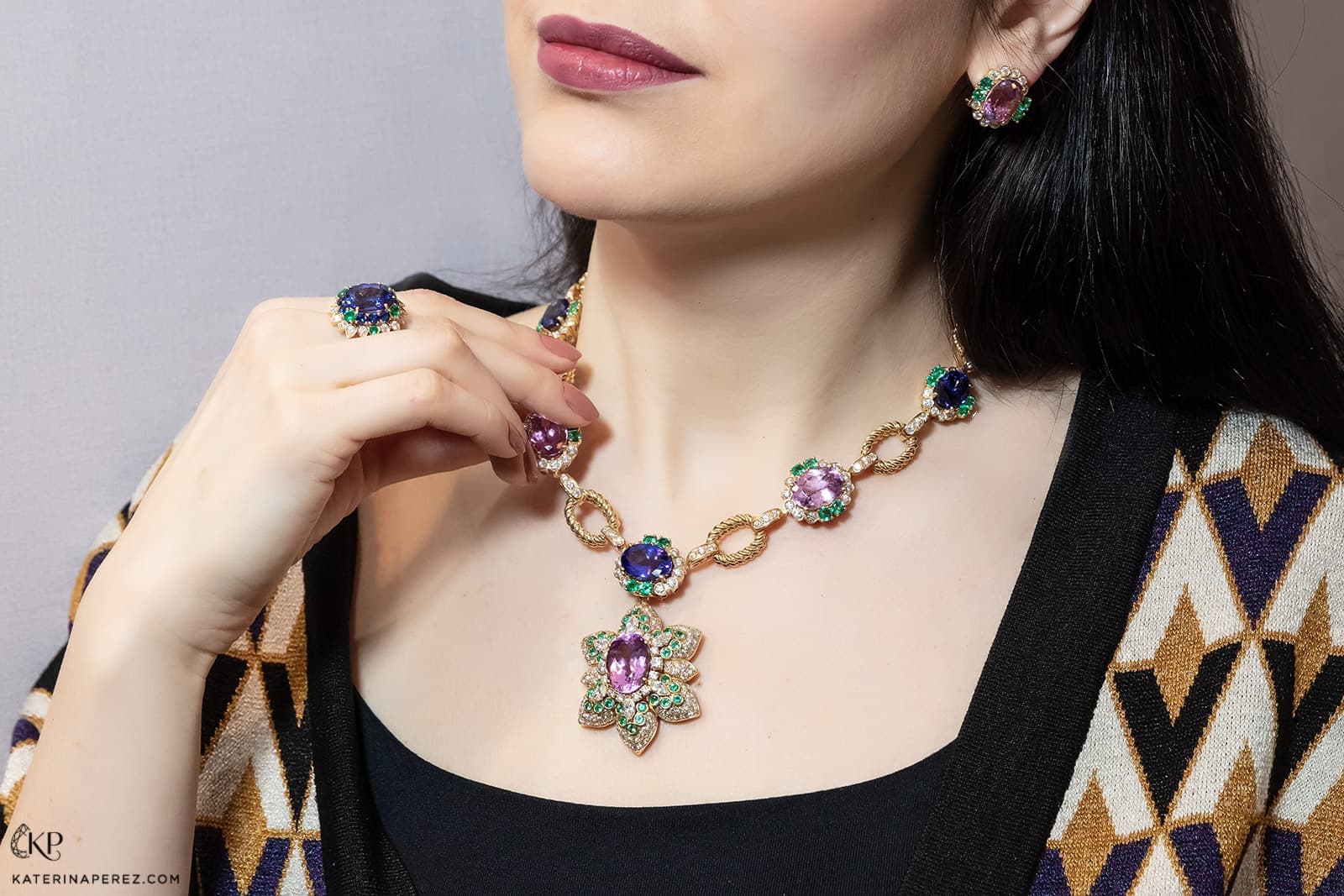 When Tanzanite was first unearthed, it was mistaken for sapphire. Originally named ziosite, in 1967 a Masai tribesman discovered a unique variety of the gemstone at the foothills of Mount Kilimanjaro, in Tanzania. Tiffany & Co. later renamed the stone after its country of origin and revealed it to the world the following year. At this time, the trend for collecting African art and anything relating to the continent was peaking in popularity. Tiffany & Co. understood that branding the gemstone to its primarily American audience would enhance the novelty of this new discovery.
To this day, tanzanite is still only found in one mine in the Arusha province of Tanzania, whose resources are already almost exhausted. This has caused tanzanite prices to grow exorbitantly over the last decade, and has encouraged jewellery designers to include it in their significant pieces. Often, tanzanite takes centre stage in a cocktail ring accented by colourless diamonds, or in a pendant necklace.
The Italian brand Veschetti favours tanzanite as the focal point of motifs within grand sautoirs, whereas Piaget employs the stone at the centre of a hero cuff, surrounded by delicate feather marquetry. Picchiotti celebrated colour, using tanzanite in one of their showstopping cocktail rings, and Tiffany & Co. return to tanzanite time and time again; in their 2018 Blue Book, a tanzanite brooch was presented, alongside the star of their 'Paper Flowers' collection being a series of interlacing flower shapes embellished with tanzanites. The traditional British house Henn of London present an impressive tanzanite and diamond sautoir suite, whereas Dior combine a large step-cut tanzanite with a menagerie of coloured gemstones in the secret watch of their 'Gem Dior' collection.
The rich purple-blue tones are complemented by other 'jewel' colours: deep blue, greens and reds are commonly matched with tanzanites, and they are often used in jewellery in emerald, baguette, cushion or cabochon cuts. Deep cuts suit the gemstone best, as more depth increases the visible saturation of the tanzanite's colour. With the scarcity of this gemstone in mind, maybe it is sapphires that will one day be used as imitation tanzanites?