Peggy Grosz didn't start her career as a jewellery designer but, still, the profession found her, nonetheless. Some 25 years ago, she was distributing an Italian fine jewellery collection and was asking for tweaks and changes to improve its focus, relevance to fashion, and sales success. This input eventually landed her in the manufacturing facilities, where she worked with design teams and set herself on a path to product development roles. "I didn't even realise that what I was doing had morphed into design until I began designing as part of my responsibilities at Assael," Grosz explains. She's been at the iconic pearl brand since 2017 and has honed her skills without the benefit of formal education in design.
Sadly, in December 2021, Assael's President and CEO, Christina Lang Assael, passed away aged 75. In the months that have followed, Assael has slowly built a new path without its eponymous leader, building on her incomparable spirit and continuing her passion for innovative, contemporary pearl jewellery designs. With Grosz now at the head of the company, we met at the Couture Show to discuss the art of pearls, her own creative process and the designs she is most proud of…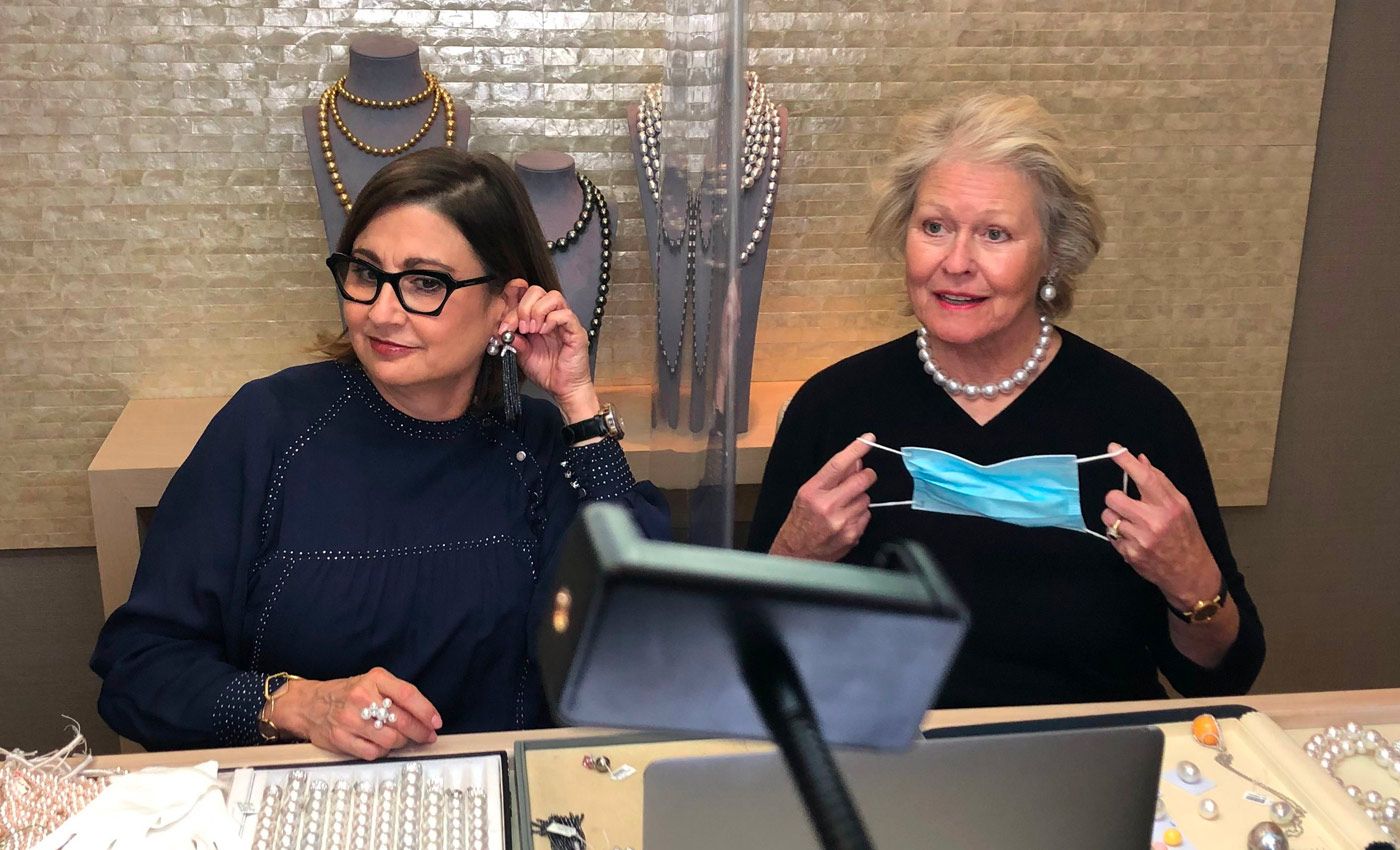 Katerina Perez: What are some of the most important lessons you learned from Christina Assael?
Peggy Grosz: Perhaps the most important thing would be her dedication and laser focus on keeping Assael the finest company of its kind. From the pearls, coral, and gemstones we owned or sourced to the quality of our workmanship and marketing and the way our retailers should be accommodated, everything needed to speak of tasteful luxury. We were always on the same page about this. She had courage... jumping into the precious, sustainable coral business in a way no other American company ever had. Christina either did something or didn't and when she did, she did so full-on with courage and conviction. I also learned that the most unlikely friendships can happen when you're not even noticing them. I was given the gift of her friendship and her trust. I feel grateful that we had the time to talk about this and celebrate it before we lost her.
KP: When Assael started introducing new and creative designs that put pearls in a different light, what prompted this desire to take the business in a different direction?
PG: Christina Assael hired me to 'shake things up'. So, we did that in organisational and business ways, but no company can stand still! We always sold strands of pearls and the basics. When the talented Prince Dimitri designed for Assael for about a decade (approx.1995-2005), he shook things up. But when I joined the company, it had been 12 years since anything new had been developed! If you're not moving forward, you're moving backwards, right? Our pearl customers had a thirst for new things. Assael has the finest, largest inventory of pearls in the Americas, so it was only appropriate that Assael give them new ways to wear pearls and coral.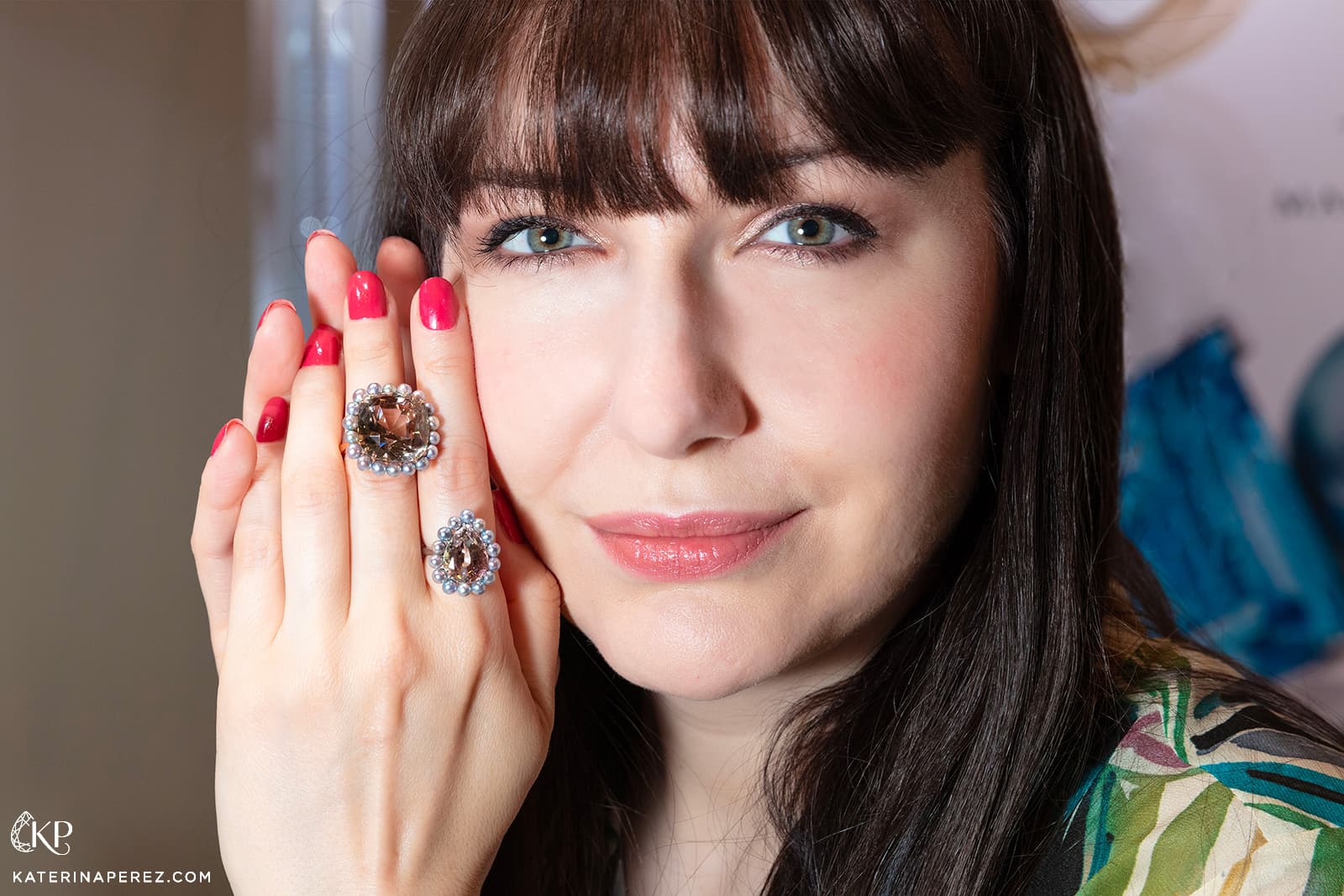 KP: What is your favourite thing about designing jewellery?
PG: That's easy! It takes my mind away from some mundane business responsibilities (temporarily), but more importantly, it's the challenge. To create something that adds to the collective choices of customers, while being relevant, physically producible and wearable, turns me on. A design can be wonderful on paper but if it's not truly, dimensionally producible and wearable... what's the point? There are so many incredibly beautiful jewels in the world, from the past and present. My favourite thing about designing jewellery is the times that I succeed and end up with something that I love, which I've never seen before, and that our clientele wants to own and wear. I can look at a piece and feel that it should absolutely exist.
KP: Can you pinpoint some of the designs you are especially proud of?
PG: I would have to start with the pieces using the unusual multi-colour tourmalines that we've paired with pearls. Most bi- or tri-coloured tourmalines have their distinct colours concentrated separately from each other in zones. It's somewhat rare when the tourmaline rough with more than one colour can be cut in a way that causes the colours to magically mix and change depending upon the viewer's angle and the lighting. That is exactly what happens with pearls of multiple colour tones!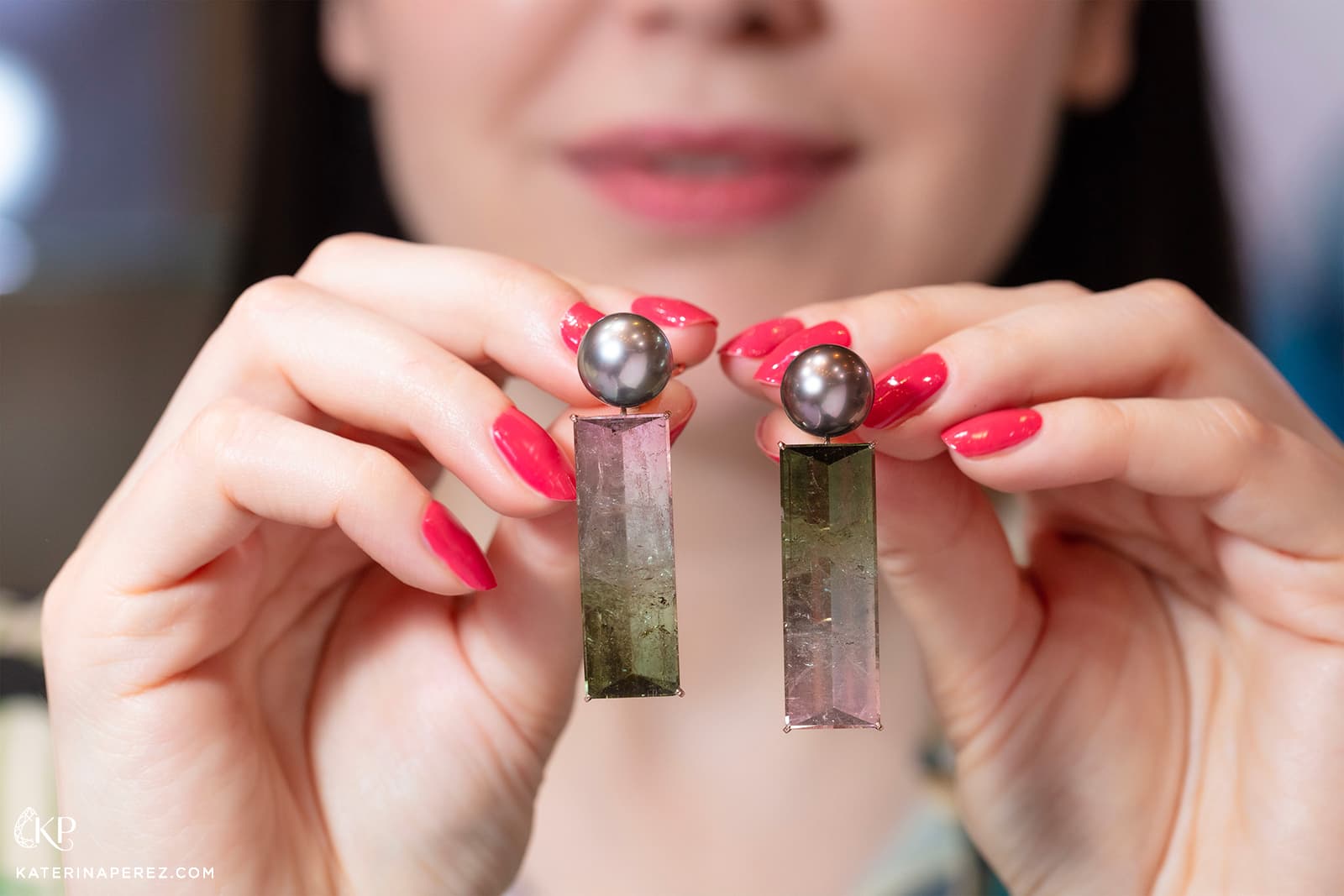 KP: And what are your personal favourites in the collections right now?
PG: I love the combination of Golden South Sea pearls with the golden-woody natural veining in turquoise. I am particularly fond of a modernist pair of earrings using these gems. I must also add a very recent piece that we showed at Couture. It almost didn't make it... I had to hand-carry it to Las Vegas with me. The combination of something as precious as 'Angel Skin' coral with the much less precious 'Sunset' chalcedony seemed right, as did the round shape at the top of the earring and square shape beneath. We completed the earrings with single-cut diamond pavé, as I didn't want the traditional scintillation of brilliant-cut diamond pavé overpowering the softness of the coral and chalcedony.
KP: If you were to ask me what caught my eye at Couture, I would definitely mention the new ring with an unusual gem called…violane!
PG: I loved the violane the minute it crossed my vision. It was at Tucson and I had never seen anything quite like it. I immediately thought of a blue sky with clouds, in varying shades of white and grey. What better way to amplify white clouds than white pearls? I learned from the violane dealer that it was a diopside and therefore quite brittle. I knew that we'd need to set it in a way that totally protected it. The first piece has 'clouds' of South Sea, Akoya and extremely light silver Tahitians, set all around and higher than the violane. I should point out that violane is not 'precious' in the traditional sense. The rough material is inexpensive. It is the cutting and the risk of doing so, along with the risk of using such a material and the labour needed to set it properly that makes it precious. But perhaps even more precious is that the owner of the ring will be sophisticated enough not to need others to recognise her gems and won't see other pieces like it.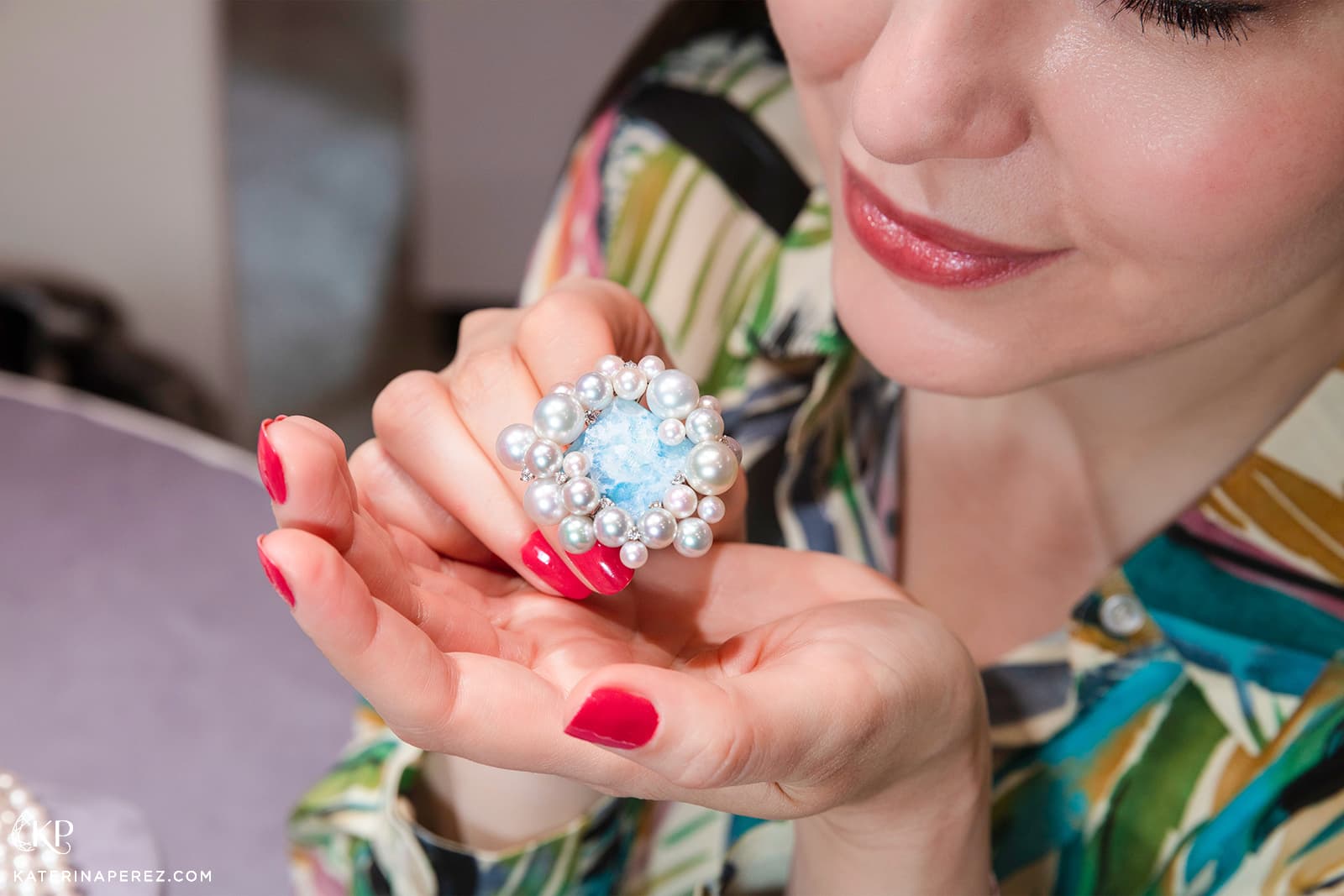 KP: Where do you see Assael in the future?
PG: I see Assael exactly as Christina and I discussed; becoming closer and closer to a small luxury brand in the true sense of the word. People tell me that we are a luxury brand, but the truth is that we are a luxury trade name. Tiffany is a 'brand'. The French luxury maisons are brands. Assael has all of the makings of a luxury brand. We have a legacy of 75 years, quite a story! We will continue along the path that Christina and I started - today's version of the path that Salvador Assael began 75 years ago.
I am sure you will agree with me that there is no one better than Peggy Grosz to continue the Assael legacy. I look forward to being surprised and delighted by the brand's upcoming creations, whether they be set with coral, Tahitian pearls, South Sea pearls or rare coloured gemstones.