Whether you are drawn to the rarest black opals, unusually-shaped boulder opals, fire opals or one of the 140 types of opal gems in existence, there's something special about knowing each one is entirely unique. Watching how designers use these one-of-a-kind materials in finished jewellery pieces is a little bit like looking into their minds and witnessing their brand DNA in action. Here are five designers who've let me into their worlds via a special look at their opal jewels.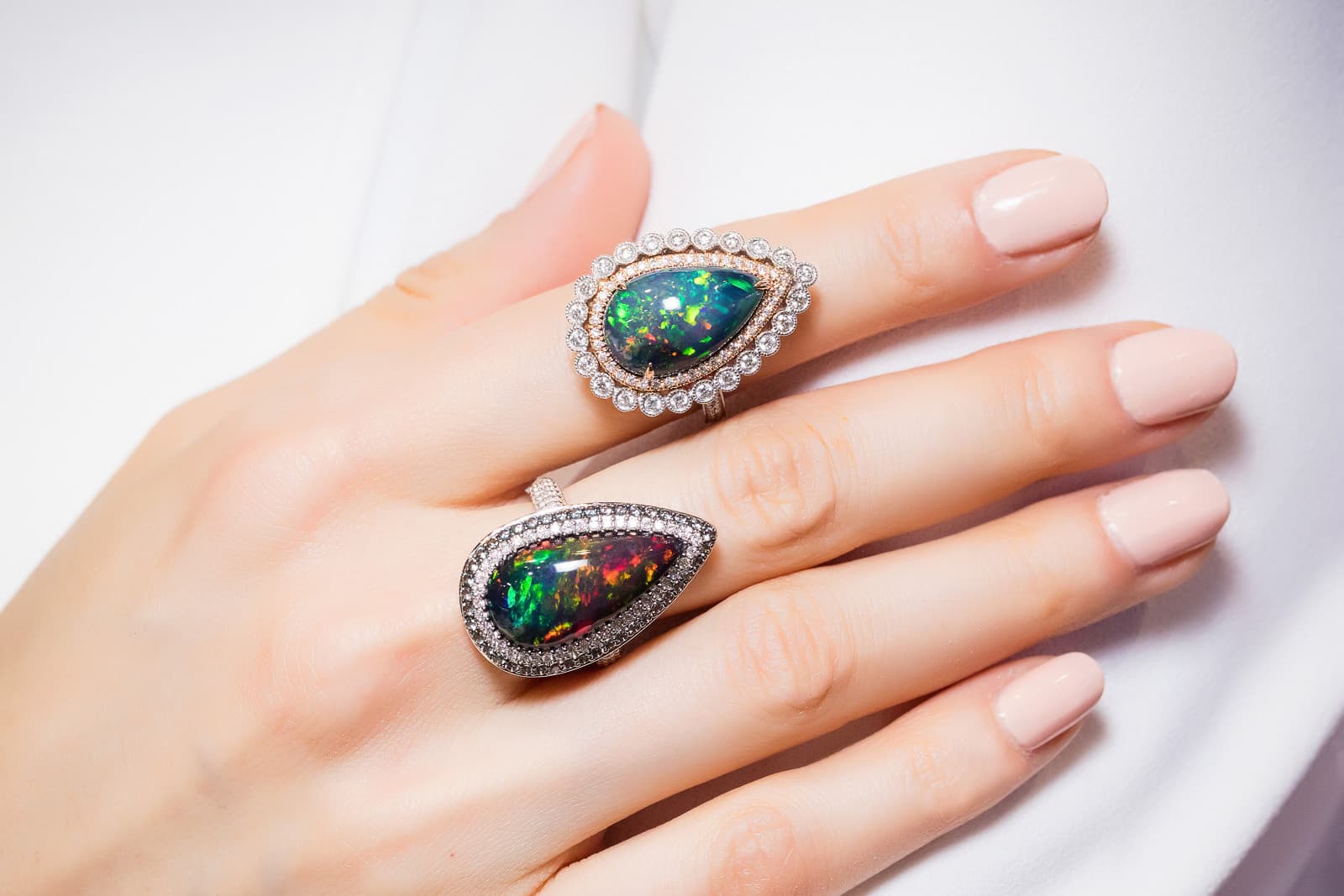 "I see opals as much more than a pretty gemstone," explains Ruchi Kotahwala, the Founder of Ruchi New York, who I've had the pleasure of interviewing previously. "The kaleidoscopic colours and fiery flecks of diffracted light are truly magical. I love to combine opals with other gemstones to enhance its play of colours." For Kotahwala, who grew up in India and now lives and works in New York, gemstones have vibrational energies and healing powers that add a deeper layer of meaning to her jewels. She tells me: "My love for opals stems from the fact that opals bring love and positive emotions in the life of the wearer." Her collections include Ethiopian opals with a watercolour-like canvas and Australian black opals, paired with emeralds and multi-coloured sapphires.
Based in the United Kingdom but hailing from China, Fei Liu is a bespoke jewellery designer whose unique creations are all about colour, volume and storytelling. He says: "When hunting for gemstones, I saw some opals and was instantly inspired. They made me think of the people who follow my work. Every time I pose the question of their dream gemstones, they always say opal! This is why I have designed more jewellery around opals recently. It's also fun to experiment with gemstones and find the ones that amplify the colour play of opals." Examples from the Fei Liu archives include painterly light opals with pastel hues; opals with demantoid garnets in yellow gold; black opals with deep blue sapphires, and boulder opals with orangey-red garnets.
I once described Anthony Lent as the "master of sculptural and whimsical jewellery", and I am sure you will agree with this assessment when you see his collections! Based in New York, Anthony has been handcrafting jewellery for almost fifty years, however, the official brand launch was initiated by Anthony's sons David and max in 2013. The jeweller works with black opal and fire opal in magical combinations of gold and coloured gems, often imbued with a fairytale origin story. "I have always been intrigued by the magic of the opal's fire and life," he tells me. "It is like gazing into a gateway to another world, yet this world is found deep within our own earth." One of my favourite pieces is the Fire Opal Muse Dream Ring with a great shock of orange emerging from a woman's face, carved in gold and accented with diamonds.
Yael Designs hails from San Francisco and is led by designer Yehouda Saketkhou, whose skills with opals I've described in previous articles. There's an unstoppable imagination to Yael creations, which is only accentuated with the whimsy and possibilities that opals provide in the design process. Yehouda explains: "I love working with opals because of their play of colour – it's like looking into a kaleidoscope. Seeing so many colours in a gemstone is purely magical." There are many pieces to choose from in Yael collections, but what unites them is a skilful balance of colours and tones. Take for example the pairing of morganite and opals with a pastel pink shift; free form boulder and fire opal 'toi et moi' bangles, or fire opals clashed with turquoise.


I had the pleasure of meeting Guita Dovas from Guita M Fine Jewels at JCK Las Vegas in 2017. I was immediately struck by her adventurous spirit, which she expresses through unconventional and unusual materials in her jewels, including carved materials, woods, gold in quartz and jades. She says: "I love the quote: 'The earth writes its memoirs in each and every opal'. Opals have always intrigued me, mostly due to the many varieties one can find. For me, opal encompasses all the beauty of nature." Guita M Fine Jewels uses opals like a medium of transportation, taking us away from the daily grind and revealing a more colourful and exciting world. Guita adds: "Depending on the opal and its shape, you can see the oceans, the skies, jungles, sunrise and sunsets…it is an emotional stone, and its colours and colour combinations offer exciting design opportunities."
I enjoy the idea that opal is the result of Mother Earth having fun, experimenting with colour and letting the 'chips fall where they may'. After all, there's no planning in the world of opals, just fortuitous cracks and voids that fill with silica-rich water over millions of years. What we get to enjoy in jewellery form is accidental magic!