All of us, at one point or another, have imagined an oceanside life when throwing open the curtains in the morning means looking out onto the beach and the water beyond. Personally, whenever I imagine this paradise in my mind's eye, I am immediately transported to the Mediterranean Sea – the limestone fortifications of Malta, the whitewashed houses on Greek islands, and the long coastline of Spain from Malaga to Barcelona. Someone with a much deeper connection to this Spanish stretch of sunshine is jeweller Inés Nieto, who was born and raised by the sea. Now she is living an urban life in London, and it is understandable that Inés uses her jewellery designs as a method of mental transportation… returning time and time again to the oceans of her youth but doing so through the lens of a strong, active and independent woman.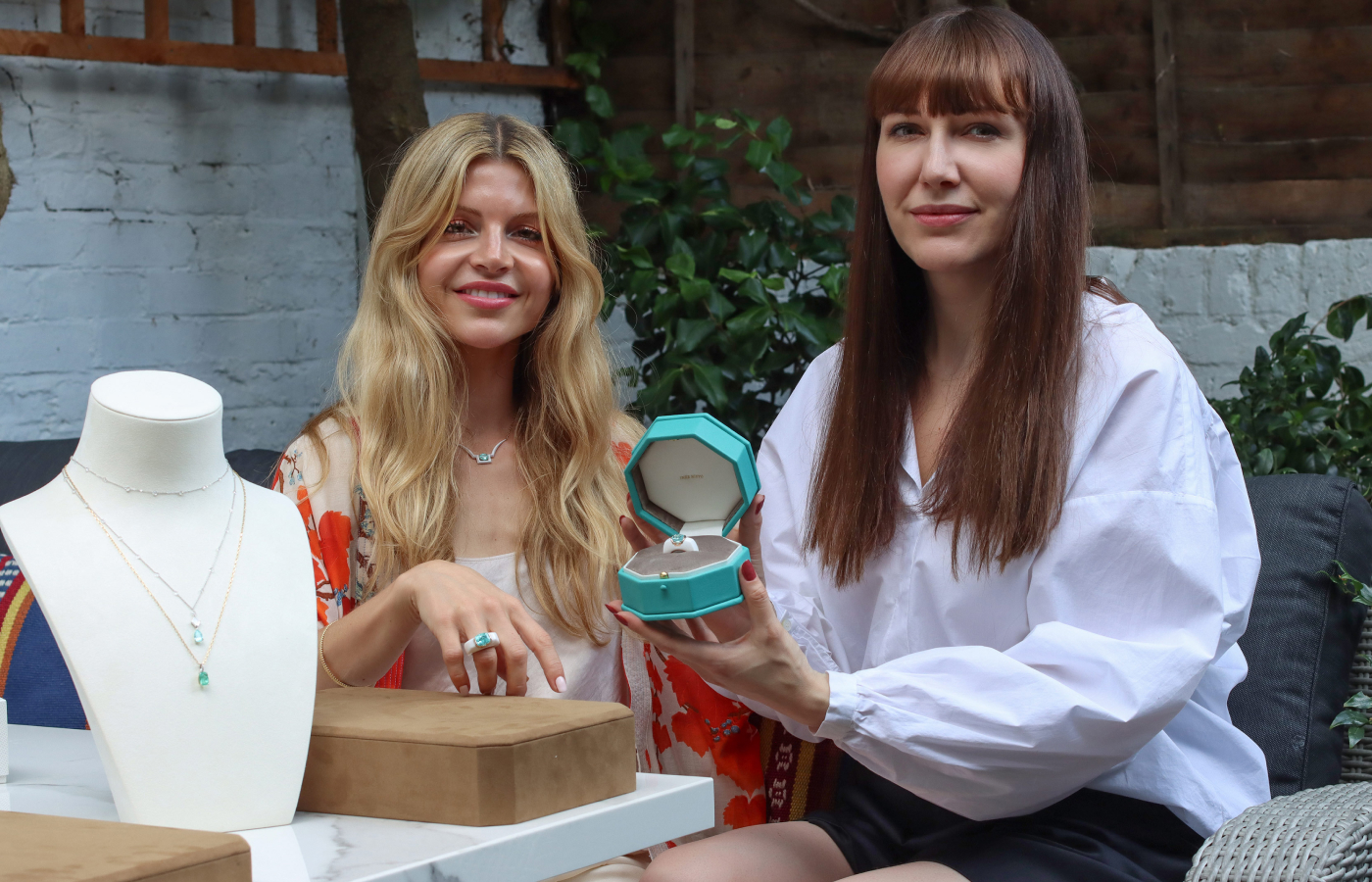 Thanks to her background as an art dealer, Inés has a nuanced eye for detail and a passion for classical antiquities. In fact, when I dug a little deeper into her background, Inés shared that she has a degree in art history and a fascination with three Spanish artists in particular: painter Pablo Picasso, architect and engineer Santiago Calatrava, and fashion designer Cristobal Balenciaga. The combined influence of Picasso's geometric Cubism, Calatrava's sweeping forms in stark white, and Balenciaga's quest for meticulous excellence is her 'recipe' for success. Plus, in keeping with the 'golden age' of Spain, the pieces that emerge under the Inés Nieto banner are focused on shape, dimension and silhouette rather than elaborate pavé surfaces. Inés describes her aesthetic as "understated power", and the idea of David and Goliath springs to mind, whereby something unassuming can be bold and courageous. There's also her laser focus on just a handful of materials, including Paraiba tourmalines, rock crystal, cacholong, ceramic, portrait-cut diamonds, rose gold, and a smattering of oxidised copper, which define her signature style.
Before I dive into Inés Nieto's signature jewels, there's an undercurrent to each of her designs that you must know. Firstly, there's the fact that her pieces are inspired by her Spanish roots, hand-drawn by her in London (the home of the brand), and crafted in Geneva, Switzerland, the pinnacle of excellent craftsmanship. Secondly, there's her focus on fit, comfort and finishing. Inés is an active person, and her daughter, Gigi, is a dancer, so she has a vested interest in creating pieces that can transition from a morning yoga class to a black-tie affair. Her necklaces and earrings are more reserved to suit this day-to-night agenda, but her rings "are more adventurous" and like miniature art objects, according to Inés herself. She continues: "With earrings, the fit is really important because their purpose is to make you look beautiful. But a ring, you can look at it, fiddle with it, it is an object for you to observe while worn, so I really enjoy working hard on rings." I think it is fair to say that the epitome of Inés Nieto's signature style emerges through her rings, notably her hololith pieces cut from a single, solid piece of porcelain-like cacholong in Idar-Obersetin, using skills that have been passed from one generation to the next. "I'm really meticulous," she tells me. "I like a perfect finish everywhere.
Speaking of stones, for her new collection Inés Nieto has devoted herself almost entirely to Paraiba tourmaline, whether it's green, sky blue, neon blue, bluish-green or any nuanced shade in between. "I spent the first 20 years of my life by the sea, and I am very much a beach person," Inés says. "When I was a teenager, I always used to wear turquoise. The first time I saw Paraiba it was another level." Interestingly, although it's fair to say that blue minerals are ideally suited to the summer months, one of the core tenants of the Inés Nieto brand is wearing blue gems and white cacholong all year round. Inés encourages her clients to experiment and mix her jewels with cosy knits and woollen layers to add a pop of brightness in the dark winter months. I can imagine they look especially striking against a backdrop of midnight black!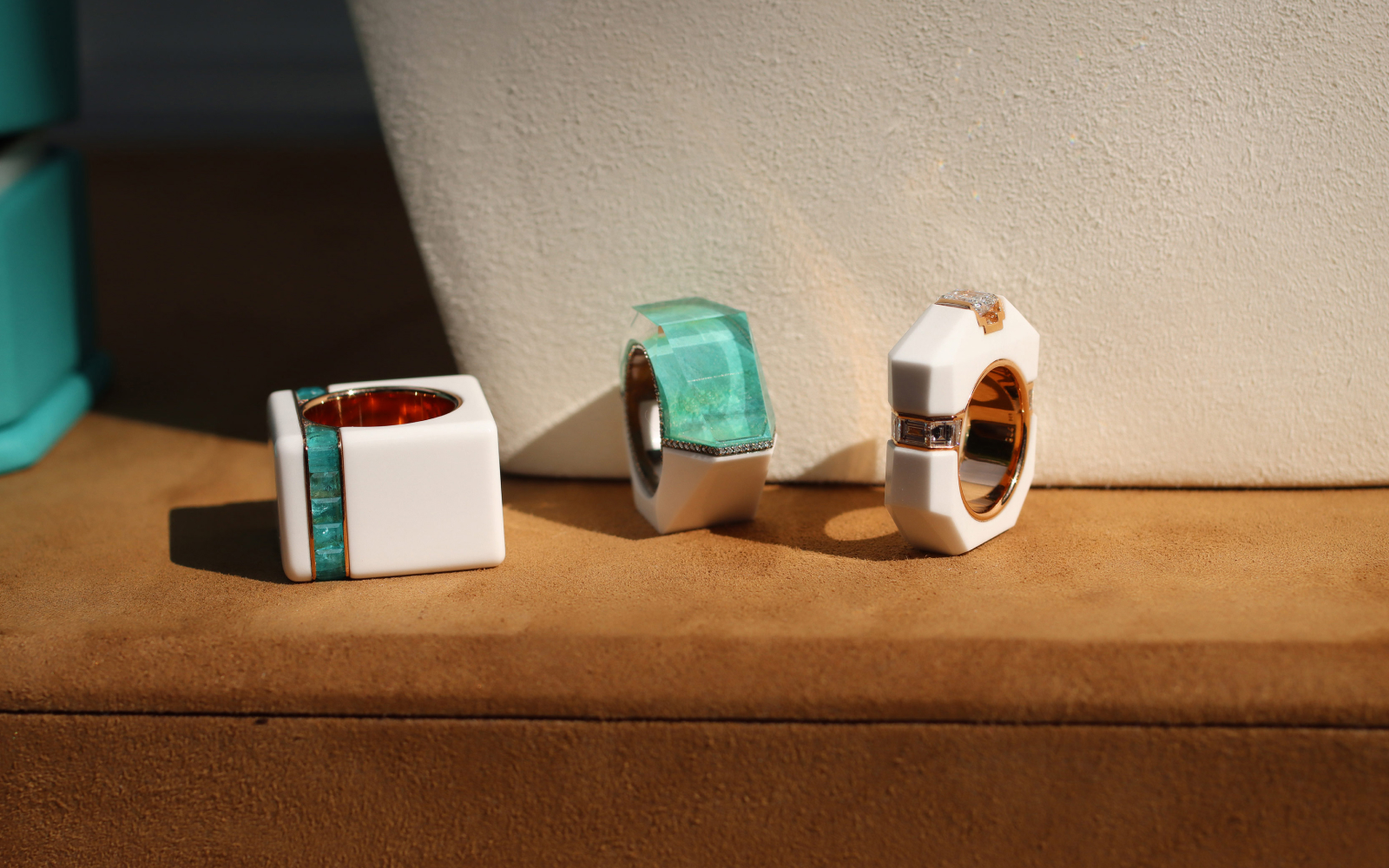 Her willingness to mix-and-match different hues of Paraiba, whether from Brazil or Mozambique, is something I love about her designs. It also ensures she can access this remarkably expensive material by selecting the palette of gems other houses won't. She explains: "People believe blue Paraiba is more valuable, so they pay more for this colour. I love discovering beautiful stones, some are more blue and some more green. I look for that je ne sais quoi. I will go through a big parcel where there will be tonnes of stones; I find the one or two that were overlooked by suppliers but carry unique life and luminosity." A good example of this approach is a pair of 'toi et moi' style hoops with 5.50 carats of oval-shaped Paraiba drops, one in green and one in blue for a touch of playful asymmetry. There's also a ring with an unusual line of carre-cut Paraiba tourmalines from the very first excavation of this gem-type in Brazil in the 1980s – a veritable treat for hardcore collectors!
Another defining element of Inés Nieto's creations is the combination of colours, specifically Paraiba tourmaline with white cacholong, a form of opal, to evoke the 'pueblos blancos' (otherwise known as the 'White Towns of Andalusia') that sit along the Spanish coast. Next there's the use of rose gold, yellow gold and even grey gold, with smatterings of platinum and oxidised copper. The softness of rose gold, again, is related to the idea of being on a sun-soaked beach. This alloy performs better in natural light than at nighttime, paying homage to long Mediterranean days. She continues: "I like this sort of macaroon-type look of pastels; the pink gold with the Paraiba, the white of the sand, the turquoise." When diamonds are present in her designs, they aren't the clinical round brilliant-cuts that dominate the market. Instead, we find portrait cuts, asschers, baguettes and rose-cuts, plus lines of micro-set diamonds for a subtle hint of sparkle. Interestingly, though, Inés Nieto is stepping into fancy-cut and shaped diamonds, specifically a bull-shaped stone, which is the perfect choice for Taureans!
This is all part of the Taura collection, which draws inspiration from the bull, a "Spanish icon," according to Inés, but without being too literal. In pendants, the shape of a Spanish Fighting Bull's head and horns is imagined through an abstract motif – a kind of sweeping line that's not dissimilar to Santiago Calatrava's architectural style. This is paired with shield-shaped portrait-cut diamonds or pear-shaped Paraiba tourmaline drops, depending upon the finished design. In rings, this same motif is built into the foundations of a step-like setting for diamonds and Paraiba tourmalines, with internal surfaces set with small champagne-hued diamonds for good measure. If I were to pick a favourite piece, it would be a ring forged from a single piece of white cacholong, with a smooth interior surface of rose gold, a rose gold setting and a cushion-cut Paraiba tourmaline of 5.82 carats. The perfect marriage of Spanish culture, sun, sea and sand.
Having spent ten years creating bespoke pieces for private clients, it is wonderful to see Inés Nieto concentrating her signature style into a collection that's wearable, meaningful and full of her recognisable design elements. I keep imagining the Taura necklace layered with her delicate diamond-set Rosary necklaces, a pair of mismatched Paraiba tourmaline hoops, and a ring that is so expressive and different you'd simply have to ask about it. And maybe this is the magic? The necklace to introduce yourself, the hoops to start a conversation, and the ring to make a lasting first impression.