One of the biggest jewellery trends to emerge in 2017 was the use of mystical and spiritual talismans to adorn ourselves. Over the last decade, the fine jewellery industry has celebrated, revered and even expropriated religious, cultural and historical symbols of faith from all over the globe. This trend has evolved to become altogether more inclusive, more refined and more personal.
The concept of wearing jewellery as a talisman for protection, good fortune or healing is as old as human civilisation itself. Jewellery and adornment has served as a type of armour, as an amulet, and as an identifier of status or beliefs. Contemporarily, we still utilise jewellery with recognisable symbols, so that we can convey the spirituality which we hold dear.
All gemstones and precious metals are historically associated with certain properties; garnets were believed to encourage healing after battle, and gold coins were incorporated into jewellery to promote wealth and success. In modern times an Italian brand Dubini creates fine jewellery incorporating Ancient Greek coins, some of which are as old as 323 BC, while Bulgari's 'Monete' collection utilises ancient coins from around the world, imbuing the pieces with a sense of significance and reverie.

Modern interpretations of this ancient tradition can be discovered in the world of fine jewellery through the Amulette de Cartier collection, or the 'Talisman' pieces by De Beers. Here, the designers of the French brand focused on the use of enamel in various colour, while the jewellers of the second brand incorporated rough diamonds in a variety of warm tones, as well as finely engraved gold, emulating the appearance of ancient coins.

These symbols of faith or talismans are most often created to be worn as pendant necklaces. This is possibly due to the fact that a necklace allows the wearer to display or conceal this highly personal jewellery more easily to others, in comparison to a ring, or bracelet. Furthermore, having the talisman jewellery sit on the chest - in close proximity to the heart - provides a feeling of deep comfort and connection.

Religious symbols such as the Crucifix, Star of David or 'Om' are frequently reinterpreted in jewellery. Recently, more traditional ancient symbols such as the 'Evil eye' - which is used to ward off evil spirits - was reimagined by many designers, including Ileana Makri from Greece. She created a variety of pedants, rings and bracelets featuring diamond and sapphire eyes. The 'Hamsa hand' also became especially popular, and the Turkish jewellery house Molu has created 'Mystics' collection incorporating mother-of-pearl, turquoise and diamond pendants with this symbol. It is worn to provide protection, with the Hamsa hand representing the hand of God across all faiths.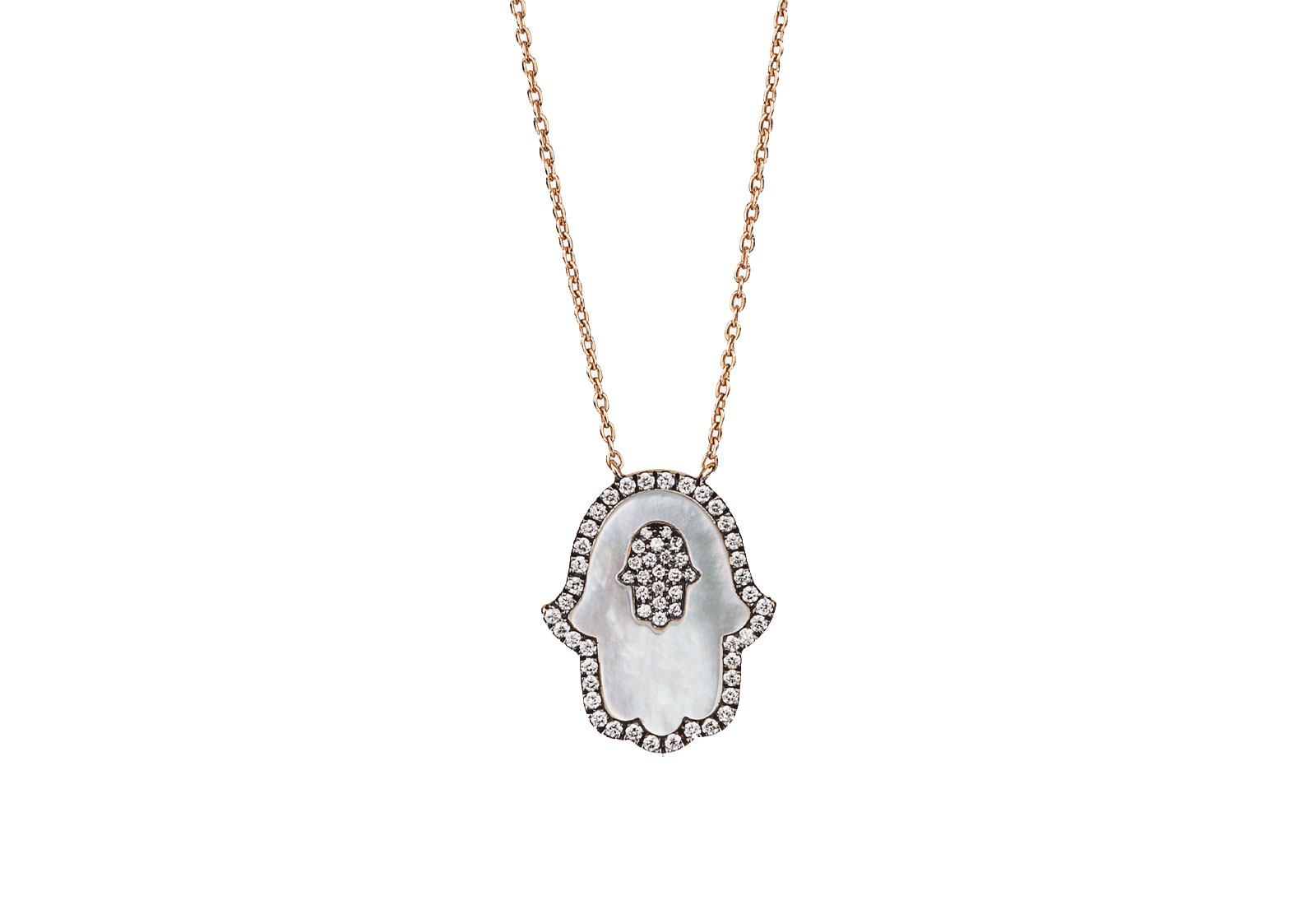 A modern method of including personal symbols in jewellery is to wear them as a charm, which the brand Annoushka have recently achieved with the release of their 'Touch Wood' collection. The collection includes jewellery pieces utilising symbols such as the Russian Orthodox cross, bedazzled in 88 hand set diamonds totalling 0.27 ct with black rhodium. This was presented alongside other charms relating to Annoushka Ducas' Russian heritage, such as wooden and gemstone elements mimicking domes of Russian churches.
For many, any item of personal fine jewellery which they adore serves the purpose of creating a feeling of good fortune and protection. It is common to feel that your favourite fine jewellery pieces act as armour between yourself and the outside world, and the treasures which we hold dear still feel as precious as ancient amulets did thousands of years ago.