Spessartite takes its name from the place where it was discovered, the mountains of Spessart in north-west Bavaria, Germany. The stone was first described in 1832, but until the 1990s, no significant, sustainable deposits were known about. In 1991 a large seam of spessartite was discovered in Namibia, then in Nigeria in 1999 and more recently in Mozambique. The mineral can also be found in small quantities in Brazil, Burma, Madagascar, Tanzania, Sri-Lanka and the US.
A spessartite garnet is typically orange-yellow, orange or orange-red in colour, due to the presence in its chemical make-up of the element manganese. Swap it to iron, and the colour will change to red or pyrope garnet. Spessartites vary in shade depending on where they come from: stones from Nigeria tend to be either bright and vivid or darker, with a reddish tint, whereas specimens from Namibia are bright electric orange, their colour often compared to that of the drink Fanta. The latter sunny orange colour is considered the rarest and most attractive, hence Namibian garnets are referred to as 'mandarin' garnets to differentiate them from other stones from the family.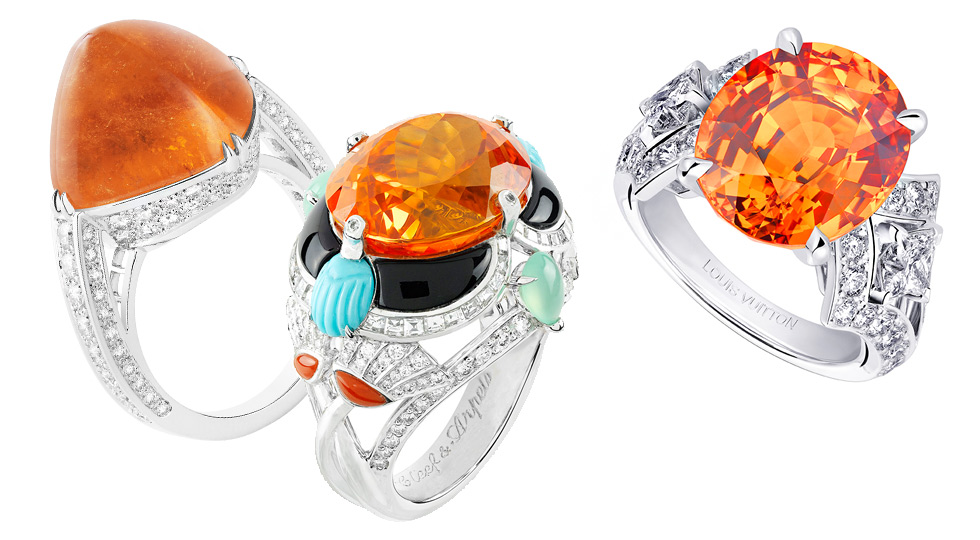 An interesting feature of spessartite is that it cannot be enhanced in any way, which means that if a stone is particularly beautiful, you know it is all natural. Even though the appearance of spessartite cannot be modified, you still find imitations made using glass or other forms of garnet. Cut orange garnets can sometimes be mistaken for similarly coloured varieties of tourmaline and zircon.
You can bet a stunning gemstone which cannot be artificially tampered with is worth a stack of money! Its comparative rarity means that a high quality spessartite garnet is the object of desire for collectors of valuable precious stones. This type of garnet is usually found in large crystals, but finding a spessartite that can boast high purity is not at all easy, which explains why you rarely come across a cut stone without inclusions which exceeds 10 carats.
One of the more expensive spessartites ever sold that I have heard of was a mardarin garnet weighing somewhere in the region of 8 carats. It fetched a price of $2,400 per carat. As with any precious stone, the price depends fully on the quality of the stone, its carat weight and how close to perfect the colour is. It is hard to give accurate projections of the price of spessartites because their value is not always consistent, but it is certainly true that a Nigerian spessartite would be several times cheaper than one from Namibia.
Gem quality spessartite has only recently arrived on the scene, meaning it does not have the same sort aura of wonder and mystery surrounding it as, say, diamonds, but their bright, alluring colour nonetheless charms many. Van Cleef & Arpels, Bulgari, Cartier, Dior and Louis Vuitton are among many jewellery houses who already fill their collections with exquisite examples of spessartite jewellery. As a final note, the Smithsonian Institute in Washington has three wonderful specimens to its name: two unique red-orange spessartites from Brazil, weighing 109 and 54 carats respectively, and 30 carat orange stone from Madagascar.