"The couple collected jewellery between 1960s and 1980s. Every time the gentleman bought a painting, he got a few jewels for his wife, because the prices of jewels were so different! For example, if he bought a Kandinsky painting, he would get a few pendants for his wife. New acquisition was always considered a big event, and the whole family would get together to open the new piece of the collection," says Marie Cecile, a junior jewellery specialist at Christie's.
Interestingly, at the birth of the Art Nouveau genre, the most popular jewels were still those strewn with diamonds. But this didn't stop several brave jewellers from overtaking trends and following their original, creative vision of pieces made from gold, enamel, baroque pearls and coloured gems. Among them was René Lalique, who is rightfully considered one of the founders of the Art Nouveau style.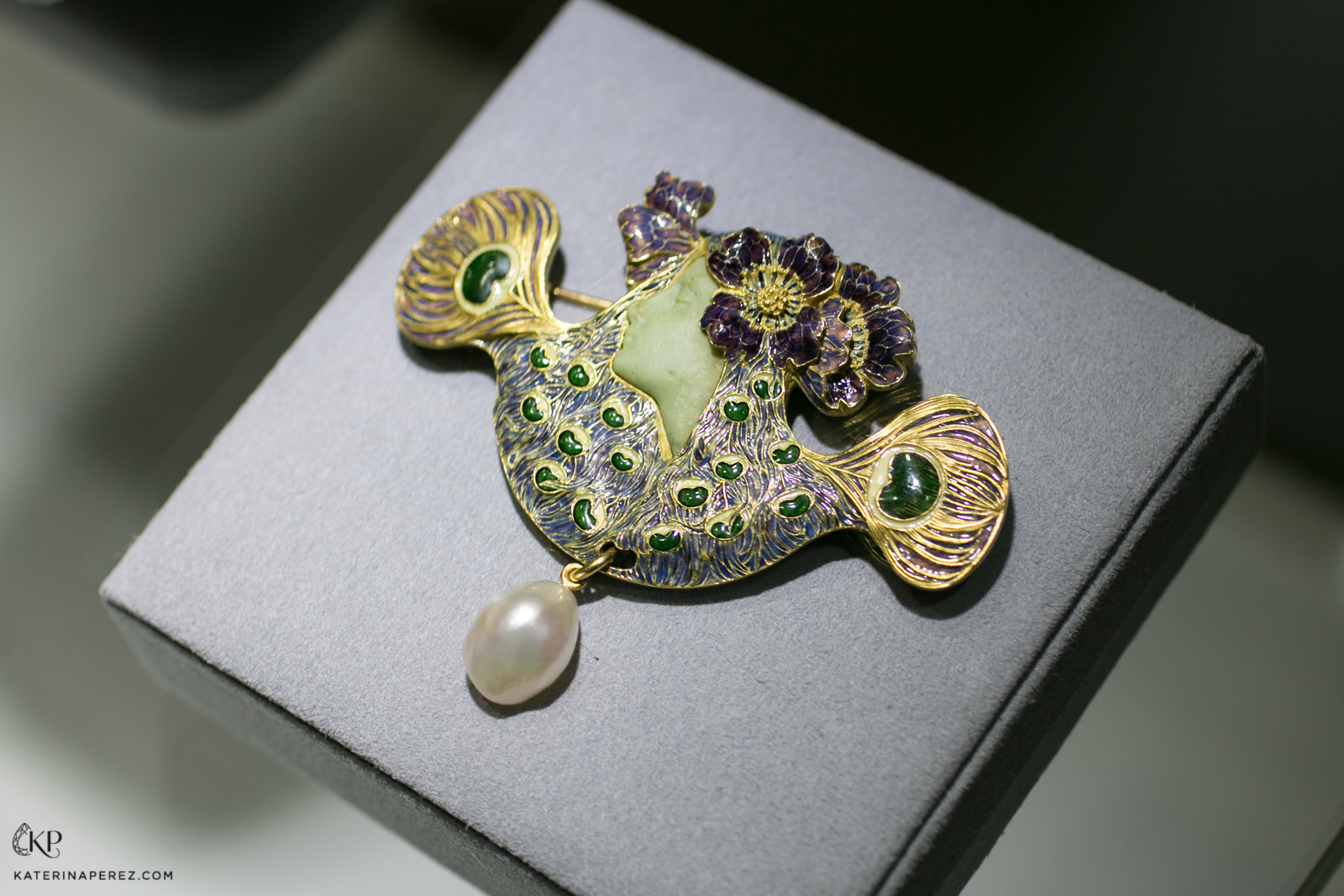 Artist, jeweller and genius of his time, in the early 1900s he subverted the notion of jewellery design, though at the time his jewellery was valued dozens of times lower than it is in the present day. 45 items signed by René Lalique have survived to this day thanks to the private collection of the European family, who carefully stored them together with several other jewels by the legendary jeweller Georges Fouquet, as well as Henri Vever, Eugène Feitre, Lucien Gaillard and others.
"It was quite brave to collect this jewellery in the 60s, because at that time such pieces were just sent to be melted for gold due to their low value," says Marie.
Among the most valuable Lalique items up for auction in Geneva on 13 November are a brooch in the form of an apple blossom made of glass, enamel and diamonds, a burdock brooch with a heavy rectangular aquamarine and enamel, and a gold brooch in the form of bunch of plums with an opal mosaic and vitreous enamel. All these pieces are given a preliminary estimate of 90,000-130,000 Swiss francs.
Once the European collectors have gathered all the jewellery they liked in the Art Nouveau style, they switched to abstract and geometric Art Déco pieces. This style was born in 1925 after the grandiose International Exhibition of Modern Decorative and Industrial Arts was held in Paris. Twelve volumes of a new encyclopedia about decorative art resulted from this – and here the name "Art Déco" appeared.
Among the Magnificent Jewels at Christie's, there will also be several dozen pieces by the outstanding jeweller Raymond Templier, as well as Jean Fouquet (son of Georges Fouquet), and several works by jeweller Janesisch. Each of them is distinguishable by their minimalism, a palette of contrasting shades and a striking combination of matte surfaced metal or rock crystal with sparkling stones.
"What a surprise for me, after more than forty years, to see this jewellery I bought, then proposed to this couple who had the taste, courage and vision to keep the pieces together and preserve them, though it would have been simpler for them to purchase beautiful stones and have them custom-set, or buy pieces from the major Place Vendôme jewellers", says Michel Perinet, owner of the former Galerie Michel Perinet, Paris.
Now, these works of art by great jewellers are looking for new owners. I very much hope they will fall into the hands of collectors who will preserve the unique masterpieces by Lalique, Fouquet, Templier and other maestros for future generations.