If you were impressed by last year's selection, hold on to your hats jewellery lovers and get ready for 2022. This year's TEFAF line-up comprises 13 jewellers and jewellery dealers from around the globe including the United States, Netherlands, Switzerland, Belgium, Germany, United Kingdom, France, Monaco, Italy and India. Let's take a closer look at the "ones to watch" who will exhibit from Friday, June 24 until Thursday, June 30, 2022.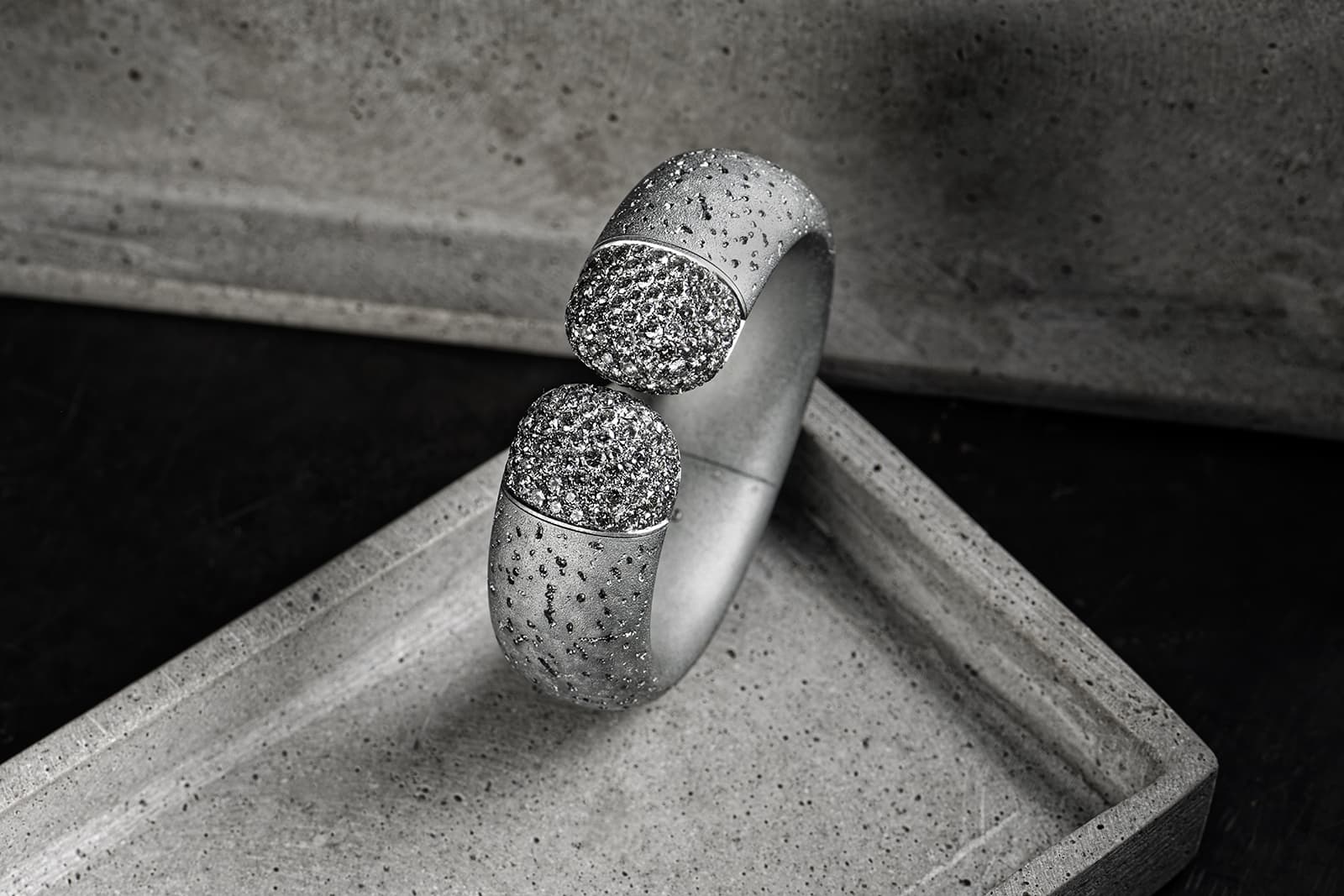 The Swiss high jewellery Maison Boghossian is presenting for the first time at TEFAF. Creating pieces inspired by diverse cultures, societies and natural landscapes, the brand brings an incredible selection of high jewellery pieces to TEFAF that honour its worldly heritage through precious gemstones and metals. Known for its Kissing Gemstone collection, where precious stones are set flush against one another, this Kissing Coral Reef bangle is the epitome of the technique. Composed of an impressive oval-shaped Paraiba as its focal point, this rare gem is surrounded by hauynite and set over a white 'Huaigu' jadeite to amplify its glowing blue hue, with lapis lazuli, opal doublets and diamonds.
One of TEFAF's most regular exhibitors, self-taught artist and goldsmith Otto Jakobs considers the Maastricht exhibit as one of the exclusive venues at which he displays his one-of-a-kind creations. This year, he will be presenting his Danbala ring, a remarkable piece which brings a strong dose of futurism to an architectural structured piece. This unique diamond ring features a teardrop-shaped diamond set in a snake-like cage of precious white gold and yellow gold. The diamond acts as the head of this futuristic reptile, whose jagged metal body winds itself around the wearer's finger.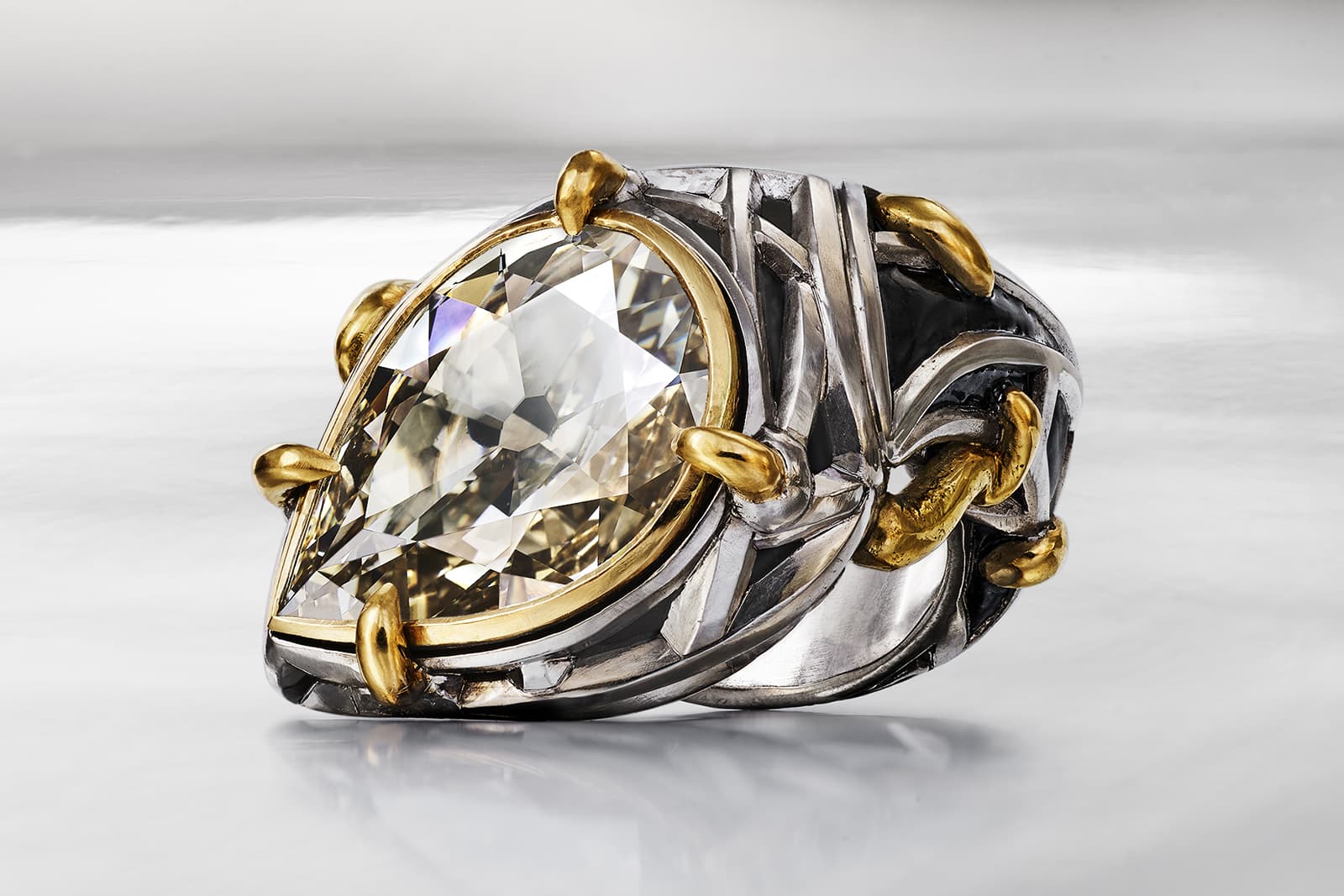 Considered one of the world's most inventive jewellers, fourth-generation jewellery brand Hemmerle brings together rare materials and pieces the family has gathered during its treasure-hunting excursions since its founding in 1893. This year, its drop bronze earrings are perhaps the most impressive accomplishment. Featuring a series of diamond hoops stacked in size, the bronze centre of the earrings features an ancient female Roman bust, reminiscent of an antique coin. This classical figure, surrounded by rounded layers of diamonds set in white gold, is the perfect example of how Hemmerle has mastered melding the ancient with the avant-garde. A one-of-a-kind creation, these earrings are both classic and modern in their appearance, peaking one's interest and creating a sense of mystery and intrigue.
Anna Hu
To co-celebrate TEFAF Maastricht's 35th Anniversary Edition this year, Anna Hu will present 35 pieces of her latest creation reflecting the three main themes in the Maison's deep DNA since 2007 : Art Deco with La Caprice Art Déco, Music with La Variante Silk Road Rhapsody and Florals with La Fantasia de Fleurs, from contemporary art deco to oriental classical art, Anna will bring vivid interpretation of classic cultural elements into this TEFAF exhibition. She insists on creating jewellery with the centuries-old French inlay technology and integrates oriental connotations into it. It is called the representative of Chinese and Western High Jewellery Art.


From its London-based private showroom, jewellery brand Symbolic & Chase stocks pieces of fine jewellery with an important anthropological perspective, emphasising the provenance and historical background of their materials. This necklace, composed of 70 polished emerald beads, set in yellow gold with diamonds and enamel, dates to the 17th century. Incredibly rare and in pristine condition, this necklace was once owned by the House of Wettin, one of the oldest dynasties in Europe with its origins in the 10th century. As members of the Saxon royal family, this necklace was passed down through the ages eventually making its way into the famous jewellery collection of the American socialite and philanthropist Mrs Jayne Wrightsman. Now for sale at the TEFAF Maastricht event, it is incredibly rare to have such a historic piece available with a past that can be so precisely traced.
Antique dealer and jewellery collector, A La Vieille Russie is famed for its rare collection of beautiful and historic Russian and American works of art. This year it has a particularly impressive piece on display at TEFAF - a striking starburst diamond antique brooch set with over 20 carats of diamonds by the New York jewellery gallery Howard & Co. Another monumental must-see item at its stand is a 1960s bombé cluster ring, set with seven moonstones and 10 diamonds. This ring's organic and fluid aesthetic was truly ahead of its time.
Founded in 1958 by Nicole Verschuere, Epoque Fine Jewels specialises in collecting distinct jewellery pieces from the Art Nouveau, Edwardian and Art Deco periods. This Garland-style brooch on display at this year's exhibit is a true feather in its cap. Composed of diamonds set in platinum, this Art Deco piece, created in 1912 by Cartier, comes from an important New York estate. Light and airy but of an impressive size and length, this elegant jewel is in perfect condition, with its makers' mark clear: Signed CARTIER PARIS LONDRES NEW YORK Henri Lavabre.
These impressive creations are only a little taste of the wonders that you can look forward to at this year's TEFAF Maastricht fair! Taking place from Saturday, June 25 to Thursday, June 30, 2022, this exclusive event is by invitation only from June 24 through to 2 PM on June 25 at the MECC in Maastricht. We cannot wait to see what other exceptional pieces will be on display.