A Love Letter
Do you want to declare your love in writing? Leave your pen and paper behind – now, you can say everything you want to in words of gold and precious stones. Maria Kovadi has a whole collection dubbed Tell Me More with the inscriptions "Love", "Kiss", "Tell me", "You love me" and many more on rings, pendants and earrings made of white and pink gold with a variety of gemstones.
Rosanne Karmes, the founder of Sydney Evan, has made several delicate pink gold rings and pendants with diamonds and multi-coloured sapphires that have the words "Love" and "I love you" on them. If you want something designed without any stones, then you will find the ideal gift at Solange-Azagury Partridgе: a pure gold ring or pedant with "Love" written on it.
With his pink gold and diamond ring, French designer Lorenz Baumer has set in stone that powerful human emotion characterised by an ardent attraction to someone: passion. Lily Gabriella, meanwhile, has managed to hint at it with her OhLala line of assorted cuff earrings.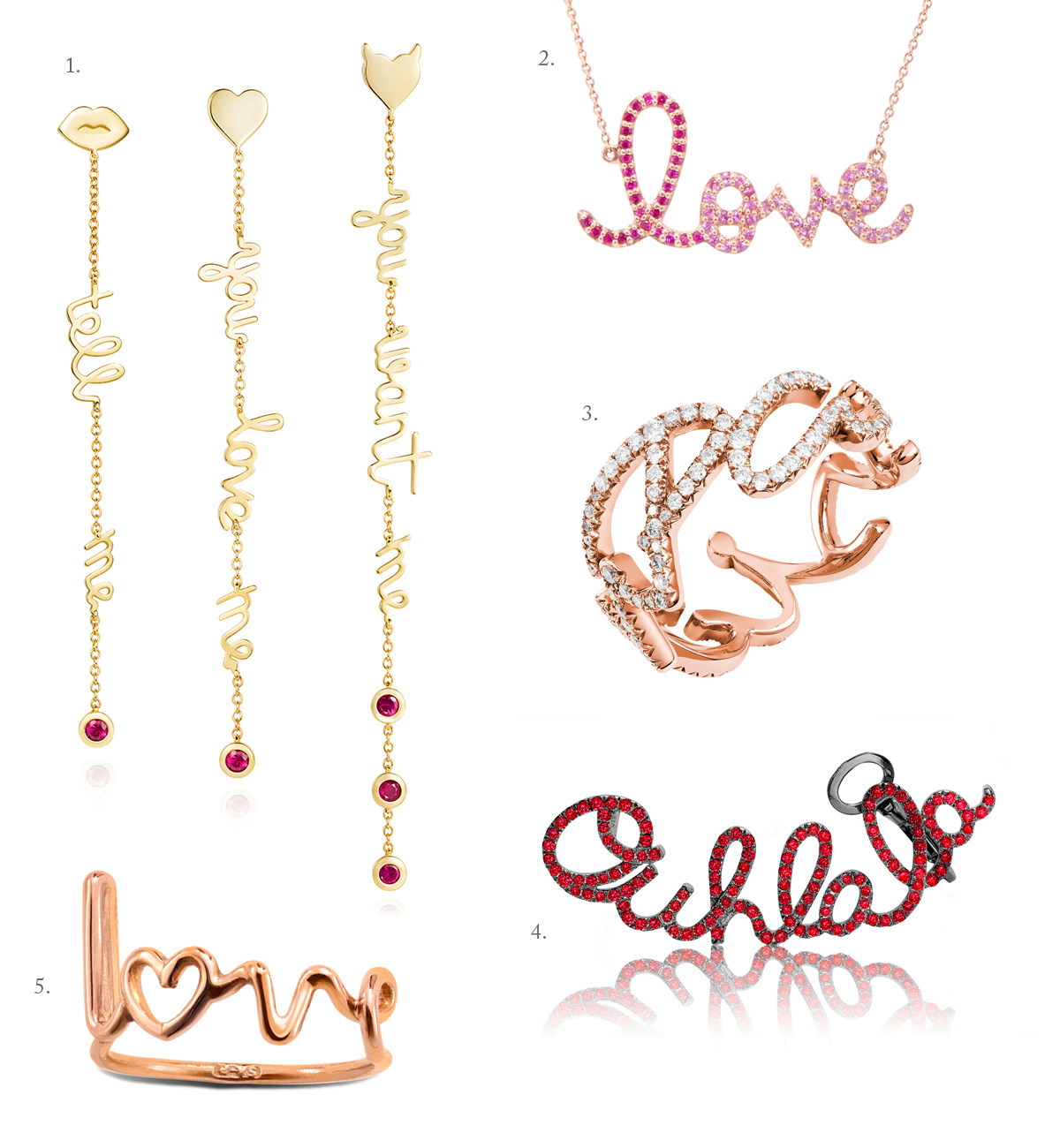 I Give You My Heart
The decorative motif of a heart shape appears so often in the jewellery art of different periods that it would seem all variations on this theme have already been exhausted. Nonetheless, contemporary designers haven't stopped finding new and interesting solutions. For example, Jessica McCormack's rings are entirely encrusted with emeralds or rubies and made into flat hearts with a hole cut in the middle for the finger. British jewellery company Boodles offers the chance to adorn her finger with an entire cascade of diamond hearts in total weighing more than 3 carats which are carefully fixed to the platinum Waterfall ring.
The Italian designer Alessio Boschi has produced an entertaining collection called Surprise Me with rings and pendants that look like little gift boxes with precious stones concealed inside them. After pressing a hidden button, the boxes open and a ruby-encrusted heart springs out.
The limited Zozo Heart collection designed by African brand Patrick Mavros includes very cute silver and gold rings, earrings, bracelets and cufflinks in the shape of elephants with heart-shaped ears. The eyes of the creatures are made of red rubies. The history of the collection dates back to when the Mavros family raised an orphaned baby elephant which they found stuck in a quagmire on their farm in Zimbabwe.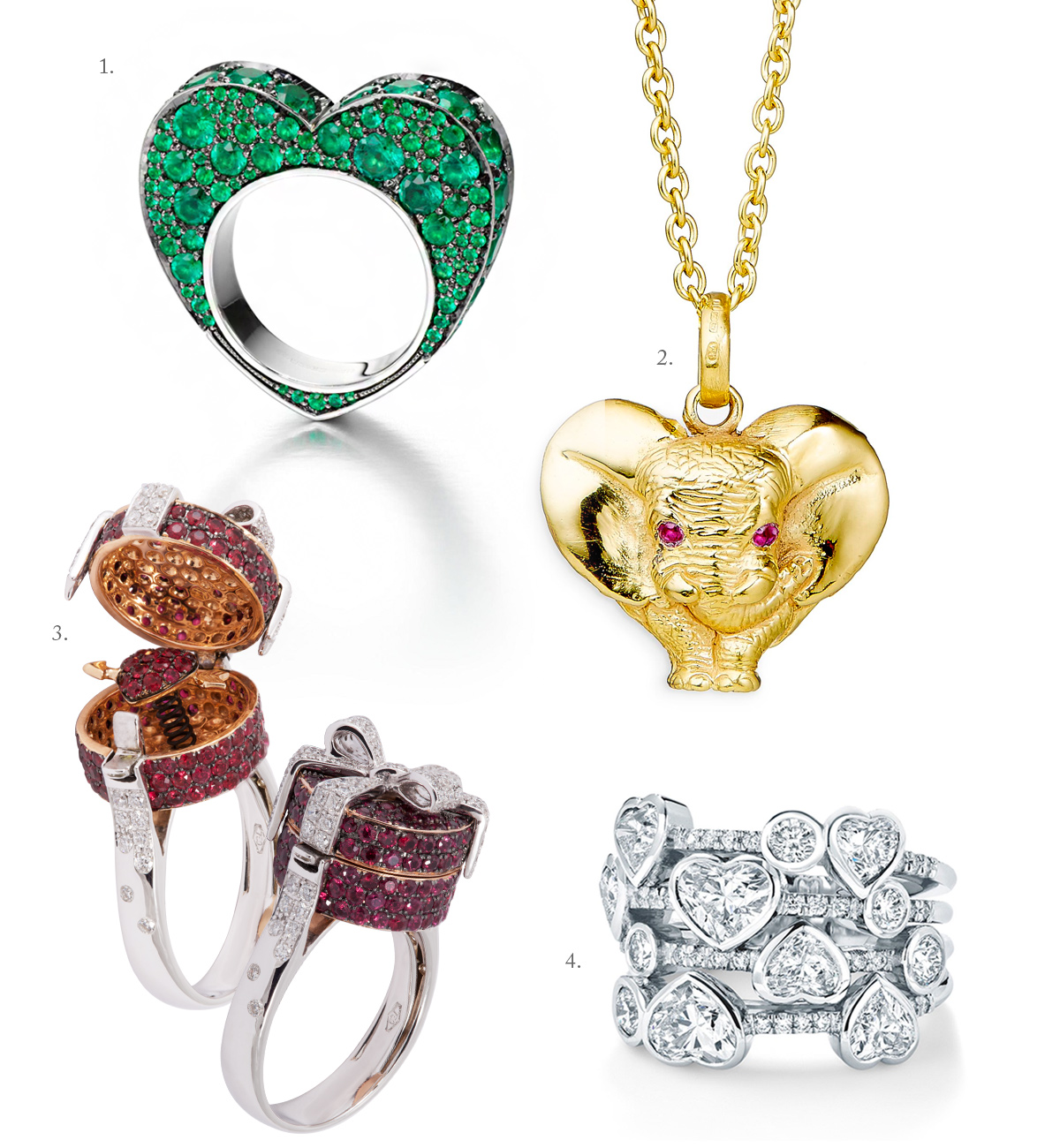 For Him
You can please your loved one on Valentine's Day in an indescribable number of ways, by giving, for instance, something valuable made of gold and gemstones. The most popular amongst valuable men's accessories are arguably cufflinks. A large selection of these can be found at Theo Fennell, including ones made of yellow gold, diamonds and white opal. If you prefer, these can be complemented by similarly designed shirt button covers.
One of Bulgari 's collections includes Bvlgari-Bvlgari jewellery for men with its distinct geometric lines, a minimum of diamonds and the name of the brand in large letters on the shank of each ring and the rim of each bracelet. The pieces are made of white and pink gold as well as ceramic.
The well-known designer of men's jewellery Marco Ta Moco has created medallions on chains, thick rings and masculine bracelets as presents for 14 February. Marco works with all shades of gold (yellow, red, white and rhodium-covered), decorating it, for the most part, with diamonds, as in the case of the open work bracelet below. Jeweller Julien Riad Sahoyun has, by contrast, made accessories for his Just Radiant Skin collection that both men and women can wear. His white and black gold necklace of interwoven chains is simple and universal; it isn't restrictive to any particular style.
Heting, a jeweller based in Hong Kong, has come up with an innovative tie pin design that isn't just intended for men: the decorative accessory shaped like a ladybird, butterfly or another insect from the collection can be removed and placed on a ring-shaped setting for your finger.