Whether it is the undercurrent of positivity in her Kephi collection or the galactic inspirations of the Shristi line, art jeweller Neha Dani has always presented unique works drawn from the depths of her imagination. Her studies in gemmology led to a career in the laboratory before she decided to follow her dreams and create sculptural, three-dimensional jewels with fabulously free-flowing curves, volumes, and silhouettes. In the past, I have written about her inspiring approach to jewellery, which comes from a place of deep respect for 'nature's canvas' and wanting to push the boundaries of art and design. One of my all-time favourite designs is the Amaranté cuff, which warranted its own article thanks to 12,000 fancy pink diamonds and 18 vivid purplish pink diamonds for a total weight of 72.83 carats!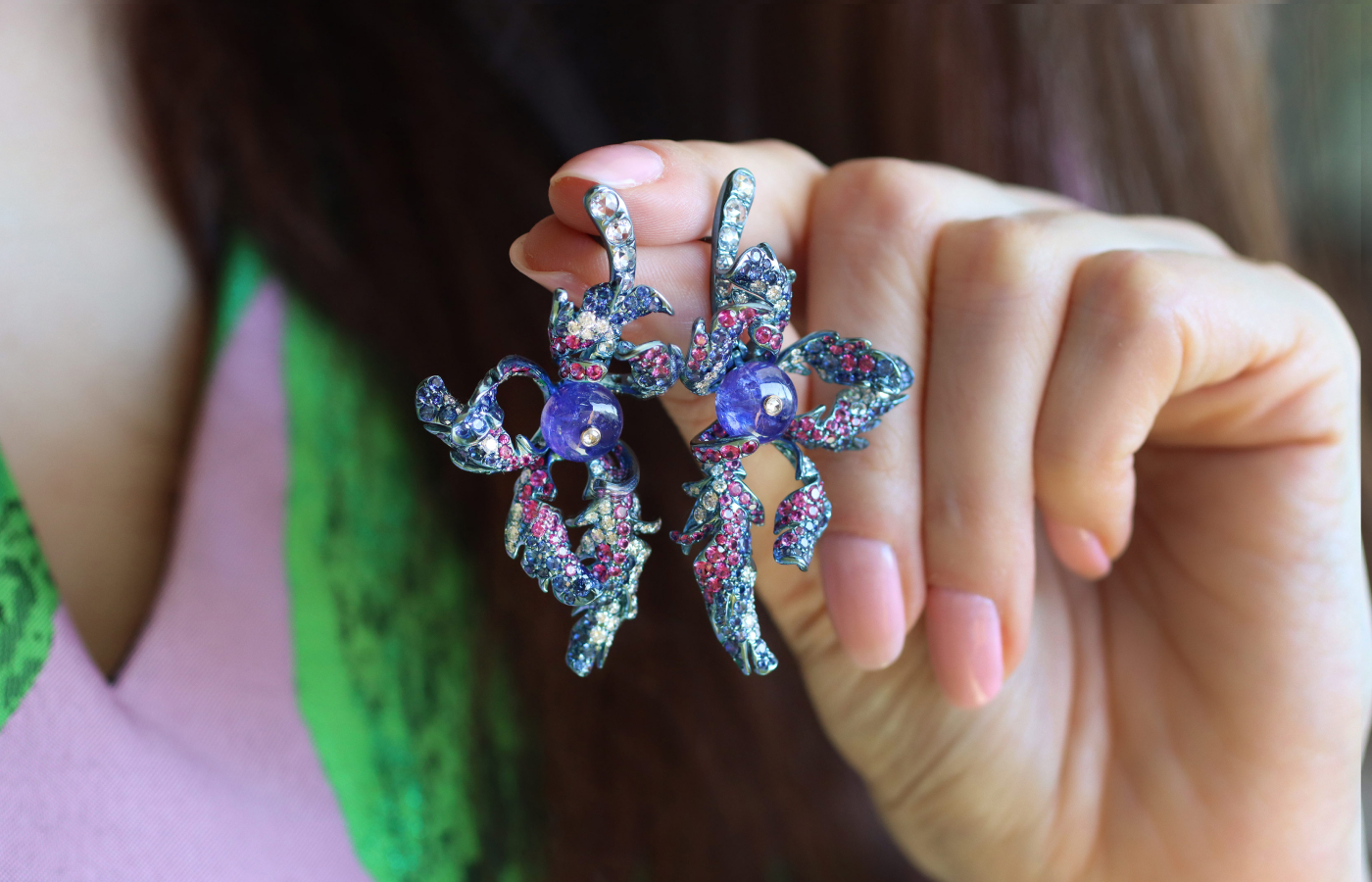 Now, though, I am pleased to share insights into some new designs which will appear at PAD London. Neha Dani is preparing to exhibit at the show and put her jewels in the spotlight alongside exhibitors of various art forms, from paintings to furniture. There will be other jewellers at the fair, too, but what makes Neha stand out is that she doesn't just design jewellery in the form of a drawing but carves wax models herself. I must say that this approach is quite unusual for jewellers in her position and very inspiring.
She describes this step in the making process as the "foundation of exceptional design," allowing her to sculpt a piece in wax, learn its curves, experiment with forms, build contours, and bring what's lying dormant in her mind to life without setting a single stone or casting precious metals. I think without this step, Neha would not be able to create such elegant voluminous shapes that have become a signature of her jewellery. Once the wax model and the silver mount are done, she can begin working on the final jewel. Remember, when you look at pieces in this article, they've all been through this process of being free form carved in wax. It's a tactile and time-consuming occupation, but I believe it is necessary for Neha to stay true to her personal style.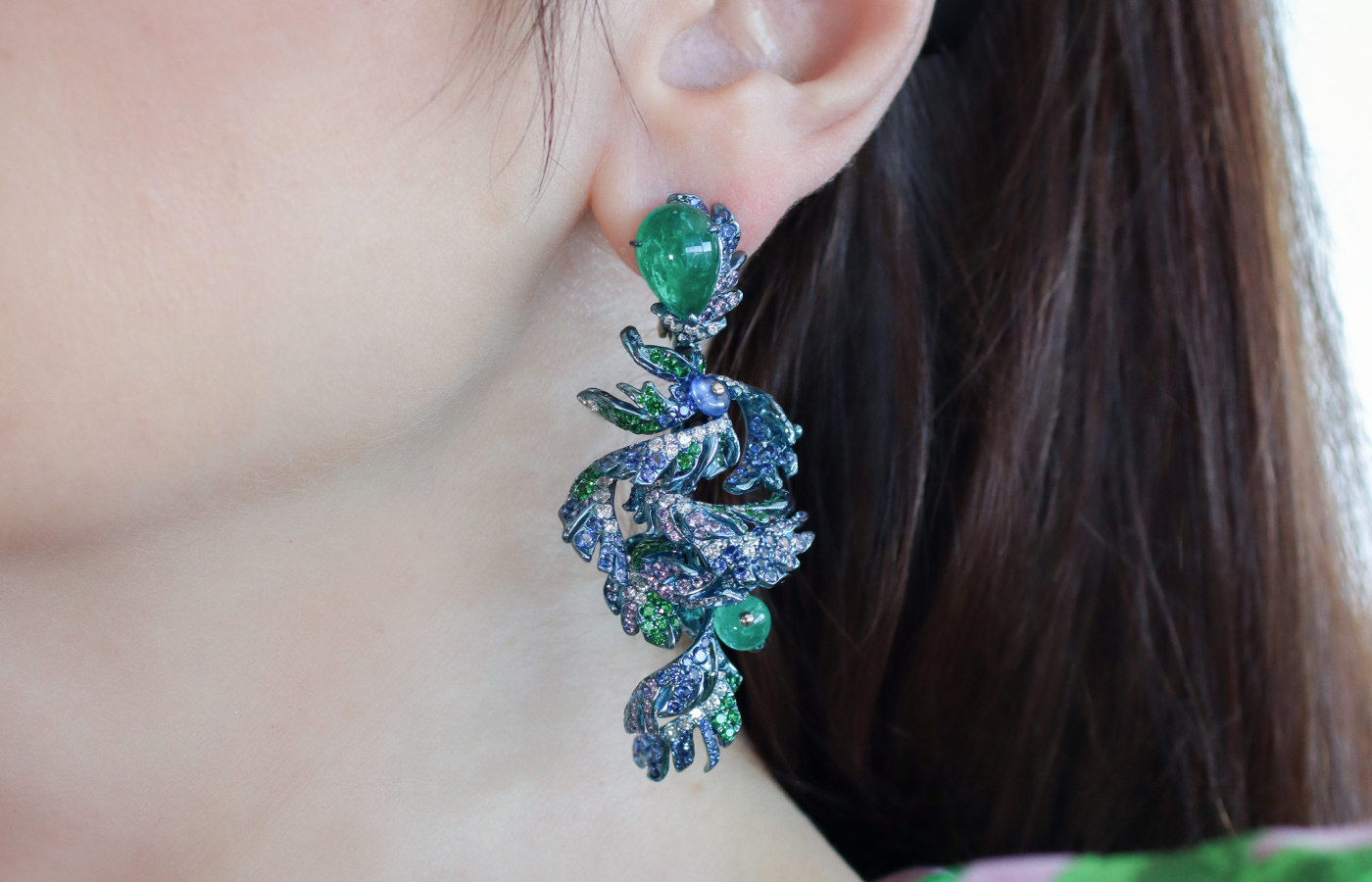 But let's go back to the subject of this article. The first thing to discover at PAD London is a pair of earrings and a matching cuff bracelet with agates and diamonds, which I had the pleasure of trying on in advance. This variety of chalcedony has been custom-cut into floral blooms that appear to grow from tendrils of diamond-set titanium that swirl around the ears and curl around the wrist, tipped with bezel-set round brilliant cuts. They have an incredibly sensual feel on the body, the perfect weight, with a feminine energy that really elevated my confidence. Although they are floral and natural, they don't feel delicate and diminutive… this appeals to me as someone who prefers more boldly proportioned jewels.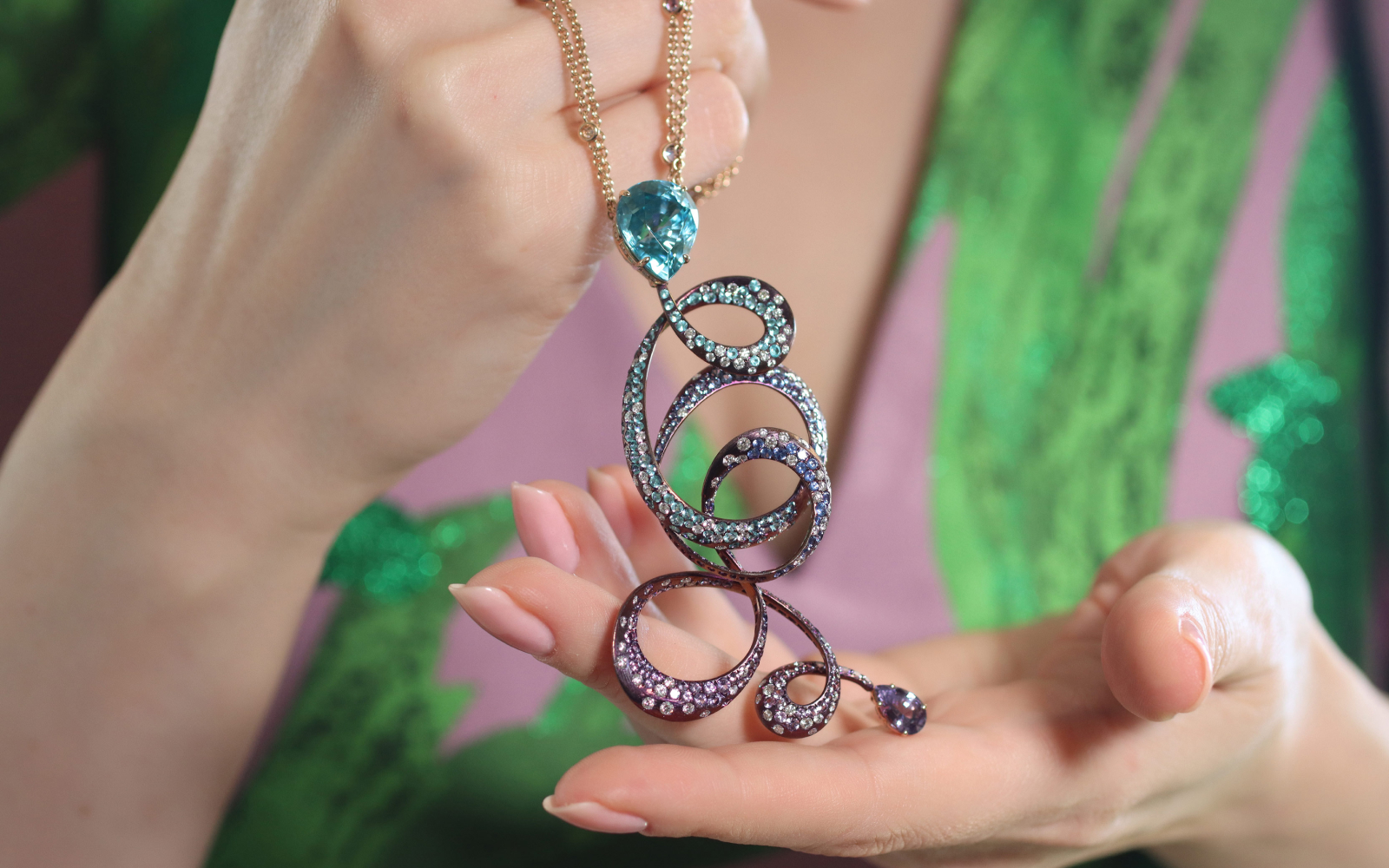 Each orange agate flower differs from the next, adding shape and dimension to the piece. At the same time, the earrings themselves are asymmetrical to acknowledge the variety and diversity of nature itself. I am told that when designing this suite, Neha Dani started with wax carving, fashioning each agate carving personally, engineered a silver model, and then finally manufactured the final titanium framework before setting the stones.
What's really important to note about this jewellery set is that this is the first time Neha Dani has used carved gemstones in her works – this is a refreshing and exciting new direction for her brand. I have complete faith that in her hands, I will once again be excited to see carved gems in one-of-a-kind pieces! In the case of this agate and diamond suite, I can't imagine the same design aesthetic working with simpler cabochons or even faceted gems… it needs the artistry of carved materials to bring the entire concept to life. Don't you agree? Each flower shape was imagined in wax, petal by petal, as an initial study, and then given a serial number to serve as a custom-carving reference for the skilled lapidarists she had chosen in India. When you look closely, each amber-coloured stone is etched with patterns for the ideal finishing touch. According to Neha Dani: "This delicate process breathed life into the agate, giving it a soul of its own." She also assured me that she will work on more carved stone pieces in the future to "further explore the world" of sculpted stones. From my perspective, this is the start of a new design era for Neha Dani, so I am keen to see how this develops.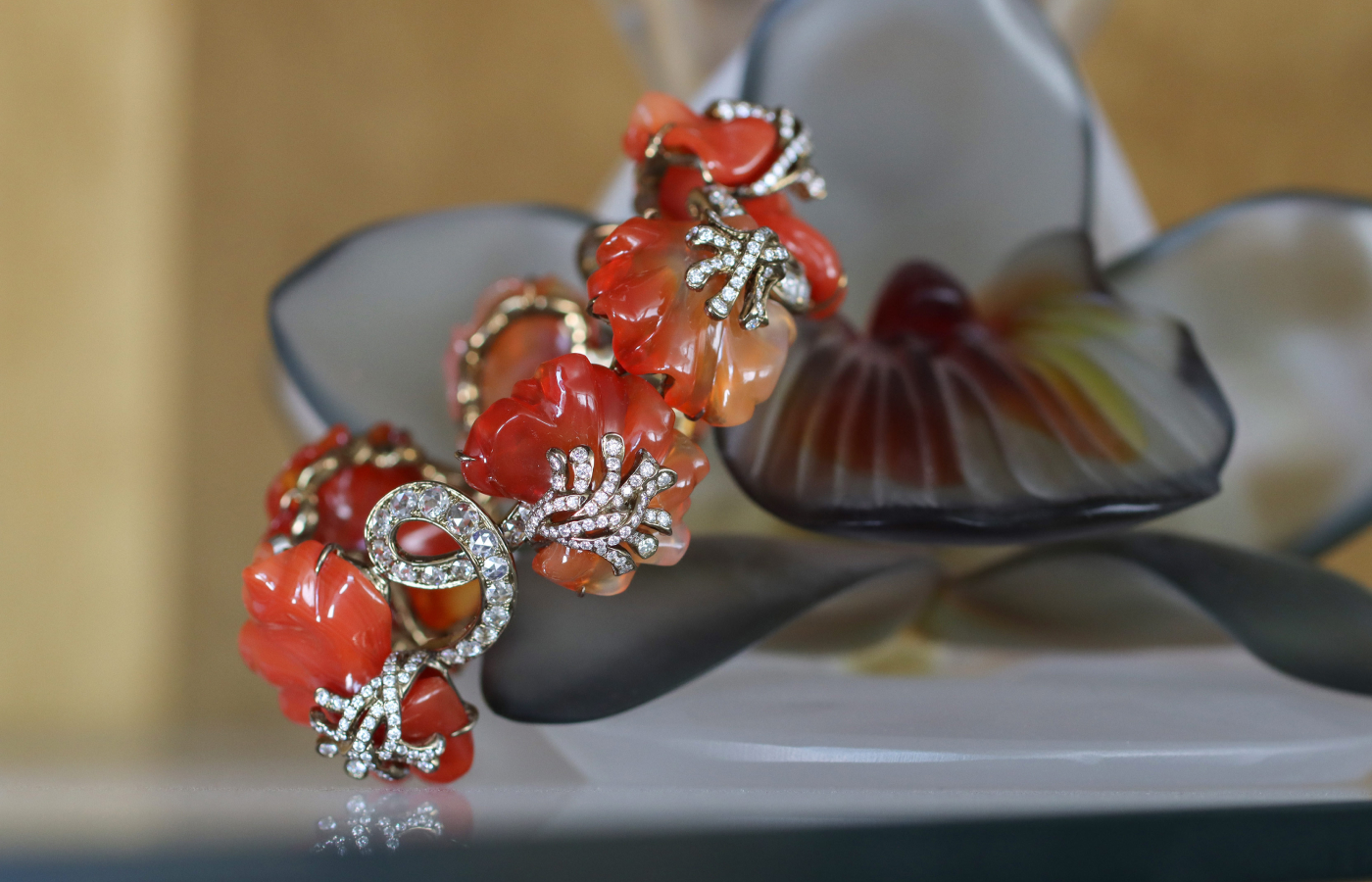 To bring all these elements together, Neha Dani chose artisans in Hong Kong. They were responsible for setting each agate flower and covering twists and turns of titanium in diamonds, which is a clever choice of base metal to ensure durability but also lightness and comfort for the eventual wearer. From start to finish, this process took six months of planning and hard work across three locations; fortunately, as I am sure you will agree, the results are worth it!
The next piece to focus on is the statement Tazlina moonstone necklace, a continuation of the signature Glacier collection. I previously wrote about the Glacier collection in 2018 because I loved its combination of blue flash moonstones and diamonds in jagged, ice-like formations. This new necklace follows in the same creative vein, although with an openwork construction that adds lightness and a hint of blue titanium that offers an electric flash of colour throughout. I agree with Neha when she describes moonstones as having an "ethereal" quality – their inner light is really something to behold and often can't be captured in photographs. It must be seen to be believed.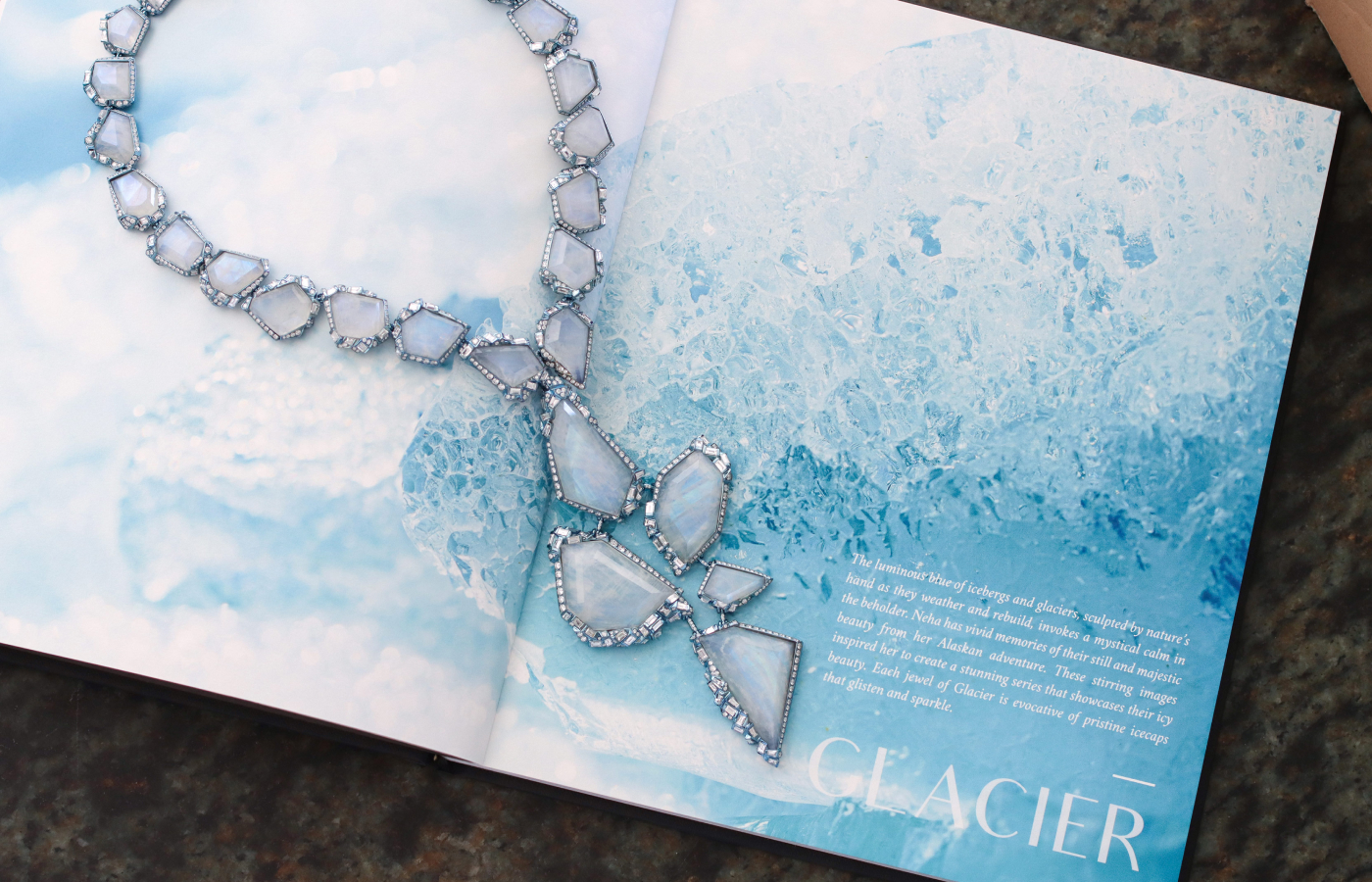 For this necklace, she sourced rough moonstones from Jaipur, focusing on large pieces with perfect sheen and colour, which were then sliced into shapes that followed her exact specifications. She confessed that it is extremely rare to find moonstone crystal in such large sizes. This marvel of nature prompted Neha to start the process of making the necklace with tell-tale blue wax. As always, this allowed the designer to play with the shape, form, and construction before committing the piece to its titanium framework. Each geometric moonstone is surrounded by a frame of diamonds that were purposefully placed to evoke frozen ice droplets on a glacier's surface. The goal was to create an extravagant necklace with a sheen and sparkle that mirrors how light shimmers on frozen water… I think the result has been achieved perfectly!
"To me, the Tazlina Moonstone Necklace is not just a jewel. It's the embodiment of the emotions I felt when I experienced the grandeur and beauty of nature. This magnificent necklace is a storyteller of my self-evolution as an artist," Neha Dani.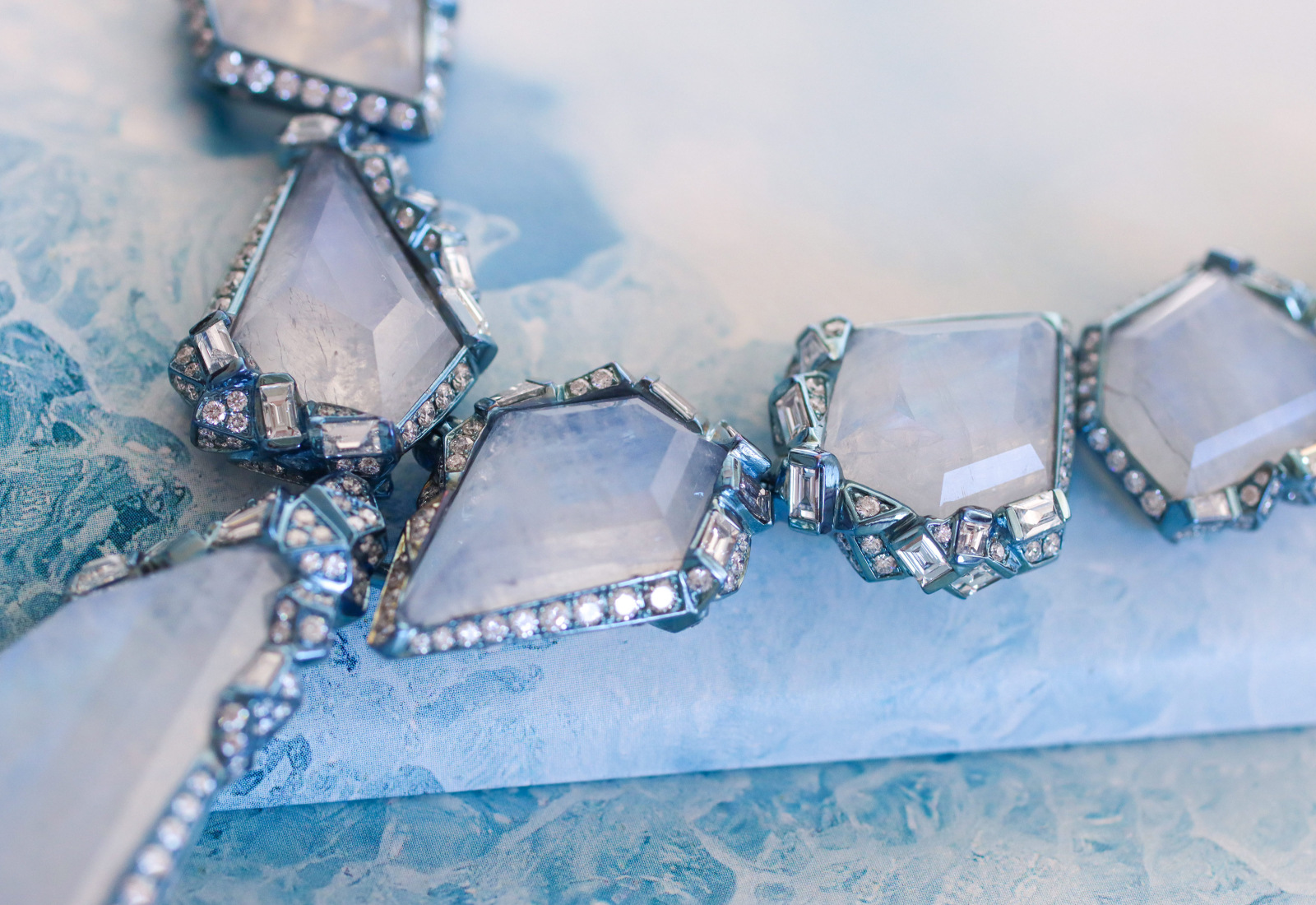 I especially appreciate how the moonstones cascade down the chest; they're blocky and geometric but still have a hint of sensuousness that maintains the femininity of the piece. Plus, this necklace is transformable, and the pendant is detachable, allowing for a slightly more paired-back necklace or a more dramatic ensemble. In Neha Dani's own words, through the Tazlina necklace, we see "moonstones and diamonds in their titanium cradle crystalizing the magic of nature in a singular piece of regalia".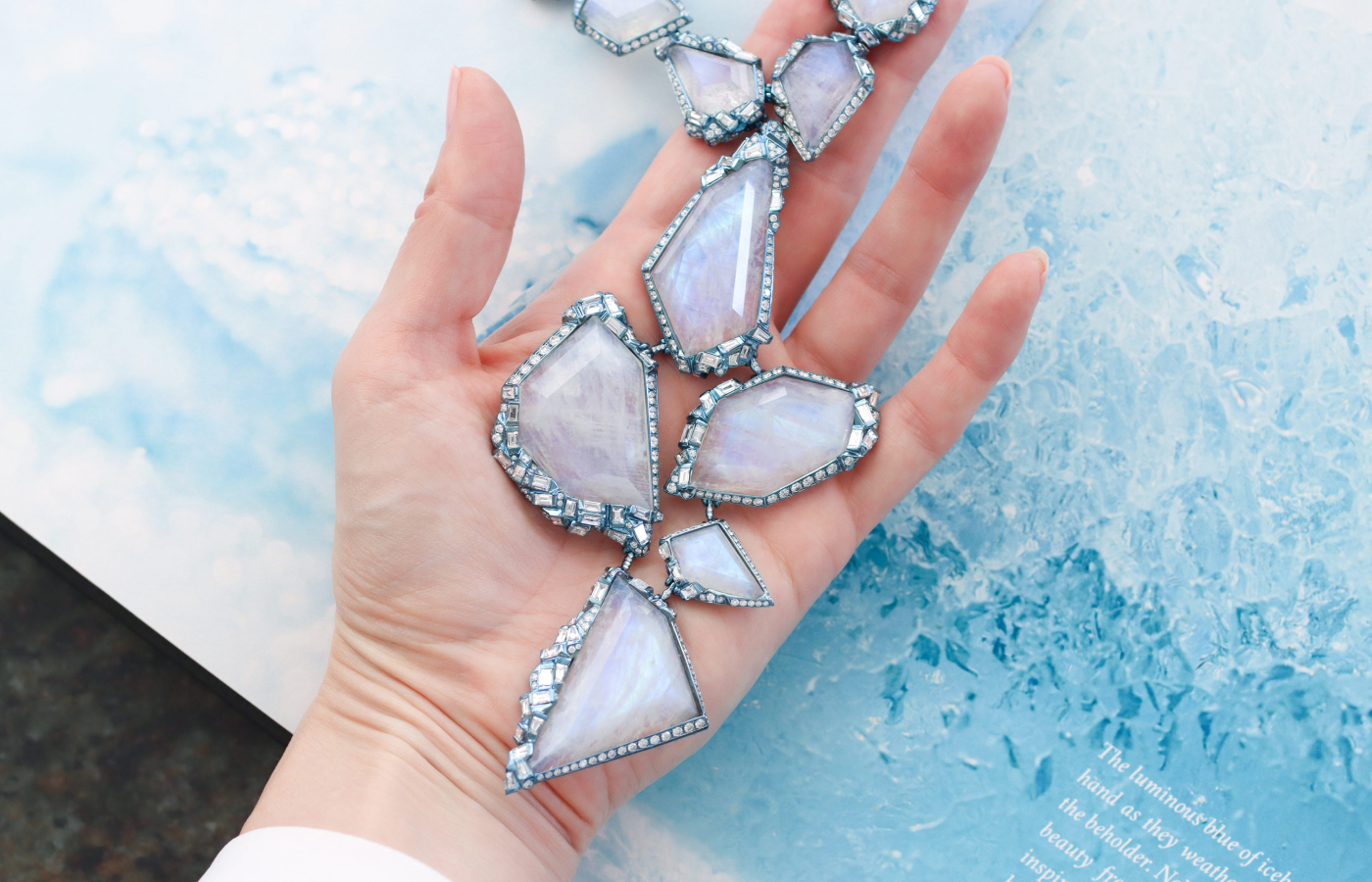 If you are making the journey to PAD London, I thoroughly recommend visiting Neha Dani at booth number B7. It's not just about the beautiful jewels she has on display but the thought processes – the blend of 'old world' gemstone carving techniques mixed with contemporary fabrications in titanium – the meticulous craftsmanship and the by-hand techniques, notably wax carving, that add to the richness of her brand and its empowering storytelling. I hope you find as much inspiration as I do.