In this article, I want to share some of the most luxurious jewellery boxes which are offered from jewellery, fashion, and even luggage brands. After all, why would your most precious treasures deserve any less?
Cartier never cease to amaze. So, it didn't surprise me that the most luscious and expensive jewellery box I have discovered was created by the French maison in a limited edition of twenty numbered pieces. They retail at £36,000 and feature exquisite eggshell mosaic and lacquer decoration. With palladium-finish details; including four orange moonstone cabochons, black Alcantara® lining, the box includes one compartment for rings, four compartments for earrings, two compartments for bracelets, and one secret compartment.
Hermès are another brand who are globally renowned for their credentials in the world of luxury goods - especially luggage. With that in mind, why not entrust your timepieces and cufflinks to the £7,240 'Horse 8' jewellery box? It is designed to be one for the gentlemen – with capacity to hold up to 8 watches - hence the name! Designed in sycamore wood, it features hand studded Swift calfskin and velvet goatskin lining.
One of the most iconic logos in fashion and luxury brands is the intertwined 'LV' of Louis Vuitton, and the perennial classic monogram canvas print in tan and brown adorns their £6,450 jewellery case. This briefcase-style storage benefits from myriad compartments, and is most suited for the stylish traveller with a plethora of bling to transport!
The Smythson 'Grosvenor' table top jewellery box with the price tag of £2,495 is designed to adorn your vanity table and organise your jewels, as well as to display them in a case worthy of their beauty. Each is crafted from high quality calf leather, and features a selection of tarnish-resistant nubuck-lined compartments.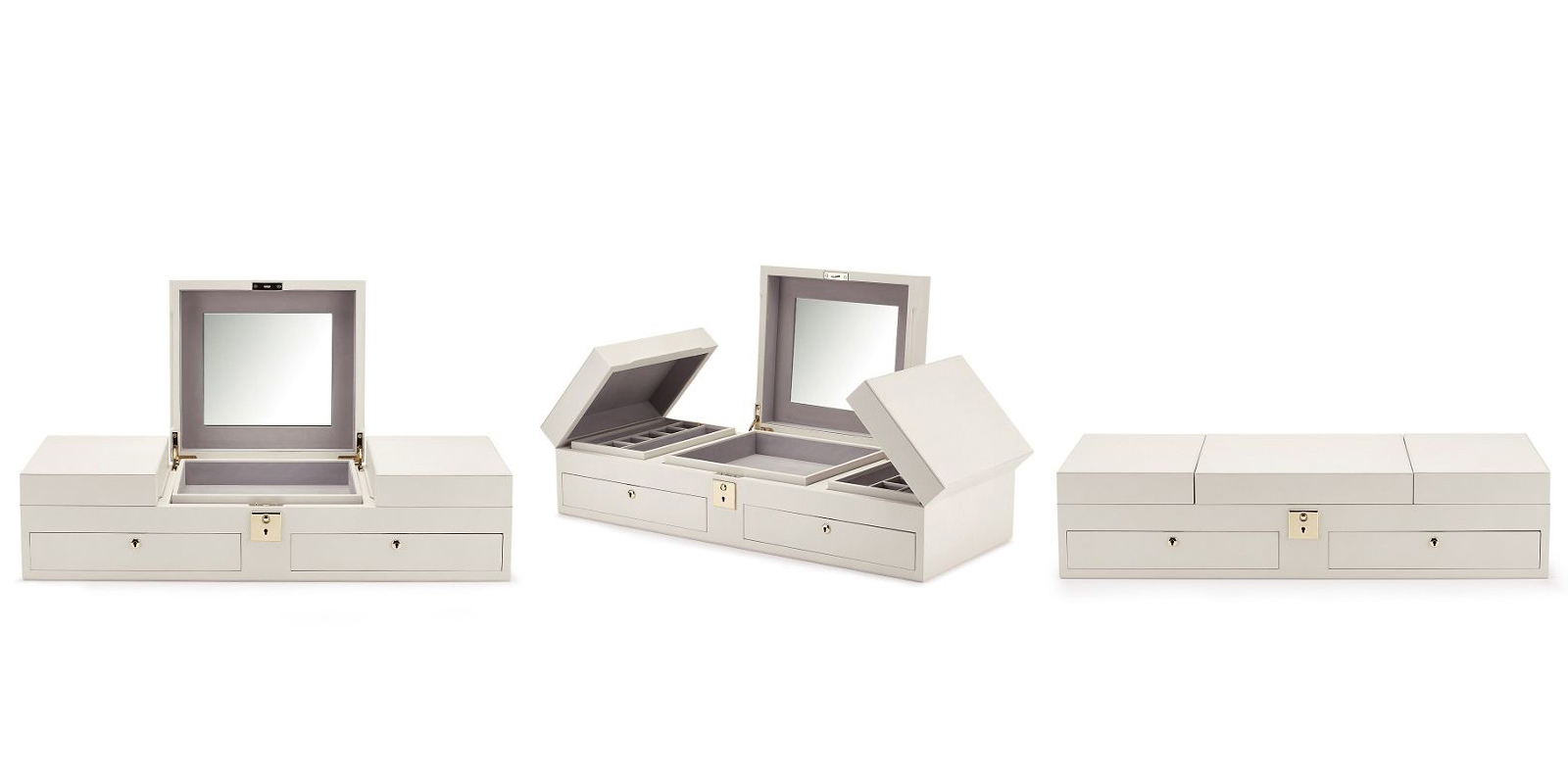 Unlike any of the 'treasure chests' described above that are ready to be bought off the shelf, Jessica McCormack came up with her own concept: the 'Mother and Daughter' bespoke jewellery boxes. These are repurposed antique pieces which are a uniquely personal affair. Each compartment can be decorated with your own message, even offering handstitched embroidery mimicking your handwriting if so desired. Significant dates, and moments such as birthdays and landmark life achievements are all occasions which can be marked in delightful style. Jessica McCormack wanted to create a "home for these special moments." Each box features embroidered illustrations inspired by Jessica's signature motifs; birds and stars, wings and hearts to name a few. Stitched by Hand & Lock, est. in 1767 who have worked with the world's greatest couturiers and Royal families alike, the jewellery box is complete with a hand-made plaque, engraved with a choice of initials, or a special message, and the price is dependent upon materials and level of customisation you desire.
The 'Grand Luxe' jewellery case from Aspinal of London is a chic and sophisticated jewellery box which is available in a variety of colours and materials to suit your décor and your personal preferences. This is the simplest of my selection of luxury jewellery boxes, but nevertheless is decorated with elegant brown croc print Italian calf leather and lined beige suede. With a solid brass lock, you can be sure to keep your treasures safe in this smart £615 option.
High end jewellery boxes make for wonderful gifts no matter who the recipient is – whether it's a jewellery lover, an international traveller, or even yourself!