The collection by Valérie Messika and Kate Moss – Messika by Kate Moss – has been expanded by 36 exclusive novelties that feature exceptional diamonds, as well as inserts made of malachite, turquoise, mother of pearl and onyx. These coloured elements add vibrant shades to the high jewellery as well as unexpected texture combinations, attention to detail and a néo-porté style.
Every detail is carefully thought through and developed with two concepts in mind: the harmonious combination of all 36 pieces in the collection and the ability to wear them not only on the neck, ears, wrists, fingers but also on the head, hands and body. Together, the two women push the boundaries of how jewellery can be worn to the extreme.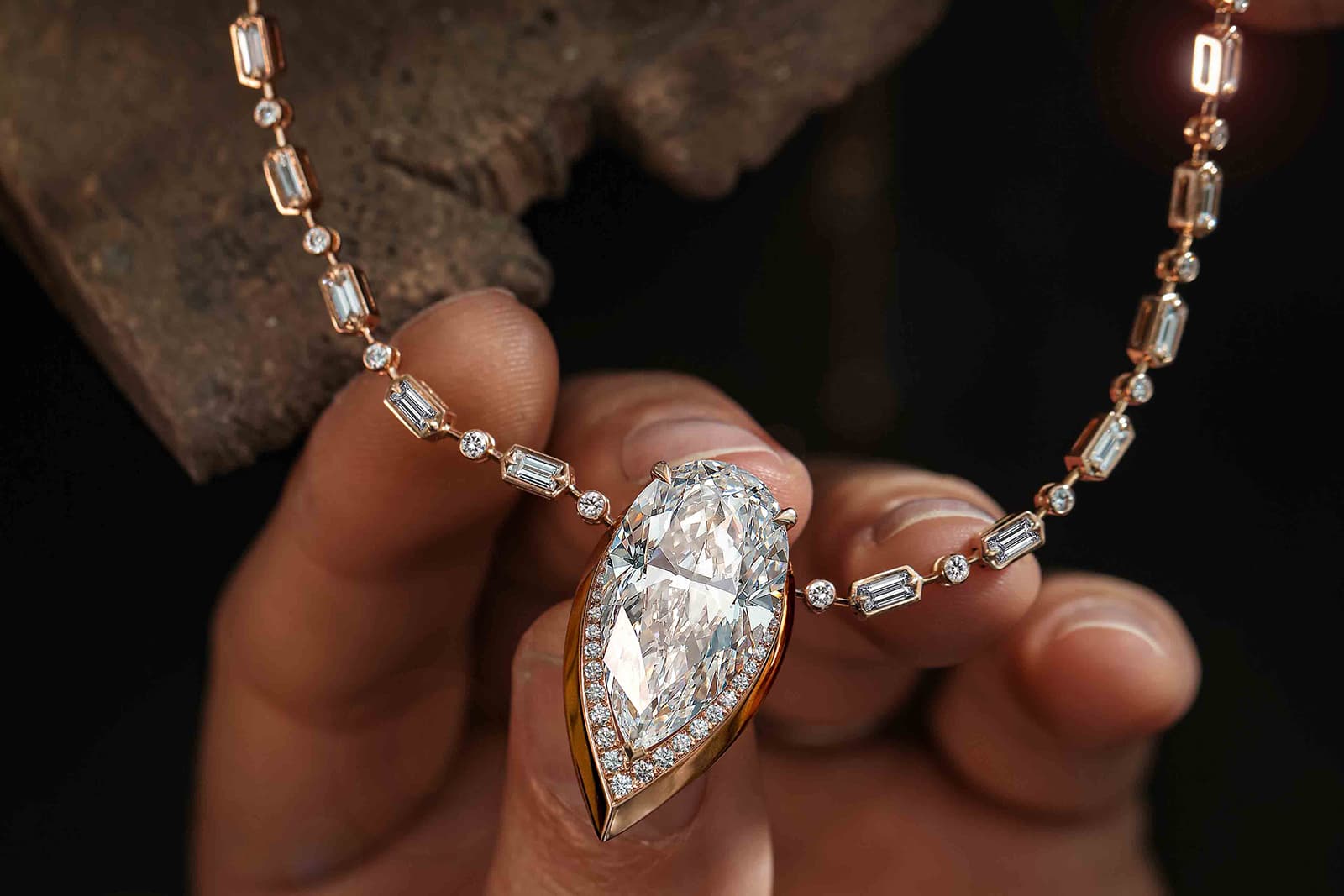 This stylish approach was clearly demonstrated at the Ritz Paris on 3 October at a showing for the collection, which I attended and where I recorded an IGTV video for you. The starry event was graced not only by the collection's protagonist Kate Moss, but also by special guest Cardi B with her husband Offset; the editor-in-chief of the American edition of Vogue magazine since 1988, Anna Wintour; designer Christian Louboutin, and top models Jordan Barrett, Tony Garrn, Sofia Richie and Tina Kunakey, among others.
But let's get straight to the pieces. Perhaps the most unexpected and striking inclusion in last year's collection was the plastron necklace with pear-cut diamond and malachite pendants. This year, the motif has been 'repeated' with new materials, turquoise and onyx, and complemented by two new pieces of head jewellery: the 'large' one is decorated with five pendants around the forehead, and the 'small' one features a single central pendant with a large diamond. Like the necklace, each of these comes in three varieties: blue, black and white.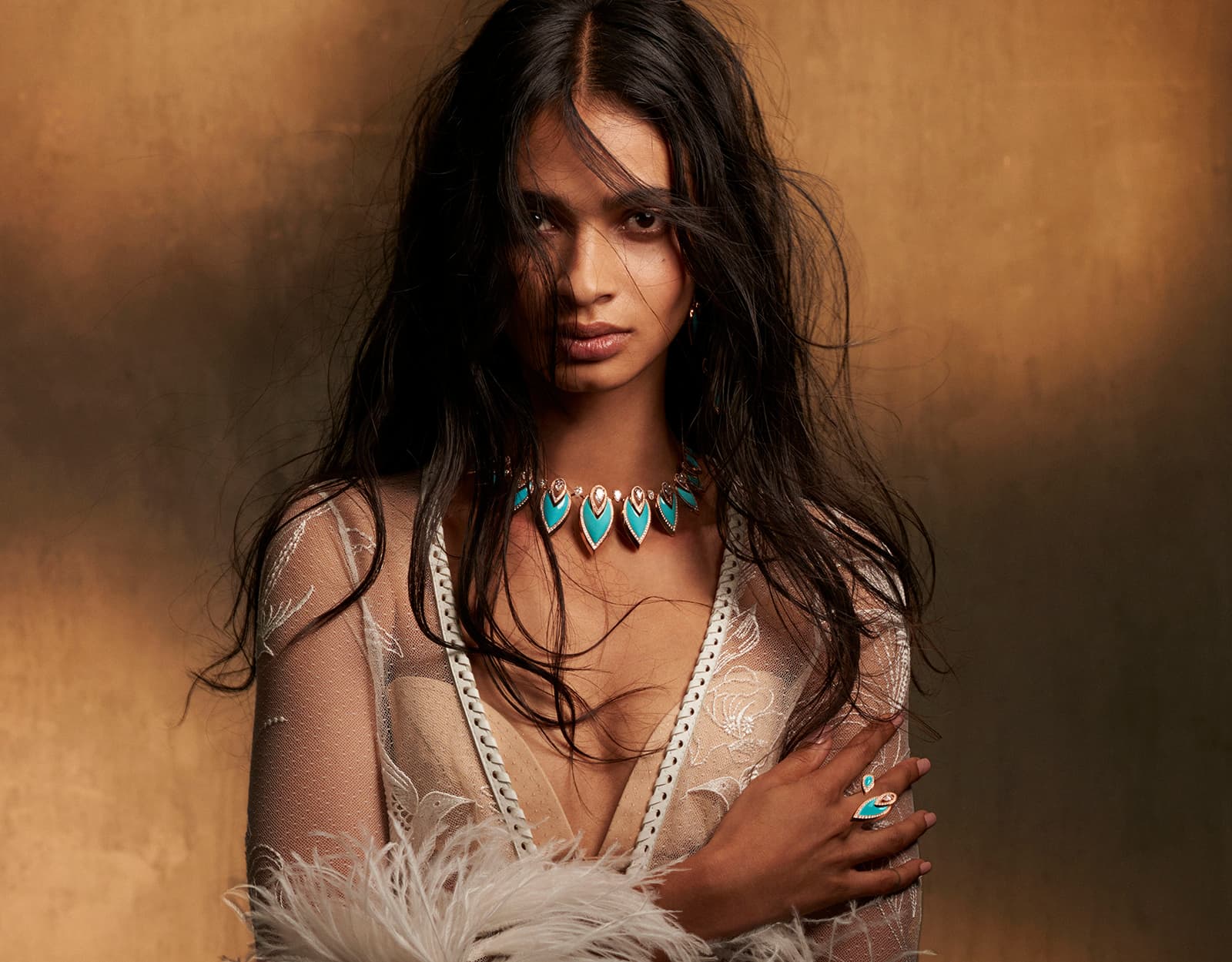 Another Indian Maang Tikka head ornament pays homage to the most beautiful items from Kate Moss's personal jewellery box. A two-carat pear-cut diamond hangs gracefully at the end of a gold chain that runs down the centre of the hair. The same motif is echoed by a three-row necklace and a cuff-earring, flowing like a waterfall along the base of the ear. Chains of various sizes have once again gained the upper hand in the fashion stakes, so their appearance in a collection co-created by a style icon is entirely consistent with the spirit of the times.
The third line, which I want to draw your attention to, pays tribute to classic colourless diamonds in their purest form. In what seems to be an already established tradition, its showcase design was... a head ornament! Two strands of diamonds are delicately intertwined and held together at the forehead by a mobile 1.07 carat pear-cut diamond. This is echoed by a stylish and modern tie necklace, also with two strands of diamonds that are casually tied in a knot.
The fourth line, Spirited Wind, is one you know well from last year's collection. Colourless diamonds set in metaphorical waves have already featured as part of trendy designs for a choker, ear cuff, three-finger ring and hoop earrings. New to 2021 are a two-finger ring and a luxurious ear cuff that covers almost the entire ear.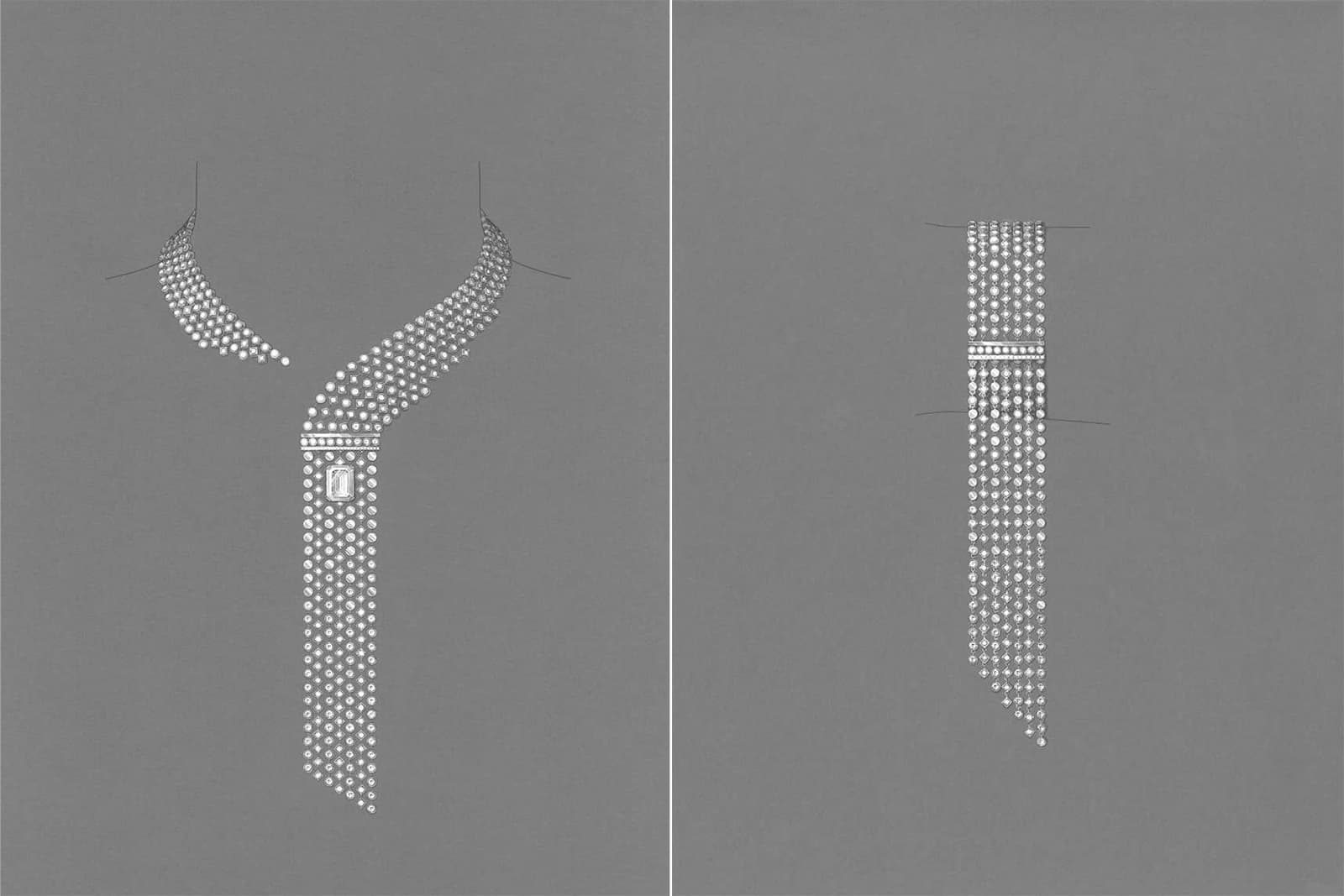 Some jewels - for example, the Liberated Spirit line - I was eager to make a part of my jewellery wardrobe! They were inspired by tassel jewellery - a hot trend for the AW21/22 catwalk shows – but at Messika they were designed with a high jewellery concept. So, in the centre of the necklace's cascade of diamonds glistened a 7.74 carat emerald-cut stone – just imagine the play of light in motion!
The second part of the Messika by Kate Moss collection gives me hope that Valérie Messika and Kate Moss will continue their collaboration for many seasons to come. After all, their sources of inspiration remain the inexhaustible subjects of both jewellery and style.