Round face shape
(a face with a round chin and full cheeks; the widest distance between the cheekbones is at ear level)

Celebrities with a round face: singer Adele, Abigail Breslin, Kirsten Dunst.
Not recommended: large hoop earrings, either massive or miniature earrings in any form but also stars, rhombuses, snowflakes, etc. – these all make the shape of the face look even wider.
Recommended: square or elongated shapes (ovals, rectangles, triangles or teardrop shapes) that help to "lengthen" the oval of the face.
My suggestion: Arman Suciyan earrings in silver and multicoloured sapphires, Stephen Webster Lady Stardust earrings with an amethyst; TOUS Sindano earrings 18kt yellow gold, sterling silver and ebony; Jemma Wynne Tourmaline Four Drop Earrings.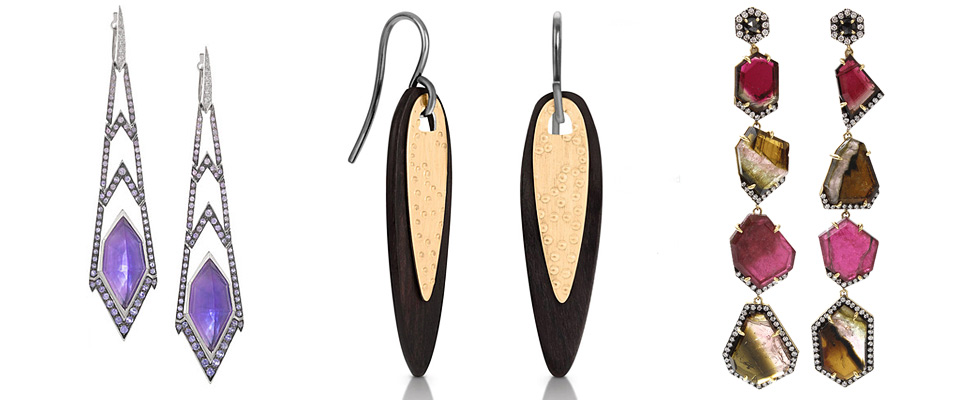 ---
Diamond face shape
(where the widest part of the face is around the cheekbones; the forehead and chin are narrower than the cheekbones which stick out)

Celebrities with a diamond face shape: Madonna, Audrey Tautou, Elizabeth Hurley.
Not recommended: any earrings that could make the face look wider (for instance either rhombus shaped or round medium-sized earrings).
Recommended: earrings with long lines and gentle curves to smooth the sharp lines of the cheekbones and chin.
My suggestion: Wendy Yue dragonfly earrings with pink and purple sapphires; Fernando Jorge Fusion drop earrings with pink opal and diamonds; Chopard Happy Diamonds Iconic earrings in 18K white gold and diamonds; A&W Mouzannar Arabesque earrings.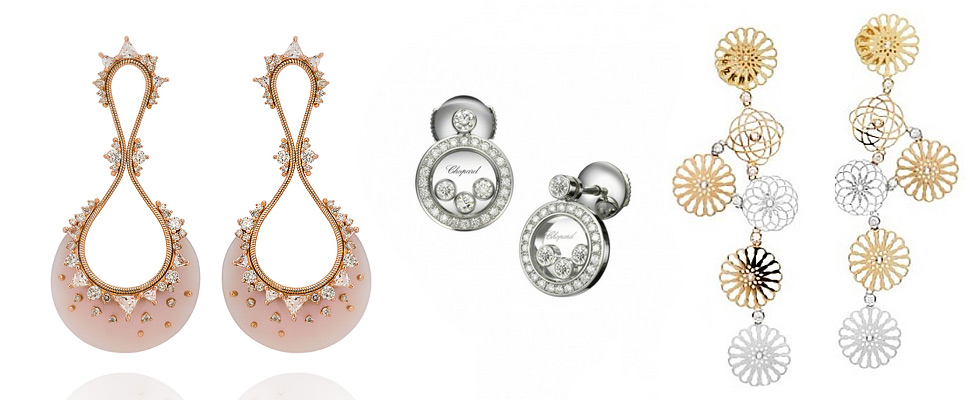 ---
Square face shape
(a face with defined straight parallel lines from temple to temple and from the forehead to the chin; the cheekbones are wide and the chin is angular)

Celebrities with a square face shape: Heidi Klum, Catherine Deneuve, Diane Kruger.
Not recommended: square earrings and any whose length exceeds their width.
Recommended: round, oval, triangle or teardrop shape earrings – any that appear to stretch the face, but also multi-layered dangle earrings that help make the face look less angular.
My suggestions: Inbar pink opal earrings; Nicholas Liu Gia African Ruby Earrings; Anthony Lent Sunface studs in yellow gold; Ornella Iannuzzi Coralline Reef dangling earrings with a pearl.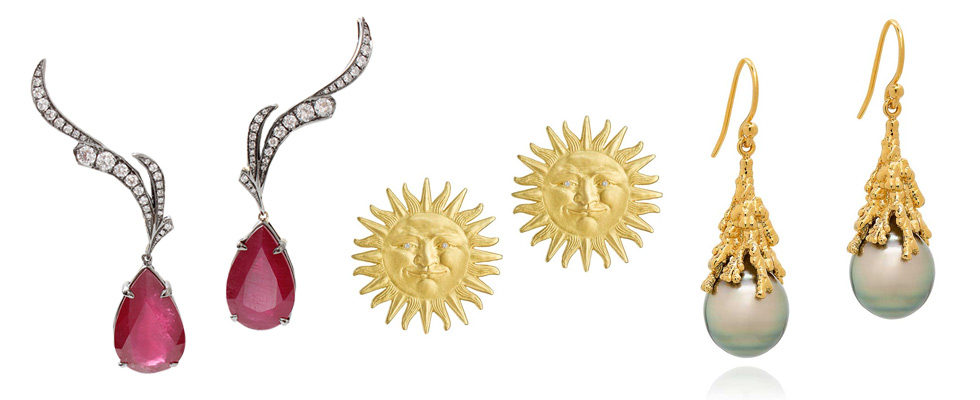 ---
Rectangular / Long face shape
(similar characteristics those square faces but narrower and more stretched out)

Celebrities with a rectangular face shape: Lea Michele, Bella Heathcote, Salma Hayek.
Not recommended: long slender earrings.
Recommended: circular earrings or ones with smooth lines, light and delicate pieces that add a supple roundness to the face. Pearl earrings are perfect: they not only soften the lines of the face, they also appear to shorten its length.
My suggestions: Katherine Jetter blue opal Fern earrings; Arunashi fire opal and pearl earrings; Venyx Toruga diamond studs; Madstone Design Magnum bubble earrings in white quartz.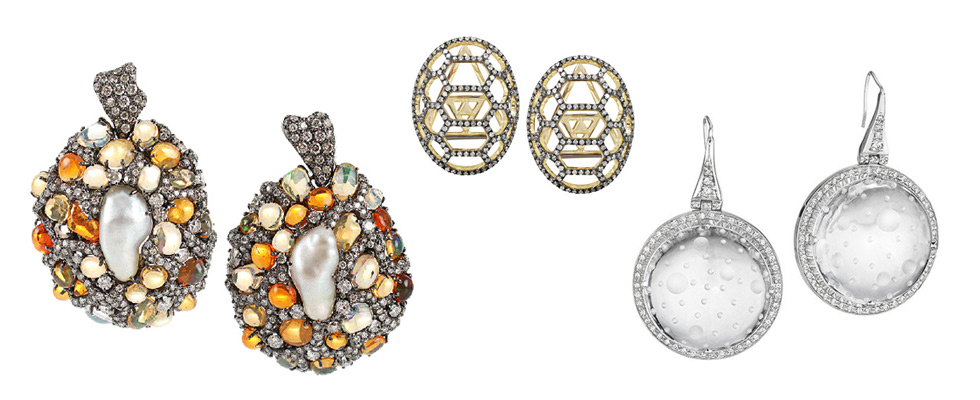 ---
Heart shaped face
(the widest part is the brow and above; the face gradually narrows from the temples and high cheekbones down to the small chin)

Celebrities with a heart face shape: Nicole Scherzinger, Fan Bingbing, Christina Ricci.
Not recommended: short, wide earrings which attract attention to the cheekbones.
Recommended: any long earrings the help to draw attention to the lower part of the face, for example any dangle earrings, teardrop shapes or chandelier earrings.
My suggestions: Carolina Bucci gold and diamonds drop earrings; Bochic carved mammoth drop earrings; Morelle Davidson conch pearl and diamonds earrings; Irene Neuwirth boulder opal turquoise earrings.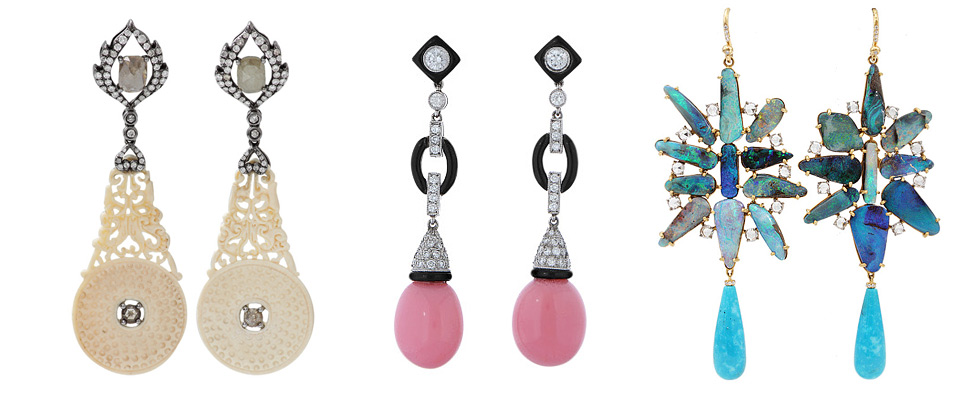 ---
Oval face
(the most balance and proportionate, its shape is slightly round and the area around the cheekbones is slightly narrower than the line between the temples)

Celebrities with an oval face shape: Blake Lively, Jessica Biel, Charlize Theron.
Not recommended: earrings that dangle below the cheekbones making the face look much too long.
Recommended: earrings of almost any shape and length except for those which match the above criteria. Oval and teardrop shapes do well to emphasise the beautiful shape of the face.
My suggestions: Yiossi Harari gold earrings with champagne diamonds; Alice Cicolini Stone Lotus earrings in amethyst; Kara Ross Cava earrings in blue topaz with peridot; Brumani Baobab earrings.