This single auction, devoted solely to the collection, will feature as many as 86 lots in total that demonstrate the full spectrum of Fabergé craftsmanship, from carved animal figurines and photo frames to ceramics, silver and jewellery. It will, in fact, include only a small amount of jewellery. Harry Woolf, a successful businessman and owner of the London-based pharmaceutical chain, Underwoods, began his collection at the dawn of the 1970s. His passion for Fabergé springs from his lineage (his paternal grandparents were from Russia), as well as the incredible skills of the Fabergé jewellers. He passed away in November 2019 and, just five days before the appointed hour, he was still buying new works!
"Harry Woolf's impeccable taste, discerning vision and pursuit of excellence led him to create one of the most iconic private collections, which has served as a significant point of reference for all connoisseurs and lovers of Fabergé across the world," comments Alexis de Tiesenhausen, head of the Christie's Russian Art Department.
Mr Woolf's collection was eclectic. He never followed trends and was guided exclusively by his inner instinct when it came to selecting works. Consequently, after 50 years of searching, he managed to collect examples of works by all the famous Fabergé masters, such as Henrik Wigström, Mikhail Perkhin, Alma Pihl, Julius Rappoport, Feodor Rückert, Alfred Tillman, Victor Aarne, Friedrich Kehli, August Hollming, Anna Ringe and Vladimir Finikov. All of them and the rest of the company's foremost craftsmen were independent and worked under fixed-term contracts. In Fabergé's heyday, about 500 people worked there, with 20 of them exclusively engaged to make boxes in which the company's creations were then stored. Each work of art had its own 'cradle' made according to its size and curves. You will see for yourself if you look through the Christie's auction catalogue.
As mentioned, there is not that much jewellery among the auction lots, but they are the pieces that attract my attention in any case. I immediately took note of a mosaic brooch, made of gold and platinum with precious stones, which was crafted in about 1913 according to an original design by Alma Pihl. Visually, the design resembles a miniature piece of embroidery, and legend has it that her inspiration came from her mother-in-law who was doing needlework by the fireplace. Brooches are regaining some of their former popularity, so this lot has every chance not only of taking its rightful place in a private collection but also of adorning a contemporary outfit. Its preliminary estimated cost is £70,000-90,000.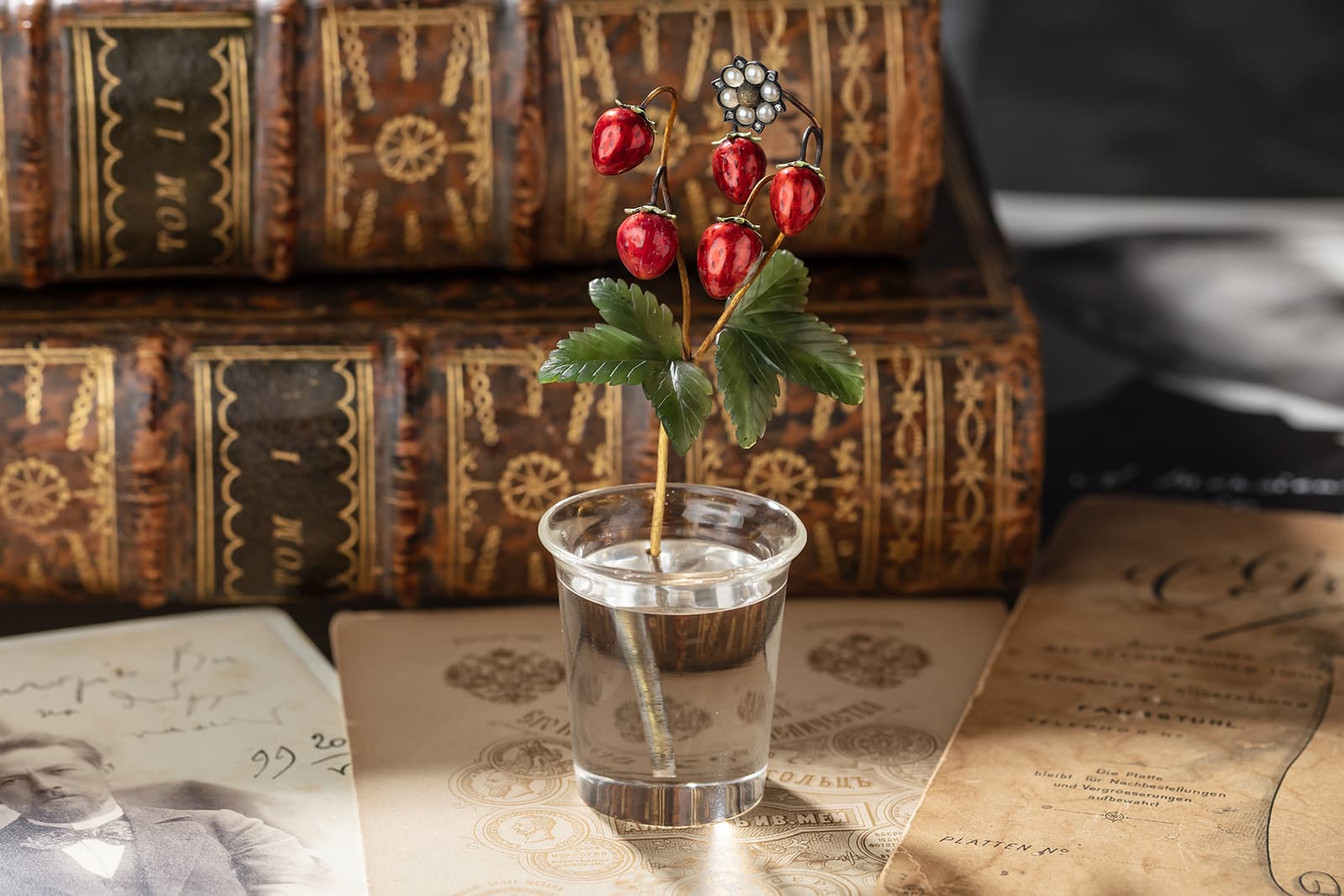 The next lot, which is sure to cause an unprecedented stir, regardless of the impressive preliminary estimate of £200,000-300,000, is the "Strawberries in a Glass" study (circa 1900) composed of rock crystal with features made of gold, enamel, jade, pearls and diamonds. Fabergé's timeless studies of flowers were popular with the Russian imperial family and aristocracy, who were known for their love of blooms and knowledge of botany. Every detail looks natural, even water! The recently discovered inventory number on the strawberry study reads '10061' and differs by only one digit from the number '100622' on the strawberry model bought by the Dowager Empress Maria Feodorovna in April 1911 for 250 rubles. To make it easier for you to appreciate the significance of this lot, I will add one more fact about it: a similar study can be found in The Royal Collection in the United Kingdom.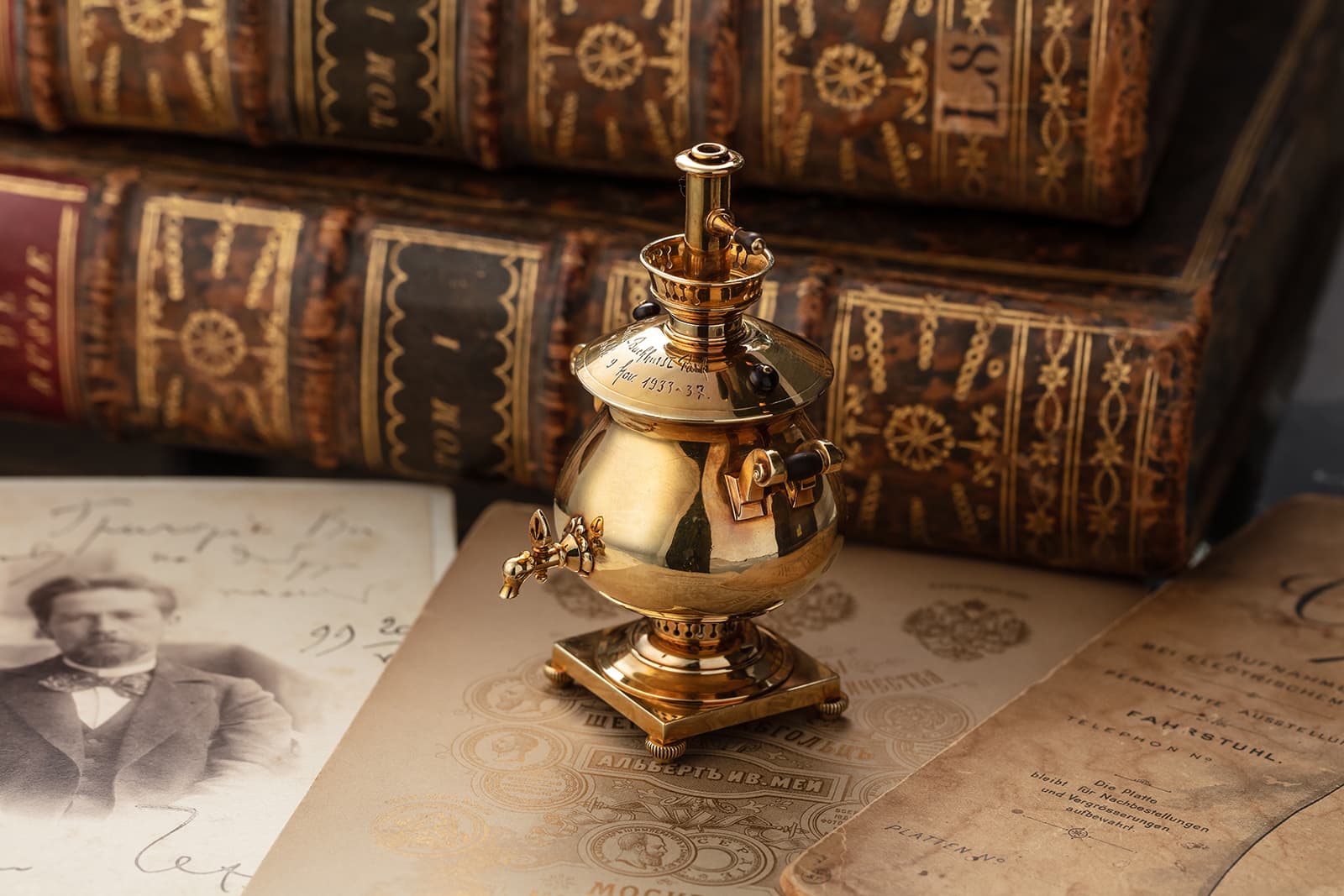 Among the lots there are also 'witnesses' of a bygone time. These are charming pieces but would rarely be appropriate for this day and age. Be that as it may, this doesn't detract from their artistic value. For example, bonbonnieres are small boxes that were usually given to guests at a wedding. The collection includes a jade one adorned with gold and precious stones (est. £12,000-18,000), which was formerly owned by Richard George Penn Curzon, 4th Earl Howe (1861-1929). Another whimsical example is made of gold and in the shape of a ducal horn ('corno ducale' – the hat and symbol of the Doge of Venice), embellished with guilloché enamel and precious stones: rubies, emeralds, diamonds and pearls. The collection also includes a miniature gold samovar serving as a table lighter made between 1908 and 1917 by Henrik Wigström.
In addition, the auction will showcase several frames: one in gold jade with a miniature portrait of Princess Olga Konstantinovna Orlova by Vasily Zuev (workshop of Henrik Wigström, 1905); a photo frame made of tricolour gold, decorated with precious stones and guilloche enamel (made between 1899 and 1908); and a photo frame made of tricolour gold and moss agate (1890).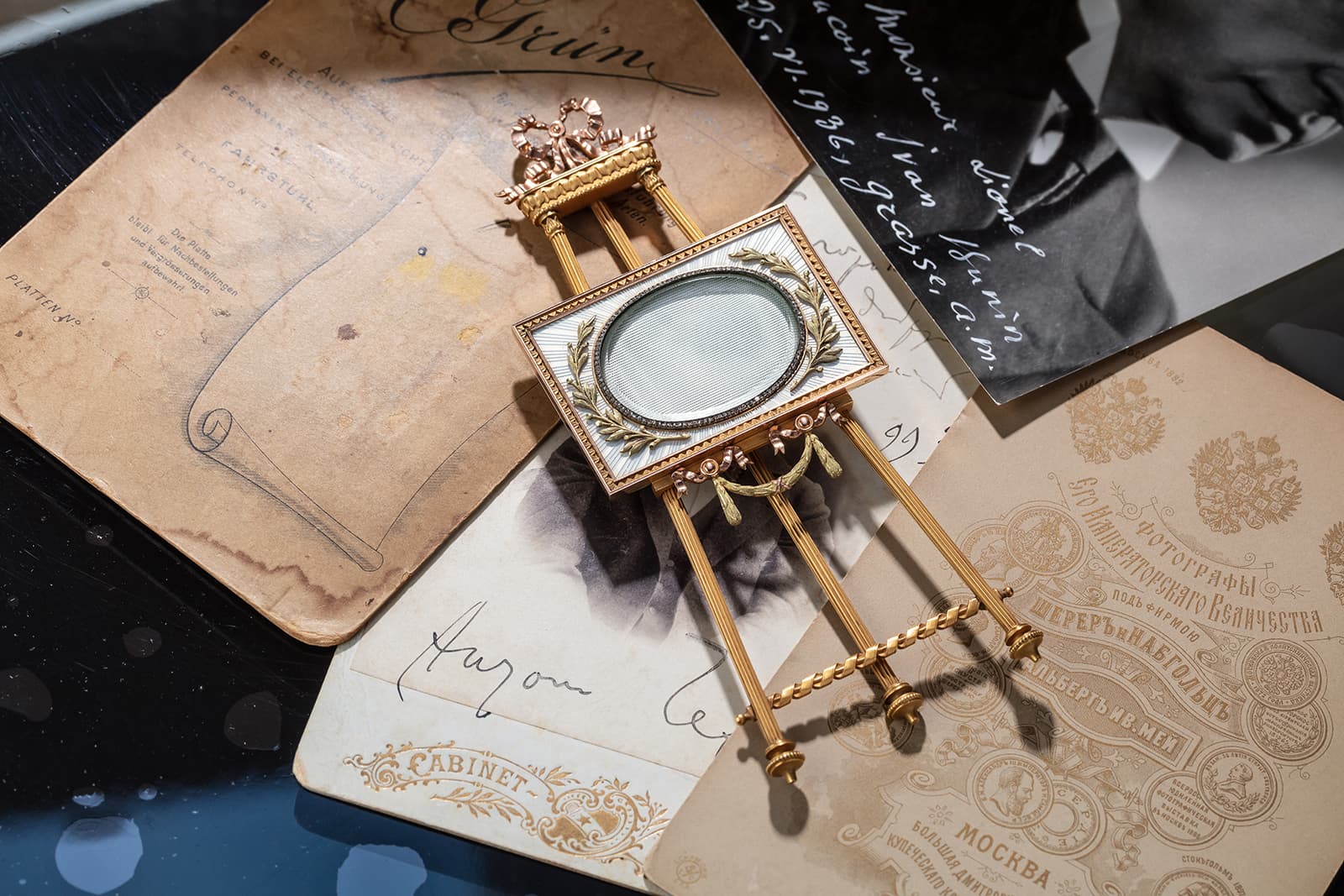 A separate place in Harry Woolf's collection was taken by animal figurines - only The Royal Collection can really be considered comparable. My interests lie beyond ornithology, but it's impossible to remain indifferent to the figurine of a blue tit, realistically carved from opaque stones, including lapis lazuli, yellow chalcedony, bowenite, agate and onyx, with rose-cut diamonds. The estimated cost of this five-centimetre beauty is £50,000-£70,000. At the auction it will be possible to purchase carved models of a capercaillie (£50,000-£70,000), a rabbit (£25,000-£35,000), a duckling (£20,000-£30,000), agate cats (£15,000-£25,000) and a Kalgan jasper rhinoceros (£20,000-£30,000).
"Christie's is delighted to be offering Fabergé masterpieces from the Harry Woolf collection right now, at a time when our customers value quality, sophistication and provenance more than ever before. This auction presents a rare opportunity for collectors and museums to acquire some of Fabergé's very best works," explains Margo Oganesian, the auction's co-director.
As you can see, a real sensation awaits us at the end of November. I wish everyone who decides to take part in the auction luck. Make your bids, ladies and gentlemen!