I have always felt like tiaras have a natural advantage over their fellow jewellery counterparts. Whereas necklaces, bracelets and rings have degrees of formality – ranging from daytime trinkets to elaborate high jewellery creations – a tiara is specific, stately and reserved for only the most sensational of occasions and weddings are a good example.
Tiaras have been worn throughout human history, but it was in 18th century Europe that they became a must for women daring to impress in the French, British and Russian courts, among others. They were included in parures, matched to dresses and adapted to suit changing tastes. For an 18th century and 19th century high-ranking woman, a tiara was a declaration of her wealth, style, class, deportment and grace… such a lot of pressure, don't you think?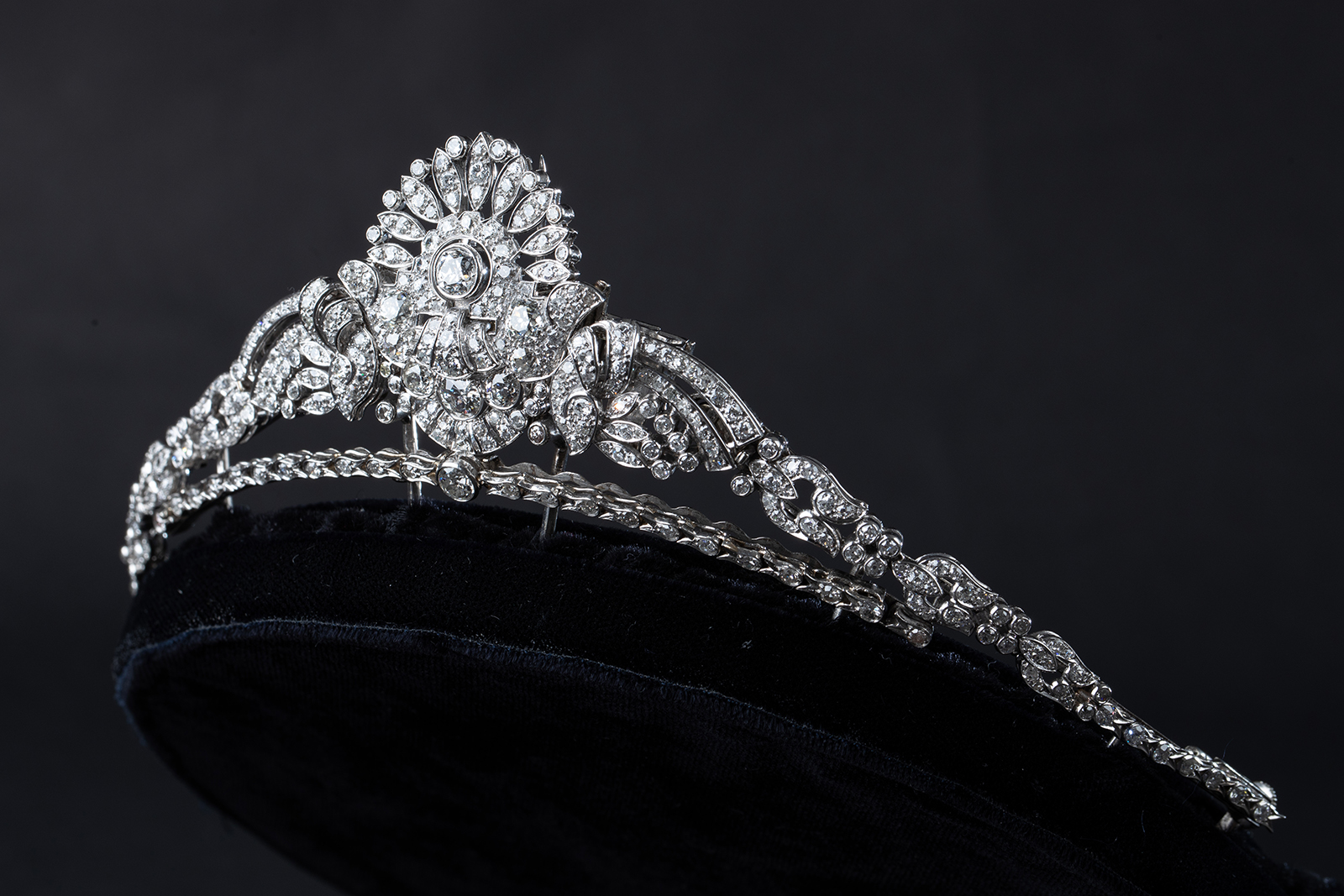 Even in these centuries gone by, a wedding was a social occasion like no other. When Princess Charlotte of Wales married Prince Leopold of Saxe Coburg in 1816, she wore a diamond tiara in the shape of woven vines, leaves and roses. Her choice set a trend that rolled across Europe, and soon brides were wearing tiaras over their veils to feel like a princess for the day. "Tiaras have always been the crowning glory of major jewellery collections but in the past decade their popularity has soared to unprecedented heights. These storied pieces are prized around the world, not only for their craftsmanship and the quality of their materials which makes them true works of art, but also for their historical and emotional resonance: a mix of magnificence and intimacy," says Benoit Repellin, Head of Sotheby's Geneva 'Magnificent Jewels' auction.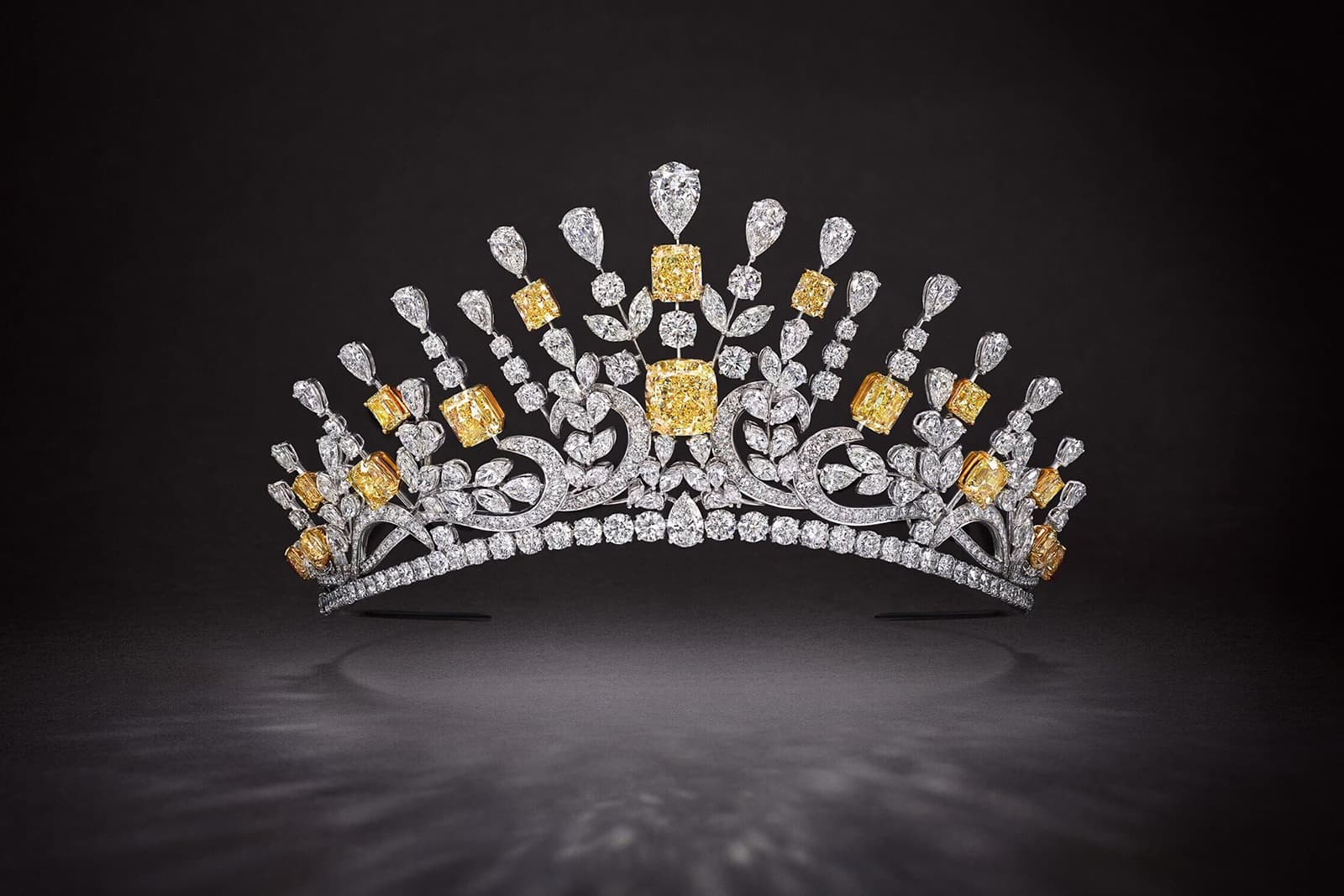 You may be interested to know that 96% of the tiaras offered by Sotheby's in 2020 found a buyer, with 83% of them achieving prices above their high estimate. The increased interest in tiaras has been particularly significant in Asia and a third of the tiaras offered in Sotheby's worldwide sales were bought by Asian buyers in the past five years.
Their popularity has certainly been influenced by modern day princesses and duchesses. I'm sure like me, reader, you were dazzled by Princess Eugenie and the Greville Emerald Kokoshnik tiara she wore on her wedding day in 2018. It was created by Boucheron in 1919 and is set with a central emerald cabochon of 93.7 carats. Thomas Holman, Director of historic jeweller, Wartski, told me: "Whilst arguably there are fewer occasions where tiaras can be worn today, our interest in them has certainly not diminished. If anything, people are more fascinated in tiaras than ever before. They are the fairy tale made real. Worn to the most rarefied and prestigious occasions, they have been present at some of the most significant events in our history."
Any conversation about tiaras simply has to include Chaumet. As the maison specialises in tiaras (it has made around 3,000 in total), it is witnessing first-hand the reawakening of love for wedding day styles. Chief Executive Officer, Jean-Marc Mansvelt says: "The tiara is traditionally a wedding jewel, and we usually have two to three orders being made at once – mostly for weddings, as people see tiaras as a coronation of love. The tiara is also both a fashion accessory and a social emblem, quite literally the crowning glory, it guarantees you will be the centre of attention no matter where you are in the room. We have been known to create tiaras for clients who will wear them to the meeting of their board of directors, as a sign of power. It's about status, and although it was unusual at first, you can totally understand why a woman would want to wear it in front of a group of men."
A status symbol, a powerful feminine statement or a piece of adornment for one's big day… whatever a tiara represents to the modern woman it is clear that these head adornments are here to stay. Throughout this article and below, you will find a selection of my favourite examples of spectacular tiaras, including some from the history books and some contemporary pieces that are available to purchase. I think you will agree, to truly feel like a princess, one needs to start the top and work downwards!