Provenance is power in the auction world, which is why a brooch once worn by the Duchess of Devonshire is the conversation starter for Bonhams' London Jewels auction on 22nd September 2021. The brooch itself is from the Belle Époque period, which dates from the late 19th century right through until the advent of World War One. It was owned by Deborah Cavendish, Duchess of Devonshire (1920-2014) and presumably made a splash at society events with its swimming pool hued aquamarines. There's a large oval-shaped gem, set horizontally and bordered by old brilliant and single-cut diamonds, and a second detachable aquamarine drop that's millegrain-set and rose-cut diamond capped for added pizazz. The entire thing is mounted in platinum and has a pre-sale estimate of £25,000 – 35,000.
Those with knowledge of British aristocracy might know of Deborah, Duchess of Devonshire, as one of the six 'Mitford sisters', who hailed from an important family and "enthralled the public with their stylish – often controversial – lives, as well as their contrasting political views," according to Bonhams. As always, I find myself thinking "if only this brooch could talk," as the Duchess was often found conversing with playwrights, artists, politicians and even her childhood friend, John F. Kennedy, the 35th President of the United States.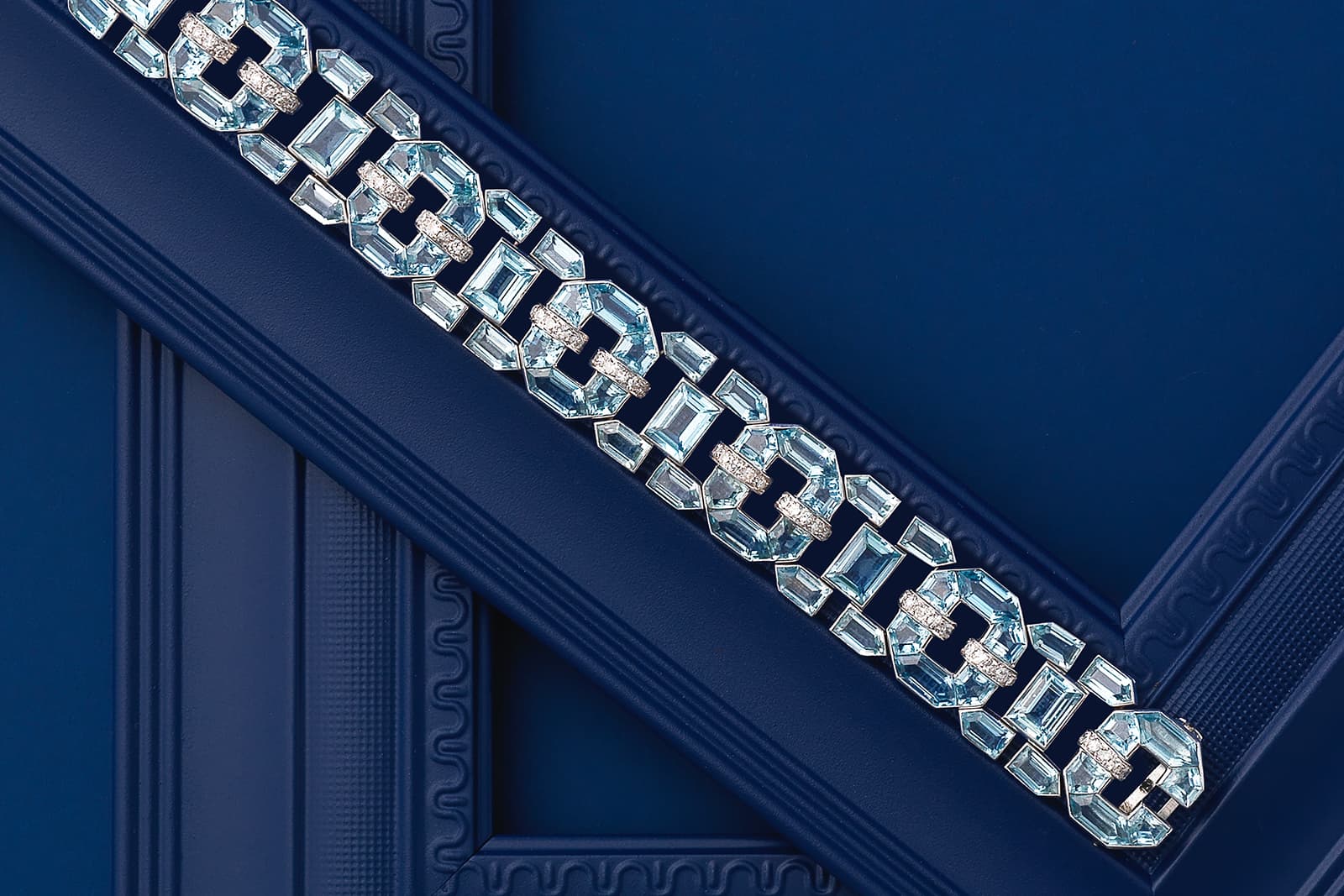 Although this is the most storied of the pieces in Bonhams' upcoming sale, there are plenty of attention-grabbing gems to be found elsewhere. Let's start with an obvious competitor – a fancy coloured diamond ring by Boodles, set with a cushion-shaped natural fancy purplish pink diamond, weighing 2.52 carats, and an Ashoka-cut diamond, weighing 3.23 carats that's D-colour and of VVS1 clarity. This ring has an estimate of £280,000 – 420,000.
When you hear the word "Ashoka," it often signifies that a fantastic diamond awaits you. Why? This modified cushion-cut with a rectangular shape and rounded corners must be fashioned from a particular (and more unusual) shape of rough diamond, meaning they're rarer. According to Boodles, only one in 50 diamonds mined can be cut this way.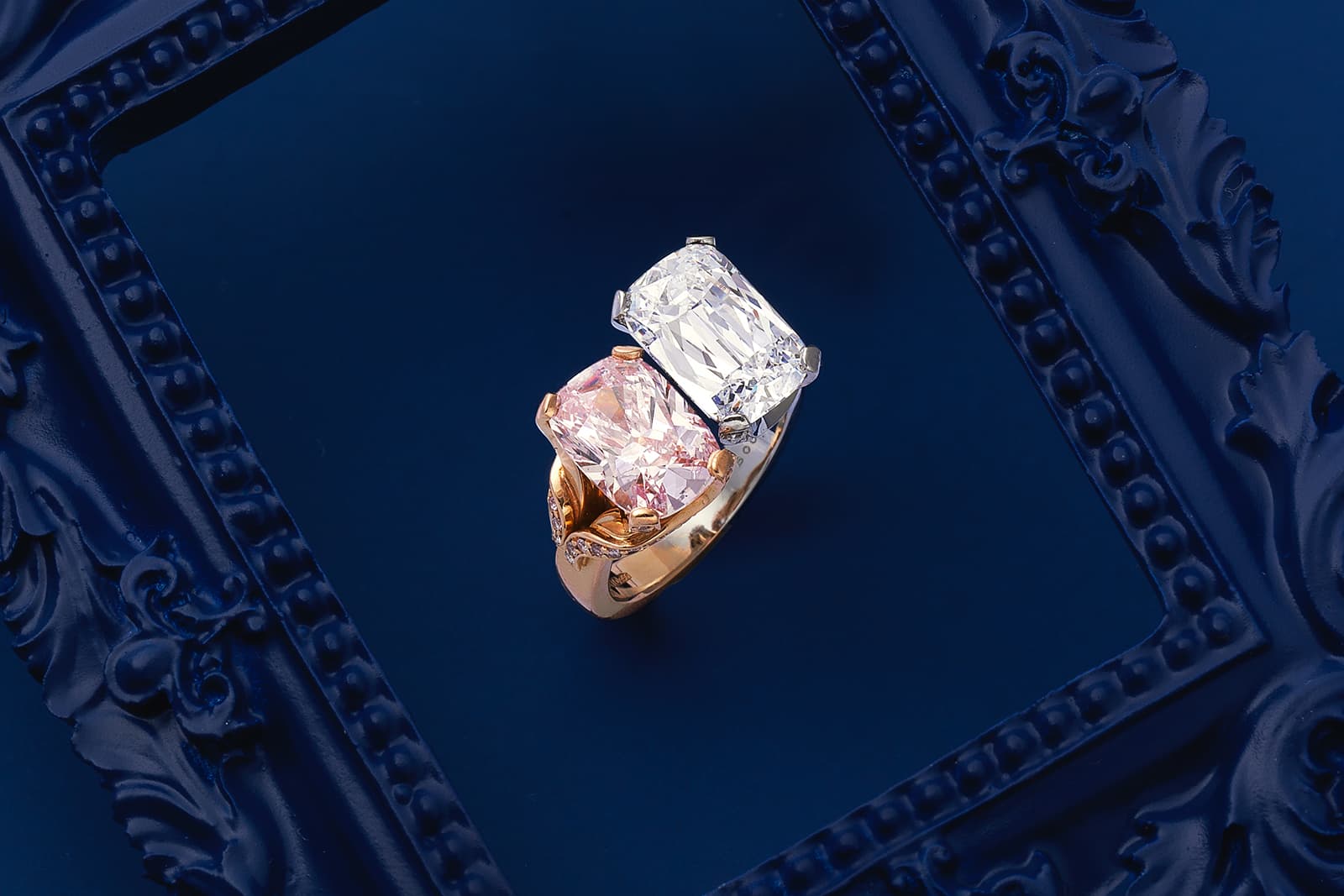 Bonhams goes on to explain: "The Ashoka-cut lends its name, and was inspired by, the original Ashoka Diamond - a 41.37 carat, D colour, flawless diamond - from the highly coveted Golconda mine in India. This original diamond was itself named after Ashoka the Great, who ruled in India during the 3rd century BC […] Based on the Ashoka Diamond, New York diamantaire, William Goldberg, developed and patented the Ashoka-cut in 2000, and Boodles are the only British jeweller to offer Ashoka-cut diamonds in their collection. The Ashoka-cut displays an additional five facets to the 57 facets of brilliant-cuts, requiring the rough diamond to be larger and longer than average, and it is known for its typically larger 'spread', enabling the polished diamond to appear larger when viewed face-up."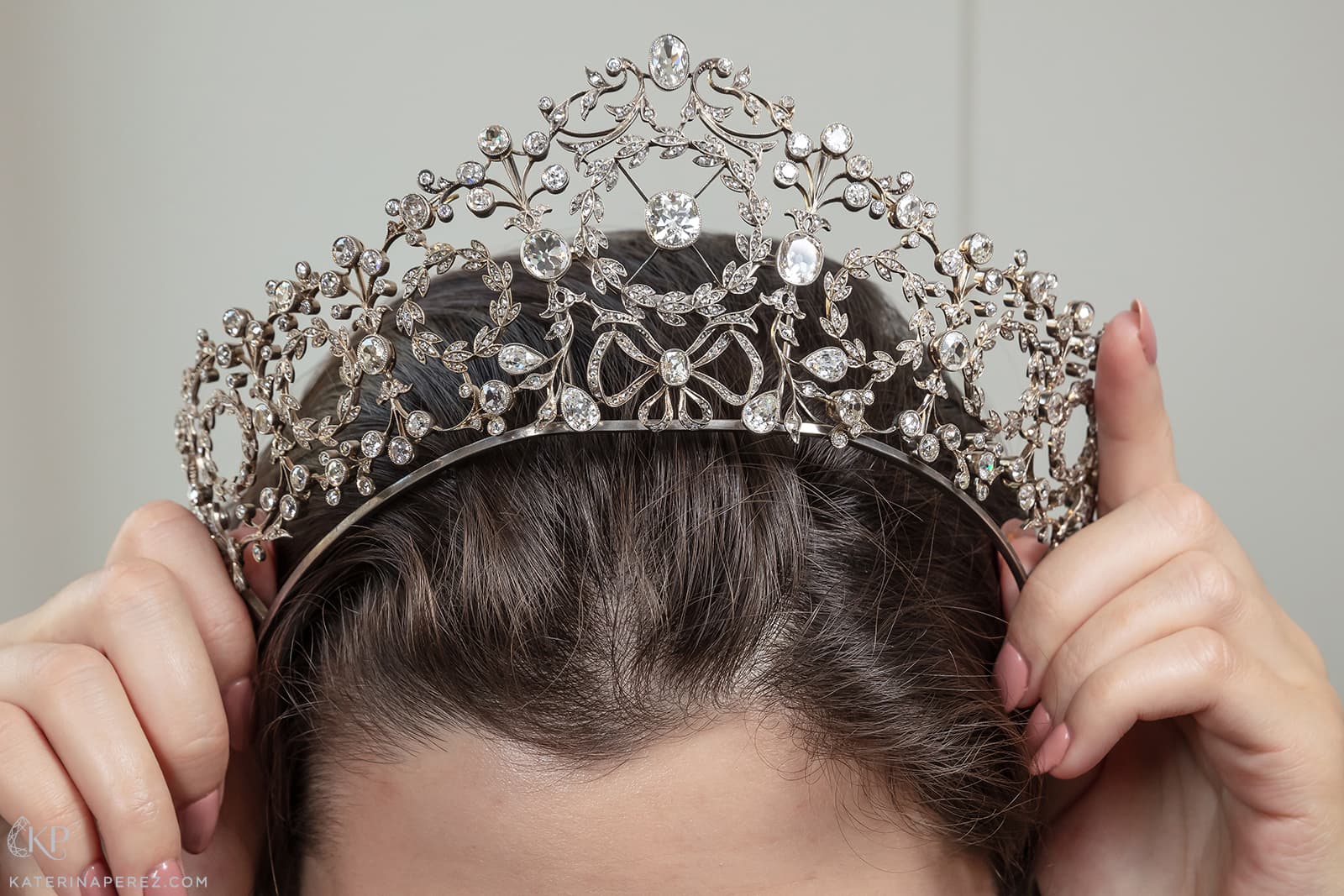 Next, there is a cluster ring with an octagonal step-cut sapphire of 8.70 carats, surrounded by brilliant and marquise cut diamonds with a total weight of 2.30 carats. The sapphire contained herein is of Burmese origin with no indications of heat treatment, which undoubtedly contributes to its £60,000 – 80,000 estimate. Moving on to sapphire's sister stone, ruby, we have a pair of Graff hoop earrings containing 20.65 carats of scarlet hued gems and 14.25 carats of colourless diamonds, estimated to sell for £40,000 – 60,000. According to their accompanying report, one ruby in this pair of earrings – a 1.42 carat gem – is of Burmese origin, although evidence of heat treatment can be observed. There's also a beautiful 4.37 carat, natural colour oval-cut Burmese spinel up for auction, set between tapering baguette-cut diamond shoulders in a simple but effective ring design. This would certainly be high on my wish list! Pre-sale estimate: £12,000 - 18,000.
Finally, there are a further two pieces I want to draw your attention to: a Graff diamond ring and an Art Deco aquamarine bracelet. The former contains a cushion-shaped fancy light yellow diamond of 17.30 carats, surrounded by 1.66 carats of pear-shaped diamonds, and has an estimate of £120,000 - 150,000. The latter is dated to the 1930s and has octagonal plaques of bullet and shield-shaped aquamarines, alongside single-cut diamonds and further aquamarines set in platinum. Bonhams notes that the composition of this bracelet is comparable with the aquamarine jewellery of Cartier London, although this piece is not marked as such. This piece is estimated to sell for £10,000 – 15,000.
Although I have only mentioned a handful of pieces here, the London Jewels sale at Bonhams is a treat for 21st century jewellery aficionados (and contains some swoon-worthy Grima pieces that will delight collectors). Part of what I love about browsing auction catalogues ahead of significant sales is reading the stories, noting the reports and finding out the provenance. With this information, one is not simply buying a piece of jewellery, but a snapshot of history and a moment in time.